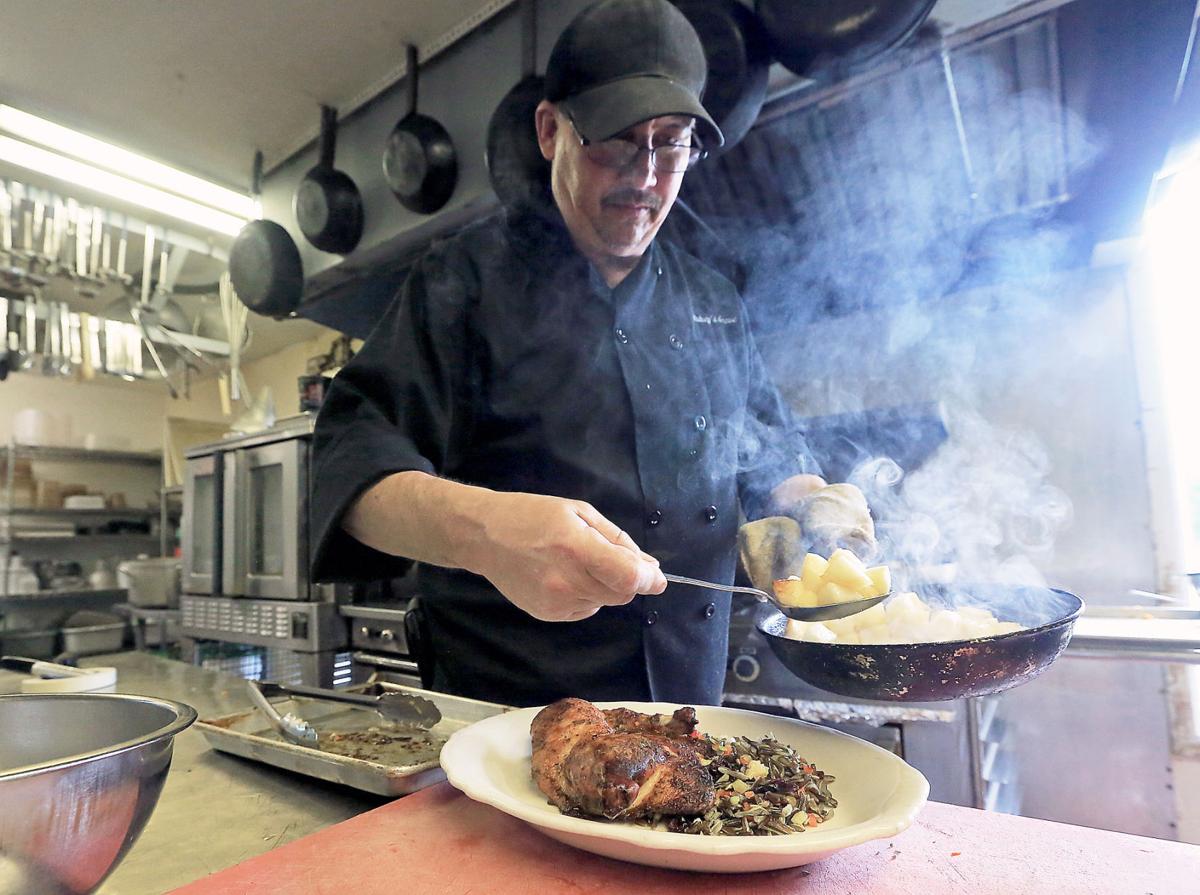 That familiar dish that always satisfies and that doesn't seem the same anywhere else.
One taste, and it's Madison.
For some, it's the creamy gooeyness of a mac n' cheese pizza at Ian's or the curry squash at Lao Laan-Xang. Maybe it's the famed fudge bottom pie at the Memorial Union or that favorite fish fry worth standing in line for.
There's an unsubstantiated claim that Madison has more restaurants per capita than any other U.S. city. But even if that's not true, we've got a lot of choices when it comes to where to eat.
The Madison dining scene is filled with famous dishes. Starting today through Oct. 5, we're going to feature one plate a day that highlights Madison's place in the culinary world.
Of course, the list is somewhat subjective. The State Journal talked with chefs, cookbook authors and others to help us choose 30 plates that define Madison.
You might not find your favorite taste on this list of 30 plates, but you may learn about something new.
"Madison is growing so much, a lot of people don't know what everyone in town is doing with food," said Chef Scott Roe of Quivey's Grove in Fitchburg.
Chef and restaurant owner Tory Miller said that at his elegant L'Etoile, the defining dish is the Fountain Prairie Farm beef, probably in ribeye form. It, along with the beef carpaccio, is typically the most popular item that they serve.
"I think people like to come to L'Etoile and have that experience of knowing where the beef is coming from," Miller said. "I hear a lot of times people say that they don't eat meat unless they are at a place that knows the sourcing. It's kind of nice to be able to have that, and people love it."
When it comes to eating out, Miller can often be found at Ha Long Bay on Williamson Street or Salvatore's Tomato Pies on Johnson Street.
"Any of those tomato pies are pretty delicious," he said.
Even though chef/owner Patrick DePula has a number of specialty pies, Miller said he always gets the same one when he goes there. "I just love that tomato sauce, and I always put Underground pepperoni and green and black olives on it."
Another go-to for Miller are the sandwiches at Willy Street's Underground Butcher. "Just salami and mustard and mayo. Those are super delicious and simple."
For Underground Food Collective's Jonny Hunter, his restaurant Forequarter doesn't exactly have a defining dish because its menu is based on what is available locally.
"A lot of what I associate with Wisconsin food we tend not to cook, like cheese curds and fish fry," Hunter said. "I really like our whole baked trout. It's using a local fish. It's using herbs and seasonings that are kind of foraged and found. And then served with hearty beans."
One dish that does characterize Forequarter is its sausage platter. "It fits the town, fits the Wisconsin heritage. And it's always on our menu," Hunter said.
When he eats out, Hunter said a key Madison dish for him is the curry squash from Lao Laan-Xang.
"They use local squashes and local peppers when they are in season here," he said. "I love that dish. I also like the larp there a lot. It's super delicious. I end up there a lot. We just order the same thing every time."
Dan Fox, owner and chef at Heritage Tavern, said his restaurant's family style pork entree is the thing to get. The braised, roasted pig shoulder is available for $30 per person or $120 to share among a group.
"It showcases the whole farm-to-table side of what we do as far as the pigs that we raise," Fox said. "It's the most prime cut that we use out of the pig."
The dish is finished with tuna sashimi and lettuce cups on the side with dipping sauces. "It's a very fun dining experience that we have available," said Fox, who has been offering the pork entree since he opened Heritage in September 2013.
As for eating elsewhere, Fox points to the Barberini pizza from Grampa's Pizzeria with ricotta cheese, garlic, calabrian chilies, watercress and honey. And also to the Sunday chicken dinner at Tornado Steakhouse.
For Tami Lax, owner of Harvest on the Capitol Square, it's hard to pick a mainstay dish at her 15-year-old restaurant since most everything on her menu hangs around for only six to eight weeks, "and then something new jumps on."
Many dishes, like the seasonal salads, go on and off daily. Staff pick out items from the farmers' market and come back and create something with all of the ingredients right away, Lax said.
"The salads can change from Wednesday to Saturday depending on what we find at the market that day," she said.
It's also hard for her to pinpoint a defining dish elsewhere because the restaurants she goes to are also ones where the menus change constantly.
"The one thing that I go back for, when I eat at Osteria Papavero, is whatever he does with his salumi plate," Lax said of owner/chef Francesco Mangano, whose salumi misti is an assortment of house-cured meats served with homemade giardiniera.
"It always just blows me away," she said. "I think, 'This is the best I've ever had here.' Then I go back a month later and think, 'No, this is the best I've ever had here.' It's a dish that changes in itself, but it's a mainstay on his menu, and it's always just amazing."
Lax also points to the "killer" risotto dishes at Nostrano on the Square.
"It's always risotto, but it's always seasonal. It's something that they do absolutely perfectly and I don't think anyone else in town cooks risotto perfectly, so for me it's always a treat to go there and have that risotto that is cooked right and the flavors are just spot-on."
Shinji Muramoto, chef and owner of two Muramoto locations as well as King Street's 43 North, points to the miso black cod served at both Muramoto locations.
"It's a pretty good dish," he said. "People around here maybe didn't know about it until I served it 10 years ago. And now it's getting more popular."
Muramoto is hard-pressed, however, to pick defining dishes around Madison.
"There are so many good restaurants now in town, I couldn't pick a signature dish," he said. "I try to go pretty much everywhere when I go out."
— State Journal reporter Jane Burns contributed to this article.
— State Journal reporter Jane Burns contributed to this article.