MONROE — There are no copper brew kettles, stainless steel fermentation tanks or keg washers.
Instead, Jeremy Beach has dirt.
The majority of the soil of his family's farm, established in 1901 in southwestern Green County, is used to grow corn, soybeans, hay and grass for grazing cattle. But Beach is using a fraction of the farm's 650 acres to grow all of the ingredients needed (with the exception of water and yeast) to brew his own brand of beer.
The crops at Cheese City Beer include 13/4 acres of hops that are climbing their way up 1,700 strands of twine that are each 18 feet long. They are supported by a series of cables attached to 102 honey and black locust timbers harvested from nearby woods and fence rows. There are 15 acres of two-row Conlon barley and a third of an acre of hull-less oats, each about a foot high. In addition, Beach has planted grapes, high-bush cranberries, pear trees, blackberry bushes, hazel nuts, ground cherries and Aronia berries.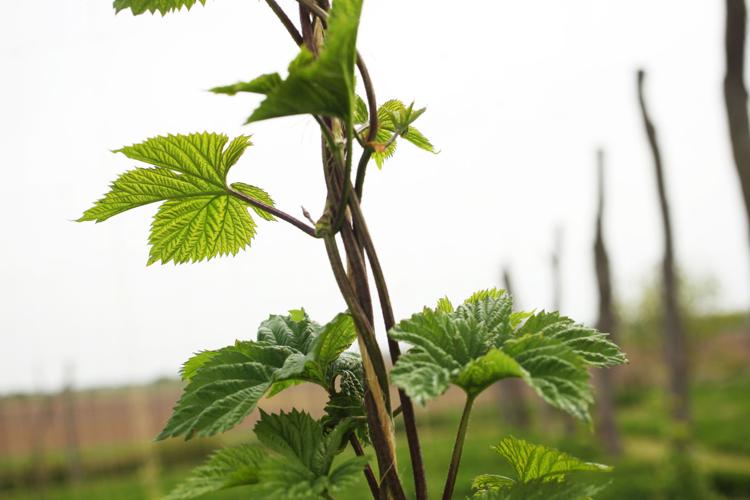 "I figured I had learned something about farming along the way, growing up here and having an enjoyment in it, so I figured I'd give farming beer a try," said Beach, 32. "I want to do some experimentation to see what I can (do) in terms of flavors and different styles of beers but to have the underlying theme be that I grow it myself."
That means beers flavored with grapefruit or other citrus fruits are likely out, but Beach will easily trade that to have unique control of his products. While drought, floods, frost, wind and hail could pose problems, just like for other farmers, he won't have to worry about shipping contracts and waiting on supply companies to obtain his ingredients.
Beach's Cheese City Beer plan adds a notch to the state's ever expanding local food movement that includes fermented vegetables, breads, wine, spirits, craft beer and soda, chocolate, coffee and pizza. Artisan cheese is a big player in the movement with Beach's crops located just a few miles from where the cheesemakers at Emmi Roth USA produced the Roth Grand Cru Surchoix, a smear ripened hard cheese that took home the top prize in March at the World Championship Cheese Contest in Madison. It marked the first time since 1988 that a cheese made in the U.S. was named best of show.
But Green County also has a pretty good beer culture, too.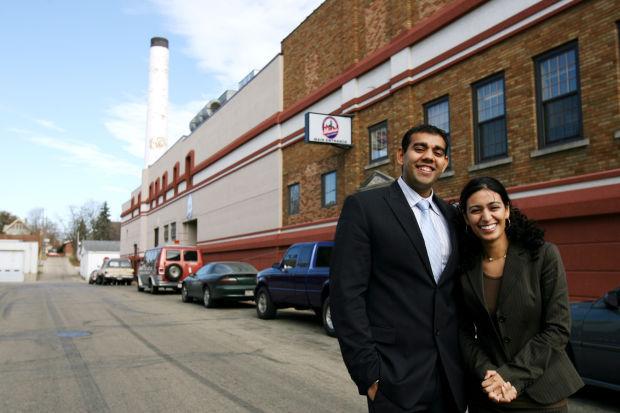 Monroe is home to the second oldest brewery in the country. Monroe Brewing Co. was founded in 1845 and has changed names through the years with titles like Blumer and Huber. Minhas Craft Brewery took ownership in 2006 and later added a distillery. The company, owned by Ravinder and Manjit Minhas, ranked ninth in 2015 in craft beer sales in the country, according to the Colorado-based Brewers Association.
Just up Highway 69 in New Glarus, Deb and Dan Carey have built one of the most successful craft breweries in the country. Their business was ranked 20th in sales by volume in 2015 despite only selling their products like Spotted Cow and Moon Man within the confines of the Badger state.
The brewery is in the midst of an $8 million expansion project that includes the construction of a $2 million canning line, a new warehouse and new keg line and is planning to add a distillery.
You have free articles remaining.
Register for more free articles
Stay logged in to skip the surveys
At one time, Wisconsin was a major producer of barley but over the years, production shifted to other states, primarily Montana, Idaho and North Dakota, as more farmers here focused on corn and soybeans.
But state brewers using locally grown ingredients are on the rise.
South Shore Brewery in Ashland and Central Waters Brewing Co. in Amherst both began contracting in 2009 with farmers in their respective areas for barley. The Careys at New Glarus started in 2014 buying locally grown barley while hop yards have been popping up across rural Wisconsin and even some urban areas with the buds sold to some of the more than 130 craft breweries in the state.
Beach's plan is unique in that he is the farmer and the owner of the brewing company. He approached his parents, Paul and Carolyn Beach, with the idea about three years ago. He then rented land from his parents and his grandparents, Duane and Rose Beach, for the project. The farm ended milking in 1955 but now has a 50-beef-cow herd, 195 acres of soy beans and 190 acres of corn.
"Everything changes. There's nothing in agriculture that stays the same," said Paul Beach, whose great grandparents from England established the farm. "I'm very pleased to see that Jeremy has the interest."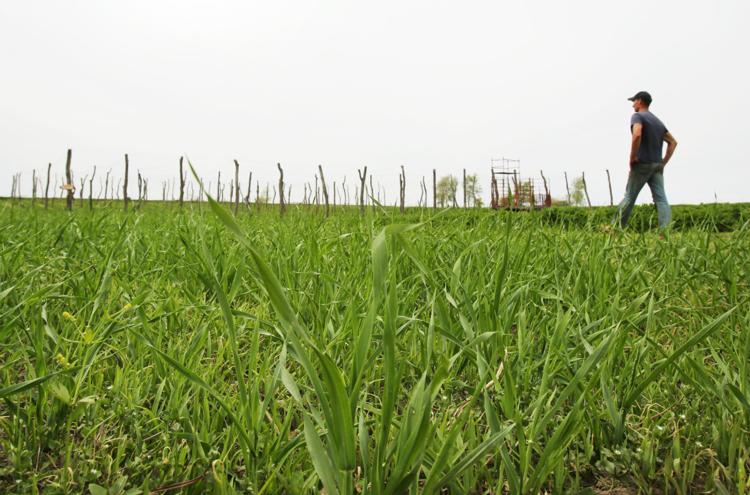 After graduating from Monroe High School in 2002, and later UW-Madison, Jeremy Beach took a job as a statistician with the U.S. Department of Agriculture in Portland, Oregon, a region of the country bursting with craft beer. In 2009 he returned to UW-Madison for a master's degree in rural sociology and then in 2011 returned to the USDA but at its headquarters in Washington, D.C. where he was a survey methodologist.
But from April to November of 2015 he took a leave of absence from the USDA and invested $25,000 to start his beer farm. He began building his hop yard that now has seven varieties of hops. Last year's harvest of about 100 pounds was picked by hand from a modified hay wagon equipped with scaffolding and sold to Generation's Brewing Co. in Freeport, Illinois. He returned to the USDA over the winter but quit his job in March in favor of beer farming on Honey Creek Road.
"It's not a bad change in office from downtown D.C.," Beach said, as he walked through his hop yard dressed in jeans, a T-shirt, work boots and a baseball cap. "I've always kind of been involved and interested and passionate about food and farming and agriculture and I've always had a tie here to the land and working outside."
This year's crop of hops is expected to yield 300 to 400 pounds. In addition, he has sold hop shoots, gleaned this spring from trimming the hops plants, to L'Etoile, one of Madison's finest restaurants. The chutes can be sauteed in butter and garlic and taste a bit like asparagus.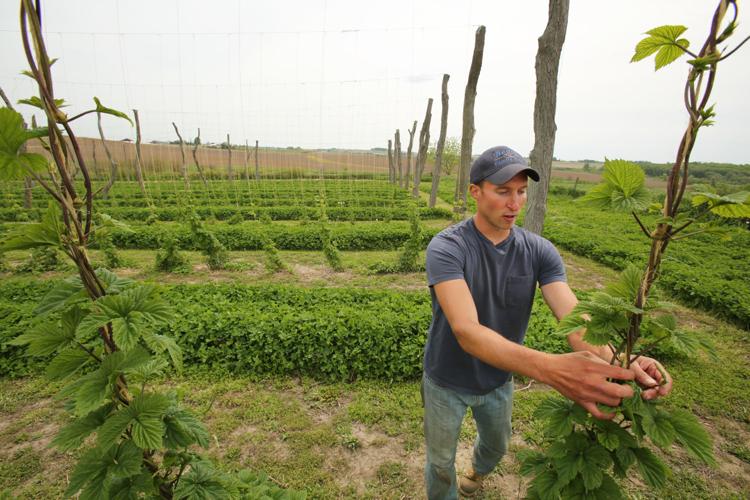 The hops harvest in late August will be about 10 times the amount Beach will need for his 50-barrel batch of beer that will be brewed on contract by Octopi Brewing Co. in Waunakee and sold in kegs and bottles. The remainder of the hops will be turned into pellets and frozen for future batches. The barley will be harvested at the end of July but will need to sit for four to six weeks before it is malted with oats harvested in late summer, too.
Beach envisions a tasting room that overlooks the sprawling hop yard with the farm's barns and silos in the background but isn't sure about ever building his own brewery. Being close to the land is what drives him.
"I like being able to do this side of it more rather than make that kind of investment," Beach said. "It was a lot of work, but with getting the hops going and seeing where they're at now, at this stage, it was worth it and really rewarding."