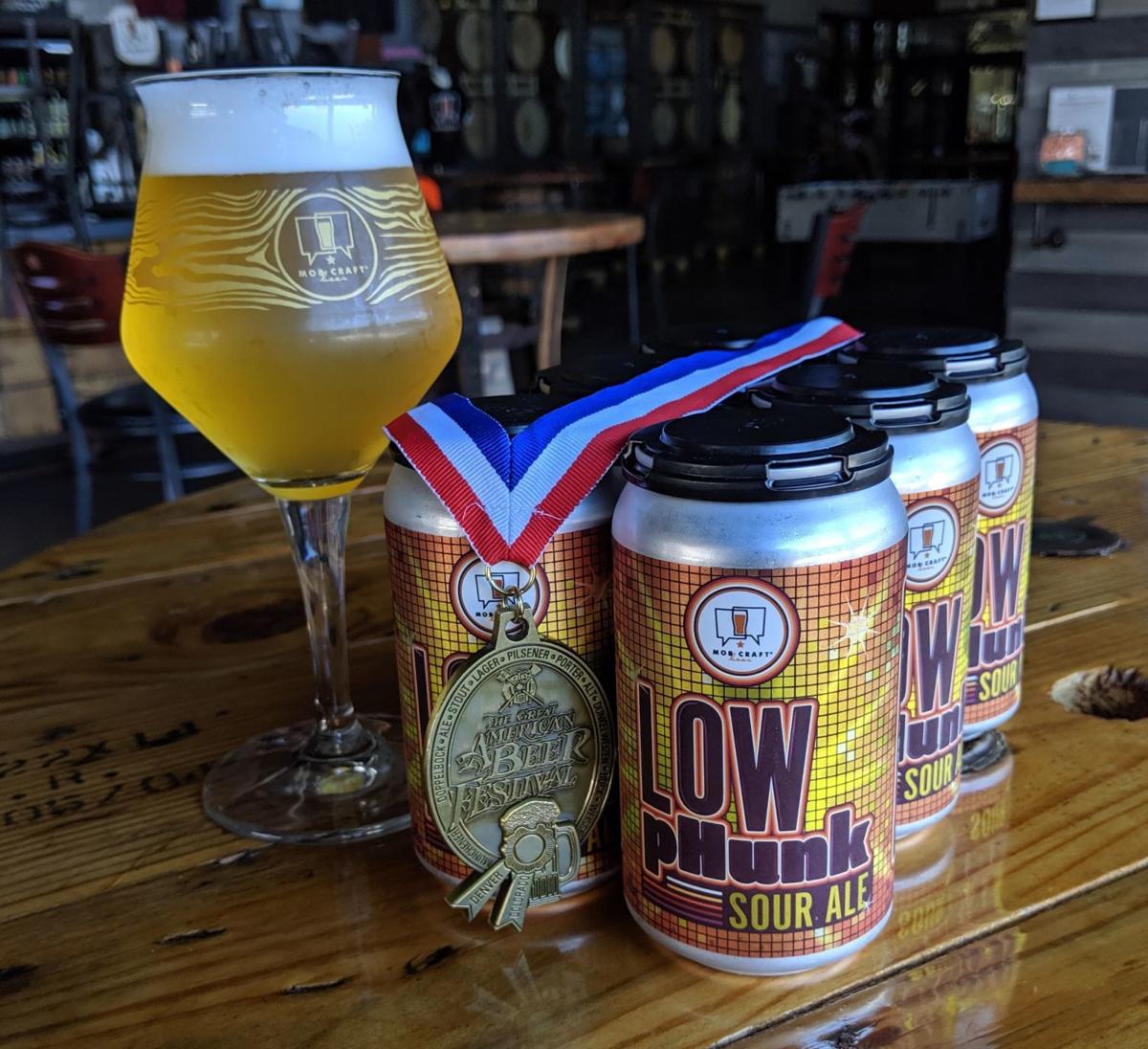 As a fan and, I guess, advocate of Wisconsin beer, it's always nice when a state brewery wins a medal at the Great American Beer Festival.
Usually, lately, I've scanned the winners list and nodded sagely. "Yep, that computes. Sure, another one. Makes sense."
This year, though, a couple of Wisconsin brewers' seven medals provoked "WOW!"s.
One is a beer you'll hear more about soon: Hazy IPA from City Lights Brewing, which the world's most prestigious beer judging competition placed ahead of an astonishing 347 other beers in the hottest style in craft beer.
The other exclamation and fist-pump was for MobCraft Beer's gold for Low pHunk as an American-style sour ale. With 42 entries, that category was less crowded, but it's extremely wide-ranging, a catch-all of beers that may be nothing like each other except that they're tarted up.
"There are so many great sour and wild breweries out there who are doing this style of beer and doing this style," said Henry Schwartz, MobCraft co-founder. "To be able to compete eye to eye with them and do so well is amazing."
MobCraft has built its name so far on out-there beers built from crowdsourced recipes along with a handful of solid and more standard regular offerings. One of those, Batshit Crazy coffee brown ale, won silver at GABF in 2014, just a year after it was founded in Madison.
But over the last three years, brewer Adam Thomas has focused on building what's become an impressive portfolio of wild and sour beers. Thomas welcomed two foeders — large wooden vats for aging such beer — to the brewery's sequestered room for sour beer production on Oct. 10, five days after Low pHunk's win in Denver.
A win on a stage like GABF brings attention and validation. "It's just a notch of credibility in a program that we're really trying to build," Schwartz said.
Making sour beer can be a time-consuming process that's incompatible with sudden demand spikes like that which may follow an honor like a GABF medal. But the unusual way Low pHunk is made — plus the fact that MobCraft already ramped up production of it last summer — should help meet extra orders, Schwartz said.
Low pHunk is a blend of fresh and aged beer, with about 20% of every batch retained to blend with the next batch — a technique similar to what's called the solera method in winemaking. The fresh and old beer age together in stainless steel tanks as the culture of a saison-like ale yeast and lactobacillus bacteria do their work. After about six weeks, the beer is packaged — with the lacto and yeast remaining active inside. "We want those microbes to stay alive and we want that depth of the beer that the live microbes bring," he said.
You have free articles remaining.
That's a key difference between Low pHunk and beers made using kettle souring, in which bacteria are introduced in the brew kettle, allowed to develop to the desired level of acidity, then heated and killed before the beer is fermented.
And while MobCraft's solera method is more time-consuming than kettle souring, I suspect it's what made it stand out in a category that I suspect was primarily made up of kettle sours. Such beers often have a more one-dimensional tartness injected into the recipe.
All of this, it's worth noting, is a far cry from traditional methods of making sour or wild beer. With beers like lambic, Flanders red and oud bruin, you're usually going to need at least six months — often much longer — of fermentation and aging in wood barrels or foeders. Such beers had their own category at GABF.
I spoke with Schwartz four days after MobCraft's name was called on a stage before hundreds of its peers, and Low pHunk's gold medal was still all anyone wanted to talk to him about. "It's like winning an Olympic gold medal," he said. "Your whole entire ecosystem is watching and rooting for you."
Let's take a look at the beer that took home that hardware.
Low pHunk
Brewed by: MobCraft Beer, which has a great taproom attached to its brewery at 505 S. Fifth St. in Milwaukee.
What it's like: The base beer here is simpler, but I think the best point of reference for Wisconsin beer drinkers is probably O'so Brewing's Infectious Groove.
Where, how much: One of the great things about quicker-turn sours is their price point; Low pHunk comes in a six-pack of cans that I procured for $10. If you're having trouble finding it, be patient; an out-of-nowhere medal may inspire your local beer buyer to come late to the party. Also, Madison's HopCat and a few other locations have seen a parade of draft-only fruited variants of Low pHunk recently. Cranberry and tropical fruit versions are already in the books, while citrus was packaged earlier this month and key lime pie is coming down the pipeline.
Booze factor: At 4.2% ABV, Low pHunk is also low in alcohol, on par with a Miller Lite.
Up close: Low pHunk pours a hazy straw color under a modest amount of white foam that fades quickly — as head is wont to do in sour beers. Its aroma evokes summertime outdoors: grass and lemony citrus.
Low pHunk's name is a sly reference to two of sour and wild beers' most divisive attributes: funk and acidity. (In case you forgot your high school chemistry, pH is a measure that determines whether a substance is an acid or a base; anything below 7 is acidic.) In the case of Low pHunk, both of those attributes are present in modest amounts. This beer is sour, but it's no paint stripper. The modest acidity is a great complement to the fruity, lemony flavors and light body that make this a very refreshing beer — as well suited to gulping as sipping.
I enjoyed an earlier batch of Low pHunk this spring that I swear had a little more depth, with a bit of very nice cherry pit character. Schwartz said it's possible there was some variation in early batches of Low pHunk — which wouldn't be that unusual considering the sometimes unpredictable nature of live sour beer — but it's been more consistent recently.
Bottom line: 4 stars (out of five)