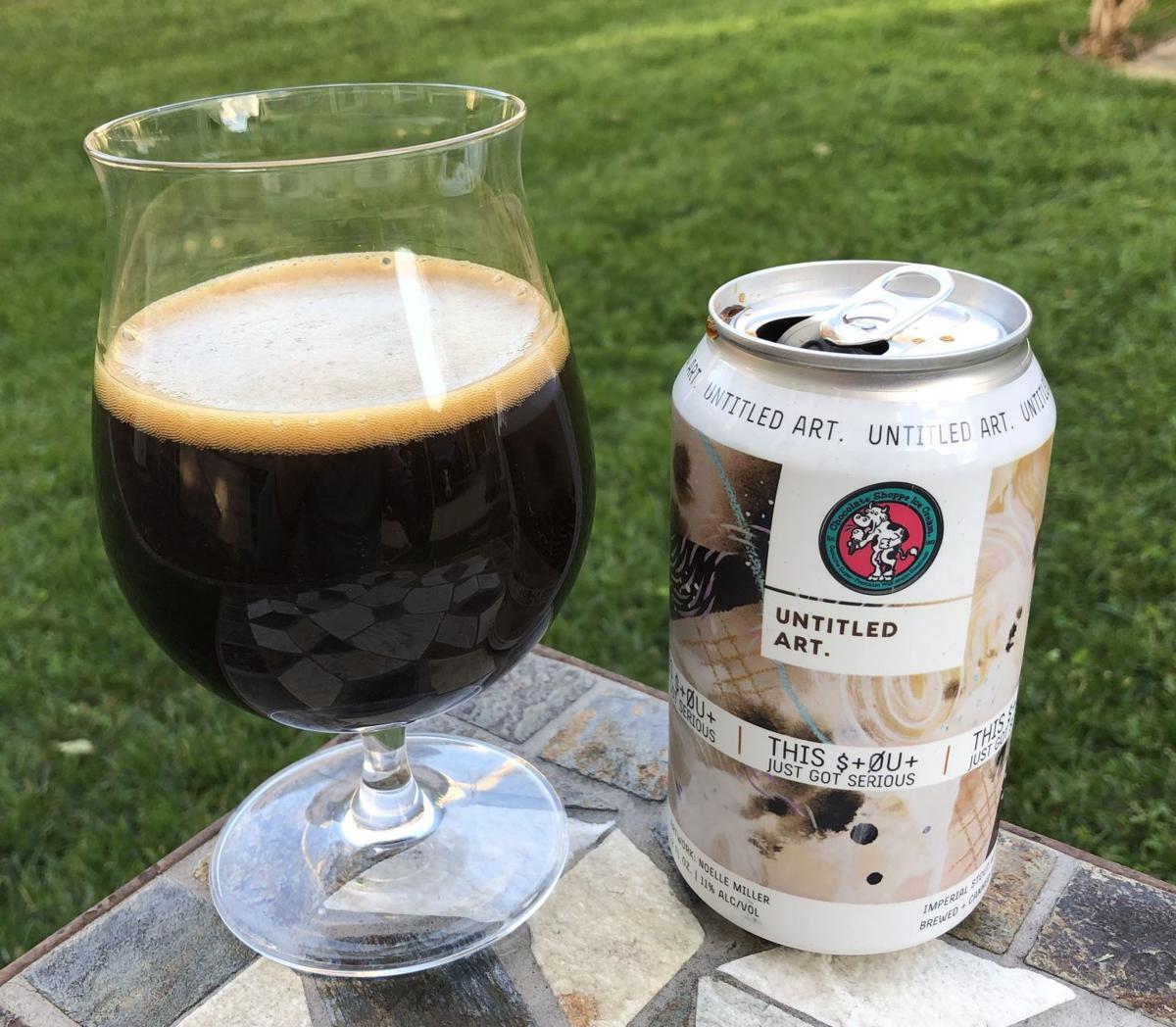 Since launching its first beer in late 2016, Waunakee-based brewing company Untitled Art has made collaborations part of its modus operandi.
Nearly all of the collaborators, naturally, have been breweries — many of which make beer-geek-lauded beer that rarely gets even close to Wisconsin shelves: Angry Chair, 3 Sons, Bottle Logic and many more.
But my favorite Untitled Art collaborator to date has been from Madison. And not a brewery.
It's Chocolate Shoppe Ice Cream Co., which this year co-authored one of Untitled Art's best beers to date.
I do not say this lightly, but Zanzibar Chocolate Ice Cream Stout, which debuted in April and returned in June — a relatively rare recurrence given Untitled Art's model of one-offs — was perhaps the best I've had in the Beer That Tastes Like Other Things genre.
Zanzibar absolutely nailed the ice cream's delicious flavor: sweet, sure, but also dark, rich and roasty-bitter, and it finished clean enough that drinking 16 ounces was no problem at all, even at its 8% ABV. Along with the perfect recreation of the ice cream's flavor — and an absolutely gorgeous aroma — it was soft and creamy.
Zanzibar is a singular and perfect dessert beer and, at the risk of tipping my hand a few months out, a surefire Beer of the Year. Untitled Art co-owner Isaac Showaki says it may return in 2021, so keep an eye out for that.
And obviously I had to tell you about the next Untitled Art Chocolate Shoppe beer.
This time it's This $+ØU+ Just Got Serious, a riff on the This $&@! Just Got Serious salted caramel ice cream with chunks of brownies and cashews. As the profanity-skirting symbols imply, it's another stout — this one an imperial stout brewed with cocoa nibs, caramel, lactose and some of the actual ice cream.
Grab a bowl and a spoon and let's get serious.
U+ Just Got Serious
Style: Imperial pastry stout
Brewed by: Untitled Art at Octopi Brewing in Waunakee
Where: When Untitled Art drops a banger of a beer, it tends to disappear fast. It sells its specialty beers over a very wide geographic area, with distributors in at least 18 states, so its batches are often spread very thin in each market, even its home market. When there's a big hit with a local tie-in like the Chocolate Shoppe beers, that effect is exacerbated. All of this is to say, I hope you can find this beer, released in late September, before it sells out. Call ahead to your favorite bottle shop and gird for disappointment.
How much: Untitled Art's beers are not cheap. I bought my $+ØU+ as singles — as they are often sold — for $5 a pop for the 12-ounce cans.
What it's like: It's ice cream in a glass, as advertised. Is it exactly This $&@! Just Got Serious? Ehhhhhh ...
Booze factor: I thought one of the great choices made with Zanzibar was not bumping it up to imperial strength as most of Untitled Art's stouts are. But this one does go there with a ... um, robust 11% ABV. That's about double the alcohol content of a can of Ale Asylum Hopalicious. Don't worry, though, sipping this one won't be a problem.
Cellar it? Sure. Big stouts age well, and while the extra ingredients can complicate matters, This $+ØU+ should hold up just fine for a year and beyond.
Up close: The first thing you'll notice about This $+ØU+ — as soon as you open the can — is that it smells like chocolate ice cream, a delicious aroma fills that the room if you let it sit for even a few minutes after you pour it. (I'd actually recommend patience, as this beer shows much more of its complexity as it warms.)
A sip reveals an intense pastry stout experience: a thick, sweet chocolate character that envelops and lingers on the palate. There is a hint of caramel in there, though I'm not sure I would have noticed it amid all the chocolate if not for the label.
But I see two things holding This $+ØU+ back from the sundae shop heights of Zanzibar. This $+ØU+ has a bitter, albeit brief finish that stands apart from the rest of the beer's cohesive sweetness. You have to have balance in a beer — it can't be all sugary sweetness — but Zanzibar's balance was seamless, while This $+ØU+ seems more like "this is really sweet" and then "ooh, this is bitter."
The second issue is ... I don't know, maybe I'm just getting too old, but an 11% ABV beer — and its attendant flavor intensity — is just too much. This is not at all out of character for a pastry stout, but Zanzibar worked so well at a still pretty hearty 8% ABV. I think these extra three ticks are not adding anything but drunkenness to the beer.
That said, fans of pastry stout (and folks with a sweet tooth in general) will find a winner here, and This $+ØU+ should not be maligned for the transcendence of its Zanzibar forebear.
Bottom line: 3½ stars (out of five)
Stay up-to-date on what's happening
Receive the latest in local entertainment news in your inbox weekly!