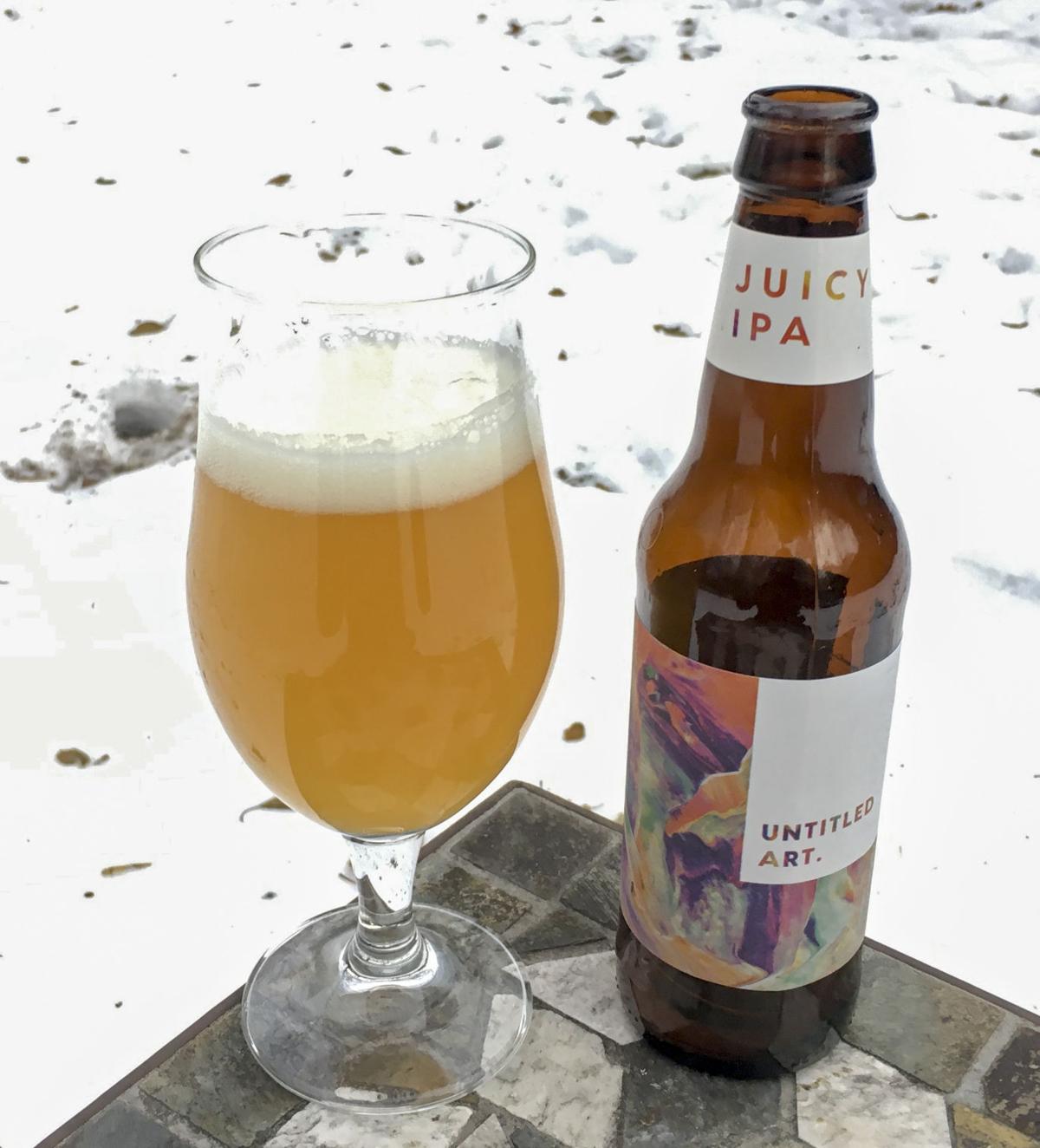 The life of a brewer or brewery owner is not as charmed as it seems from the outside, but it is in this way: If you want to drink a beer that's not available in the local market, you can make it yourself.
And that is the origin story of the Madison area's newest brewery, known as Untitled Art.
"There's a lot of styles that I'm sick of waiting for. I don't know why Wisconsin breweries aren't making these styles. So I guess Untitled Art will," said Levi Funk, co-founder of the new venture and the man who'll be picking these styles to be made. "I don't want to say Wisconsin's stagnant in its exploration or experimentation, but (Wisconsin brewers are) experimenting with tweaks on older styles.
"There's this new edge in the beer world," he said, and that will be the inspiration for Untitled Art's beer.
Funk already has his hand in arguably Madison's most unconventional beer operation: Funk Factory Geuzeria, which for three years has been selling frustratingly minuscule amounts of lambic-style beers of exemplary quality.
Funk, though, while he is a now two-time brewery owner, is not a brewer. The wort that becomes Funk Factory beer is born at other breweries, then under Funk's watch is barrel-fermented and -aged, and blended, usually with fruit.
It was this arrangement that gave rise to Untitled Art. Funk sourced a batch of wort from Octopi Brewing in Waunakee, a contract brewery opened a year ago by Isaac Showaki that primarily makes beer for other breweries. As tends to happen with two beer people, Funk and Showaki started talking about beer, one thing led to another and now Showaki and Funk are collaborators in Untitled Art.
The name is more than a name, in Funk's vision. Tired of beers with kitschy names and backstories and detailed tasting notes on the labels, he wants to let the beer stand up for itself.
"The goal of Untitled Art is to present beer without putting words in your mouth," Funk said.
He explained the concept with the brewery's metaphor: an art gallery, with each work having a card next to it on the wall, listing its name and describing the artist's intent and vision. But the sculpture in the center of the gallery — unnamed and unexplained, allowing the viewer to draw his own conclusions — is the one he falls in love with.
The only words Funk wants to put to his beers is a simple name that reflects the beer's style, and the first work of Untitled Art is Juicy IPA.
Wisconsin beer drinkers may not have heard of the style, which is of course Funk's point. He described it as a subvariant of the New England IPA, which is indeed one of the hottest beer styles going right now. Northeastern breweries like The Alchemist, Trillium and Tree House have made names far outside their distribution circles by tapping — or perhaps creating — the market for beers that emphasize hop aromatics and flavors far above the standard American IPA's trademark bitterness.
The techniques and ingredient variables used to attain that aroma apex lead to some, um, compromises in the beer's appearance. This is to say that the beer looks pretty weird: profoundly hazy at least, milkshake-like at the most extreme. The exact composition of the stuff that's suspended in these beers is the subject of some mystery, but Funk said it's just about everything that goes into them: particles of grain, hops and yeast bodies.
A juicy IPA, which trades in lush hop flavors and aromas, carries less crud than the other New England IPA variant, the aptly named hazy IPA.
Unfiltered, hazy beers such as hefeweizen are familiar to even casual beer fans, but Funk said Juicy IPA's appearance in a hop-forward beer will be a test for the Wisconsin beer market. "It's polarizing, but a lot of people love them," he said.
If there's one flaw in the Untitled Art concept, it could be this Catch-22-esque conundrum: The marriage of minimal information, with the goal of allowing the drinker to draw her own conclusions, to styles that are chosen because they're unfamiliar to the market.
Funk declined to tell me about any of the other styles he and Showaki are considering for future Untitled Art works, citing the development process and again the desire not to influence people's opinions of a beer before its release.
In any case, people probably shouldn't get too attached to any Untitled Art beer; Funk stressed this would be a one-step-at-a-time operation without the pressures of production demands set by internal goals or thirsty distributors. (Untitled Art is self-distributing its beer.) "A brew what we want, when we want kind of thing," Funk said.
The first 50-barrel batch of Juicy IPA was delivered to a few dozen Madison and Milwaukee outlets the week before Christmas and sold out quickly. Funk said the next brew day is at least a month away as he and Showaki fine-tune the transition from pilot batch to full-scale brew, which means the next batch of Juicy might not hit shelves until Valentine's Day.
So until then, unless you snagged a four-pack, this review might have to tide you over for a while. Drink it in deeply.
Juicy IPA
Style: American IPA/New England IPA/juicy IPA
Brewed by: Untitled Art at Octopi Brewing, 1131 Uniek Drive, Waunakee
What it's like: This is the section where I compare the featured beer to others like it in the market. But that doesn't work here, and frankly I haven't had enough of the legit New England IPAs to draw a meaningful parallel. My best comp is a less intense version of the extraordinarily scarce Toppling Goliath Double Dry Hopped Pseudo Sue that hit the Wisconsin market around early December.
Where, how much: If Juicy's haziness is one test of the market, its pricing is another, as four-packs of 12-ounce bottles sold for $14-$15. Funk notes that's equivalent to a $7 bomber, a price many people wouldn't bat an eye at for a high-quality IPA. "I'm hoping to change people's preference when it comes to high-end IPAs," Funk said. "I hope people start preferring four-packs over bombers."
The beer: Juicy pours a robustly hazy pale gold, but it doesn't have the opaque, juice-like appearance of some of the most extreme New England IPAs. I know it might look a little pretentious in public, but take a deep quaff of the aroma before sipping.
The soft, pulpy nose carries a broad spectrum of citrus, passionfruit and a touch of lemongrass. The flavor follows, with hardly any bitterness, very little malt character and a dry, citrusy finish that contrasts with the beer's juiciness. All that fruitiness, it's worth noting, comes entirely from the hops; no actual juice is added.
While I haven't had a lot of experience with the style, the intensity of it all was more muted than I was expecting, and I'm hoping the fine-tuning might amplify Juicy a bit.
Booze factor: Part of the Untitled Art approach of removing prejudicial information includes excluding ABV from the label. Funk said he was particularly comfortable with that decision in Juicy's case because its ABV — 6 percent — is on the low end of the range of what a consumer should expect in an IPA.
The buzz: It's worth noting that while Untitled Art is a Funk-Showaki collaboration, it's not a Funk Factory-Octopi collaboration. Untitled Art will be a contract customer of Octopi, but it's otherwise business as usual for those two distinct beer businesses.
That may seem like semantics, but it's clearly important to Funk to have a vehicle for creativity and experimentation in "clean" beer that's distinct from his traditional sours.
"Funk Factory is a geuzeria. We make a very, very specific style of beer and we stick in a very niche circle of exploration," he said. "There are great and exciting beers and beer styles outside of what should ever show up as being produced by a geuzeria. A geuzeria should not be making a New England IPA. Point blank."
And while beer geeks may be groaning at the month-plus between batch one and batch two of Juicy, the entirety of Untitled Art, from the first conversation with Showaki to the first bottling run, took place in less than one life cycle of Funk's renowned sours.
"It all happened fast," Funk said. "I'm used to things taking two years; we can put out a batch in two weeks. That's pretty incredible."
Bottom line: 4 stars (out of five)