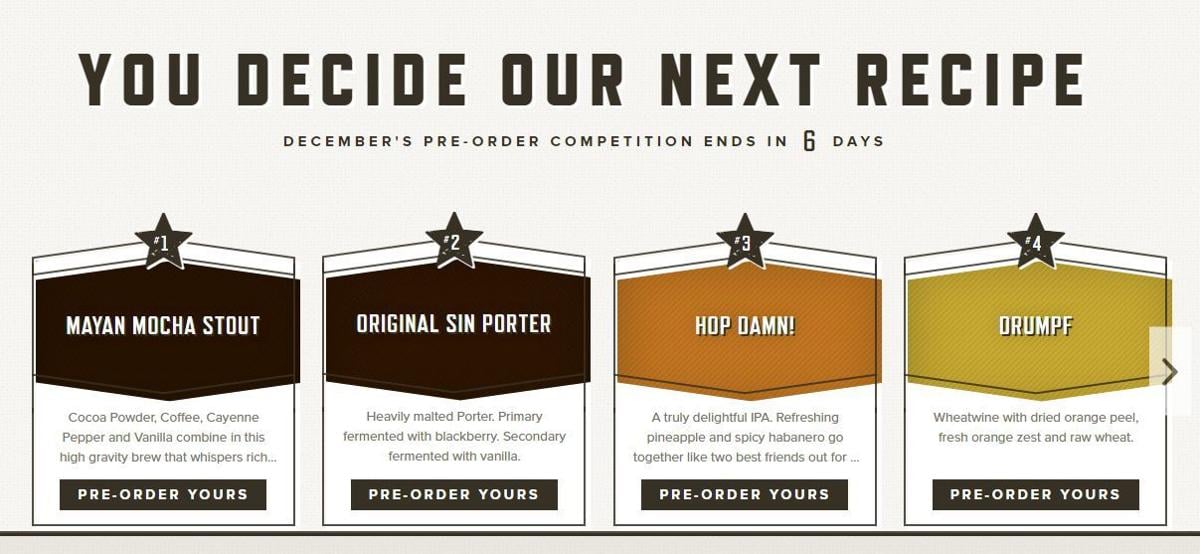 They're two ingredients that could conceivably be paired in a beer. MobCraft Beer, now of Milwaukee but founded in Madison, could conceivably make such a beer. It could conceivably be OK.
But it would not be OK if that beer were called Date Grape.
And that's the situation — sort of — MobCraft found itself in two weeks ago, inciting social media fury, apologizing for the name, removing it from its website, pledging other changes and promising to make it right with a donation to an organization that helps rape victims.
This story, though, has a uniquely MobCraft twist in that the beer never existed and MobCraft didn't name it.
MobCraft, remember, bills itself as the world's first crowdsourced brewery. Most of its beers begin as ideas — or even full-blown recipes — submitted on MobCraft's website by homebrewers or beer fans. With enough social media activity about those ideas, they advance to appear to the public on the website and those ideas are put up for votes in which a vote equals an order. The winning beer in the monthly cycle joins the MobCraft stable, and more popular ones like Night & Day black IPA and Hop Gose the Grapefruit are continued with additional production.
By Dec. 1 the beer had advanced to the point where it appeared on MobCraft's website and vote-orders were being taken. The social media uproar began Dec. 6, and co-founder Henry Schwartz said the first he heard of it was from a call from the alderman for the district in which the brewery opened this summer. Within hours, MobCraft issued an apology signed by Schwartz noting that staff did not screen names before the vote rounds began.
"I feel horrible that this oversight happened, the beer name has been changed and we now have a process where our team vets names before they ever appear publicly. We would Never promote rape culture as it is (a) very serious issue never to be joked about," Schwartz wrote.
The beer's name was changed to the less harmful "Dates & Grapes" for a time before the submission was removed entirely.
MobCraft also pledged to donate a portion of sales at the taproom the following Saturday to a rape crisis center — an effort that Schwartz said netted $200 for The Healing Center in Milwaukee. Taproom sales were down about 55 percent from a typical Saturday, he said, though he noted a snowstorm hit that night.
Still, the explanation of the "oversight" left many questions, most of which contained the word "really." Really, you didn't see a name that was published on your website; if you did see it, really, you missed an unmissable rape pun?
"Automation is used from the time of submission till the vote starts, URLs are auto populated, the beer name and images are also auto populated," he wrote.
Schwartz told me the recipes that appear on the site at the voting stage are built by head brewer Andrew Gierczak, who's focusing narrowly on aspects like ingredients, recipe viability and government approval. Many beers are cut at this stage — Schwartz said typically around 40 are submitted each month and perhaps six to eight appear for voting on the site — but the focus had always been on the beer, not the names.
That will change now, Schwartz said, with names run through Google and Urban Dictionary.
"Most beer names that came through were honest, funny and good beer names," Schwartz said. "We never had a problem with it so there wasn't really a policy around it."
I've met Schwartz and Gierczak a few times, and while true character is often difficult to divine in such situations, they seem like solid guys who wouldn't condone or certainly try to capitalize on this type of ugliness. Because of this, I believed the official line that this was a mistake rather than an endorsement of an insensitive joke withdrawn after backlash. I also understood the skepticism that met the initial, limited explanation. And even now, if you don't believe them, that's up to you.
But the action was clear and decisive: Schwartz quickly removed the offending submission, owned it and, with the rape crisis donation, took steps to right the wrong. The apology read to me as heartfelt, with the comments on the process seeking to explain the error rather than deflect blame for it.
A Dec. 8 post on Reddit by "the guy who submitted the name Date Grape to MobCraft" apologized for the controversy and said, predictably, that it was all supposed to be a joke. He said he heard about MobCraft on "Shark Tank" and submitted the beer thinking it wouldn't make it through their screening process. He lamented putting MobCraft through the ringer but said he also felt Schwartz and Co. threw him under the bus.
"Was it a poor choice to name the beer as I did? Yes, yes it was," he wrote. "But it was a joke. I never thought it would go this far. I do not condone rape or sexism whatsoever."
"This far" is pretty far. Some national news outlets, including Fox News, picked up the story — nearly all regurgitated from the Journal Sentinel report. Most of the ones I saw did a decent job of noting MobCraft's unusual business model and, by extension, its unique vulnerability to a damaging situation like this.
Empowering the "mob" with creative control of its business also means relinquishing control of certain things, and there's no question there should have been more checks in place to keep MobCraft true to what I believe are the values of its owners. Schwartz suggested the episode has been a wake-up call for him and the staff — half of whom are women.
"If you don't have those intentions internally, those thought processes internally, you kind of don't think that anybody's going to be malicious," Schwartz said. "And then once you figure out that there are malicious ideas out there, you have to develop a new process and look at things through a new lens."
If you think this controversy was overblown, that's your prerogative. But the harm to those affected by sexual assault is real and significant, and no rape joke is funny enough to everyone else to inflict it on survivors of sexual violence. There's plenty of blame to go around for this beer name but none of it should fall on those who object to it.
Beer Baron Chris Drosner's guide to beer variety