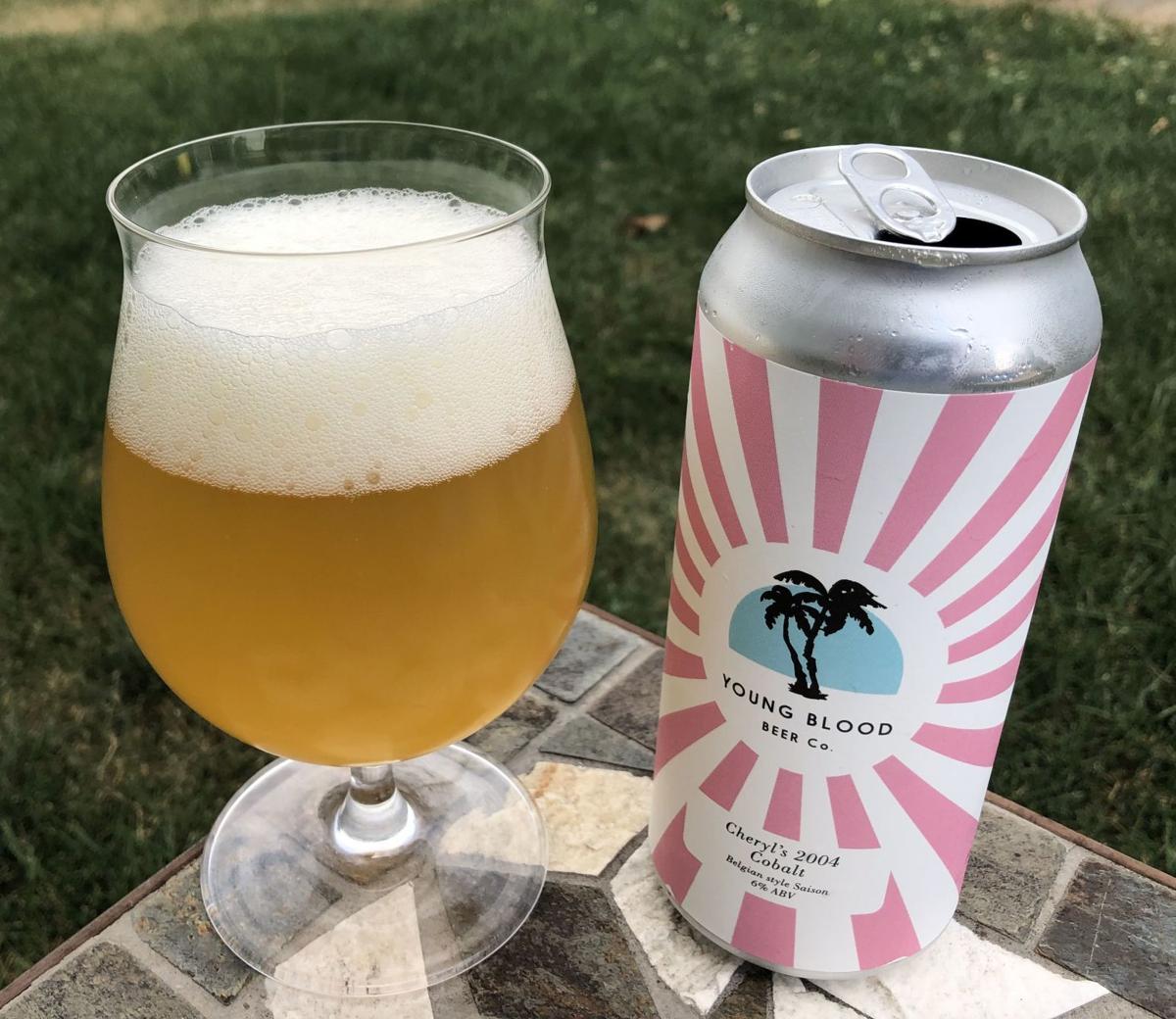 About halfway through a conversation with Young Blood Beer Co. co-owner Tom Dufek, he was pretty relieved to be finally asked about his new brewery's beer, instead of talking about opening during the COVID-19 pandemic.
You'll probably forgive me — and pretty much everyone Dufek meets — for opening with an apprehensive "So, how's the business?" We've heard a gajillion times over about how these are unprecedented times, and Young Blood's model was nearly entirely built around selling beer over its taproom bar. So you do wonder how the brewery is faring in an environment that allows very little indoor drinking.
The good news is that Young Blood Beer Co., which opened at 112 King St. on May 15, is actually doing pretty well. Co-founder and head brewer Kyle Gregorash has cranked out just about as much beer as Young Blood's pre-pandemic plan called for.
The key was embracing canning Young Blood beer — a sales channel that they hadn't planned on using at all. That meant securing a new supplier (amid a tight market), designing labels (which turned out beautifully) and hitting up bottle shops in both Madison and Milwaukee to move cases (which was a snap for longtime beer salesman and Young Blood's third co-founder, Billy DuPlanty).
"Like everybody else, we're pivoting toward doing more stuff in cans to try to meet people where they are," Dufek said.
Young Blood has been kegging beer and then schlepping the beer to Working Draft Beer on East Wilson Street to piggyback on their visits by mobile canner WilCraft Can. The beer — about 500 cases a month so far — is put into 16-ounce tallboys from the kegs.
While cans are keeping the volume up, they're not nearly as profitable as selling a beer in a glass at the taproom. But Dufek notes traffic has been building every week, and my visit on a recent Saturday suggested nearly all of that beer is being consumed on Young Blood's patio on King Street.
Once things normalize enough that more people feel safe inside, they're in for a treat. Young Blood's taproom is gorgeous, with a theme Dufek describes as a mashup between tiki surf hut and a "ruin bar" like the popups he discovered in disused buildings in Europe. That means lots of exposed brick and reclaimed materials, a colorful mural and lots of plants that look straight out of the jungle.
The central feature is a large opening to the lower-level brewing area, ringed with seating and capped with lush plants hanging from an overhead grid down into the negative space. It's a centerpiece of a place meant to be an escape.
"An oasis for those who look for a life of leisure," as Dufek described it. "That feeling of being able to leave your troubles behind. We did want to channel a lot of that into the brewery especially from a design perspective."
The Young Blood co-founders all have some serious cred in different aspects of the beverage industry. Dufek helmed the cocktail program at Merchant and Lucille, and also launched the premixed cocktail brand Plain Spoke, which has a taproom and lounge upstairs from Young Blood. DuPlanty owns Craft Beer Partners, which has offered a part-time sales force for breweries and other beverage companies. And Gregorash comes from Door County Brewing, where he was a key player in Hacienda Beer, which has been very successful since spinning off from Door County two years ago.
It's no surprise, then Young Blood's beer oeuvre is very similar to Hacienda's: hazy IPAs, saisons and farmhouse ales and lagers. What Gregorash really wanted to focus in on is the stuff he really likes to drink, Dufek said. "There'll be stuff outside those three, but if you come to the taproom probably 75% of what's on tap will be one of those three styles."
Young Blood has already made 55 beers, with some of the 10-barrel batches being split for different dry-hopping regimens, essentially making two distinct beers out of one brew. Dufek said the mix has perhaps tilted a little more toward IPAs than it will in normal times as IPAs are reliable sellers in bottle shops.
But you can expect the brisk pace of new beers to continue, as Young Blood does not expect to settle in to regular beers. "Because we were really focusing on the taproom, the idea was never to really have a flagship," Dufek said. "Kyle really wanted to constantly be changing and constantly be doing different things."
Asked about the biggest taproom hits so far, Dufek points to Glitterbug, a red-hued sour IPA that was a blend of blackberry Berliner weiss and IPA with Cashmere hops; and Murder Hornet is My Safe Word, a hazy double IPA that was part of the brewery's opening beer lineup and has already been brewed again. (Despite the fast rotation, there will be repeat beers if they're received well.)
And that brings us to perhaps the most distinctive aspect of Young Blood: Its beers have amazing names. She's a Tornado With Pigtails IPA. Craft Beer Sucks lager. Nobody Makes Me Bleed My Own Blood apricot IPA. Ope Not Nope pale ale. It's Pronounced Oregon not Oregon farmhouse ale. What IPAs Are On Draft? (Yes, an IPA.) Alexa, Play Lil' Jon Radio, another IPA.
I could go on and on. They're basically all this good — like an inside joke that you're on the outside of, but can see the humor anyway. Or a joke where you miss the setup and only catch the punchline.
While planning the brewery, the Young Blood crew began recording possible beer names in a Google Doc on Dufek's phone. Many of them just came out of someone's mouth organically during a conversation, and many times that someone was the gregarious DuPlanty.
"Billy's hilarious. He just says random stuff," Dufek said. "Now it's become this thing where we'll be talking and I'll just stop him and say, 'That's a great beer name,' and I'll put it in the doc. But now everybody is on it. Somebody will say something and like three people will look at each other and be like, 'Put it down."
The list of names is so long — three pages at this point — that sometimes the specific origin is lost to foggy history. Dufek and DuPlanty couldn't recall what exactly the name of this week's beer was referencing, though they said it's related to another upcoming (probably, at some point) beer: Rich, But Fox Valley Rich.
You get the idea. "I think everyone knows a Cheryl who drove a 2004 Cobalt," DuPlanty said.
Cheryl's 2004 Cobalt
What it's like: Young Blood calls this a classic Belgian-style saison, it reminds me quite a bit of Le Printemps, the spring entry in the Door County Brewing seasonal saison series before it shifted to the Hacienda label and a mixed fermentation approach.
Where, how much: Due to the impermanent nature of Young Blood's beer menu, it's tough to say if you'll be able to pick up Cheryl at any of the Madison bottle shops that carry Young Blood, including Steve's, City View, Trixie's and Star. Of course, you can always help the brewery out by buying direct; Young Blood's website allows you to buy online for pickup if you like. Four-packs range from $12-$15 depending on style, with Cheryl falling in the middle of that range.
Up close: Cheryl pours a straw color with wafts of black pepper, orange pith and a bready sweetness on the aroma. The flavor mostly follows, with a medium body and a dry, modestly bitter finish. Saison is a style that abides a lot of monkey business, but this is a clean and straightforward but still highly enjoyable entry in the style.
Bottom line: 4 stars (out of five)
Concerned about COVID-19?
Sign up now to get the most recent coronavirus headlines and other important local and national news sent to your email inbox daily.