That solid beer became more and more interesting as brewmaster Grant Pauly, who left his family's concrete business to try to turn his homebrewing hobby into a livelihood, found his bearings. From the outside, it seemed like his brewing approach matched the spontaneity of the cartoonish sheep piggybacking on the brewery's tap handles.
"When we set out, our goal when we started the brewery, I wanted to push boundaries, especially five years ago in Wisconsin, show people that beer can be so many more things than they expect it to be," Pauly said. 
Some of it worked, some of it didn't, but a strange thing came out of it: some really good beers that were not as gimmicky as the stuff that was going into them. These beers -- Ewephoria; Hello, My Name is Joe; First Kiss; Cashmere Hammer -- had a level of sophistication that their wordy, punny names and fluffy mascot did not. 
Four-plus years into 3 Sheeps' run, with a big new brewery coming online, there were signs that its tongue-in-cheek brand was not working as well as its beer was. It took an encounter with a semi-fan at last summer's Great Taste of the Midwest beer festival in Madison to persuade Pauly that it was finally time to sync up the two.
The product of that decision -- an entirely new look and attitude for 3 Sheeps' packaging, website and more -- began rolling out into bottle shops and grocery stores about a month ago. Stakes are high for Pauly and his team; 3 Sheeps brewed about 4,000 barrels of beer last year but has enough capacity to make some 12,000 barrels thanks to the $3 million brewery it built out of a vacant Coca-Cola facility.
As a fan of beer, the word "brand" in the industry makes my skin crawl a little bit. It's the name of something that I believe should be secondary to what the word is really talking about: beer.
But I also know that a beer's name, label or tap handle imagery and other non-liquid factors do affect my decisions. I have said frequently here that a beer is "cool." Beers are not innately cool or not; this is all branding.
Rebranding happens all the time in the beer business; one of the deans of the state's beer scene, Lakefront Brewery, unveiled its own refresh just last month.
But 3 Sheeps' rebrand was different, less a refinement than a true heel-turn from fun and frivolity to serious and sophisticated.
Pauly and I chatted recently about how his brewery "grew up." Questions and answers have been edited for length and clarity.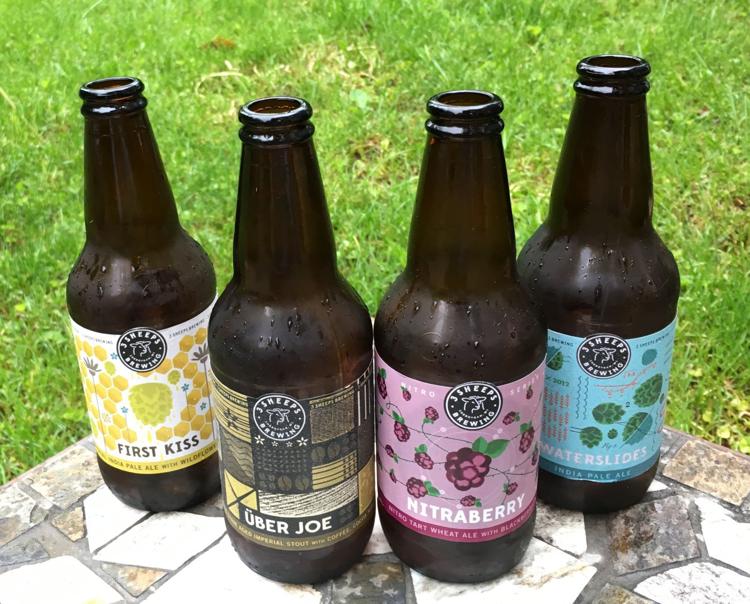 Q. Let's start at the beginning. How did this all come about? Was there a catalyst, an "aha" moment?
A. There definitely was. It had been on my mind for a long time. The beer we were making now was really different than the beer that we were making initially, and I was starting to feel like there was a disconnect between the two. One of the big "aha" moments for me was, I was at the Great Taste and just talking to a consumer. He said, "Grant, I love your beer, I'll drink it whenever someone gives me one, I'll always grab it at the bar. But I never think to buy a six-pack. Maybe you should look into that." And we both sort of laughed.
But that was really our story. We were a really strong brand on premise, but our packaging and brand and how we talked, it just wasn't who we were anymore. We had just changed. So we wanted to update that and take some time and figure out what kind of brewery we wanted to be when we grew up.
Q. This is a move with considerable cost and risk. Were you trying to get ahead of a problem with off-premise sales?
A. Very much so. The thing we saw was, on premise, where there would be a bartender able to talk about the beer, people were really buying it. Off premise, where the package had to stand alone, where in the sea of IPAs, Waterslides had to stand out. Because even if people love it, you still have to be able to see it on the shelves. We were noticing that it wasn't the right ratio. But more than that, we realized we'd kind of gotten away from what was important to us. 
We try to never take ourselves seriously, outside of brewing. When it comes to brewing, we're very serious, very technical. But we found that our brand pretty much focused entirely on who we were outside of making the beer, and we wanted to bring the beer back into the equation more. 
And that's where we came up with what had been our in-house motto, "Brewed with heart and science." The heart is the exploration and the pushing boundaries and the having fun with it. The science is how we make sure we get there, the technical, making sure the beer's consistent. 
It's been nice, too having that one phrase -- it makes everything a little easier to decide, you know, thinking about new beer recipes and things like that, just giving you something to focus back on.
You know our beer, the first few years, I just wanted to explore everything. And we had some really weird beers, some normal beers, fresh hops -- you name it, I think we tried it. And we kind of found the style of beer I think we do well, we enjoy making, the consumers are really starting to enjoy from us. And so when that was honing in, we just wanted the brand to match.
Q. It's a total 180 in brand messaging. Did you consider changing the name of the brewery too?
A. Oh yeah. When we knew we were going to go down this road, I put it on the table because we wanted to make sure that everything we did represented who we are from a beer standpoint and as people. It was the first thing we talked about. 
I'm really glad we didn't have to change our brewery name. I think how we're applying it now, it still lives within the type of people we are and what's important to us. 
But also the 3 Sheeps has changed its style. "Sheeps" for me was never about the animal. I never had a sheep passion. It's just, coming out of concrete, everyone was so serious and everyone was so angry that I wanted to be anything but that. And I thought naming us after a fluffy, grammatically incorrect animal would be a really good way to never take life seriously ever again.
It was all great branding, they did a really nice job with it, but it just didn't match us today.
Q. Who executed the redesign? 
A. A buddy of mine in Chicago, he used to run the social media department for our distributorship down there. And he broke off and started a beer branding company, Matt Tanaka Marketing. Getting to work with Matt was a treat because he knew us extremely well and he knew the industry very well, so we didn't need to fill in a whole lot of blanks with him.
The craft beer community is still a pretty tight-knit one that I think most marketing companies aren't set up to tailor toward it. We want to still be honest with the branding and everything. It's less about the pizzazz and the polish and more about what's being made and the people behind it. And that was one of the things that was most evident when we were talking to different groups. They just didn't get that story. They were great when it comes to Ford or some of the major cheese companies or the major beer brands, but that's not really the direction we needed to go or wanted to go. I wanted it to be about the beer.  
Q. This is the third look for 3 Sheeps' beers in what, three years? Is there any concern about that?
A. One thing we've always focused on is we really want to get better. From our first round of packaging we learned a lot and quickly went into that second round of packaging to speak to what the consumer was looking for and kind of drive that. 
But the other one, that was just a packaging refresh with the same brand. This really was a whole new brand with the packaging falling into line on that. And maybe that's just me justifying it to myself. I don't think so.
We're five years in, but that's still young from a company standpoint, and I like to think we've found our voice to where it's going to maintain for quite a while, so I don't think it's going to change again anytime soon. 
We asked all those questions. We talked with our distributors, who of course are great partners, and once we explained what we were doing, they were all for it. None of these things that we were talking about, with the beer and us not match with our branding anymore, was a surprise to them. Since they're the ones out there selling it everyday, they were excited about the refresh and the refocusing on what we wanted to emphasize as a brewery.
Q. The new labels, the art is really cool, but so are the actual labels, that kind of tactile material. What is going on with that? 
A. We were working with Flexo Graphics near Milwaukee and we were talking about a lot of different options for glosses and things and they mentioned that texture appearance. It gives the entire label an earthier, kind of gritty appearance, before you even put your fingers on it. 
I really liked it because I didn't want to just have a super glossy label. I wanted people to have to look a little closer and see everything that we have going on on our labels, and that grit did it. And that grit is, well, it's fun.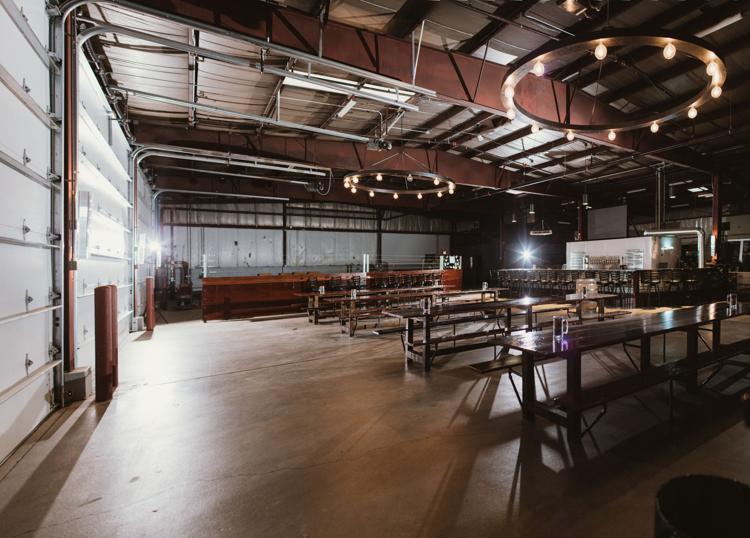 Q. Does all this tie into the new brewery? 
A. It doesn't hurt. When we opened up the tap room in April of last year, I just got to stand back and see how much we had changed in five years, from this 10-barrel system to this 40,000-square-foot Coca-Cola facility that we were making our own. It was one of those aha moments of, "We just need to update. It's time." 
Q. Three million bucks -- that's a big bite, man.
A. Yeah, it is. But what I like is, when we were a smaller brewery, we didn't own any of the property, we were just renting the space. Our costs were pretty low early on. I joke that it was not quite our training-wheels brewery but similar to that, where we were just making sure we weren't making not-great life choices. Now we're ready to step up and commit to our hopefully lifelong system.
Q. What about the beer? With Baaad Boy and Hello, My Name is Joe out, and Nitraberry and Uber Joe in, and the kinds of beers those are, is that a reflection of the new branding?
A. It's more actually consumer trends in general. When we did this relaunch, I knew I wanted to pare down our year-round offerings, because there are so many breweries opening up these days that it's harder and harder to command six year-round placements at all accounts. So we took it down to five year-rounds, and a three-turn seasonal, and the new four-packs of our specialty beers, which is still a big focus for us.