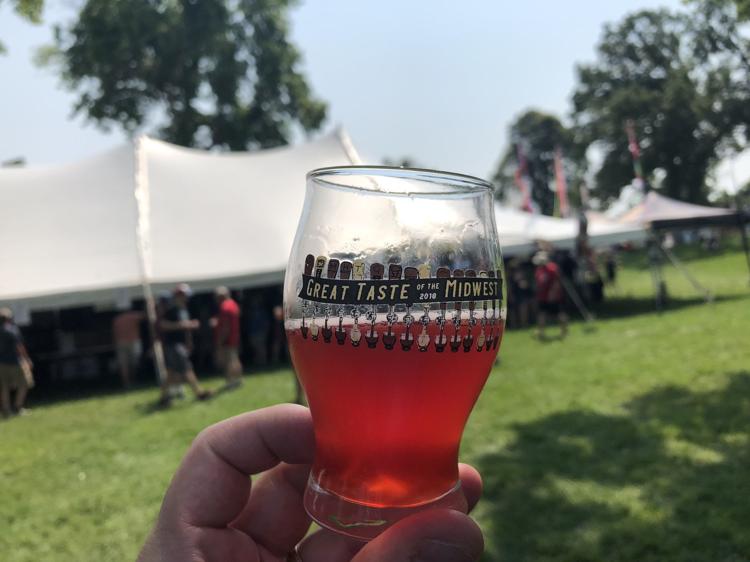 If I had to pick one of the 1,350-some beers poured at the Great Taste of the Midwest on Saturday to sum up the spirit of the event, it's the one with the chicken in it.
Yep, real, actual fried chicken.
It was Chicken-N-Waffles-N-Beer, a collaboration between metro Chicago pastry stout masters Mikerphone and Hailstorm that attempted to approximate a plate of hot chicken and waffles in a rather literal sense. It was brewed with fried chicken (some 60 pounds of it, I was told), as well as actual waffles, maple syrup and ghost peppers.
I spent some time with this beer early in the fest, when my faculties were still fully about me, and it was weird. Obviously you're looking for the chicken, and it's there in the aroma mostly, a kind of meaty, umami undernote among the otherwise maple-stouty goodness. With a sip, though, you're reminded that this is hot chicken, and holy smokes does the ghost pepper end up shouting down just about everything else in the beer.
Which is too bad because it was otherwise a great showcase for the bread and butter of Mikerphone and Hailstorm: enormous, richly sweet stouts. My other Mikerphone pour, Barrel Aged The Velvet Coffee Ground, was outstanding, with enormous coffee character on a big, fantastically silky barrel-aged stout.
But hey, if you're ever going to make a hot-chicken-and-waffles beer, you might as well bring it to Great Taste. And two ounces is the perfect portion size for a hot-chicken-and-waffles beer.
Some other thoughts from the Taste:
Rated rookies: Thanks to some clever reorganization by the Madison Homebrewers and Tasters Guild, the volunteer corps that run the Great Taste (impeccably, I might add), this year's crop of first-time breweries numbered a robust 26. Last year, there were just eight.
And there was just as much quality as quantity among the newbies year, with brewers already well regarded across the Midwest (Hoppin' Frog, Pulpit Rock, Fair State, Steel Toe, Rhinegeist), across Wisconsin (Good City, Raised Grain, Eagle Park, Fermentorium, Explorium) and here in Madison (Giant Jones, Rockhound, Working Draft).
The crowd's buzz about these brewers was intense, with some of the lesser-known names (Crane, from metro Kansas City, and New Oberpfalz, from Indiana) turning the most heads.
A sour note: My beer list from the Great Taste is always an exercise in good planning poorly executed. This is made plain by the Great Taste app, which allows a user to make a "to do" list full of check marks that can be reviewed with intense regret on Sunday when a user sees how many check marks weren't unchecked.
But I'm a big believer in going with the flow at the Taste, and this year's flow didn't bring me to some of the better bets for sour and wild ales — a category that has been growing in quantity and quality in recent years. The R&D Kriek from New Glarus was a tasty, tart cherry bomb, but next year brewers like 2nd Shift (Missouri), Forager (Minnesota), Upland (Indiana) and Off Color (Chicago) will be earlier priorities.
All hail Vlad: One of my favorite beer things this year was Hailstorm's Vlad bourbon barrel imperial stout and seven variants: blueberry, coffee-maple, coconut, raspberry, vanilla, maple and coffee.
That's a lot of deconstruction fun with a fabulously rich beer, and Tasters could mix pours with their friends, convenience store soda fountain style, to find their favorite combination of all those flavors.
All that glitters: My first glitter beer ever came courtesy of Potosi, which poured extra-sparkly versions of Good Old Potosi and Wee Stein Wit that shimmered in the sun as they lazily swirled around the tasting glass. They were two ounces of fun — and a light, refreshing pause from the many big beers on that hot, humid day.
Madison's own Next Door also had one: Unicorn Oasis, a prickly pear witbier spiked with glitter.
Pours of promise: Two Madison breweries, one recently opened and one coming this fall, showed very well. Giant Jones' hearty Pale Weizenbock, with banana-clove goodness that drinks a bit like an imperial hefeweizen, whetted my taste for more from the fledgling Near East Side brewery.
The Vintage Brewing booth was pouring five beers from its new Tangent offshoot. Brewmaster Scott Manning said he expects to have the Tangent taproom in the Sylvee building on East Washington Avenue around November.
Manning described the Tangent attitude as anything goes — even moreso than Vintage's already eclectic mix — and constantly changing. The two pours I tried worked nicely: an elderberry gose with the excellent name of Briny the Elder, and Late to the Party, a tart coconut cheesecake blonde ale.
As always, one person's Great Taste experience is his or her own, reflecting that person's preferences and luck of the draw. So here are some beers and brewers that were generating buzz on social media in the Taste's wake.
Iowa breweries: Sure, Toppling Goliath always kills it with its exclusive whales, but three other breweries from the Hawkeye State were generating buzz I missed out on:
Pulpit Rock (Decorah), a noted slinger of excellent hazy IPAs, had a big hit with Church Salad, a sour blonde ale replicating the fruity/nutty delight of marshmallow salad.
Backpocket (Coralville) this year issued me a lesson in writing off a brewery too soon. It failed to impress me a few years ago but appears to have turned it around recently, particularly with its 6th Anniversary, a barrel-aged imperial stout with vanilla and coconut.
Big Grove (Solon) got onto my radar the week before the Taste when I tried a great IPA from a crowler at a bottle share, and Taste-goers were buzzing about beers up and down its list.
Wisconsin hazy hops: The Brewing Projekt and Hacienda, no surprise, had strong word of mouth for their New England-style IPAs: Brewing Projekt (Eau Claire) for Double Dare, an imperial version of Dare Mighty Things, and Hacienda (Baileys Harbor) for It Just Does Weird Things.
The Dark Lord Cometh: It's a weird Taste when I don't make it to 3 Floyds, an outcome that probably wouldn't have happened if the Floyds crew had tipped Tasters off to the two surprise variants of its legendary Dark Lord imperial stout they poured: Marshmallow Handjee, aged in bourbon barrels with vanilla, and ChemTrailMix, aged in rye barrels with cinnamon and pink peppercorns.
So many stouts: Tasters, myself among them, really like barrel-aged stouts, and there was big buzz around many of them, including Begyle (Chicago) Pancake Batter (featuring caramel, maple syrup and cinnamon), Willoughby (Ohio) Maple Nut Smasher (maple, chocolate, coffee, peanut butter) and Haymarket (Chicago) Clare's Thirsty (raspberry).