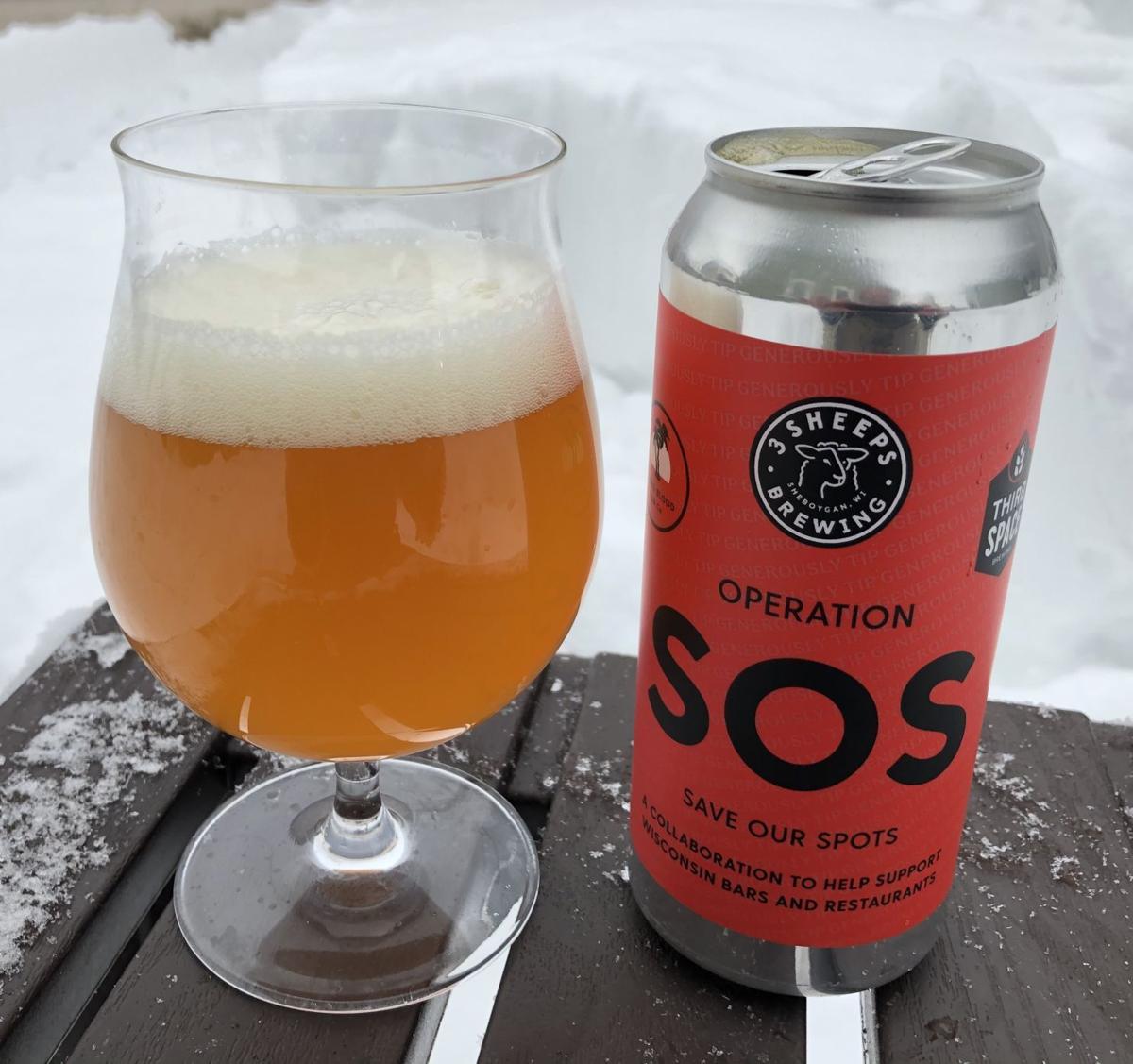 Grant Pauly, founder and brewmaster at 3 Sheeps Brewing, was thinking about ways to help his bar and restaurant friends in the service industry in this COVID-19 winter.
And he ended up turning to his friends to pull it off.
The result is Operation SOS, short for Save Our Spots, a series of beers that was kicked off with a hazy IPA recently released by Sheboygan's 3 Sheeps in collaboration with Young Blood Beer of Madison and Third Space Brewing of Milwaukee.
The cool thing about Operation SOS, aside from the beer itself, is that bars and restaurants are the exclusive retailers of this beer — meaning, it wasn't wholesaled to grocery or liquor stores. At least, that was the plan. More on that in a minute.
"People have been great with supporting these spots and tipping well, but now we're in winter. It's hibernation mode. I don't think people are intentionally staying home, but it's just natural," Pauly said. "I just want people to remember bars and restaurants and keep supporting them."
January and February, even in normal years, are notoriously challenging months for bars and restaurants. It's cold. Outside of Valentine's Day, there's not much to celebrate that drives folks to go out unless the Packers are in the Super Bowl. (Sigh.) And then, of course, this year there's the whole pandemic thing.
"The first quarter is such a bleak time every year, and it'll be even worse with COVID," said Jordan Aberman, sales director for 3 Sheeps. "Imagine your worst month getting that much worse."
They're hoping the lure of an exclusive, limited-release beer made with some sexy hops will get people through the door at a time when every dollar matters — and hopefully buy a takeout meal or two and tip well while they're there. Aberman said Operation SOS is basically a break-even proposition, with the hope that the bars and restaurants selling it can reap the most benefit.
The first weekend of sales suggests the concept has been proven.
"The intent worked," Aberman said, noting reports of brisk sales and eager customers seeking out the beer. "We really tried to get it to a diverse array of places."
But there have been challenges, too. Around the time the first beer began arriving at the spots to be saved on Jan. 29, the state Department of Revenue chimed in.
"DOR informed us that our interpretation of the law was incorrect and we couldn't effectively presell exclusively to on-premise accounts," Aberman said. Essentially, it's discriminatory to exclude would-be buyers based on the type of business they are. So the 65 to 70 cases of Operation SOS remaining at the distributor were released to orders from any retailer, including grocery or liquor accounts.
That means Operation SOS was to start showing up at those other retailers last week. Supplies will be running low by the time this is published, so if you want to try the first beer in the series, don't delay. And I encourage you to honor the intent of Operation SOS and pick it up through those bars and restaurants if possible.
But Operation SOS is not ending at one beer. Another hazy IPA has already been brewed with collaborators 608 Brewing of La Crosse and 1840 Brewing of Milwaukee and is set for a late February release. This time the beer is going dank, with Strata and Cashmere hops as well as a touch of Simcoe. A March iteration is planned as well, with another fresh set of collaborators and a goal of continuing to mix up the geography, and the series could continue deeper into the spring if 3 Sheeps sees a need.
"If things are bad in April and there's demand for another SOS, we'll probably do it," Aberman said.
Pauly and Aberman believe, based on the conversation with DOR, that 3 Sheeps will be able to find a way to continue the "spot"-focused distribution of Operation SOS by refining the details of the sales process, and they're holding no ill will toward the regulators.
"There's a lot of different ways to go about it," Pauly said.
Operation SOS
Brewed by: 3 Sheeps in collaboration with Third Space Brewing and Young Blood Beer
What it's like: I have not seen an IPA, hazy or otherwise, with Operation SOS' two featured hops, Belma and Talus, and this unique profile is a product of the collaboration. Third Space has used the relatively new Talus hop with a tropical profile and rose petal accents to great effect, Aberman said, while Young Blood was excited about using Belma due to its strawberry character. The collaborators considered the union of those profiles and a match was made.
Where, how much: The spots selling Operation SOS are tallied on the beer finder on 3 Sheeps' website, www.3sheepsbrewing.com/find-us. (Select SOS from the brand drop-down menu.) Nearly two dozen Dane County outlets were listed as of this writing, including Eddie's Alehouse in Sun Prairie, Jordan's Big Ten Pub in Madison and Longtable Beer Cafe in Middleton. Some are selling the beer in four-packs, some as singles. You may want to call ahead (and place a takeout order!) before stopping by, though, because spots won't drop out of the beer finder when they run out. Pricing on the four-packs may vary but mine was $20 — which is high in absolute terms but not really out of the ballpark for hazy IPAs these days. Besides, the point is to support the spots. Again, include a tip!
Booze factor: The 7.5% ABV is pushing near double IPA territory, so take 'er easy with this one or you'll be sending your own SOS.
Up close: Operation SOS pours a moderately hazy deep gold with none of that unseemly sediment you find at the bottom of even good hazy IPAs. The aroma offers the style's usual juicy citrus character but also some more interesting notes of melon, berry and a touch of flower and herb. Belma leads the way as you take a sip, with its strawberry character (maybe the leaves as much as the fruit) registering before the tropical citrusy notes — orange and grapefruit, mostly — emerge. Talus' distinctive rose notes show up mostly on the finish, along with a little bite of bitterness that's welcome in a can with "hazy" on its side. The body is between medium and full, but it's as drinkable as the day is long. It's an excellent, nuanced beer that's equal to its lofty mission.
Bottom line: 4½ stars (out of 5)