BEER BARON
Beer Baron: One Barrel is a nanobrewery no longer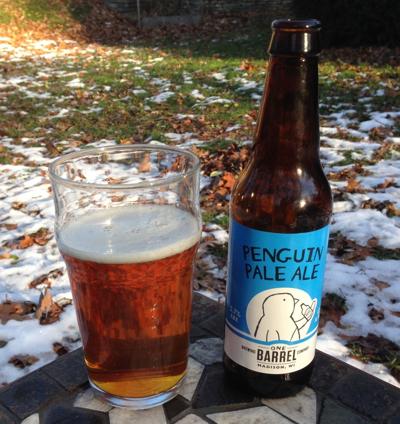 The first time I heard about the idea that became One Barrel Brewing, I thought, "That's just not going to work."
The Madison area hadn't yet seen its first nanobrewery, and One Barrel founder Peter Gentry's model thumbed its nose at two brewery attributes I'd repeatedly been told are critical to success: economies of scale, for larger operations; and a robust restaurant arm, for smaller ones.
On the scale question, Gentry's One Barrel would be true to its name, with a tiny, glorified one-barrel system. And the tap room was just that — limited snacky food options, not the full menu brewpubs bank on. It sounded like a coffee shop with beer.
After One Barrel opened in midsummer 2012, my skepticism waned with each pint poured in what ultimately became an altogether hip and often crowded East Side nightspot. The beer was solid, not spectacular, but that never stopped me and plenty of others from ordering another glass.
In 2015, the One Barrel model changed, probably for good. With the introduction this fall of six-packs, One Barrel is turning away from its name and embracing economies of scale.
Sales in the tap room — initially, the only outlet for One Barrel beer — built steadily in the initial years, Gentry said, fueled by a trend toward local foods from smaller producers. One Barrel, of course, fits the bill on both accounts. "Demand kept rising and people wanted it outside the taproom," Gentry said.
That led this summer to House of Brews, where One Barrel set up its own fermentation tanks and began making a handful of its beers for kegs destined for local bars and restaurants. The response from those outlets was strong enough that One Barrel signed a deal with Sun Prairie-based Wisconsin Distributors, which Gentry described as the culmination of a two-year process.
With Wisconsin Distributors' sales and distribution resources available, taking One Barrel even bigger suddenly became much more achievable. The growth was catalyzed further by the opening this fall of Octopi Brewing in Waunakee, an even bigger, still local option for contract brewing. Gentry began talks with Octopi in September, and the six-packs that hit the shelves in mid-November represent the first contract-brewed beer to come out of that facility.
Going with Octopi requires a significant commitment — 1,500 barrels — and, if all goes well, gets One Barrel well on its way to a key goal: a production brewery of its own.
If One Barrel sells about 2,500 barrels in 2016, it should be able to break ground on its own facility in 2017, Gentry said. It was an option he considered before going with Octopi, but the start-up costs were prohibitively steep. Financiers will see the contract brewing as a sort of real-world proving ground for the beer and the brand, Gentry said.
That proving ground will be just Dane County for now and the Fox Valley — where Wisconsin Distributors has another location — next year. "We really want to focus on our community first rather than making a cash grab and trying to sell beer everywhere, because we want to be here for the long haul," Gentry said.
The beer One Barrel is sending into distribution — everyone says it, but it's truly the case with One Barrel — is in classic styles crafted to be approachable, clean and repeatable. The first release was Penguin Pale Ale, which was followed last week by Commuter Kolsch, a German-style blonde ale.
"We don't try to go over the top with our stuff," Gentry said. "We reach out to people who want to try craft beer but don't want to go too far."
One Barrel is continuing its production of specialty beers at House of Brews, including a keg-only year-round offering in Bilbo Baggins black IPA. Keg-only seasonals like the impending Care Bear Blood coffee imperial stout and spring's Galactic, a pale ale that ferments with oak spirals, also are made at House of Brews.
Before then, let's take a look at the first One Barrel beer to grace a longneck.
Penguin Pale Ale
Brewed by: One Barrel Brewing, 2001 Atwood Ave.
What it's like: Gentry points out that Penguin is not an IPA masquerading as an APA, and he's exactly right about that. It shares a critical hop ingredient with Ale Asylum's absolutely essential Hopalicious, though the latter is more thorough in its use of the Cascade hop.
Where, how much: One Barrel six-packs will run about $9 apiece in Madison, and early response has been pretty good among Madison bottle shops. Some 20 were on board at the launch, including most of the usual suspects.
The beer: The first Penguin was made in Gentry's basement with all Citra hops. Since then, he's switched up (Summit and Cascade) and dialed back the hops and converted about 20 percent of the malt bill to wheat. Penguin pours a pale amber with a piney, grassy aroma. Those hops chill with a slightly toasty malt, in fine balance with an appropriately bitter finish. It's a simple beer, and pretty easy to go through a few of them in a sitting in which the beer is a companion, not the center of attention.
Booze factor: Penguin's 5.7 percent ABV is par for the pale ale course.
The buzz: So, how can a brewery named One Barrel get away with making beer 50 barrels — more than 2,500 six-packs — at a time?
Gentry believes it's mere semantics, and local beer drinkers in particular know and understand what One Barrel is all about: "We still love each barrel one at a time."
Bottom line: 3 stars (out of five)