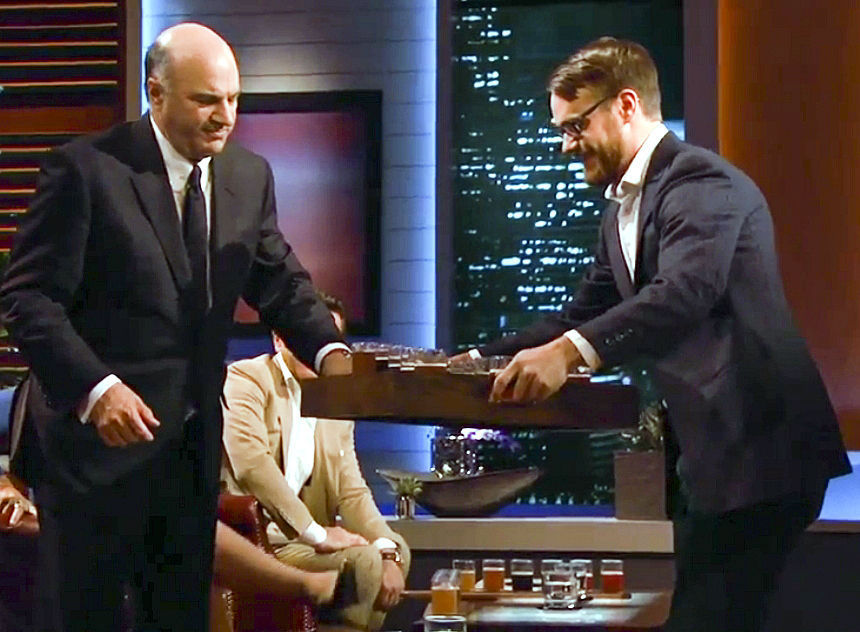 Madison's MobCraft Beer didn't get a bite from the celebrity investors on "Shark Tank," but founder Henry Schwartz sure did look good doing it.
Sure, there was the MobCraft-branded sport jacket Schwartz wore — procured from a Whitewater church rummage sale and screen-printed along with the first order of MobCraft T-shirts.
But the best look was Schwartz's refusal to budge on MobCraft's decision to build its own brewery, one of the company's core principles that a particularly acerbic would-be investor described as a fatal flaw in an otherwise promising business plan. In describing why a brewery was needed, Schwartz hit on some maxims craft beer lovers are most passionate about.
And while Schwartz didn't leave the tank with a new investor, MobCraft did see a spike of interest from all those eyeballs on its brand. Schwartz said that in the three days after the episode, traffic to MobCraft's all-important website was about 40 times normal, while recipe submissions were up 15-fold and orders threefold.
The episode begins with an introduction to MobCraft narrated by Schwartz that opens with a shot of a Madison city limits sign and shows furtive glimpses inside the brewing process.
The real action gets started when Schwartz goes before the panel of five "sharks." He opens with a quick pitch before bringing out a flight of MobCraft beers for each potential investor. The reactions to the beer were ... telling.
Many of MobCraft's beers are truly weird, using exotic and unusual ingredients, so a "Whoa!" reaction isn't unexpected, but the type of "whoa!" showed these rich folks knew next to nothing about beer beyond the standard fizzy yellow lager.
Some sharks were curious about what was in front of them: "I can get coffee AND beer?" Robert Herjavec said while marveling at MobCraft's coffee brown ale. "There's grapefruit in here?" Mark Cuban exclaimed about Hop Gose the Grapefruit.
Reactions after a sip were varied, with the Vanilla Wafer Porter being the biggest and broadest hit. But the negative ones — particularly to the pair of sour beers Schwartz brought — were strong, and I suspect hammed up for dramatic purposes. Fashion mogul Daymond John described the sours as "vinegar," while "Mr. Fabulous" Kevin O'Leary described it as "disgusting" and Cuban jumped up to spit out his sip behind his chair.
Schwartz took this all in stride; he told me in an interview after the episode aired that he's used to strong reactions to MobCraft's beer, either in person at festivals or while scrolling through reviews on Untappd.
After the tasting the sharks asked questions about how MobCraft's crowdsourced recipe process works and probed for details on the company's financials. While this is a basic of investing and a key factor for the sharks, watching Schwartz lay bare the company's financials on national TV left me feeling a bit like a voyeur.
MobCraft was asking for a $400,000 investment in exchange for a 16 percent stake in the company — a ratio that values MobCraft as a $2.5 million company. Schwartz told the sharks the company had made $350,000 so far, $280,000 of that in past 12 months. Schwartz said the company was expecting to bring in just shy of $500,000 this year, and run a $28,000 loss, due largely to outlays for the brewery it's building in Milwaukee.
(Schwartz told me he wasn't allowed to say when the episode was filmed, but as he described Aloha Danke Schön for the sharks he said it was the crowdsourced beer two months ago, which would put the filming late last spring or last summer.)
Schwartz also talked about the various investments in the company — the MobCraft founders invested $33,000 — and also illustrated for the sharks the handsome markup in the beer business. MobCraft's cost on a 24-can case of Hop Gose the Grapefruit is about $28, Schwartz told the sharks, while it's sold to a wholesaler for $48. Each four-pack retails for about $10-$11, so you can do the math on the take for the distributor and the retailer.
You have free articles remaining.
But the most interesting "Shark Tank" exchange from my seat came when O'Leary pressed Schwartz on his stated need to build a brewery of MobCraft's own. Many breweries in many places have excess brewing capacity, O'Leary said, so why not avoid the significant capital expenditure to build a brewery and instead brew at other facilities? This is the model MobCraft has followed so far, brewing primarily at House of Brews in Madison but also more recently at Octopi Brewing in Waunakee and an unspecified Milwaukee brewery.
Schwartz had a measured reply: "We've looked into it and we've found that with our customers, the ones who really believe that craft beer is a craft, they want to see the beer brewed on the home front."
After further questions, it came time for the sharks to declare whether they would invest in MobCraft, and one by one they said they would not, largely because they just didn't like beer or craft beer. This rang hollow to me, as though only someone who likes fast food could invest in McDonald's.
But before O'Leary's "I'm out" moment, he circled back to hammer Schwartz on the capital point again.
"There's a big quality control issue," Schwartz responded. "We can't maintain the quality in someone else's facility, and that is something that will really disappoint the customers and turn them away, never to come back."
This is not merely a hypothetical with MobCraft. Some beer fans have sworn off of MobCraft, citing uneven results on what they describe as ill-conceived crowdsourced beers, including some alleged infections. This was a subtext for keen observers of the Wisconsin beer scene that was, of course, lost on O'Leary.
"I don't believe that statement," he responded to Schwartz. "I could show you how to fix this and make you millions of dollars, and you're too stubborn. I want to spank you like a baby seal.
"I'm heartbroken. It's such a cool model with such a flaw," O'Leary said, dragging out the last word for what seemed like five seconds. "What a crime."
This diatribe was so impolitic — even for the sake of TV drama, what grown man tells another grown man he wants to spank him like a baby seal, and WHO SPANKS BABY SEALS, AND WHY? — that I just wanted to reach into the TV and give Schwartz a hug, even if he was affable and laughed it off.
Schwartz and O'Leary agreed to disagree, and Mr. Wonderful, of course, declined to invest.
O'Leary's pitch — "I could make you millions of dollars" — was the money shot of the episode, and it likely came across as extraordinarily crass to many craft beer fans, who are still growing or never will grow accustomed to the notion of craft beer as big business. He represented the outside influence that seeks to remove decisions like where, or how, to make the beer from those who made it successful in the first place.
This is the big boogeyman that makes purists recoil when a brewery sells to either a bigger brewery or a investment firm, and with millions of people watching, Schwartz and MobCraft stood up to it, turning down a somewhat dubious fortune to stand up for what they believe in.
Schwartz told me he wasn't thinking in idealistic terms at the time; he was more concerned about sticking to the MobCraft plan and clearly articulating why that was important to the company and its bottom line.
As a "Shark Tank" rookie, this was the first time I've been a fly on the wall for an entrepreneurial pitch, but Schwartz has been doing elevator pitches since he was a business student at UW-Whitewater.
"That whole experience was like those other investment pitches that I've done," Schwartz said. "I've been turned down by probably 10 different panels like that for a lot of the same reasons."
And his swim with the sharks was just one piece of fundraising for the new brewery and to build capital.
"I knew in my heart that going into this we would finance the company in some way shape or form at some point," he said. "It's a long, hard battle. … I knew we were going to get the project off the ground at some point and I wasn't going to compromise before that."
Beer Baron Chris Drosner's guide to beer variety