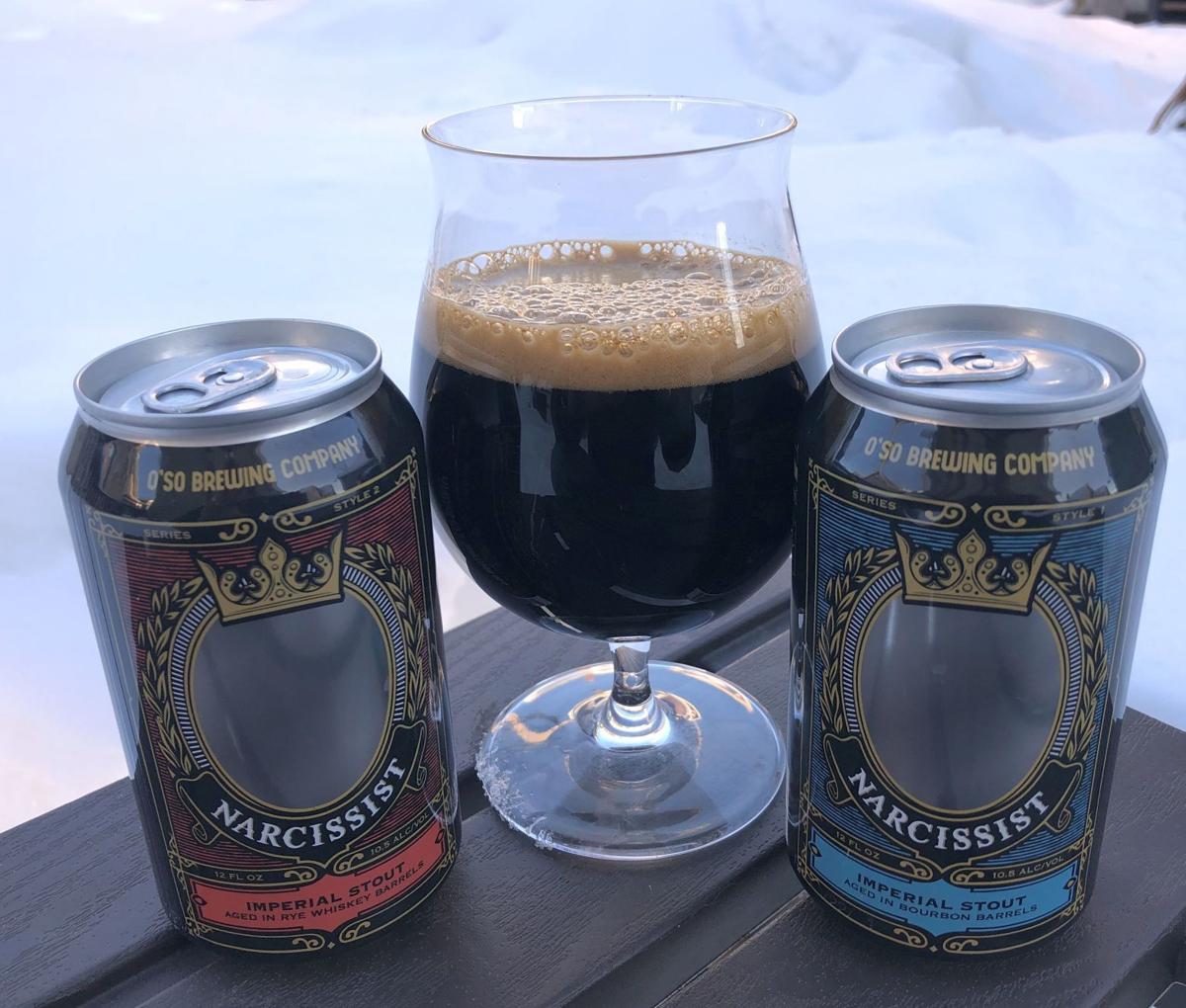 For good reason, the bourbon barrel stout is the apex predator of the craft beer world. It's rich and bold, at once complex and utterly unsubtle.
Every brewery knows the cachet these dark dandies have with beer geeks, and many breweries make them. Nearly all are pretty good — the combination of stout's chocolate-coffee-dark-fruit and bourbon's oaky vanilla just works — but remarkably few are great.
A new barrel-aged stout from O'so Brewing of Plover just joined that latter group.
This should-be hit, called Narcissist, comes just ahead of a major turning point for O'so. Owners Marc and Katina Buttera have been working to open a new brewery for years, with one setback after another delaying or scuttling plans. Marc Buttera once told me hoped to break ground in 2016 on a new brewery and taproom. That was in 2014.
Six-plus years later, Buttera is almost to the finish line on that project, plowing right through a pandemic that might be the biggest disruption to the beer business since Prohibition. He believes the new brewery can open by April if regulatory hurdles are cleared in time. It'll occupy a 30,000-square-foot former Shopko store (the Butteras kept the two O's and the S from the sign), combining under one roof the homebrew shop that gave rise to O'so, the production brewery, a taproom, event space and a barrel-aging area.
The latter is where O'so has invested heavily, to produce both a wide range of barrel-fermented wild and sour ales and spirit barrel-aged beers like Narcissist.
To be honest, the last time I invested a bunch of dollars in a dark barrel-aged O'so beer, I got burned. I wrote a glowing review of the barrel-aged Imperial Night Train variants poured on draft and sold in bottles at O'so's seventh-anniversary party in 2014. The draft versions were very good, but the haul of bottles I took home was woefully undercarbonated or, worse, infected with off flavors that sent them right to the drain.
That episode and the way O'so handled it has caused some beer geeks — many of whom drove to Central Wisconsin from Madison, Milwaukee or Chicago for the event — to sour on O'so permanently. Or at least for the six-plus years since.
For what it's worth, the 2014 debacle was a moment of soul-searching for O'so as well. Buttera finally installed a lab this summer, and O'so's quality control efforts are highlighted on its Facebook page, along with advice on what to do if a problem is found.
If the minds of the people who swore off O'so can still be changed at all, Narcissist is the beer that will do it.
It's a big, burly, barrel-forward beer with twin variants aged in different barrels from prestige whiskey distillers, Templeton Rye and Willett bourbon. The beer's name is paired with a clever mirror-like can design that allows you to be on the label, just like you've always known you would be someday.
Enough chatter. Pitter patter, let's get at 'er.
Narcissist
Style: Whiskey barrel imperial stout
Brewed by: O'so Brewing, which will open at 1800 Plover Road, Plover, sometime this spring.
What it's like: As I sip Narcissist (mainly the bourbon barrel version), I think of Oskar Blues Barrel-Aged Ten Fidy and Lakefront Black Friday as they are similar both in character and, yes, in quality.
Where, how much: Barrel-aged beers are often very limited, so get after this one quickly, and it might be worth a call ahead to your local indie bottle shop. Narcissist four-packs were also available midweek at O'so's Madhouse taproom at 1817 E. Washington Ave. Expect to pay about $14-$15, a good price for a barrel-aged beer.
Booze factor: The Narcissists are sippers for a few reasons, one of them being their 10.5% ABV. Beer writers like to call that "warming."
Up close: This beer started with a base brew slightly tweaked from O'so's Liquid Soul imperial stout, but Narcissist is really all about those barrels.
Both versions are intensely spirit-forward in different ways. The bourbon version opens with a sledgehammer of whiskey character on the nose, pretty much a snifter of Willett, neat. A sip brings semisweet chocolate with low roast character on the front, a smooth, balanced middle and a little bit of molasses and spicy spirit kick on the long finish.
The rye variant has a somewhat more subdued spirit aroma but kicks up the barrel character in the flavor, with the spicy, almost cinnamon-like rye character accentuating the chocolate-molasses character throughout the sip. It might be the yin-yang aspect of the rye playing here, but this version seemed slightly sweeter on my palate.
No matter which version you're drinking, take your time and let it warm up to let the complexities emerge; these beers drink better at room temperature than straight from the fridge, but somewhere in the middle is the sweet spot. Both versions are creamy, viscous and intensely satisfying on a winter's night. And if, like me, you believe Narcissist is truly an O'so redemption story, go ahead and put an extra four-pack away for summer and fall nights as well.
Bottom line: 4½ stars (out of 5)