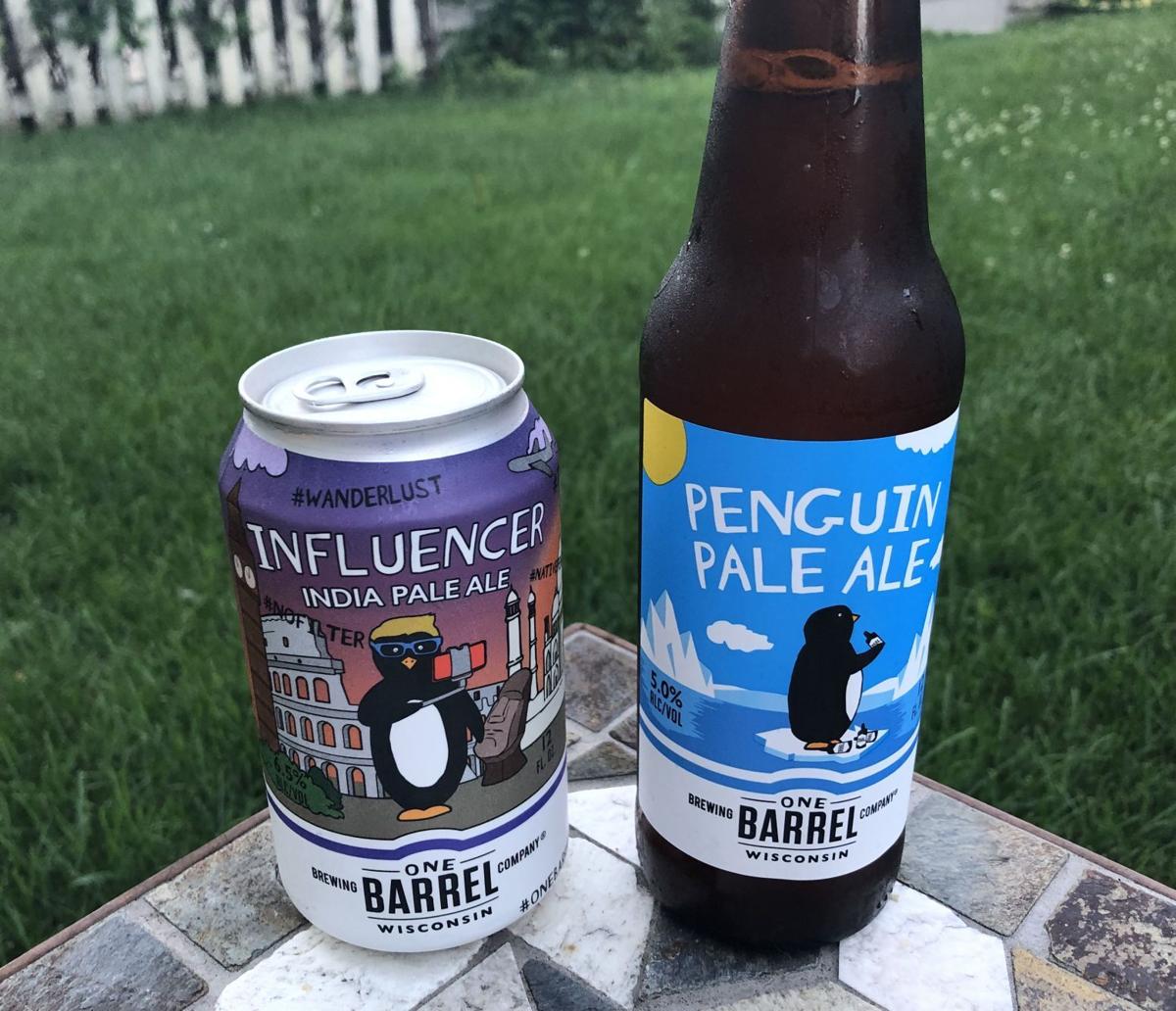 One Barrel Brewing has made two big changes to its beer lineup recently — one looking forward and one looking back.
One Barrel is one of Madison's quirkiest breweries, founded in 2012 as the city's first nanobrewery — true to its name, it made most of its beer one barrel at a time and sold it over the counter at its cozy location on Atwood Avenue.
These days a large majority of One Barrel beer is made at Octopi Brewing, a contract brewery in Waunakee. That's inevitable when a single Octopi-made batch of beer destined for six-packs and kegs around the state is equivalent to 50 batches on One Barrel's tiny Atwood brewery.
But One Barrel still feels small, and the taproom has been the engine of a cans-and-bottles portfolio made at Octopi, as well as a delightful adventure unto itself. Since late 2018, the taproom's beer has been in the hands of Peter Schroder, a native Dutchman who had been kind of the uber-homebrewer in Madison for years before joining One Barrel.
The limited risk involved in those one-barrel batches allows Schroder to continue the adventurous streak he honed as a homebrewer. He specifically cited a couple of weird beers he's made at One Barrel: a sriracha scotch ale and a black saison made with Sichuan peppercorn.
"That was the nice thing for a homebrewer becoming a commercial brewer at One Barrel: You can do whatever you want," Schroder said. "I could wake up tomorrow and say, I want to make a coffee beer, but I also want to put some lemon in it. People might like it, they might not like it. I might never make it again, who knows?"
Since COVID-19 hit and the taproom business has either entirely or mostly dried up, Schroder, an hourly employee, has been using accumulated PTO and picking up more work at his former job in satellite communications; he had gone from full-time to part-time when he signed on at One Barrel.
"We're not struggling, but I would love to do more in beer because that's where my heart is," Schroder said.
To fill that creative void, he's been working with brewer friends at Ooga in Beaver Dam, Sunshine in Lake Mills and the new Faklandia in St. Francis. He's been homebrewing a lot — six or seven batches since March, and he hopes to bring at least some of those ideas back to One Barrel when he's brewing there again more regularly.
While One Barrel's beer can get pretty wild in the taproom, its packaged portfolio has a different personality, one I think best described as friendly.
The beers are approachable, simple and easy. (That's not at all an insult.) When One Barrel errs with a packaged beer, it's on the side of being a little too boring for beer geeks, but usually right in the wheelhouse of a more casual drinker.
So let's take a look at these new beers, both of which are only a little new.
Penguin Pale Ale
Penguin was one of three beers on tap when One Barrel opened its doors on July 6, 2012, and it was alongside Commuter Kolsch when One Barrel began contract brewing with Octopi in 2015.
But things change after eight years, and although Penguin's recipe had evolved a little over the years, One Barrel owner Peter Gentry thought the time was right for a full revamp. He asked Schroder to update the classic to the current market while retaining its easygoing essence. The direction was more explicit in what it would not be than what it would be: "Let's not make it a hazy, not make it a juicy, not make it a fruity, not make it anything weird," Schroder said. "Just keep it a pale ale, low in ABV, nice and crisp, light in color."
What that ended up looking like on paper was a new malt bill (removing the 20% wheat in the grist), mostly new hops (Centennial, Amarillo and Simcoe), a little bit lighter color and about a half-tick lower in ABV (5% vs. 5.5%).
"What I found with the last Penguin I drank, the old version, it was getting a little stale," Schroder said. "It wasn't as fresh-tasting as I wanted it to be. But I felt that there were so many other pale ales out there from Brewing Projekt or our friends at Third Space that are fresher and crispier. And I miss that kind of crispiness from our Penguin."
The verdict: This is a new Penguin, to be sure, but I suspect fans of the old Penguin will not be put off at all. The nose is a standard pale ale aroma with a little bit of phenolic black pepper accent. And Penguin remains a very easy (balanced) beer, with a light, kind of biscuity malt interplaying with a little bit of citrus and a little bit of pine from the hops. There's still only modest bitterness, and it finishes clean and crisp, just as intended.
Bottom line: 3½ stars (out of five). I gave Penguin 3 stars on its launch in bottles in 2015.
Note: New Penguin can be distinguished from its predecessor (which is now getting pretty dusty for a hop-forward beer) by a new label, with the penguin on an ice floe and a burst noting the new recipe.
Influencer
Schroder has long been a big fan of old-school West Coast India pale ales with pale color and crisp — there's that word again — but moderate bitterness.
This is what an IPA was in America for perhaps a decade before — about five years ago, Schroder says — a bitterness arms race began overtaking the style. That was followed by a whipsaw in the other direction, as juicy IPAs became the rage, then hazy IPAs and the full-on New England style blew the West Coast archetype apart with opacity, over-the-top fruit flavors and often minimal bitterness.
So in March 2019, Schroder tapped a classic American IPA he called Almost Forgotten.
"I just felt that the true West Coast IPA — like Sierra Nevada started them out — needed to come back," he said. "Just give it 55-60 IBU (international bittering units), clean, clear, good head retention. Nothing over the top, just something that you can just drink and be happy with. Just, simple."
The two kegs of Almost Forgotten sold out in just 10 days — a big hit at One Barrel. It's been popular a few times it's been rebrewed, too, so this year One Barrel added it to the packaged lineup.
And I think Schroder is getting his wish for a West Coast IPA revival. The hazy IPA has always had detractors, but I see more breweries bringing more variety to their IPA lineups. If you're going to have five of 12 tap lines featuring hoppy beers, as One Barrel did last week, there's plenty of room there for variety.
Consider what's considered an IPA these days: West Coast. Hazy. Juicy. Double. English. Black. Brut. Session. Low-cal (which is different!). Milkshake, even, though I'd argue that's not at all an IPA. And then throw in the enormous flavor/aroma variation you can see from different hop varieties and you've got probably the most diverse style (OK, probably style family) in beer.
Of course, some breweries don't want to make IPAs, which is OK, or even great, but for the more mainstream ones that might have a few on at any given time, there sure seems like room for a West Coast one in the mix.
The verdict: Influencer pours a pale amber that's very similar in color to Penguin. Its aroma and flavor almost entirely overlap, with a little touch of honey malt bringing a little sweetness and each of its three hops playing a noticeable part. Centennial brings a kind of orangey citrus character, while Mosaic adds a little floral note but none of the dankness I pick up from many Mosaic beers. Warrior is just in there for the IBUs, and while Influencer is a moderately bitter IPA through about the middle of your drink, it evaporates quickly, with no bitterness — or much of anything — lingering. It's a very clean beer, and like Penguin it's calibrated to be balanced and easy-drinking.
Bottom line: 3½ stars (out of five)
Stay up-to-date on what's happening
Receive the latest in local entertainment news in your inbox weekly!