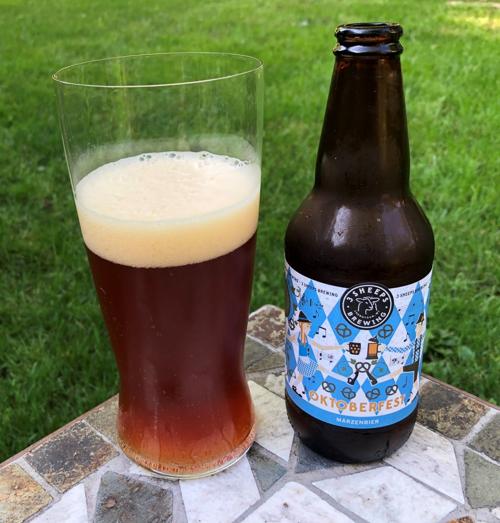 Oktoberfests are for autumn, I wrote: the color, flavor profile, the very name. (Never mind that the real name of the style, märzen, is German for March — an allusion to when it was traditionally brewed to be ready for the September festival.)
Those are all good reasons to enjoy an Oktoberfest beer in fall, but I am done bemoaning summer Oktoberfests. Because if you like a beer style, or even a particular beer, you should drink it.
It may be better at a certain time of year at which it's not normally available, but if you've been waiting nine months for märzens and you finally drink one, it's plenty good. Great, in fact — it's a delicious beer.
The principle driving my evolution has a lot of names: "Live and let live," "Drink what you like," "Don't yuck someone else's yum" is a good one. While I thought I'd always subscribed to it, lately it has eclipsed the conviction that some beer truly is best in certain seasons.
I mean, I had an imperial stout last night. It was July, and it was hot. But I was inside, in air conditioning. So, I drank my favorite style. It was good. Great, in fact.
Anyway, I'm probably going to wait a month or so before I really start getting into märzens. There'll be more to choose from, and I associate the flavor with watching or thinking about (regular-season) football. That works for me.
If August Oktoberfests work for you, here's a new one that I recommend.
3 Sheeps Oktoberfest
Brewed by: 3 Sheeps Brewing, Sheboygan
What it's like: It's easy to think of American Oktoberfests as the same: slightly sweet, somewhat richer amber lagers. But there are significant differences that play out best when they're tasted side-by-side. After checking my notes, 3 Sheeps' first take on the style hews most closely to Bent Tuba, a really nice Oktoberfest from Titletown Brewing in Green Bay.
How much: 3 Sheeps' regular six-packs are usually around $9, and most of the bigger bottle shops should be carrying this one. My sample bottles were provided by the brewery ahead of their shelf date to maximize timeliness for you, dear reader.
Booze factor: This Oktoberfest's 5.5% ABV is on the more sessionable end of the style, which maybe is another reason it's totally OK to drink this beer during the height of summer.
Up close: The brewery says it took a few years to come out with an Oktoberfest because founder and brewmaster Grant Pauly was not a fan of the most common American take on the style as too sweet.
That's kind of interesting because this beer is pretty sweet, at first — that toasty caramel-toffee malt character that many domestic märzens put furthest forward. But in swoops a slightly spicy hop kick that helps 3 Sheeps Oktoberfest finish with a moderately bitter snap. It's achieving balance not by dialing back a malt bill that could be too sweet but bringing up the hop bill to match it.
And the ruby-amber beer both looks gorgeous and drinks very well: moderately full, with a smooth, round body. That's enough to have me dreaming of September.
Bottom line: 4 stars (out of 5)
Stay up-to-date on what's happening
Receive the latest in local entertainment news in your inbox weekly!