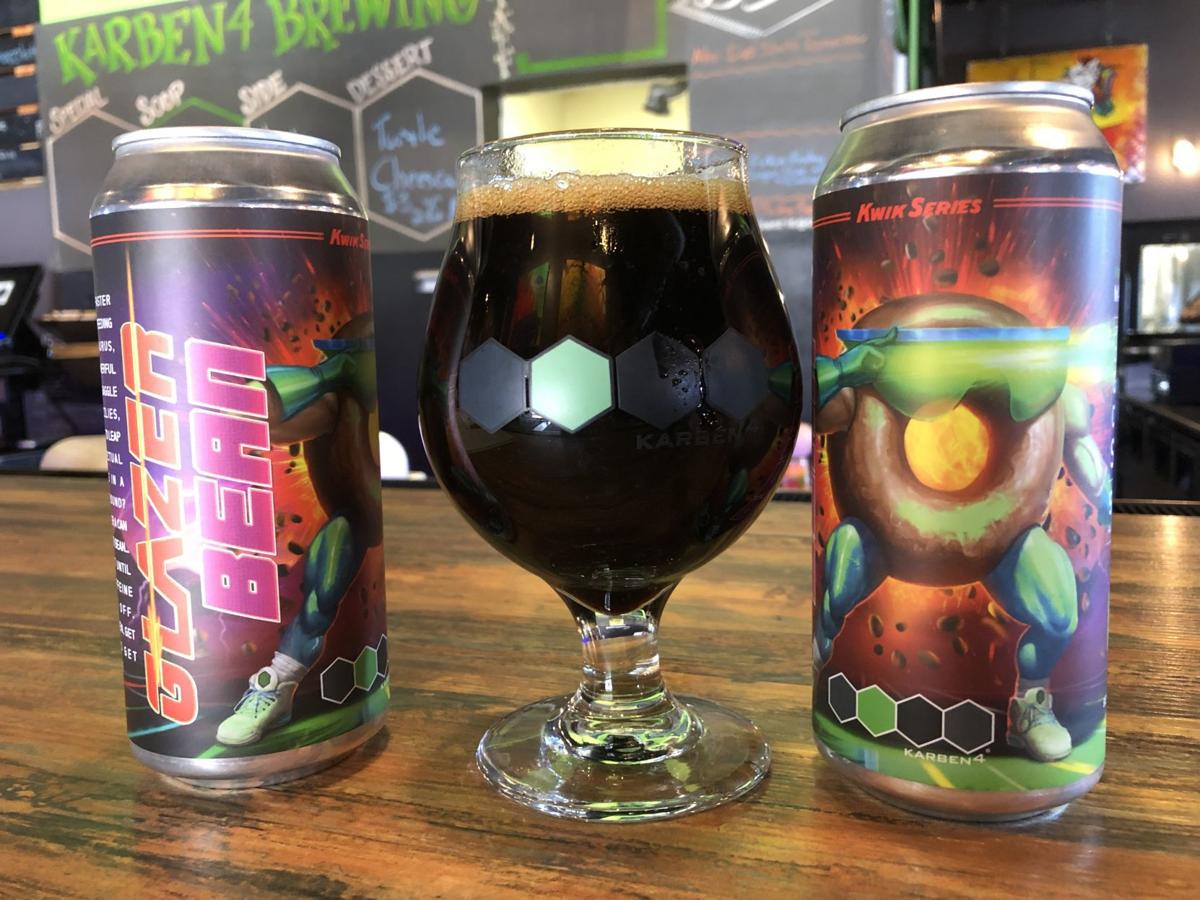 Ryan Koga, brewmaster at Karben4 brewing, had always liked Kwik Trip.
When filling up, he'd choose the La Crosse-based chain over other convenience stores if there were options at a busy intersection or freeway off-ramp.
Kwik Trip has been a productive retailer of Karben4's beer — it recently surpassed the Woodman's grocery chain as the Madison brewery's top packaged beer seller — but for the most part Koga preferred Kwik Trip for the same reasons many people do: surprisingly good stuff at decent prices in convenient and tidy stores.
Then, earlier this year, Kwik Trip's lead beer buyer, Kim Jenks, approached Karben4 about a collaboration beer. As part of the process, Koga and his brother and fellow co-owner Zak toured Kwik Trip's massive complex and came away impressed with how nearly all of the house-label foods in the 700-plus-store, three-state chain are made in-house. The bread and doughnuts are baked there. The milk is processed there. The water is bottled there. Heck, even the plastic bags and bottles to hold the milk and water are made there.
But Kwik Trip's beer, Jenks insisted, would not be a relatively faceless Kwik Trip brand like its Nature's Touch milk or Urge potato chips. It needed to be a Karben4 beer, complete with a typically gonzo K4 artwork. The only Kwik Trip reference on the label is an unobtrusive "Kwik Series" line at the top of the 16-ounce can — a package Koga said Kwik Trip wanted to allow single-can sales.
The beer itself is called Glazer Bean, a coffee chocolate milk stout that plays off of two of Kwik Trip's signature items: Glazer doughnuts and Cafe Karuba coffee. Koga noted, though, that the name is fudged a bit, as the Glazer is actually a raised doughnut, while the beer is intended to evoke the Kwik Trip Dunker, a chocolate cake doughnut.
Actual doughnuts were not used in the beer, but Cafe Karuba dark roast coffee was — a late addition of cold brew at about a pound per barrel. The chocolate is provided by an unsweetened liquid cacao product called Cholaca used a gallon per barrel. Both of these ratios are … robust.
Placement in the sprawling Kwik Trip chain can put a lot of eyes on a brewery's beer, and a collaboration with the company figures to boost that visibility even further with cross-promotion. But it's also filling and turning tanks at a time when merely modest growth is the new normal for mid-sized breweries like Karben4. The first order of Glazer Bean was 1,900 cases, or a bit less than 200 barrels, with two more deliveries planned. For a brewery that figured to finish 2019 with sales of about 12,000 barrels, up about 6%, that's a significant amount of beer, especially considering it's essentially pre-sold as it's fermenting.
You have free articles remaining.
Plus, remember that Kwik Trip reference on the can alludes to a series, which at this point is an eventuality that Koga said will depend on this first beer's performance. The possibilities for future recipes, Koga notes, are myriad. Among Kwik Trip products he mentioned he's thought about using or echoing are bananas (!?!) and Nature's Touch ice cream.
But first things first. Let's pour ourselves a mug of …
Glazer Bean
Style: Milk stout with coffee and chocolate
Where, how much: It's a Kwik Trip exclusive, and the four-packs will be priced at $9.89.
What it's like: Chocolate and coffee? Yeah, it's a mocha latte.
Booze factor: A lot of chocolate coffee stouts go the big route, but Glazer Bean is a relatively sessionable 5% ABV.
Up close: Glazer Bean pours a blacker black than the Cafe Karuba dark roast therein, with a thin head that quickly dissipates due to the oils from its coffee and chocolate. And both those ingredients make their presence felt in Glazer Bean's aroma; one sniff you'll be sensing coffee, the next, chocolate.
A sip begins with a blast of chocolate chip brownie, though to its credit the beer never reaches that kind of sweetness. The coffee comes through on the back of the sip, mingling with a subtle hop character to clean up the finish. Lactose typically adds a silkiness to beers, and that's in play here, on a body that's a bit less full than you'd expect from a beer that looks this way.
Bottom line: 3.5 stars (out of five)