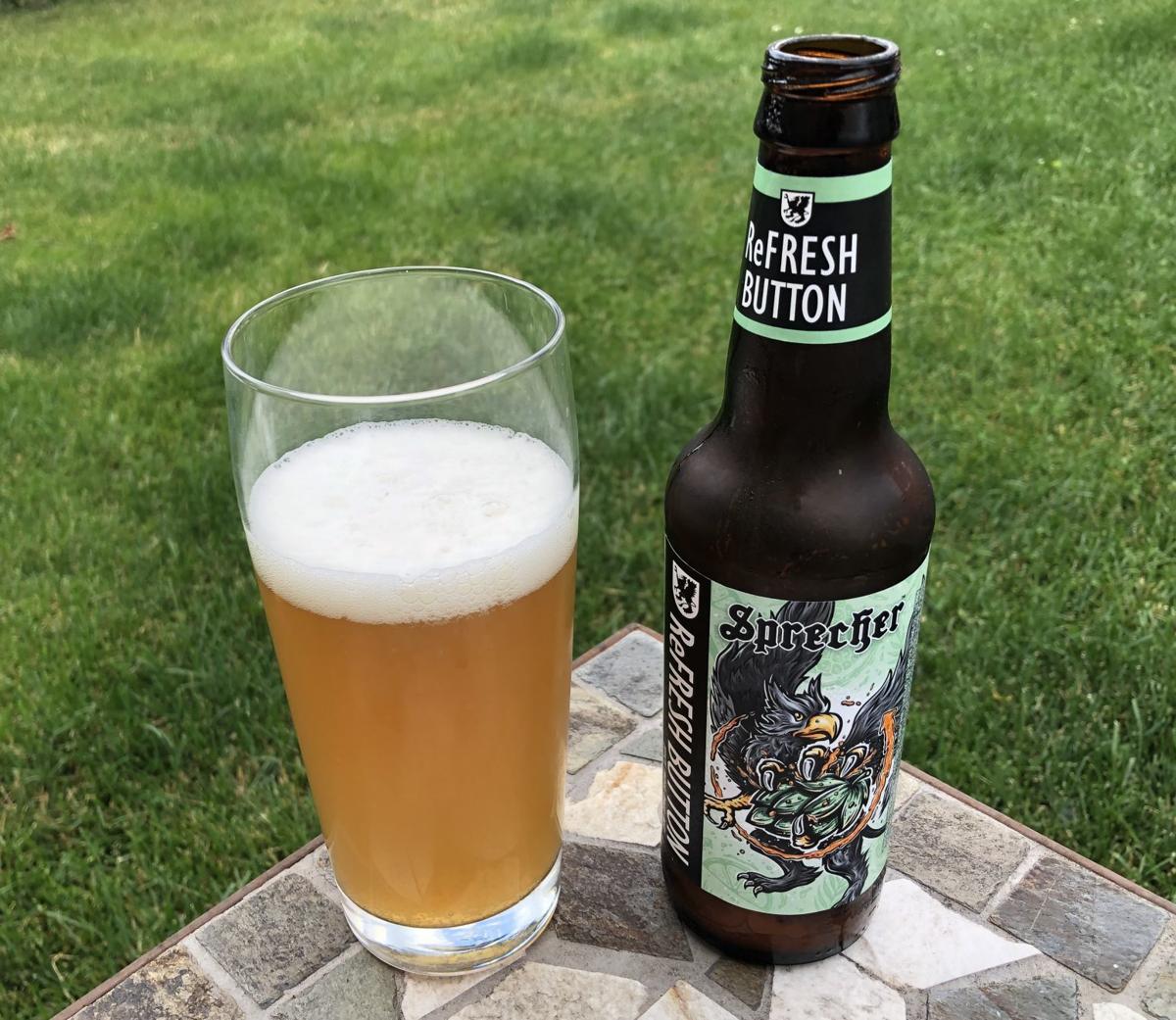 As metaphors go, an old craft brewery with new owners calling a new beer in a new style "ReFresh Button" is about as subtle as a triple IPA.
And yes, this is a sign of things to come from Sprecher Brewing.
The brewery was founded in Milwaukee by former Pabst brewer Randy Sprecher in 1985, making it the oldest Wisconsin craft brewery founded this century and the leading edge of a wave that over the ensuing decades would become a true movement.
Sprecher is in the vanguard of old-line Wisconsin craft brewers, along with Middleton's Capital Brewery (1986) and Milwaukee's Lakefront Brewery (1987). It carries in its portfolio one of Wisconsin's landmark beers, a schwarzbier called Black Bavarian that is held up as one of the pinnacles of its style. Its Special Amber lager holds a special place in many Wisconsinites' hearts, too; it was one of the first craft beers I can remember drinking. Sprecher's sodas — unlike most pop, it's kettle-brewed, just like beer — are fantastic, and it has diversified in recent years into ciders, hard sodas and, last year, hard seltzers.
But by the time Randy Sprecher retired early this year by selling the brewery to a local ownership group, Sprecher had seen better days. In 2015, the peak of the hard soda craze that briefly made a thing out of Not Your Father's Root Beer, Sprecher produced 23,000 barrels of beer and hard soda — enough to make it the state's sixth-largest craft brewer. Last year, it made less than 6,000 barrels.
And the reason you haven't heard much about Sprecher lately in this column is it hasn't introduced many new beers in the last few years, and those few new offerings were not very good. This, amid a craft beer market that has increasingly relied on new products, is certainly a factor in that production nosedive — though the crash of hard sodas certainly did not help.
So, yes, Sprecher was in need of a refresh when the sale closed on Jan. 31. The Milwaukee-based group of owners — including Jim Kanter, former GM of MolsonCoors' Milwaukee operation, and Sharad Chadha, who has a string of executive positions on his resume, all outside the beer industry — immediately got to work on the new products that they believe will turn the company around.
"We're going to contemporize our brand," said Chadha, Sprecher's new CEO. "Sprecher has been called, you know, an older brand. People think of us as has-been."
That innovation will take the form of zero-calorie versions of Sprecher's iconic root beer and Orange Dream sodas, as well as a caffeinated "energy" root beer. There will be hard seltzers joining the lone Wisconsin Old Fashioned Press flavor. A new canning line is coming in, along with packaging redesigns to update the brand (without, Chadha notes, turning away from the classic Germanic griffin logo). At least some of those cans will be the slim ones that have become de rigueur for hard seltzers.
But the first of Sprecher's new leaves to turn over was ReFresh Button, which it's describing with the very of-the-moment label of juicy IPA. Chadha said work on what became ReFresh Button began in week one of the new regime, with longtime brewmaster Craig Burge consulting with sales staff and consumers to develop a beer that could be a winner in the 2020 marketplace. Given the last few years' emphasis on everything other than beer — Chadha said soda has brought in the bulk of revenue, especially since the pandemic crimped beer sales — I found a new beer to be a surprising and welcome first step for the new Sprecher.
"Look, we are a craft brewery at heart," Chadha said. "We're not going to go away from our roots. That's our craft, that's our calling if you will."
Sprecher's beer lineup will continue to explore new areas, Chadha said, and he explicitly mentioned beers with lower ABVs (and, if I may infer intent from the zero-calorie sodas also in the works, lower calories) and sours.
All of this made me wonder, are Sprecher's classics like Black Bavarian in danger of being bumped out by low-cal IPAs and fruited sours?
Chadha said no. He personally loves Black Bavarian, and while he acknowledged "economic pressure" on it — despite its legendary status, it's outsold by Special Amber and Abby Triple — the plan is to add new beers to the portfolio to replace obscure beers found in few retail outlets. Did you know Sprecher makes a blueberry lambic, a scotch ale and a doppelbock?
"We are committed to our craft and our heritage," Chadha said. "We're not going away from it. And we're gonna modernize with our tastes as well. It's not an either/or, it's an and."
OK, with Black Bavarian safe, let's take a look at the new kid on this very old block.
ReFresh Button
Style: Sprecher calls it a juicy IPA, but that feels like more of a marketing term than an accurate descriptor of this beer, which I'd put in the pale ale or session IPA genre.
Brewed by: Sprecher Brewing, Glendale
What it's like: There's no shortage of juicy hop-forward beers these days, and this one drinks a little like 3 Sheeps' fine Fresh Coast pale ale.
Where, how much: Sprecher's beers have remained at a nice price point in the $8-$9 per six-pack range. Sprecher doesn't have great representation in the Madison area anymore, so your best bet is going to be the bigger shops like Woodman's or Hy-Vee.
Booze factor: ReFresh Button's 5% ABV is very low for something called an IPA without a "session" tag. But hey, it means you can get well into a six-pack at your socially distanced barbecue.
Up close: ReFresh Button pours a pale, hazy gold wafting an apricot-forward fruitiness and a just touch of pine resin from the Mosaic and Centennial hops as well as the Zythos blend. The juiciness comes forward with a quaff — peach and pineapple and tangerine on a relatively neutral, barely malty chassis. A little bit of bitterness comes on mid-palate and grows toward the finish, but ReFresh Button still finishes with lower bitterness than most IPAs and even pale ales. And this feels like a newfangled IPA, too: light and soft in body but still relatively full.
While I loved my first bottle of ReFresh Button, subsequent pours didn't quite live up to that initial excitement. But is this the best new Sprecher beer since I can remember? Yes. Does it refresh on a hot summer day? Yes. Does it hold the promise of a turn that makes this seminal Wisconsin brewery relevant again? Definitely.
Bottom line: 3½ stars (out of 5)
Stay up-to-date on what's happening
Receive the latest in local entertainment news in your inbox weekly!