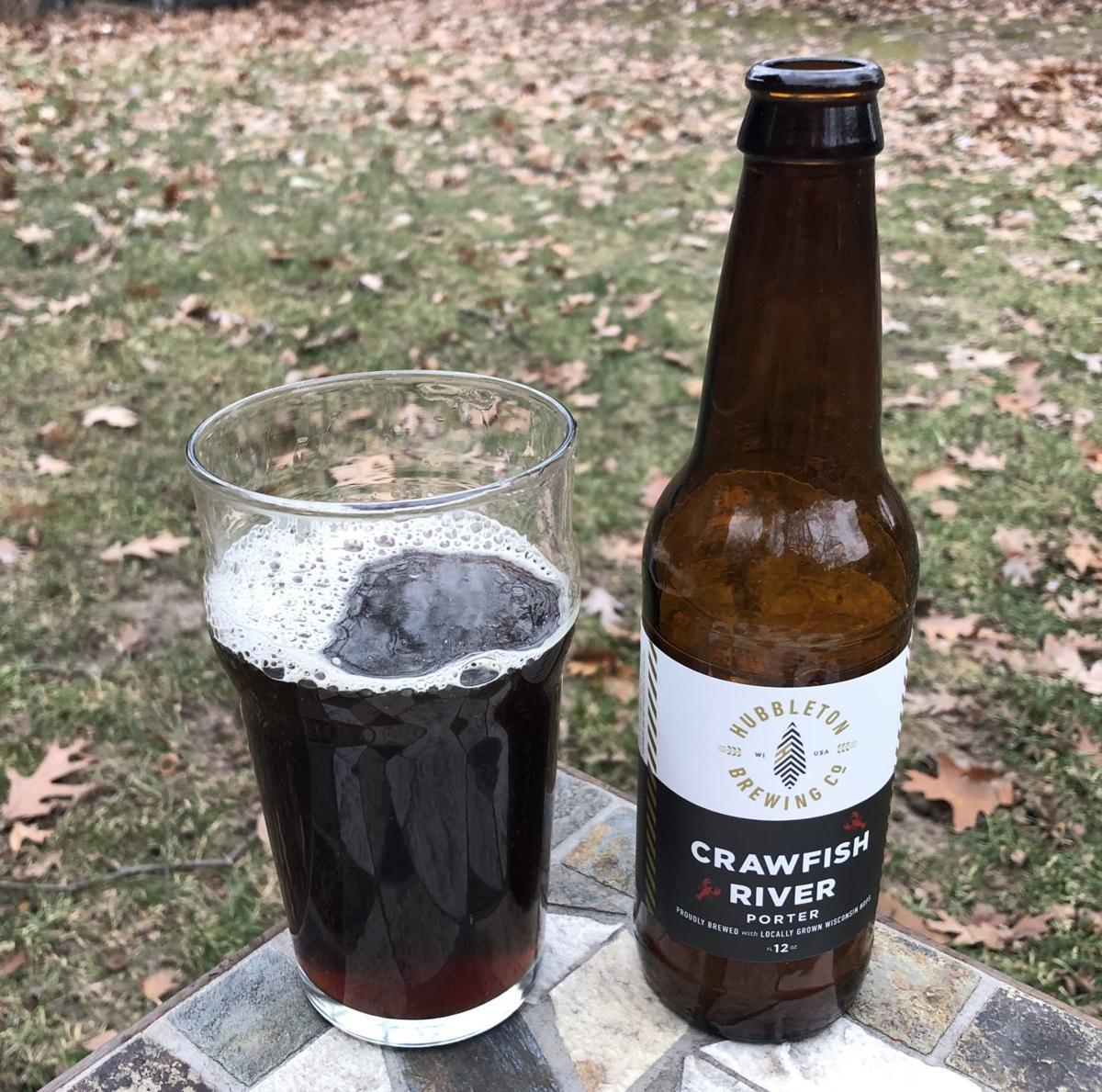 Dan and Mike Schey built a brewery.
Brewery owners like them often say they built a brewery, but the Scheys really BUILT A BREWERY.
Hubbleton Brewing Co.'s building out in the middle of nowhere northeast of Madison. The mash tun fashioned from an old dairy tank. The beer garden for summertime countryside drinking. The cargo van retrofitted to snake four draft lines out of the side. Even the bottling line, arriving piece by piece as you read this. Built it, built it, built it, built it, building it.
Most brewers worth their salt have a pretty high level of mechanical aptitude. The craft demands it — troubleshooting a failed pump here, patching a leak there, replacing a loose gasket over yon.
But Dan Schey (pronounced like "shy") merged two long-exercised talents when he quit his journeyman career in industrial maintenance and fabricating to go all in on his 26-year homebrewing passion.
Dan and his son Mike began planning a real brewery in 2015. Mike said they figured they'd just have a small brewery and a taproom, probably serving mostly friends and family — something for Dan to tinker with on the weekends outside of the regular job. Once it grew enough, maybe in five to seven years, they thought, it'd be a retirement option.
They expanded a pole barn on the property to accommodate the three-barrel brewhouse and a couple of fermenters. After adjusting Dan's homebrew recipes to the three-barrel system, the first drinkable beer, an English brown porter, came out of the tanks that April.
They found a cash register "probably as old as me," Mike said. "It was definitely shoestring to say the least, but it was working," Mike said.
Hubbleton officially opened in October 2015 — "the world's longest soft opening," as Mike described it — right around the time Mike quit his sales job at GNC to focus on Hubbleton. They still did next to nothing for marketing, relying on word of mouth among locals in Waterloo, Watertown and Lake Mills.
Within six months, Dan quit his day job. Ten months in, Hubbleton had its first expansion, doubling its capacity with more fermentation tanks. The brewery's third full-time employee, production manager and friend of the family Tom Wilson, joined the team last year. Things are going well for Hubbleton Brewing Co.
From online reviews, Hubbleton's secret sauce is fun, lively grounds, friendly service and quality beer; those decades Dan spent perfecting his homebrews were not wasted, it would seem. The warmer months, when patrons can make use of the beer garden — essentially a pole barn without walls — have been particularly successful.
A new 1,600-square-foot expansion of the brewery building aims to bring some of that summer fun indoors: an indoor game room with pop-a-shot basketball, pool, foosball and other games. Long term, that space is big enough for a new, larger brewhouse.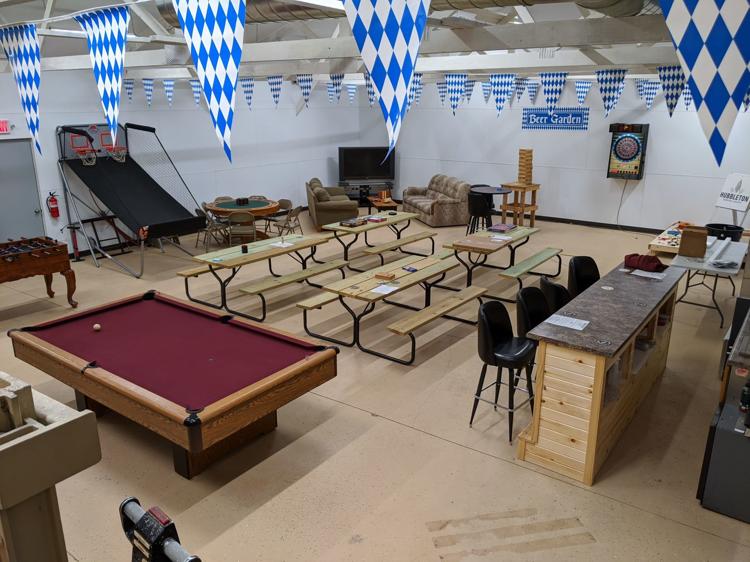 The current project is hand-building Hubbleton's own bottling line — a mesmerizingly complex piece of machinery — from component pieces like steel frames and conveyor belts. Dan will use his fabricating know-how to weld, modify and assemble the parts, and Mike will bring his knowledge of programming languages to bear.
But the business is growing outside of the Scheys' 40-acre plot, too.
Last year Mike began selling and distributing kegs and six-packs — hand-bottled, one at a time, for now — in the Madison area. He expects that footprint to grow farther into Madison and east to metro Milwaukee this year. Hubbleton kicked out about 400 barrels of beer in 2019, and Mike estimated about 60% of that was sold off site.
To hear Mike tell it, the Hubbleton crew is having a great time building their little brewery. "We're just gonna keep building more stuff," he said. "You can go work your face off anywhere, but to actually enjoy what you do is pretty rare these days."
He recalled that they were slammed last Memorial Day weekend, with an estimated 1,200 guests over three days soaking in some sun, beer and live music. During a short break from slinging beers, Mike surveyed the scene with disbelief. "I'm sitting in my parents' front yard in a beer garden that we just built and there are 200 people out there drinking beer and picnicking and having a good time," he said. "How is this even possible?"
This week's beer is today's iteration of the Hubbleton's first beer, which Dan Schey spent more than 20 years fine-tuning and today is the brewery's bestseller.
Crawfish River Porter
Brewed by: Hubbleton Brewing, located at W10445 Hubbleton Road in the unincorporated hamlet about halfway between Waterloo and Watertown near Wisconsin 19. It's about a 40-minute drive from Capitol Square.
What it's like: Hubbleton's porter is of the English brown strain of the style — somewhat lighter in color and milder than American or robust porters. The archetypes of English porter are Samuel Smith's Taddy and Fuller's London Porter; a nice Wisconsin-made one is Door County Brewing's Polka King.
Where, how much: Madison bottle shops carrying Hubbleton beer so far include Trixie's Liquor, Star Liquor, Hy-Vee on East Wash and Brennan's; six-packs are around $10. Hubbleton beer can be found on draft in several locations on the east side of the metro area as well.
Booze factor: Crawfish River's 6.9% ABV is quite high for an English-style porter, and beware, because this beer goes down like the 5% or so more common to the style.
Up close: Named for the waterway about a half-mile north of the brewery grounds, Crawfish River pours a deep mahogany brown with a malt-forward, nutty chocolate aroma. A sip is more complex than you might expect, with a swirl of subtle roasty notes, a touch of sweetness and a just-right snip of bitterness on the finish. Some porters are clear chocolate or coffee bombs; this is not one of those; it tastes like beer. Crawfish River has a medium body and is exceptionally balanced, putting it in the sweet spot for craft beer: an easy drinker that can be quite rewarding if you want to pay closer attention to it.
Bottom line: 4 stars (out of five)
Stay up-to-date on what's happening
Receive the latest in local entertainment news in your inbox weekly!