Beer Baron: Door County Brewing spins off a new playground; Milwaukee's Third Space expanding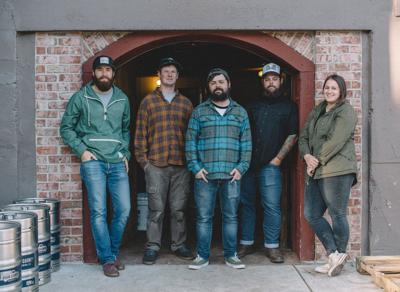 We've had some big news on the Wisconsin beer scene this month, so let's dig right in.
First, Door County Brewing is getting back to its roots by spinning off a new brewery.
Door County, which shipped its first beer four years ago and quickly become one of my favorite Wisconsin breweries, will launch its new label, Hacienda Beer Co., in February.
The new brewery shares head brewer Danny McMahon as well as sales and operations managers with Door County Brewing but will produce its beer at the company's new brewery in Baileys Harbor, where the 15-barrel brewhouse was expected to be ready for its first run right around the time this story is published. There, they'll focus on "experimental hoppy ales and stouts as well as traditional and non-traditional Belgian/farmhouse-inspired ales."
"Hacienda's focus is rooted in our original vision and aspirations for Door County Brewing, creating beer tied to a time and place, inspired by our local heritage, but with a focus on experimentation," the company said in its announcement of Hacienda.
The fruits of that experimentation so far have been enjoyed almost exclusively in the Door County Brewing taproom: juicy and fruited IPAs and pale ales, saisons brewed with exotic ingredients and wild and sour beers utilizing mixed fermentation.
McMahon said Door County had essentially been operating as two breweries for roughly the past year-plus: the one producing six-packs and kegs of Door County beers like Polka King Porter and Little Sister Witbier at Octopi Brewing, and the one in Baileys Harbor producing the more exotic beers along the lines of what Hacienda will be making. The spinoff formalizes that rift and allows Hacienda to make its own beer, with its own cost constraints on ingredients and techniques, and make its own brand personality, including eclectic artwork from local artists.
"It's really just a playground for us to do whatever we want to do and work with whoever we want," McMahon said.
The only Door County beers planned to move under the Hacienda label are McMahon's outstanding seasonal saisons — Le Printemps, L'ete, L'automne and L'hiver. The series is a natural flagship for Hacienda, and they'll relaunch in a new large-format single bottle next spring with Le Printemps. While their recipes have varied somewhat year to year, they'll take more dramatically different forms now, using more unique and local ingredients — some of them foraged — and some will use mixed fermentation.
But the true anchor of the Hacienda beer lineup will be Everything Eventually, a Citra-hopped New England-style pale ale that was first brewed for Brasserie V's 10th anniversary last summer. I haven't had it yet, but reviews I trust suggest it could become a quick contender in the surprisingly thin lineup of Wisconsin-made hyper-hazy hoppy beers.
In addition to the hazy/juicy/New England-style hop bomb, another canvas McMahon plans to paint on extensively with Hacienda is an 8 percent ABV milk stout base that he plans to brew with various adjuncts. So far he's done variants of espresso, cinnamon, vanilla, and coffee and coconut.
A look at the taproom tap list offers some further insight into what McMahon's been brewing lately: Hong Kong Garden, a saison with lemon peel, ginger and sumac; The Floor Is Guava, a milkshake-style New England IPA with guava and X331, Citra and Mosaic hops; Bake Sale, a brown ale brewed with toasted oats and aged on cinnamon and vanilla.
"If you've never been up to the taproom or never been to a Door County Brewing event, these are going to be all new beers for you," McMahon said.
But beyond wild adjuncts and hazy hops, there's more reason to be excited about Hacienda if you're a fan of out-there beers. The Baileys Harbor brewery was just upgraded to a 15-barrel brewing system, and on the way are tools to expand production of funky beers: three foeders — large oak aging tanks — and several dozen wine and spirits barrels. Also in the works is Hacienda's own coolship, an open vessel that will be housed in an old cabin next to the new taproom and will allow what the company says would be the first spontaneously fermented in Door County, using native wild yeast and bacteria.
While the emphasis will be on supplying the taproom, the company does expect to be able to send Hacienda beer to its distributors statewide. "We're not going to flood Milwaukee and Madison, but we're not going to be hard to find either," McMahon said.
What does this mean for Door County Brewing and its solid-to-excellent beers? Virtually nothing. Beers like Polka King Porter, Little Sister Witbier and Silurian Stout will continue as usual, with the exception of the Haciendafication of the rotating saisons.
We've seen this "make what you want" ethos focused on styles of the moment before in Untitled Art, and that now yearlong experiment has proven that originality matters less than doing interesting beer well. And that's exactly what I expect from McMahon's Hacienda.
Third Space grows
One of the brightest new stars in Wisconsin's brewing scene is about to undergo a major expansion that will position it well for distribution to Madison.
Third Space Brewing, which opened in Milwaukee's Menomonee Valley in September 2016, announced last week that it will add fermentation and finishing tanks to raise its annual capacity to 7,500 barrels, more than triple its 2017 production of 2,200 barrels. The upgrades, which also will include a new five-barrel pilot brewery, will begin in spring.
And in January, Third Space will begin a distribution partnership with Beechwood Sales and Service, a New Berlin-based distributor that already sells dozens of craft brands to bars and bottle shops across Wisconsin.
If the move sounds like a brash move for such a young brewery, you probably haven't had much Third Space beer. Happy Place, a pale ale with a comfortable price point that found the sweet spot of juicy and drinkable, has exploded in the Milwaukee market over the past 18 months. Third Space organized and hosted the Wisconsin IPA Fest in August, and its own Upward Spiral IPA took second in the blind judging panel that included yours truly. Unite the Clans, a Scottish ale with a rye twist, won a gold medal at the Great American Beer Festival in October. This fall and winter, two brewery-only releases of beers from Third Space's nascent barrel-aging program delivered two smash hits.
So, good things are happening. Third Space co-founder Andy Gehl declined to specify a timetable for distribution to Madison, but when we talked this spring ahead of Happy Place's rollout at Miller Park, he said that step would come "when the time is right."
A major expansion of capacity and a statewide distribution deal suggests to me that that time will probably be right sometime in 2018.