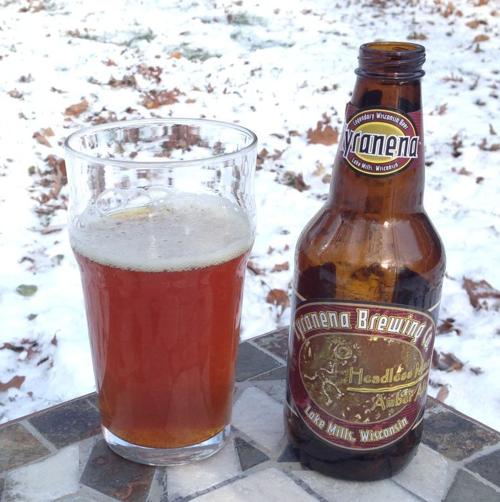 Do you remember the beer you had on the Friday night of Nov. 12, 1999?
Of course you don't, but if you're reading this there's a very good chance it's very different from the beer you had last night.
We take this trip down Memory Lane on the occasion of another brewery anniversary, this time that of Tyranena Brewing, which opened 15 years ago in Lake Mills.
Tyranena's opening slate of beers reflected the kind of beers that were different at the time: a pale ale, a brown ale, a porter and an amber ale, the latter of which still exist today in Chief Blackhawk Porter and Headless Man Amber Alt.
Back then they were still called microbrews, and the landscape for them in Wisconsin was very different.
Capital, Sprecher and Lakefront had been brewing, primarily in lagers, for some 10 years. Point had been around for a century more but was developing its roster of what we'd call craft beers today. Leinenkugel's was finding growing success with its higher-quality beers like Red, Honey Weiss and Berry Weiss. New Glarus had introduced Spotted Cow only a couple of years prior.
This was the pool Tyranena jumped into in 1999, and so a mix of primarily English-inspired ales made sense for a new brewery to stand out to a crowd that was — and still is, it's always important to remember — primarily drinking lagers made by giant breweries.
Things have changed a lot since then, of course, and Tyranena's beer has nicely tracked both the growth and diversification of craft beer. It took only a few years to add an India pale ale, and it now regularly makes three IPAs: the now year-round Bitter Woman, the orange-infused summer seasonal Scurvy and an imperial beer I'm not naming here, part of the specialty Brewers Gone Wild series.
Tyranena also got in early on another big craft beer trend: bourbon barrels. Rocky's Revenge, a blended brown ale with about half barrel-aged, debuted in 2004 and has become one of the brewery's best-sellers, and Tyranena has released small batches of spectacular barrel-aged variants of a few of its beers over the past few years.
The brewery threw a big bash for its 15th birthday on Saturday that, like all good anniversary parties, combined a look back with a celebration of the present. For the party, owner and brewmaster Rob Larson resurrected one of the brewery's defunct first beers, Ancient Aztalan Brown Ale, and was pouring an assortment of some of the best of the new guard of Tyranena beers, many of them aged in barrels.
I spend a lot of time with the Brewers Gone Wild series, but this week's beer looks back to where Tyranena came from.
Headless Man Amber Alt
Style: The alt — German for "old" — is an ale that spends a bit more time than usual being conditioned before bottling.
Brewed by: Tyranena Brewing, Lake Mills.
What it's like: America's most widely available altbier is Alaskan Amber, although the much smaller Port Huron in Wisconsin Dells has another commonly found in Madison.
Where, how much: A Tyranena six-pack is available in bottle shops and grocery stores in the Madison area, usually for $8-$9. Headless Man is available year-round.
The beer: Balance is the word for this beer — both the style and Tyranena's version. Headless Man's malts have more character, with bready, woody and slightly fruity notes standing out. But the hops — old-school varieties with modest bitterness but not a whole lot of secondary character — do their thing nicely, keeping the malt in check and making this smooth amber finish very clean.
Booze factor: At 5.25 percent ABV, Headless Man is one of the easier drinkers of Tyranena's portfolio.
The buzz: I like Tyranena's regular and seasonal beers — Rocky's Revenge, in particular, is a nice treat to have on shelves year-round, and Headless Man is a faithful telling of a subtle, easygoing style — but what really turns my head is its Brewers Gone Wild series, particularly the big porters and stouts. This specialty was on display at Tyranena's anniversary party, where a host of special tappings were heavy with imperial black beers, many of them aged in bourbon or rye barrels.
If you like those styles and haven't tried Tyranena's offerings in that field, now's the time to act, as a fresh batch of one of its best, The Devil Made Me Do It imperial coffee oatmeal porter, just hit shelves last week. The barrel-aged version, Devil Over a Barrel, was a big hit in my house last spring; although it's unlikely to return soon, I'm ready to pounce when it does.
Bottom line: 3½ stars (out of five)
Stay up-to-date on what's happening
Receive the latest in local entertainment news in your inbox weekly!