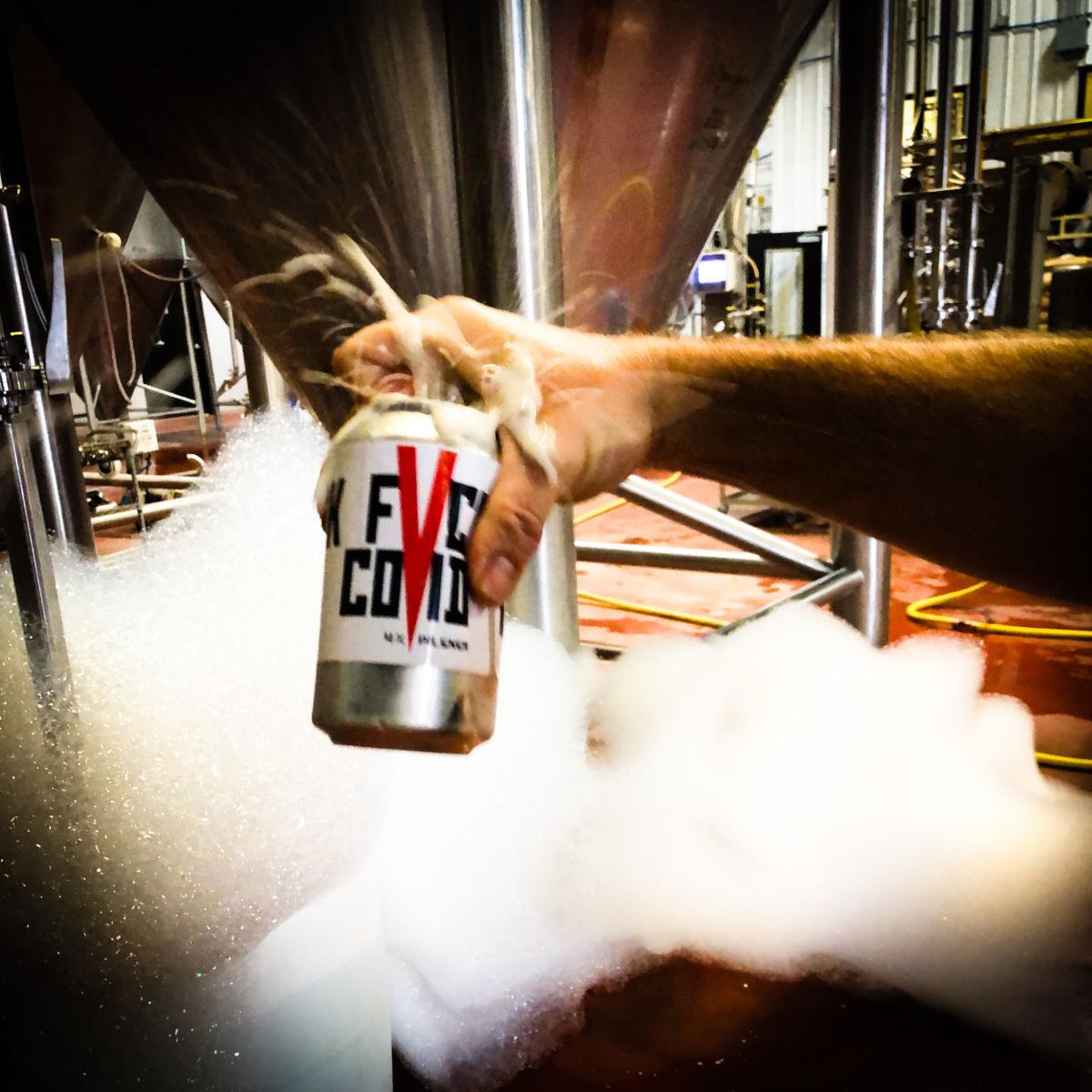 On March 20, three days into its new normal, Ale Asylum began making a beer with a name that would put into words what all of us would be feeling upon its release three weeks later — FVCK COVID.
By the time the beer went on sale at the brewery on April 10, it'd been more than three weeks since any of us had been inside a bar or restaurant. Many of us had stayed home and become part-time homeschool teachers, sourdough coddlers and bored Netflix experts.
And many of us, especially people in the hospitality industry, had lost their jobs. Some of us knew someone with the coronavirus, and a few of us even knew some of the 128 people (at that point) who had died from COVID-19.
Yeah, we were ready to curse this virus.
And Ale Asylum's newest beer did just that, in big bold letters on the front of its can. Yes, everyone is pronouncing that first V as a U, just as was intended.
"It's funny, I'll be talking about the beer with someone, like taking an order on the phone, and they'll call it 'the F. COVID beer,'" Ale Asylum co-founder Otto Dilba said. "It's cathartic; go ahead and say it!"
Ale Asylum, like many breweries and businesses right now, is being turned upside down by the virus.
Since the March 17 shutdown, it's seen its business roughly cut in half. Taproom sales of draft beer — the highest-margin revenue for nearly every brewery — has been zero, of course. Takeout food orders are running about 30% of usual dine-in levels, Dilba said. To-go beer sales have been a solid 95% of usual levels, a figure I'd surmise that figure has been goosed up by the deep discounts Ale Asylum is running on its takeout beer. (Six-pack of Hopalicious, Ambergeddon and the like are just $6.)
Its brewing staff has been unaffected, but many of the taproom and kitchen staff have been furloughed, as well as some office employees. Ale Asylum is receiving funds from the federal Paycheck Protection Program, which will allow the brewery to bring back most of its furloughed staff at least temporarily.
Dilba is one of the people at the center of all that high-stakes disruption, and for so many people the message on the side of the beer's can is as personal as it is intense.
"It's just being brazenly honest," Dilba said. "Rather than focusing on the helplessness that we're all feeling, we thought, let's share this anger and frustration in a lighthearted way, share in this camaraderie with the public."
The beer itself is much less of the story as the message on the side of its can. It's a pilsner similar to the easy drinker Keep Er Movin': same yeast, a slightly lighter grain bill and different hops. It clocks in at 4.2% ABV.
Dilba described the response to the beer as "huge." The first two relatively limited batches — released at the brewery and a handful of liquor stores in Madison — sold out in the first day. The third run of about 800 cases was expected to drop Friday, enough to increase the number of outlets receiving the beer in Madison and provide the first trickle to the Milwaukee and northeastern Wisconsin markets. But the floodgates really open next week, with as many as 2,000 more cases shipping to distributors around the state.
And, no, Ale Asylum is not "cashing in" on the virus with this beer. It will donate 100% of profits from the beer's sales to charities (yet to be determined) to help local workers affected by the virus, said Hathaway Terry-Pogue, partner and promotions manager.
"Our focus is on both the hospitality industry and front-line health care workers, and we want the impact to be meaningful to the Madison community," she said.
And if you like the idea of cussing out the coronavirus, but don't particularly care for pilsners, sit tight. Dilba said Ale Asylum is planning another COVID-themed beer for hopheads, a hazy session IPA called FVCK HOARDERS, for a mid-May release.
Stay up-to-date on what's happening
Receive the latest in local entertainment news in your inbox weekly!