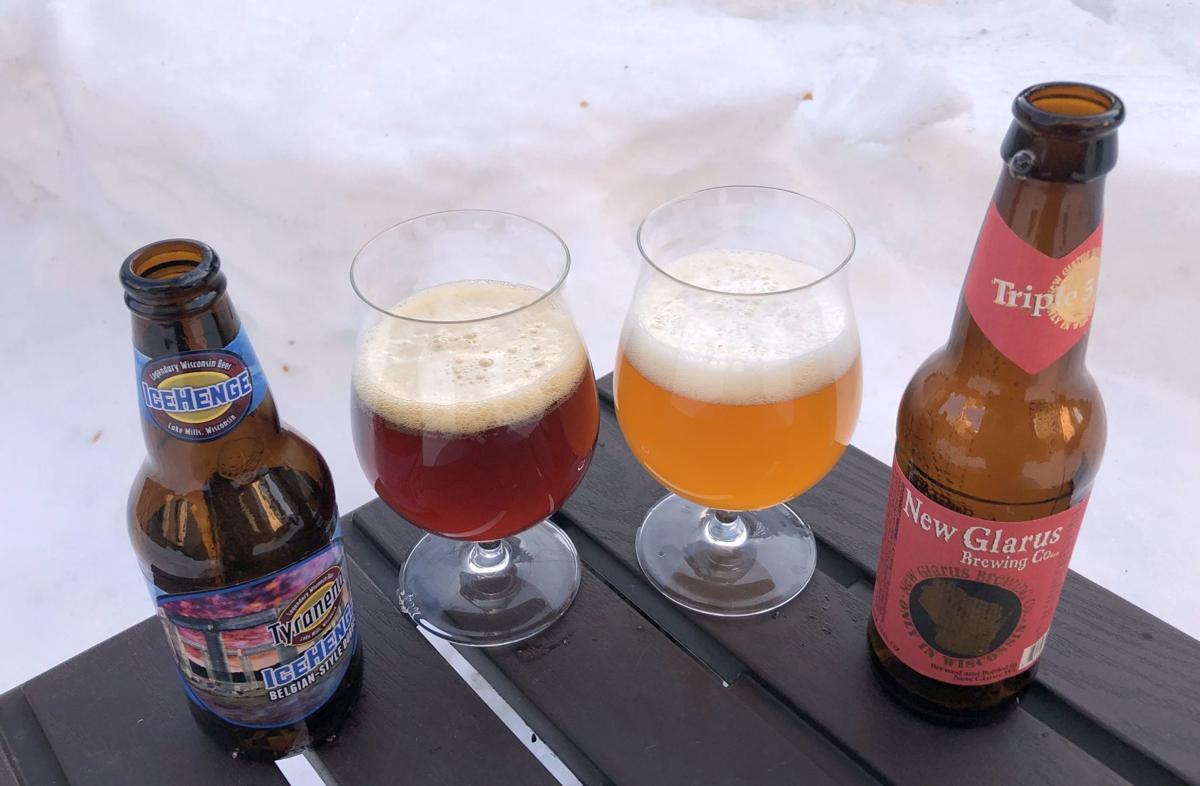 Don the tricolor soccer scarf and drop the frites — it's Belgian season in Wisconsin.
Of course, there is no real season for Belgian beers, but any time two new Wisconsin-brewed Belgian-style beers hit shelves for the first time, there it is: Belgian season.
While Belgium has a storied brewing tradition of wild and sour ales, witbier, saison and even a few noted lagers, in America "Belgian" beers usually refers to a family of ales including dubbels, tripels, quads and pale and blonde ales.
Not unlike the Germanic wheat beers explored in last week's weizenbock column, Belgians come in a wide range of colors, flavors and strengths, but share a distinctive character imparted by the yeasts used to ferment them.
In the case of Belgians, these yeast strains are known for fruity esters — often characterized as banana, bubblegum or sometimes citrus and apple or pear — and spicy phenols our palates equate to black pepper or clove.
It's a complex palette to work with — not to mention the nearly millennium-old brewing tradition. Belgian-style beers — regardless of origin — are at least nominally alongside the famous monks of the brewing abbeys and some of the most revered beers in the world.
So, yeah, there's some pressure on these kinds of beers.
Let's take a look at the Badger State's two standout entries in the Belgian pantheon that dropped in mid- to late January.
IceHenge
Brewed by: Tyranena Brewing, Lake Mills
What's the deal? Tyranena's beer honoring the Stonehenge-like ice sculpture built intermittently on Rock Lake in late winter took a train from Munich to Brussels this year. Previous iterations of IceHenge were a doppelbock, and 2021 was the first time this seasonal release made it to bottles.
What it's like: The red iteration of the Chimay series is perhaps the world's best-known dubbel, along with hallowed beers like Rochefort 6, Westmalle Trappist Dubbel and Westvleteren 8.
Where, how much: Six-packs of IceHenge may be running a little low at this point, so put it on the shopping list sooner than later. The beer's $9-$10 price tag is a great value.
Booze factor: Dubbels are no slouch in this department, and IceHenge delivers a hefty 7.25% ABV.
Up close: IceHenge starts out lovely on a couple accounts: a ruby-highlighted amber brown topped by a nice dollop of tan foam, and a bready, malt-forward aroma with accents of clove, raisin and a lone banana Runt. Like most Belgians and other strong beers of winter, this beer's complexity shines as it approaches room temperature. It's a malty beer, with that bready, dark fruit character doing the most work but the phenols doing the most interesting work. They express in this not-at-all bitter beer in many of the ways hops would in other styles — a moderate clovelike top note that jumps in mid-drink and dances on the noticeably dry finish, departing to leave a fleeting flash of banana. It's a fun beer and an impressive turn for a brewery that has barely done any Belgian-style beers previously.
Bottom line: 4 stars (out of 5)
Triple 5
Brewed by: New Glarus Brewing, New Glarus
What's the deal? New Glarus' first red-labeled Thumbprint beer of 2021 is all new, which is a nice turn after nearly all (worthy) retreads in this limited-release series last year. This is not New Glarus' first entry in this style, but Triple 5 distinguishes itself with an unusual assortment of five grains in the grist: barley, white wheat, oats, brown rice and "heirloom Midwestern corn" — hence the name. Many tripels are all-malt (along with some candi sugar for carbonation-generating bottle conditioning), but the rice and corn are particularly nontraditional.
What it's like: Benchmarks of this style include entries from, again, Westmalle and Chimay (Trappist Tripel and White, respectively). On this side of the pond is perhaps the world's best tripel, Unibroue Fin du Monde from Canada, and an excellent version from Maine's Allagash.
Where, how much: Thumbprint four-packs are available at every good bottle shop but many grocery stores as well. They'll run $10-$12.
Booze factor: As the step up from double to triple implies, this feller brings even more fermentable sugars (and therefore alcohol). Triple 5 weighs in at a dangerous 9% ABV, particularly for as easy-drinking as it is.
Up close: Triple 5 pours a deep gold, with zippy carbonation leaving a slab of white head, and the aroma is multitudes: hints of bubblegum, clove, sweet orange, banana, and a bunch of grain notes that are tough for me to parse. I don't know if I'd think it if this were a tripel from another brewer, but I detected an echo of Spotted Cow in the background. Might that be the corn working? Sniffing this beer is quite rewarding, but don't forget to drink it, too, because it's delicious. All of those notes from the aroma reprise with every sip, and between the beer's medium body and its dry, peppery snap of a finish, you will want to drink it faster than you should drink a niner.
It's probably unfair to expect both mastery of style and unexpected flourishes that work perfectly from a brewery, but here we are, with New Glarus delivering exactly that just about every time.
Bottom line: 4½ stars (out of 5)