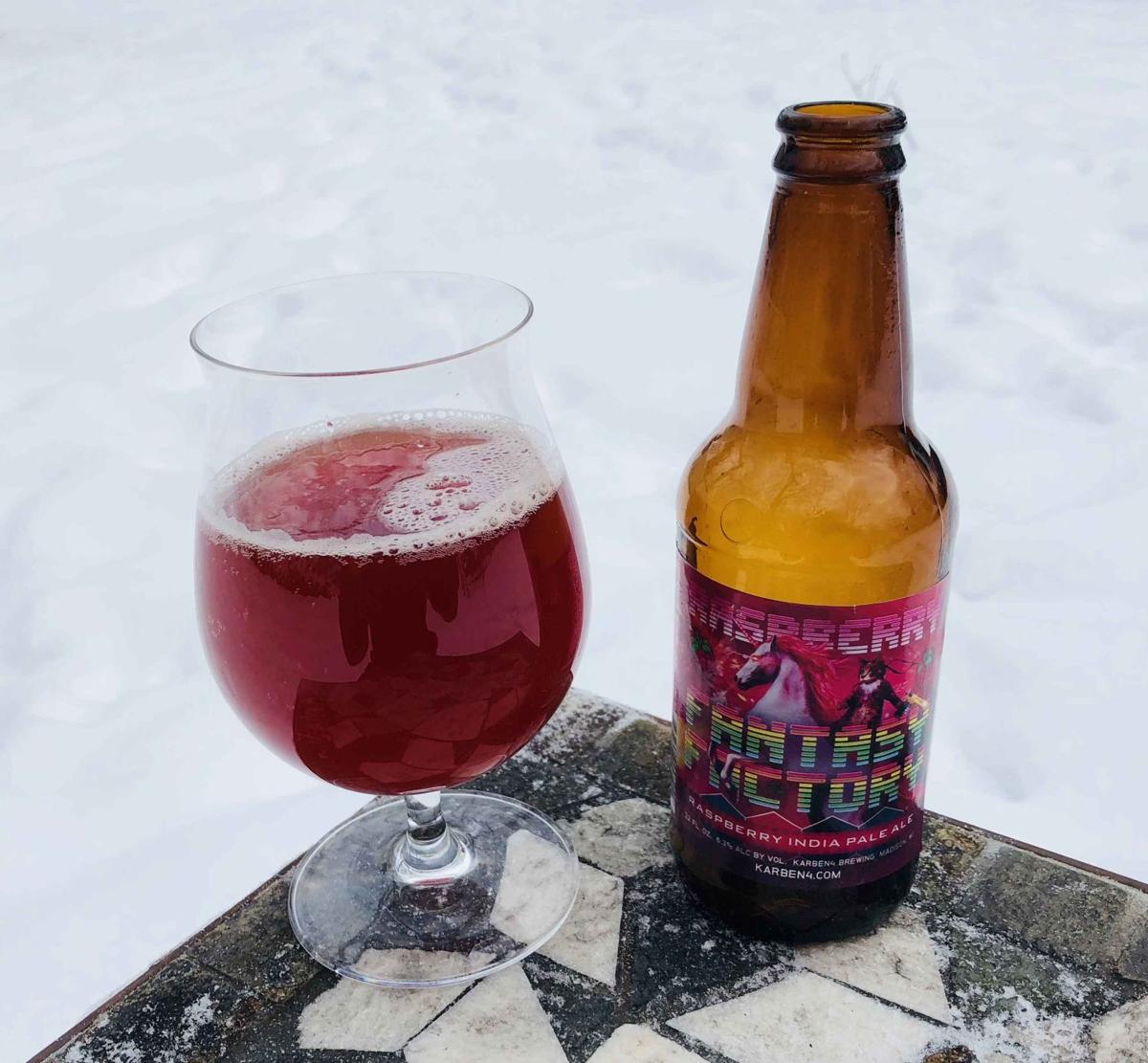 The Fantasy Factory has a new production line.
Just days after its fifth anniversary party, Madison brewery Karben4 debuted six-packs of a raspberry-infused variant of its landmark IPA.
Frequent visitors to the East Side taproom know that Karben4 has been experimenting with fruity versions of Fantasy Factory for about a year and a half. Its fourth anniversary party in January 2017 featured a whopping eight fruit variants, including grapefruit, blood orange, peach/apricot, cherry and blueberry. The most popular of these, according to Karben4 co-founder Alex Evans, was — you guessed it — raspberry.
So making Raspberry Fantasy Factory the first out of the six-pack chute was a natural, as was extending the Fantasy Factory line.
Since debuting a few months into K4's first year, the beer initially intended as the first of a rotating IPA became such a smash hit that brewmaster Ryan Koga couldn't stop making it. The legend grew after Fantasy Factory became Karben4's first bottled beer in fall 2014 — aided by an internet-cool label — and as of late last year it's now found in all corners of the state as the brewery has expanded its distribution footprint. Also in December, Karben4 rolled out 12-packs of Fantasy Factory to more cheers from its fans, and cans are in the works for this summer.
It's hard to think of another Madison-area beer that so quickly became such an integral part of the beer scene here.
Evans said Fantasy Factory made up a "large majority" of the 10,500 barrels Karben4 sold in 2017, so tapping into runaway success for a seasonal release — or two (Strawberry Fantasy Factory will see limited draft distribution this summer) — makes sense.
For this version of Raspberry Fantasy Factory, Koga used raspberry puree and concentrate at three different points in the brewing process, including in the brew kettle and along with the dry hops, immediately after the beer is mostly fermented through.
"We were constantly tasting these batches as they progressed and had the different raspberry products on hand to figure out what would need to be used in what proportion to give the best result," Koga said.
The brewing team tested at least 10 versions with different fruiting levels and techniques before settling on the version that's in bottles now. The goal was a more assertive raspberry character than last year's version, but one that remained true to the base beer.
It had to be Fantasy Factory, not a raspberry ale.
Koga noted that raspberry is a "unique and divisive fruit flavor, and folks' palate sensitivities to raspberry are as varied as their opinions about raspberry in general." As such, reviews of the previous batch were all over the place.
"As long as it gave people a reason to enjoy themselves and experience something new, I'm happy," Koga said.
Raspberry Fantasy Factory
Brewed by: Karben4, 3698 Kinsman Blvd.
Where, how much: These six-packs hit shelves last week at about $14 each, about four bucks more than the standard boxes of Fantasy Factory, and they should be available at least initially at most better bottle shops, including longtime Karben4 partner Trixie's Liquor. (My samples were provided by Karben4 ahead of their wider release.)
But Karben4 is looking to recapture the heady times weeks after Fantasy Factory's introduction to bottles, when it was a hot ticket because it kept running out. "We are expecting this package to be a crowd favorite this year but plan to intentionally limit the distribution and quantity supplied to market in an effort to keep it fresh, elusive and exciting," Evans said.
The beer: Raspberry Fantasy Factory pours a very handsome ruddy fuschia with an aroma that speaks to the potential of fruit in an already fruity IPA: the jammy raspberry aroma folds into the hops' grapefruit-orange elements in a way that reminds me a bit of a fruit cocktail.
With a sip, the raspberry restraint that Koga spoke of reveals itself. You won't miss that the berry is there, but it doesn't overwhelm the Fantasy Factory portion of the equation. The raspberry is present throughout the entire sip, from front to finish, with the IPA's citrusy hops rising most in the middle, with a still-assertive bitterness on the back end.
It's important to remember that Fantasy Factory is a very malty IPA, and that toasted bready character plays very nicely with the fruit. "I love to put jams, jellies, preserves and marmalade on my breakfast toast, so I hope the same concept works as well with fruit puree and liquid bread," Koga said.
Booze factor: Like its unfruited sibling, Raspberry Fantasy Factory packs a 6.3 percent ABV.
The buzz: While fruit Fantasy Factories are cool in their own right, they hint at something even bigger for Karben4.
Koga said the work with fruit and different techniques for using them is also serving as a laboratory for a nascent program of making sour beer. Koga and his team have had several test batches aging "for several months" that will be used to guide decisions about what kind of equipment will be needed to scale up the program.
"My goal is to perfect the sour IPA, among a lot of other exploration that I am very excited for," Koga said.
Bottom line: 4 stars (out of five)