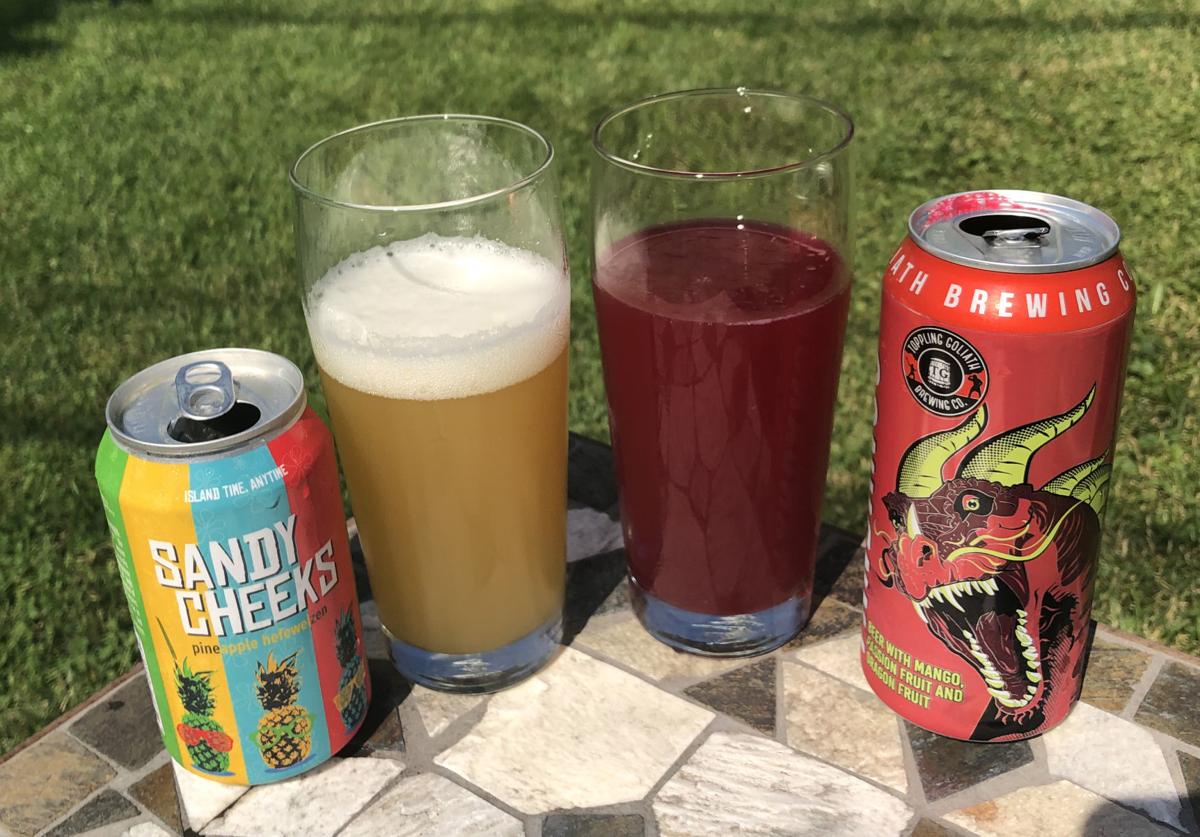 It's shaping up to be a summer of fruit beers.
COVID-19 has slowed down taprooms generally, but it hasn't put a dent in the "slushie" or "smoothie" phenomenon — neutral beers, nearly always on draft, that are so loaded with fruit puree (and often accented with vanilla) that they drink like beer smoothies.
While these creations push the boundaries of what really is beer, there are also plenty of traditional styles, from pilsner to pale ale to hefeweizen, getting fruit facelifts, too. The best of these usually use combinations known to work, like a lime-in-a-Corona lime pilsner, or an IPA with citrusy hops spiked with actual citrus.
Let's take a look at two summer sippers that foray into fruit. (Note: Both of these breweries provided samples ahead of these beers' release for a timely review.)
Wisconsin Brewing Sandy Cheeks
This pineapple hefeweizen is the brain child of James Kramer, who was working at the Great Dane's Hilldale location when he began experimenting with beers and the mixer juices from the bar. The seed was planted when he topped off a sample of Crop Circle Wheat, Great Dane's excellent hefeweizen, with a splash of pineapple juice.
After getting a new gig at Wisconsin Brewing in Verona, Kramer made a draft-only version on the pilot system in 2018, and Sandy Cheeks graduated to the big system as a canned summer seasonal last year.
Hefeweizen is a venerable, traditional style, and the Germans who developed it are well known for their aversion to putting non-beer stuff into their beer. As such, there's something about a pineapple hefeweizen that strikes me as bordering on sacrilege.
BUT, if you can get over that Reinheitsgebot fuddy duddiness, even if it is centuries in the making, Sandy Cheeks is a pretty enjoyable beer. Due to its yeast strain, hefeweizen is famously banana-forward, and Sandy Cheeks' base beer seems to be particularly so. If that and a few hundred pounds of pineapple concentrate sounds like a good tropical, fruity mélange, you're starting to get the drift.
The aroma of this hazy yellow beer is mostly hef – malty wheat and banana esters – with only a citrusy hint of the pineapple addition. It does come through more clearly in the flavor, though it does not at all overpower the base beer. The wheaty sweetness, fruit addition and the banana notes from the yeast could get cloying, but there's just enough of a crisp snap on the finish to head that off. Sandy Cheeks' soft, light mouthfeel completes its resume as a solid summer go-to, particularly for fans of wheat beers.
Where, how much: Sandy Cheeks is widely available at most larger liquor stores and many grocery stores too. Expect to pay $8-$9 for the six-pack of cans.
Bottom line: 3½ stars (out of 5)
Toppling Goliath Dragon Fandango
Iowa's Toppling Goliath is known for having what the geekiest of beer geeks call whales: beers an aficionado might spend years chasing, like Captain Ahab after Moby Dick. TG's whales are mostly of the imperial stout variety – beers like Assassin and Mornin' Delight — but Dragon Fandango, an overfruited kettle sour, should be right up there with them.
This once draft-only beer debuted in cans this spring in such a limited release that you can be forgiven if you blinked and missed it. Another release was on its way from Decorah to Wisconsin last week and it may already be on shelves as you read this, so don't delay if you want to try it.
And you should, because this beer, made with what must be a ton of dragon fruit, passion fruit and mango, is weird and absolutely delightful.
Your first "wow!" will come as soon as you start pouring; Dragon Fandango is a neon-bright magenta. And I'm not talking about a beer-colored beer that's kinda pinkish-purple. I mean it is PINKISH PURPLE.
This is where my ability to describe this beer starts to break down because, honestly, I don't really know what dragon fruit tastes or smells like. Google tells me it's a bit like kiwi or pear, though, and that checks out because there are some elements of that in this beer's aroma and flavor.
But trying to deconstruct the fruit components (and, really, the underlying beer, with its Citra hops and tartness of its own) of Dragon Fandango is folly. It's fantastically complex: assertively (but not paint-strippingly) sour, bracingly sweet, a little bit earthy, a little bit spicy, a little bit funky. If you made me taste this blind and guess one of the fruits in it, I'd have said zeroed in on that earthiness and said guava. But no!
And this is not a subtle beer, either. All of this complexity paired with this kind of intensity (and, of course, scarcity) is what makes whales whales, even if this one paints with a fruit palette instead of the chocolatey/coffee/roasty/vanilla milieu of imperial stouts.
I'm not sure if it's just my palate, but as much as I enjoy Dragon Fandango, it takes me a while to get through a whole pint can of it, even with its low ABV. The acidity, complexity and intensity make it a sipping, studying kind of beer rather than a summer quencher.
Where, how much: You're going to need to act quickly when your best liquor store gets this one, and it's gonna cost you. (All that fruit doesn't come cheap.) Expect the four-packs of 16-ounce cans to set you back $16-$20.
Bottom line: 4½ stars (out of 5)