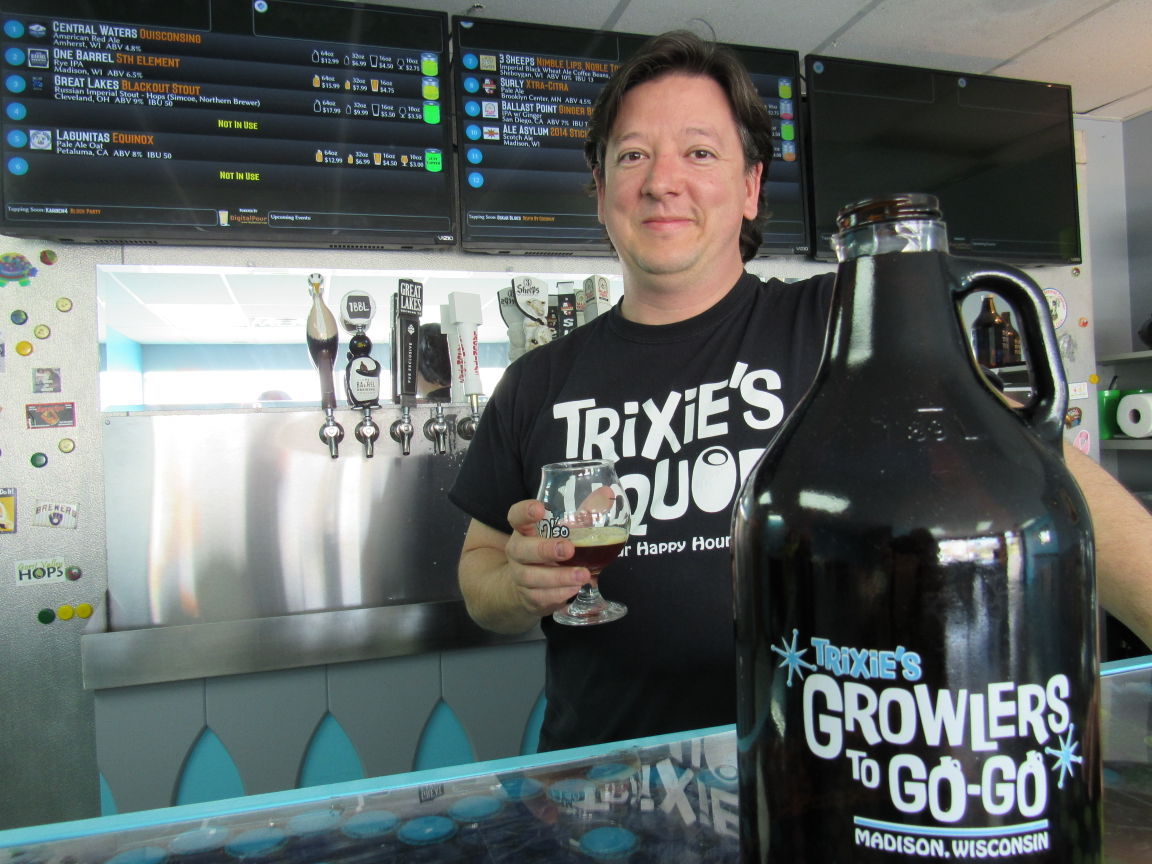 Growlers of beer can be bought at area brewpubs and a few grocery stores, but Chris and Colleen Welch have upped the ante when it comes to buying hard-to-get, unique brews that don't come in a bottle or a can.
The Welches, who have owned Trixie's Liquor, 2929 E. Washington Ave., for the past five years, have opened Growlers to Go-Go in an 1,800-square-foot space adjacent to the liquor store but with its own entrance. When the doors opened April 16, a line eventually formed out the door, with 15 kegs depleted by the end of the day.
Some came for the five-day-old Scream IIPA from New Glarus Brewing Co. while others clamored for a bourbon barrel stout from Goose Island Beer or a vanilla chai version of barrel-aged Dragon's Milk from New Holland Brewing.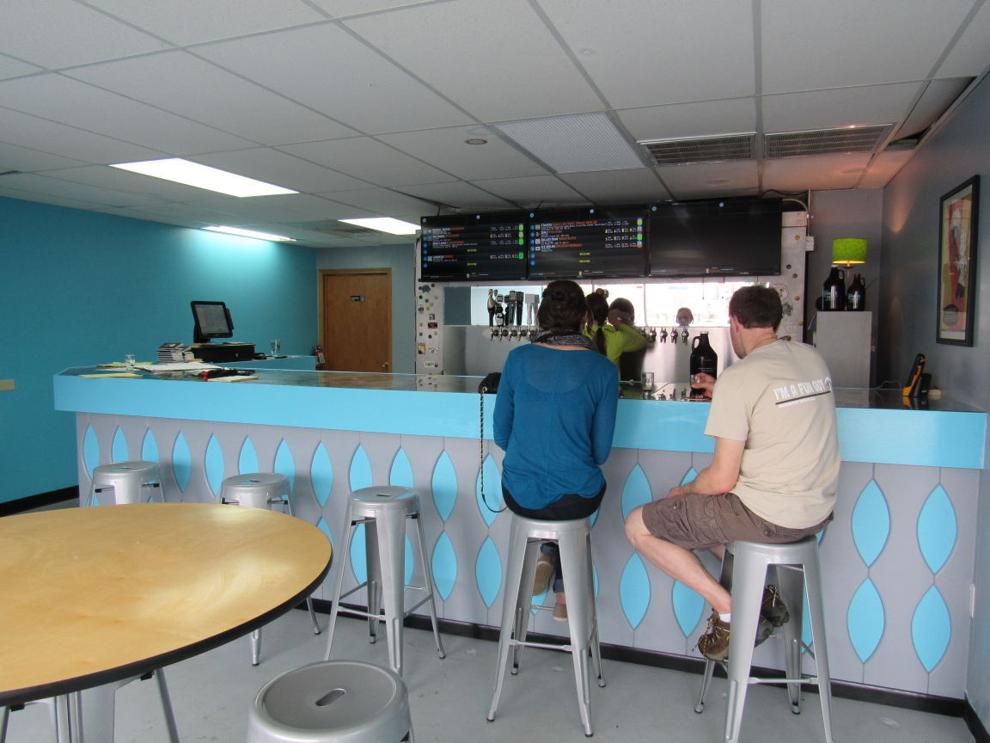 "While we act like a tavern, we're not a tavern. We close at 9 p.m. and we're very small," Chris Welch said. "I don't think this concept would work by itself. We get a natural carryover from the liquor store."
Customers can bring in their own growler jug to be filled, or buy a 64-ounce jug or 32-ounce howler. The Welches also have bought a Crowler machine to package draft beer in 32-ounce cans, but the machine has not yet gone online.
But the business is more than just taps, glass jugs and high-octane beer.
Growlers to Go-Go, with a bar that can seat 12, has integrated digital technology and social media into the analog world of ales, stouts and sours.
Flat-screen monitors above the 18 tap lines not only list what is on tap and the cost but also other information that is common nomenclature for beer geeks, such as the type of hops in a beer, its strength as measured in alcohol by volume (ABV) and its bitterness as measured by international bittering units (IBUs).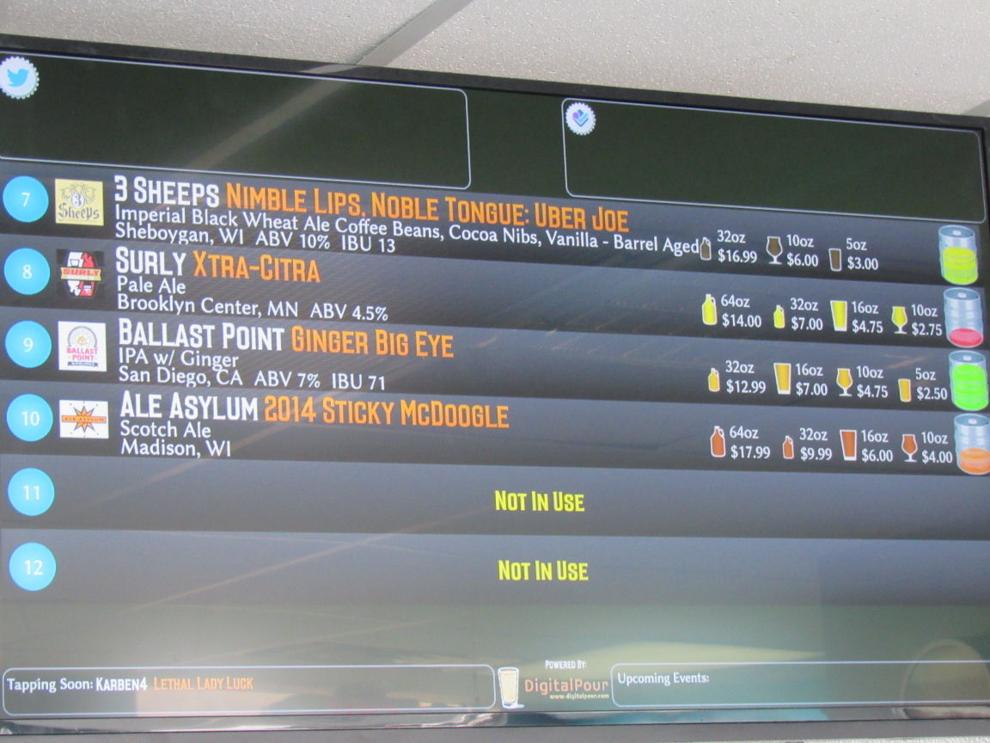 An icon on the right side of each listing shows how much of the beer remains in the cooler thanks to a program that is tied into the point-of-sale system. In addition, the information is updated every few minutes on the company's Facebook page, and those following certain breweries on Twitter receive notifications when a beer from that brewery is tapped.
"We would get 500 phone calls a day if we didn't do this," Colleen Welch said. "We're happy that we're known for having all of this information but I think one of our main priorities of getting this was to have a more efficient way to communicate with the customers and to let them know what's happening."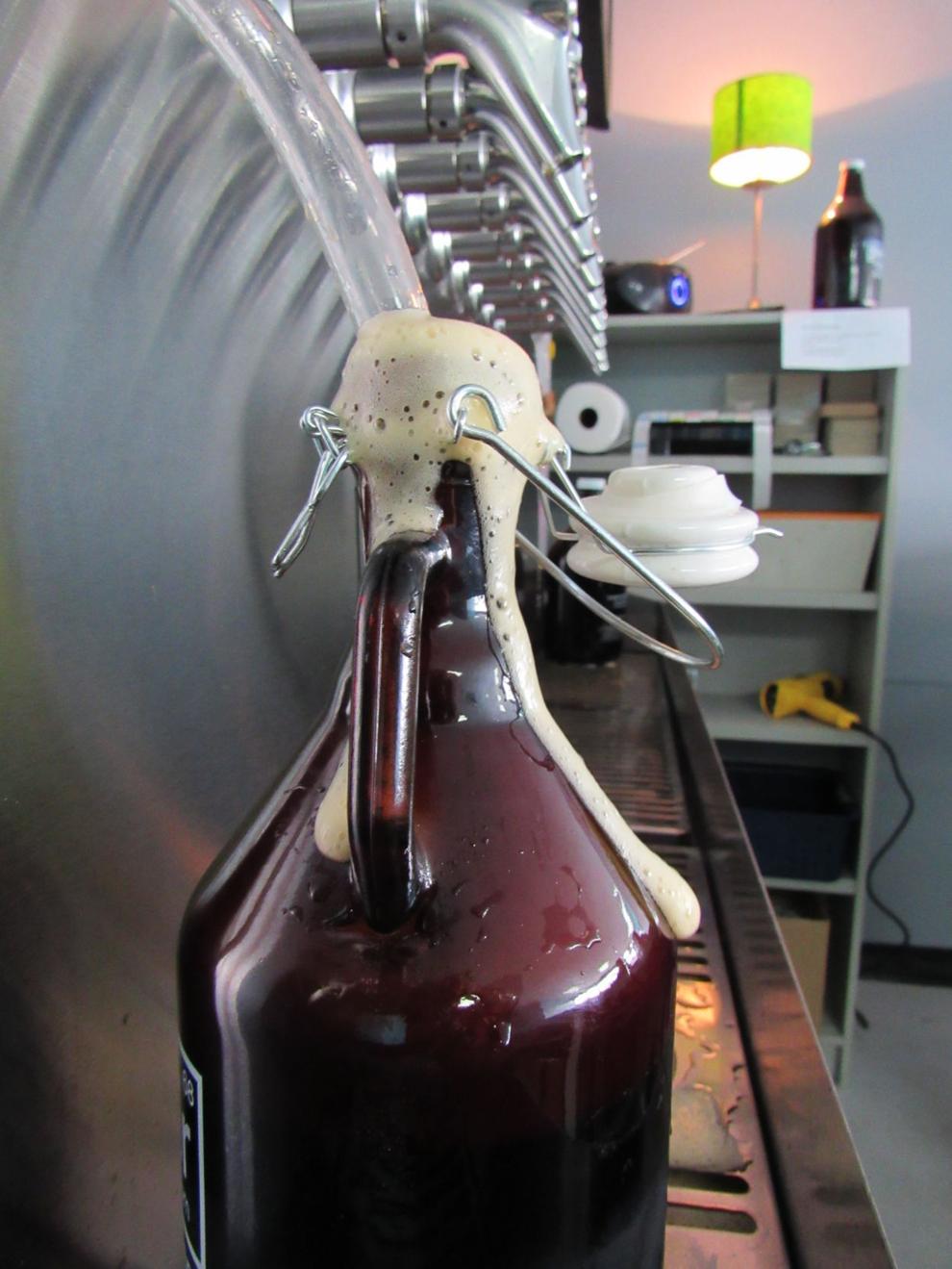 The business is another addition to the rapidly expanding beer scene in the Madison area, and it reflects the national trend of double-digit growth in the craft beer segment.
According to the Colorado-based Brewers Association, craft beer production grew by 12.8 percent in 2015 to more than 24 million barrels. Sales of $22.3 billion grew 16 percent over 2014. Nationally, craft beer represented 12.2 percent of the overall beer market in the U.S.
Last year Wisconsin was home to 121 breweries and brewpubs that fit the Brewers Association definition of craft, and they produced just over 1 million barrels of beer with an economic impact of $1.7 billion. And more growth is expected in 2016. Rockhound Brewing Co. opened in early April on South Park Street, Lucky's 1313 Brew Pub is under construction on Regent Street, and Lone Girl Brewing Co. is scheduled to open in downtown Waunakee in late May.
Growler sales have added a new dynamic to the craft beer scene after the city of Madison in 2014 changed its ordinance to conform with state law that allows grocery stores and taverns to sell growlers. Previously, only beer brewed on premise could be sold in growlers. Some Hy-Vee stores fill growlers in their restaurants, while the Festival Foods store that opened April 8 on East Washington Avenue has 14 tap lines that can fill growlers. In addition, Regent Market Co-op, in the midst of a $1 million renovation and expansion project, has plans for eight tap lines with which to fill growlers.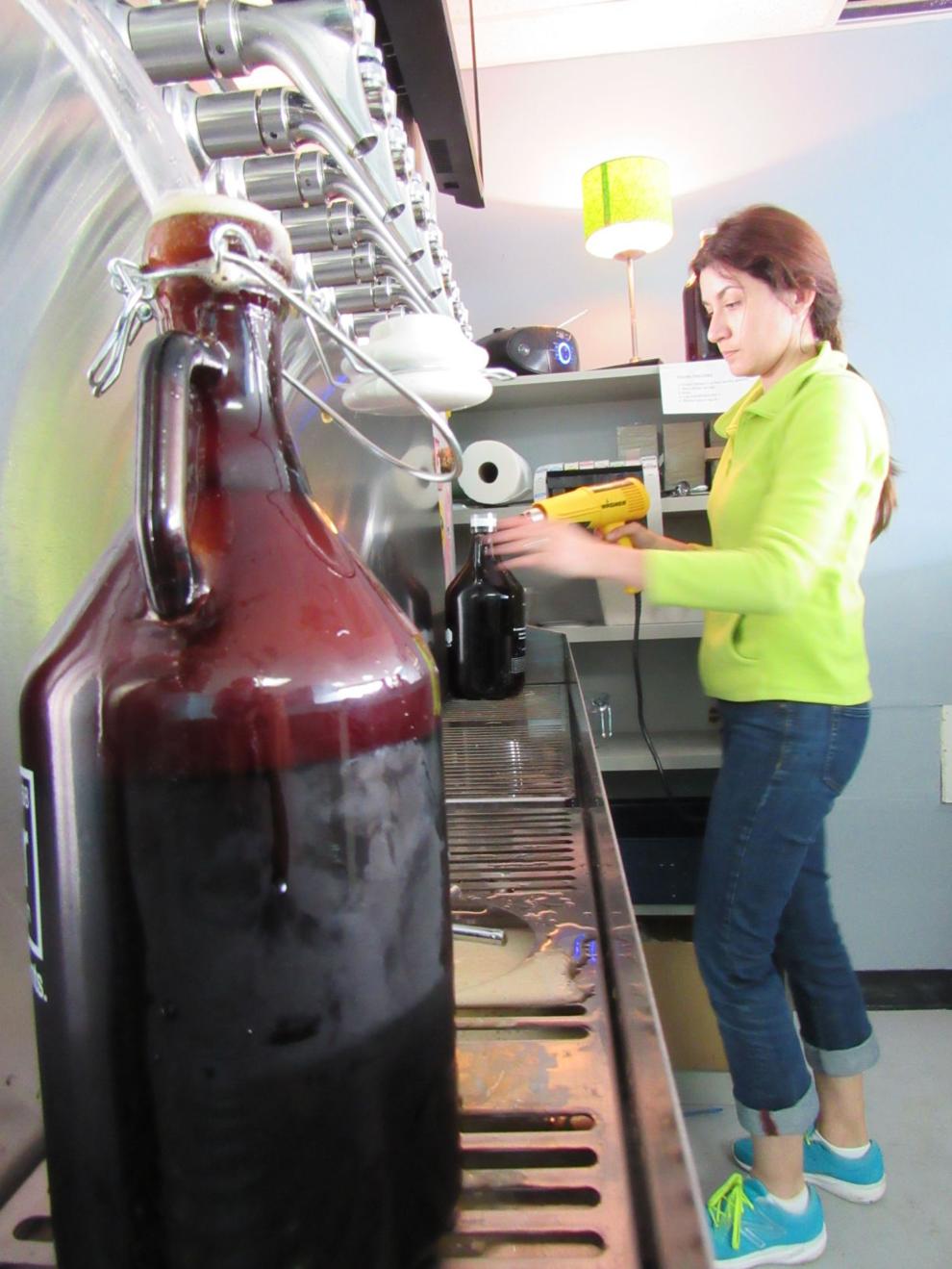 The Welches predict that 40 percent of their sales will be in 32-ounce howlers, which make higher-priced beer more accessible to those with a limited budget. For example, the 2014 Sticky McDoogle scotch ale from Ale Asylum in Madison and the Blackout Stout from Great Lakes Brewing Co. in Cleveland, Ohio, were both on tap last week and cost $18 for a 64-ounce growler. A 32-ounce howler was $10.
"It makes it a little more affordable," Colleen Welch said. "You can still have these crazy barrel-aged beers that are hefty in price."
The Welches, who have been married for nine years, own the growler business along with Colleen's mother, Nancy Koberle, who also owns the building that houses the growler bar and Trixie's.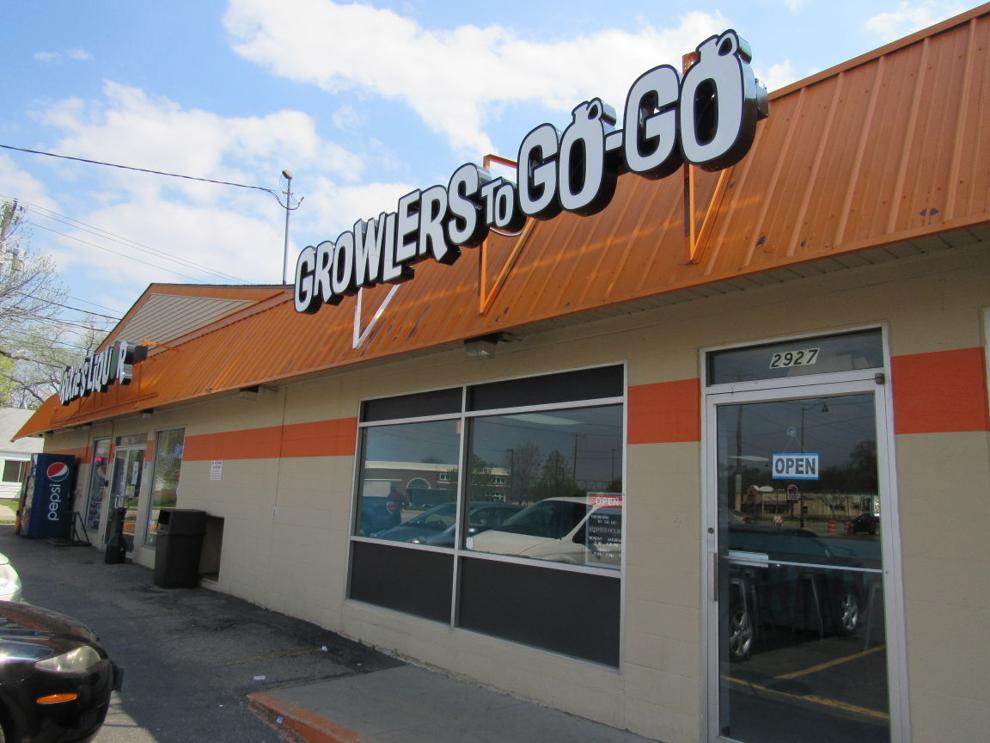 The beer cooler that holds kegs for the growler bar had sat unused for years, while the Welches did most of the interior work themselves, including building the bar that is covered with 5,827 bottle caps, each one individually glued to the surface and covered with an epoxy.
Growlers to Go-Go, which also serves beer by the glass, will not only be a destination for beer lovers but serve as an outlet for breweries who want to show off experimental batches of beer brewed on small, pilot systems. Oftentimes, bars don't have extra tap lines to devote to limited-edition brews, Chris Welch said.
"As (the breweries) kick-out these one-offs, we're trying to pick them up," he said. "It's a win-win."
More funding for startups: Woody Tasch, founder of the Colorado-based Slow Money Institute, will be the featured speaker on Friday at the Slow Money Wisconsin Showcase at the East Side Club, 3735 Monona Drive.
Tasch launched the institute in 2010 and is an expert on "patient capital," mission-related investing and community development venture capital. He is former chairman and CEO of Investor's Circle, one of the oldest angel networks in the country, and was founding chairman of the Community Development Venture Capital Alliance and treasurer of the Jessie Smith Noyes Foundation during the 1990s, a role in which he spearheaded the integration of asset management and grant making. It included a substantial investment in Stonyfield Farm, now the world's largest organic yogurt producer.
"What we're trying to do in the longer term is that we want to create an investment fund that people can invest in like a mutual fund, but the focus is on good food and community-based businesses," said Bartlett Durand, who owns Conscious Carnivore in Shorewood Hills and had Black Earth Meats before it closed. "Beyond advocacy, we're really trying to create systems."
That includes training for investors and business owners in how to capitalize and in how to bring the two groups together, Durand said. Ultimately, Durand said, he would like to see a mutual fund for Slow Money Wisconsin valued at $20 million to $40 million that could invest in small businesses.
The first showcase by Wisconsin Slow Money was held in 2013. This year's event will include presentations from nine Wisconsin companies that use Slow Money principal. They include Alt Brew, Baraboo Woodworks, One One Thousand, Sector67, Square Harvest and Quigistics, all of Madison. For more information or to register for the event, go to www.slowmoneywisconsin.org.
Botham release helps conservation: The sale of Driftless, a new white wine to be released by Botham Vineyards & Winery at its annual spring party and Mother's Day celebration next weekend, will benefit the Driftless Area Land Conservancy. The winery will donate $1 from every bottle sold at the vineyard tasting room, with funds supporting the Conservancy's work in preserving and maintaining the Driftless area. The label graphic includes a photo of a purple cone flower prairie that is a nod to one of the area's most common and colorful native plants. Botham is located at 8180 Langberry Road, west of Highway K and south of Barneveld.
Send retail-related tips and story ideas to badams@madison.com or call Barry Adams at 608-252-6148.