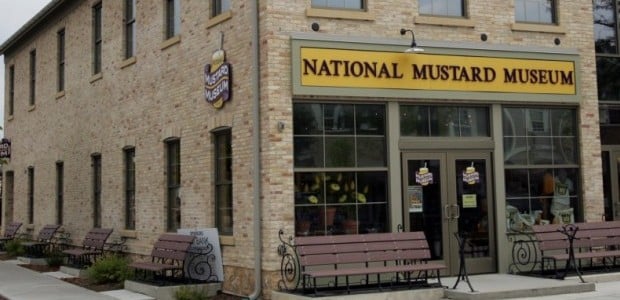 Mustard Museum to highlight champions
The National Mustard Museum in Middleton is holding its first major fundraiser, a culmination of the 2011 Worldwide Mustard Competition. The museum will present medals to the winners of this year's competition from 7 to 10 p.m. April 29. Attendees can also taste the results from chefs competing in the museum's Iron Mustard Chefs Challenge. There will also be local artisan foods and beverages.
Chefs will include Tim Larsen of Cooper's Tavern, Rob Grisham of Brasserie V, Rod Ladson of Johnny's Italian Steakhouse, David Heide of Liliana's and Jim Doak of Culver's restaurants.
The chefs will randomly select one of the winning mustards in advance and prepare a dish with that mustard to serve at the event. Guests will help judge the winner.
Tickets are $60 per person. Order online at www.mustardmuseum.com or by phone, 800-438-6878, 608-831-2222.
---
Culinary History Enthusiasts of Wisconsin (CHEW) is meeting at 7:15 p.m. Wednesday at the Mustard Museum, 7477 Hubbard Ave., Middleton.
Barry Levenson, a former assistant attorney general for the state of Wisconsin, will talk about mustard history and making food history fun.
---
Taste of the Market breakfasts winding down
Madison Club chefs Dan Fox and Jason Veal will be in the kitchen for Saturday's Taste of the Market breakfast, the second to last of the season.
The breakfast is held from 8:30 to 11 a.m. at the Madison Senior Center, 330 West Mifflin St., during the winter Dane County Farmers' Market. This week's menu includes: a breakfast sandwich on homemade buttermilk biscuit with sausage, fried onions, Cheddar and Jack cheeses and egg scramble with prosciutto gravy; roasted root vegetable hash and raspberry sour cream coffee cake. A vegetarian option replaces the prosciutto with caramelized shiitake mushrooms.
The cost is $7.50 or $3.75 for children and those who can't eat an adult portion.
---
Chili's supports credit union charity
Chili's restaurants in Wisconsin are donating 10 percent of money spent by diners to the Worldwide Foundation for Credit Unions, the fundraising arm of the World Council of Credit Unions.
The money will be used to support development efforts in Kenya, Mexico and Sri Lanka.
Visit www.woccu.org to print out coupons. They will be honored through April 13.
Chili's has a West Side Madison location at 7301 Mineral Point Road, and an East Side location at 4344 East Towne Blvd.
---
Carr Valley Cheese in Sauk City offers a popular cooking school, and there are a few spots left for the class "Keeping it Simple" with Chef Tim Tesch of Lunds and Byerly's upscale grocery chain in the Minneapolis/St. Paul area.
The class is from 6:30 p.m. to 9 p.m. May 19, at 807 Phillips Blvd. The cost is $55.
Tesch creates dishes with 10 everyday ingredients or less.
Stay up-to-date on what's happening
Receive the latest in local entertainment news in your inbox weekly!