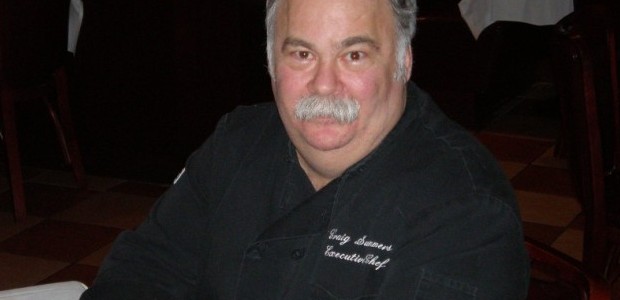 Executive chef at: Capitol ChopHouse.
How long have you been at the restaurant: I have been working at the Hilton Madison ChopHouse for six years.
How long have you been cooking: Since 1974; I was a prep cook at Little Company of Mary Hospital Evergreen Park, Ill. So 37 years — a long time.
Did you go to culinary school: I went to chef training at Washburn Trade School in Chicago.
Where have you worked in the past: I started my career in a small restaurant in Chicago called Paul's Swiss Chalet. I've worked at Diamond Head, Salvatore's, David Warner Inc. Then I moved to Hyatt Hotels were I've worked for 23 years as executive chef. In 2005 I left Hyatt and moved to Madison to work at Hilton.
Favorite foods: A great steak and Northern Italian food.
Favorite ingredients: I embrace anything from local farmers, grass-fed beef, pork, lamb. I take an organic food philosophy.
Favorite restaurants: Of all time, the Bakery Restaurant in Chicago in early late 70s, which Chef Louis Szathmary ran very old school. He was the father of the modern chef, a man before his time with food and service. Now, the Old Fashioned.
Best tip for home cooks: Keep it simple. Work with a few ingredients in the beginning, then add harder tasks as you build your skill level. Make good food selections. Buy local, fresher foods, which are better tasting. If you start with quality ingredients you will have a great dish in the end. As I tell my staff, we are not building a rocket.
Favorite cookbook: "The Chef's New Secret Cookbook" by Louis Szathmary and "Fresh" by Michele Cranston. It is about cooking fresh simply and seasonally using local produce and creating food infused with rich flavors.
Favorite recipe: Champagne-chive vinaigrette
---
Champagne-chive vinaigrette
2 bunches of chives, chopped. (A bunch would be a size of a dime).
1 teaspoon sparkling wine
1/2 cup champagne vinegar
Combine all of the ingredients except the oil, and puree. Slowly add the olive oil while mixing until the vinaigrette is completely emulsified. Season with salt and pepper.
1 Tablespoon fine chopped bacon
1 Tablespoon medium cubed hard boiled egg
1/4 cup Roquefort blue cheese crumbles
1 Tablespoon fine chopped red onion
1 Tablespoon sliced English cucumber
1/3 cup champagne-chive vinaigrette
Mix in bowl, then form into 3 inch round molds on plate. Garnish with halved cherry tomatoes alternating with champagne-chive dollops around salad form on plate. Top with three chive sprigs.