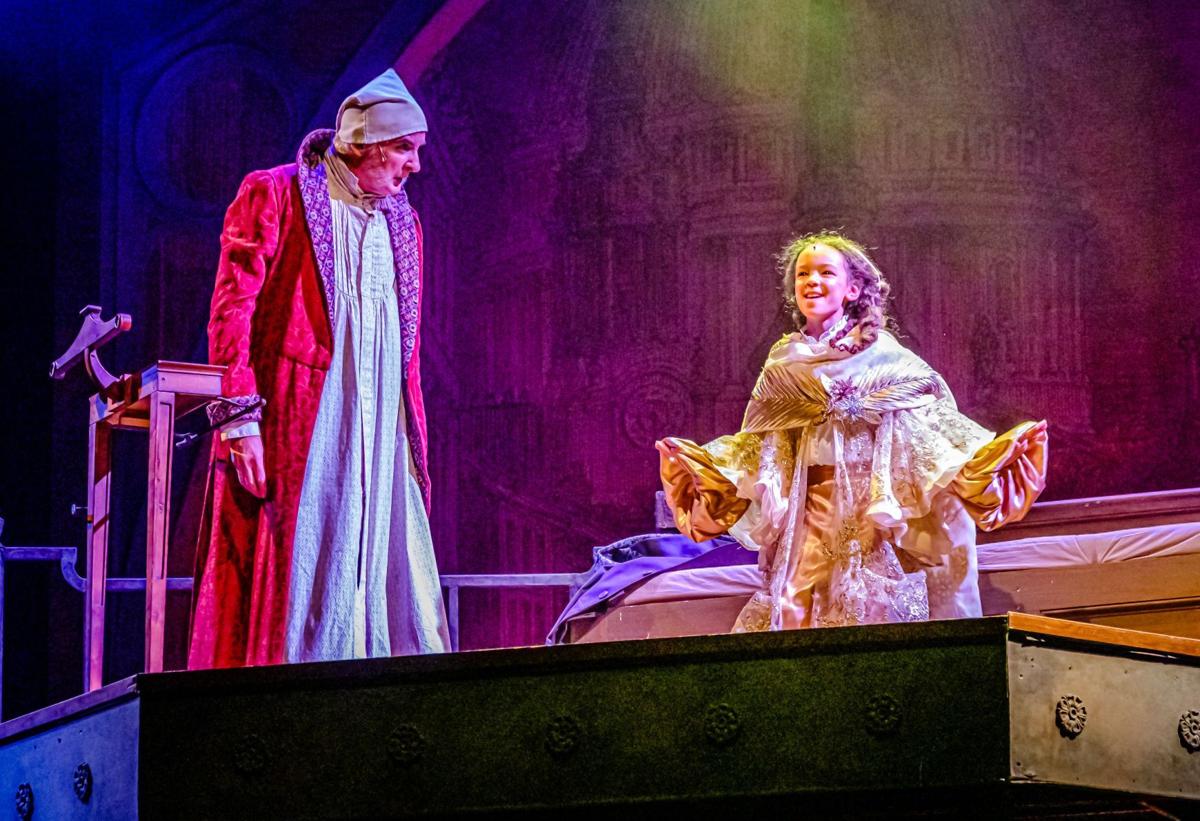 In the spirit of this pandemic-disrupted year, Children's Theater of Madison is offering its annual production of "A Christmas Carol" free online with a cast of 95 that includes cameos by Gov. Tony Evers and Madison Mayor Satya Rhodes-Conway.
"A Christmas Carol: Home for the Holidays," available at ctmtheater.org now through the end of the month, includes narration submitted by professional and young actors, community members and civic leaders.
The cast includes all of the actors who have played Ebenezer Scrooge in the past 15 years and many regular CTM and American Players Theatre actors. Also making appearances are Lt. Gov. Mandela Barnes, Wisconsin first lady Kathy Evers, UW marching band director Corey Pompey, the Rev. Alex Gee and Fabu Phillis Carter, a former Madison poet laureate.
Roseann Sheridan, CTM's artistic director, calls it a "storytelling relay." Each cast member will narrate a part of the story, while images from past productions appear alongside.
Cast members recorded their lines individually. "We asked each of them if they would read a particular line, phrase or passage," said Sheridan, adding that some of the experienced actors were given longer, more complicated sections.
Sheridan said the 35-minute production has a "Chapter a Day"-type narration, where all the submitted videos are edited and stitched together. The ever-changing production has been "graphically designed" so the narrator is inside a graphic wreath. The rest of the screen is an image — a past photo from that moment in the play.
The video production is underscored by a six-piece string ensemble playing holiday music recorded live in October, before a public health order banned indoor gatherings.
Mark Wurzelbacher, the production's music director, said he encouraged the musicians to bring their vast musical abilities and unique personalities to the score. "I wanted it to sound like six friends getting together over some hot cocoa and playing some Christmas tunes."
He said the piece, "A Dickens Christmas Carol Suite" by Andrew Dabczynski, worked well because it uses only strings and percussion, so everyone was able to be masked and distanced while recording.
"Distance aside, it was still such a great feeling to be able to meet up with some of my friends and make some music together," Wurzelbacher said. "It had been months since most of us had had a gig like this, and I'm glad that we were able to pull it off safely."
Ben Reiser, the Wisconsin Film Festival coordinator, "worked his magic," editing the clips and making all the sound go together, Sheridan said. "Because, if you can imagine, somebody recorded it in their office and someone's recorded it in their living room and someone's recorded in front of their fireplace. And so, it's quite an interesting tapestry."
Each of the community narrators recorded their lines of dialogue on their phones, computers or tablets, said Brian Cowing, the show's creative director. They sent the videos to CTM, where the best takes were chosen and compiled, then coordinated with the musical underscoring. Reiser, the project's video editor, took the videos, music and graphics and began the process of editing them together.
Charles Dickens' classic has been staged by CTM since 1976, Sheridan said, adding that to her knowledge, there was only one year when the company didn't do it. In 2010, it put on a musical version of "It's a Wonderful Life" instead.
Under her predecessor, Nancy Thurow, CTM's longtime artistic director, the company started performing "A Christmas Carol" at Thanksgiving and didn't stop until the new year, said Sheridan, who has led CTM since 2006.
Sheridan, who had been at American Players Theatre in Spring Green for 17 years as production manager and then associate artistic director, was brought in to direct "A Christmas Carol" in 2006, while the company was reorganizing.
Sheridan was asked to do another show after her "Christmas Carol" success, and selected "To Kill A Mockingbird." Shortly after, CTM put out a search for an artistic director and Sheridan was hired.
Thurow did at least 30 "A Christmas Carol" performances a year at the old Civic Center's Isthmus Playhouse, Sheridan said. In 2005, after the Overture Center opened, the production moved to its Capitol Theater, which seats 1,089.
Sheridan has typically done nine public performances of "A Christmas Carol," which draw 7,000 to 9,000 a year. The show, in a larger theater with fewer performances, brings in a similar number of audience members as before, Sheridan said.
Cowing said the idea to get community members involved "just grew and grew and grew." Moving from the stage to the screen required "different thinking," he said. "It's the slides and the pictures and all the narrators and organizing and lots of emails."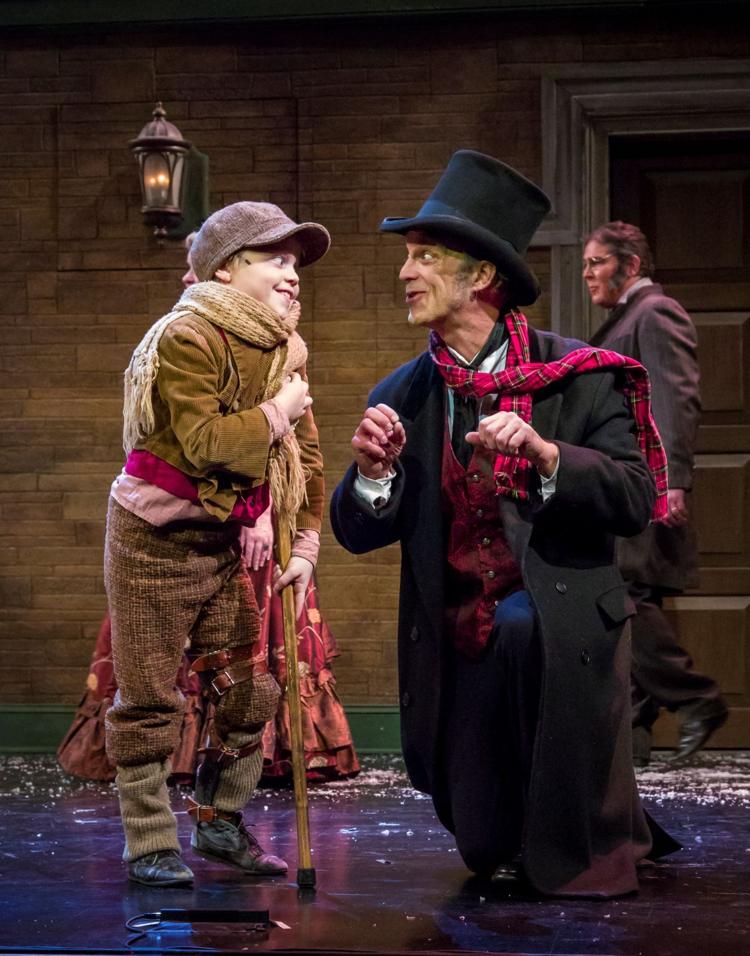 When CTM staff imagined a way to put on "A Christmas Carol" this year, they considered recording a six-person live version or a one-person performance recorded in a smaller venue, he said.
But the more they thought about safety and COVID-19 protocols, they came to the conclusion that everything needed to be done online.
They reworked the narration and designed a giant spreadsheet to keep track of the dozens of narrators who'd committed and those who'd sent videos in.
"It was kind of this epic document that we added to," Cowing said. "I remember a staff meeting where we found out that the governor and the first lady agreed to do it. … It was a great morale boost for the staff."
All of the narrators donated their time and talents, Sheridan said.
CTM considered charging for the show, but decided to take donations instead, she said. Earlier this fall, the group made some past productions available as pay-per-view shows, and Sheridan said there wasn't much interest.
"We also know that there are a lot of online offerings out there right now," she said. "And also, we wanted this to be a gift to our community. We just wanted to make sure that we kept the tradition alive."
Fave 5: Features reporter Samara Kalk Derby shares her most memorable stories of 2020
The year 2020 was relentless. For most newspaper reporters, almost every story, even if it wasn't directly related to COVID-19, was touched by it. Reading and writing about the virus has been exhausting and dispiriting. 
So, going through the stories I put together this year, some of my favorites were the ones that gave me and others a break from the all-consuming virus.
Recently, I learned of a black-throated gray warbler at Turville Point woods, next to Olin Park, that's rare to Wisconsin and had been hanging around far out of its normal range. In reporting the story, I joined a birding Facebook group and got to talk to some enthusiastic birders. Bird people are good people. And birding is a rewarding pandemic pastime.
Another recent non-COVID story was one that previewed "Beyond the Ingenue," a production by Music Theatre of Madison made available online. The show spotlighted 11 trailblazing women from Greta Thunberg to Ruth Bader Ginsburg through original songs by local woman. I enjoyed talking to the songwriters and performers, and learned more about some prominent women, as well as about less well-known historical figures like Lavinia Dock, a social activist and pioneer in nursing education. 
The arts are vital to a community's character, and it's encouraging to see local theater groups soldiering on without live audiences and with a dramatic loss of ticket revenue.
I wrote a number of stories this year about Madison institutions being able to weather the pandemic, and one that was close to my heart was about the survival of the Madison Children's Museum. In visiting children's museums in other cities, I know that what we have here is special and worth fighting for.
Writing about restaurant closings can be sad, but they can also celebrate their subjects. That was the goal in writing about Sunroom Café closing for good. While many of the other restaurants that closed in 2020, had large, devoted followings, I'm choosing Sunroom because it had been in its second level State Street location for 25 years under the same owner. There was simply nothing else like it.