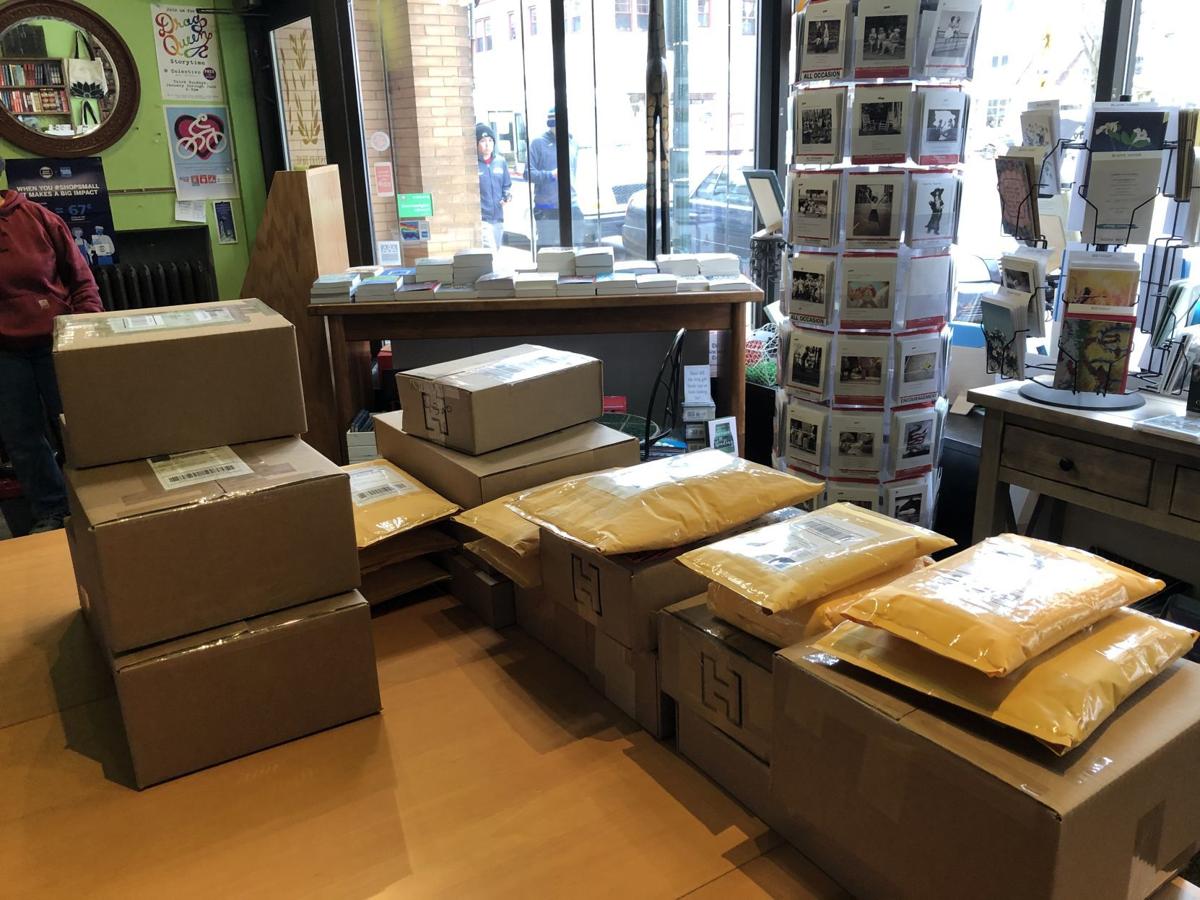 Few things are as comforting as a book. Reaching for a well-thumbed favorite or getting lost in something completely new can simultaneously calm and distract the mind. And with most major book and author events canceled for the immediate future, now is a good time for children and adults alike to escape in a book.
Fortunately for us, Madison book experts have plenty of suggestions when it comes to your next read.
Jody Mohrbacher, youth collection development librarian for the Madison Public Library, used the library's Novelist K-8 database, available to any South Central Library user and accessed with a library card number, and searched words like "resiliency," "pandemics," "epidemics," "anxiety" and "boredom" to develop book suggestions for children and young adults during the quarantine.
She said there are lots of reasons everyone should take advantage of this time and up their reading.
"Kids can relate to the characters with the feelings and emotions that are being shown in the graphic novels," she said. One of her suggestions, "Guts," deals with anxiety and talks about signs of anxiety and ways to calm down if experiencing stress, she said.
"Kids can actually learn from that," she said. "I think it's a great way to learn and also to have hope."
Genres such as historical fiction can show children the advances of medical technology and what scientists have learned during previous epidemics.
In addition, these books can show children how much we have to be grateful for, Mohrbacher said.
Virtual events
Finding a new author might also help fill the void from the canceled Wisconsin Book Festival events.
The Wisconsin Book Festival has been, for the past four years or so, made up of 40 stand alone events throughout the year, culminating in a four-day celebration in the fall, offering about 60 events, said Conor Moran, the festival's director. But officials had to cancel about 15 events this spring when the libraries closed and crowd restrictions were put in place because of the COVID-19 coronavirus.
But all is not lost. Moran said book festival leaders are working with the Madison Writers' Studio to produce online, do-at-home writing classes, which will include texts to read and writing prompts. "They can do it as they go, or you can do it in four months," Moran said of the program.
The other step the book festival is taking is a "little more nebulous," Moran said. "We're going to do some events with a program Crowdcast," he explained of the interactive author talks that the festival is working to schedule. Crowdcast can handle a large number of people viewing online and allows for some audience interaction, such as people submitting questions and others voting on what questions they want answered, he said. "It's a little bit more dynamic that way."
Moran anticipates participating authors to include Kate Elizabeth Russell for "My Dark Vanessa;" Steven Wright for the "The Coyotes of Carthage;" and Amaud Johnson for "Imperial Liquor." Moran said the festival also is working with Kashmira Sheth to provide some online content for children.
Moran said he's been chatting more frequently than usual with a nationwide group of festival directors in the past few weeks to gather ideas on ways to still offer author events and to help similar festivals. The book festival circuit is "really dense from the first week of March through the end of May," Moran said.
The LA Times Festival of Books, which normally happens in April, has been rescheduled for October, Moran said, adding he does not expect it to conflict with the Wisconsin Festival of Books, scheduled for Oct. 15-18.
"Book festival events will go on, (but) we will come up with different interesting ways to do things," he said, adding organizers also are asking some authors to reschedule their events to the fall. "We're just trying to be as nimble as we can."
Officials with the Wordplay Festival in Minnesota decided to make their annual May event completely virtual, Moran said. "That's a really bold leadership style decision to make," Moran said. To help with its success "a ton of us are going to get together and promote what Wordplay's doing," Moran said, adding that he likely will moderate an panel.
Air of mystery
Joanne Berg, owner of the Madison bookstore Mystery to Me, said the Wisconsin Book Festival's decision to hold virtual author events is a good plan for the time being. "Even after all of this is lifted and people attempt a return to normal life, I think it's going to be a while before people will want to be in enclosed spaces with a crowd," she said.
Since the quarantine, Berg said, she's spent the past couple weeks filling the store's orders of "Mystery Stock Boxes," a hand-picked collection of books gathered by her and her staff based on a reader-preference form filled out by customers.
"The whole mission of being an independent book seller is to offer recommendations to people about books they may not know about," Berg said. "To match that perfect book with the person. We took it very seriously. It was time consuming, but it was fun."
Berg completed more than 50 boxes, which were available in $30, $50 or $100 options, before she ran out of shipping supplies and had to suspend the program. "We might bring the program back, but we needed to suspend it for the time being," Berg said. "I just couldn't keep up with the mail orders. I can't even begin to say how appreciative we are to the outpouring of support we have received from the community."
Although the store is closed, Berg still is responding to phone calls and emails from people asking for recommendations. Mystery to Me temporarily suspended its e-commerce program and began participating in Bookshop — an online bookstore, currently in beta, that supports independent bookstores.
"It works wonderfully," Berg said. "The very robust application gives independent bookstores some competitive advantage."
The Mystery to Me page on Bookshop offers a recommendation list called "quarantine reads," which Berg said the store's booksellers will update regularly.
Berg has several book recommendations to help get people through the quarantine. One is "Station 11," by Emily St. John Mandel, about a civilization collapsing due to a devastating flu pandemic, which takes place in the Great Lakes. "We've sold a ton of those in the past two weeks," she said. "That's for people who want to be in the moment."
Stay up-to-date on what's happening
Receive the latest in local entertainment news in your inbox weekly!