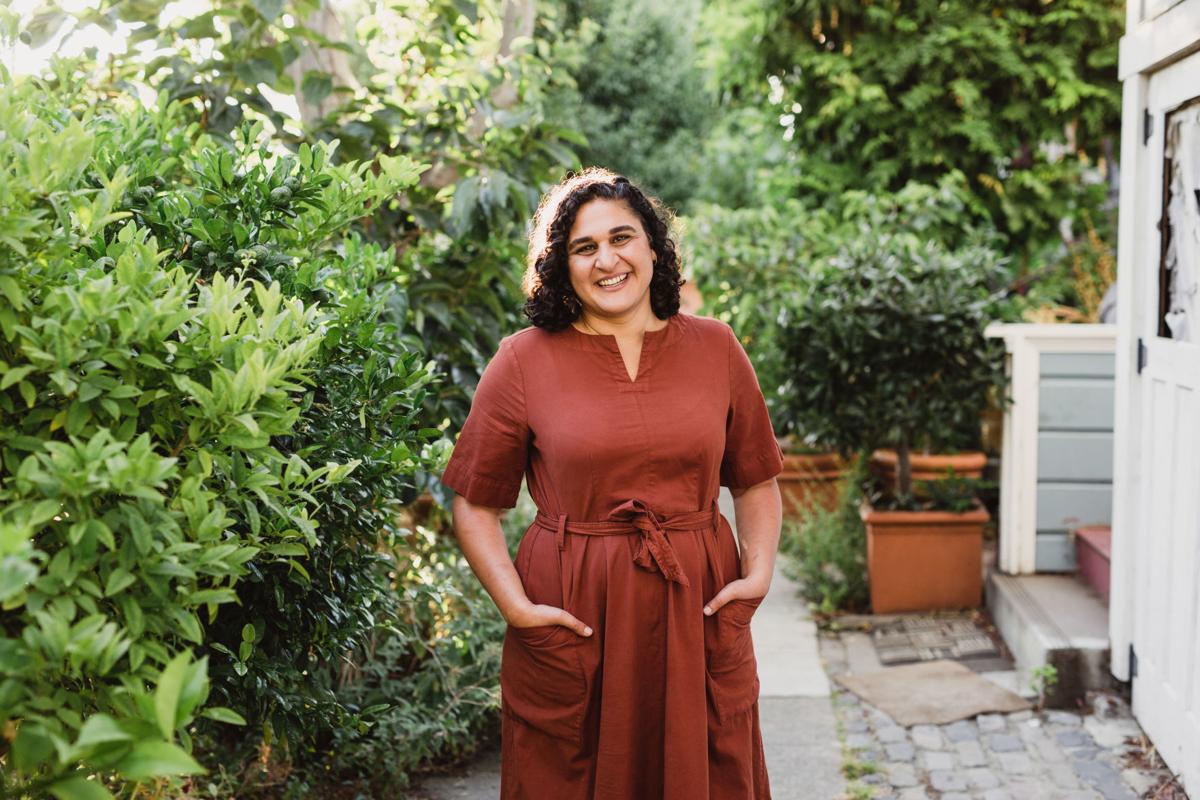 "I love it. I really do feel like there is something kind of sacred and magical about gathering together in a room," said Nosrat, who will appear in Overture Center's 2,255-capacity Overture Hall Wednesday.
"I'm not there when people watch the show. I'm not there when they read the book. It's just not a direct connection. And being together with people in the room is so special. I have not traveled all of these places before. So I get to go and see this country and meet people and taste food. I love it. I love it."
Nosrat's warm, enthusiastic, positive persona comes through in her writing, on television, in person, and in a recent phone interview from the Oakland, California, home she shares with her new puppy.
Madison ties
The James Beard Award-winner, whose parents emigrated from Iran, hasn't been to Madison before, but has a connection to the city because her mother went to UW-Madison.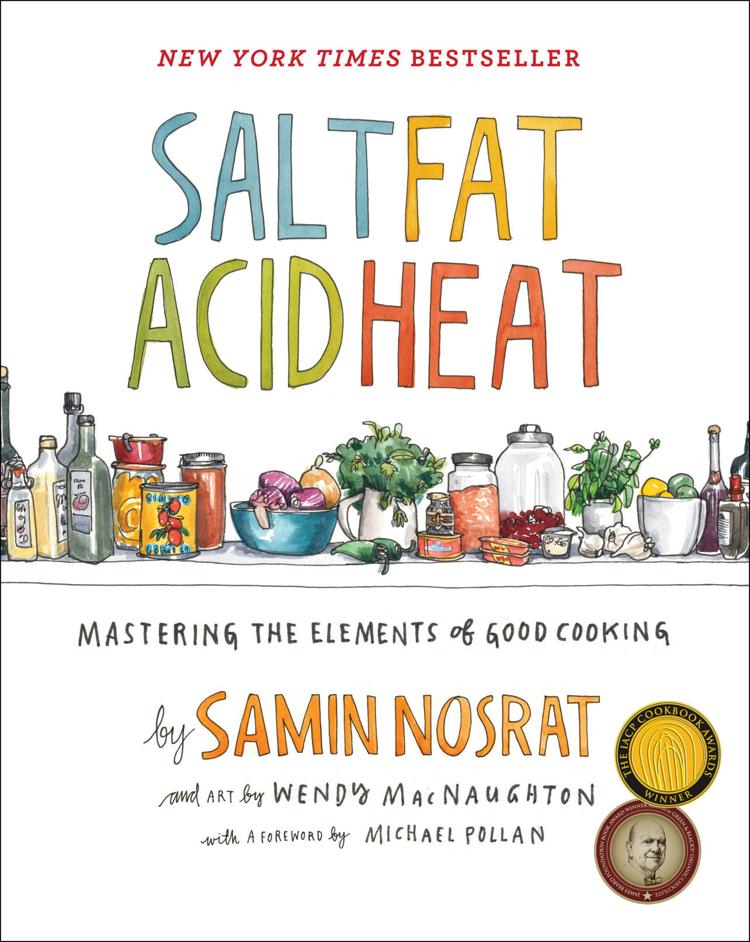 "And so many people in my family went to school there. I don't know if there was some sort of like Iran-to-Madison thing, but so many of my extended family members came from Iran to go to Madison and I still have family there," Nosrat said.
Gary Lee, Nosrat's publicist, said Nosrat's not exactly on tour, she's just been doing a handful of speaking events over the past year. Madison is part of a Midwest swing, and during each visit she has a conversation on stage with a local food writer or chef.
Berens recently published: "Ruffage: A Practical Guide to Vegetables."
'Daytime vegan'
Nosrat, 39, has embarked on a new relationship with vegetables after reading Jonathan Safran Foer's essay collection about climate change, "We Are the Weather: Saving the Planet Begins at Breakfast."
The first section is filled with a lot of statistics, Nosrat said, but the book's main argument is that it's more carbon efficient to be a vegan for two-thirds of the day and an omnivore for one-third, than it is to be an all-day vegetarian. "Because the amount of carbon that is produced by producing dairy and eggs is really, really significant," she said.
Thus began Nosrat's quest to become a "daytime vegan," or what she calls her "troubled attempt at veganism."
It's only been about three weeks, but Nosrat said she fails every day. "There's always something — there's like always some cheese or butter each day... I'm trying, I'm trying."
The climate crisis and the large amount of carbon produced by the dairy industry are huge, abstract concepts that can be hard for people to process, Nosrat said. "It might hit you and then you forget about it because you just deal with much more immediate stuff. And so sure, I might understand that the climate is like collapsing but, but then suddenly, you know, my dog peed on the floor and I have to go clean that up."
You have free articles remaining.
Still, Foer made an incredible argument for giving up animal products, and that everybody has a role in combating climate change, she said.
Changing what she eats isn't going to have a powerful impact, Nosrat said. What's needed is major policy changes in the United States and internationally. "But, I also believe that people make a difference and that this is something that we all need to start talking about."
Important messages
As a 19-year-old studying English at the University of California, Berkeley, Nosrat landed a job as an apprentice at Chez Panisse. Working in the kitchen of Alice Waters' famous farm-to-table restaurant changed the course of her life.
Over the past year, Nosrat said she's thought a lot about her responsibility as a public person to get out important messages. "Like, if I tell people to buy a book, you know, the next day it shoots up to the top 100 on Amazon or whatever. I do have this power and I want to use it responsibly."
It's not about telling people to buy her branded pots and pans — she's not going to do that, she said. Instead, she wants to help guide people to think about and act in ways that make the world a better place. "And that starts with cooking and taking care of ourselves, being kind to one another."
In terms of her "daytime veganism," Nosrat said she's trying. "And some days I am able to do it actually and other days, there's a little cheese in my tamale, you know?"
Get cooking
Nosrat's first book, "Salt, Fat, Acid, Heat," is about how to cook and the four essential elements of good cooking. Her next book, which she has yet to start writing, is called "What to Cook."
"It's organized around the idea that every time we enter the kitchen there's an always changing set of constraints upon us," she said.
Sometimes people have less time and sometimes they don't have all the ingredients for the fancy recipe. Sometimes they're in a rental kitchen at an Airbnb and maybe they don't have salt, Nosrat said. "So what do you do?"
In her four-episode Netflix show, her intention was to present herself as an accessible, friendly teacher by basically being herself. She's succeeded to the degree that when she runs into fans at the grocery store they feel like they have a direct relationship with her.
"It makes them feel good and trust me and want to cook and do what I want them to do, which is to cook and get together with their people," Nosrat said.
But in public it can be hard when people know her, but she doesn't know them.
She's found that a lot of people see themselves reflected on camera for the first time. "Because I am a woman of color, and there's some part of me that reminds them of themselves and they've never seen that on TV before."
Nosrat said she's amazed by all the love and familiarity. "If I had to metabolize all of the praise that comes to me, and all of the goodness, I would spend all of my energy on that. So what I've also realized is that most of the time it's not about me."
People just want to feel seen, she said. The book or the show helped them cook for the first time and they're excited to meet her and tell her their stories.
In response, she lets them know how happy it makes her that they're cooking. She's pleased when she hears that someone's made something that their children love. Or that they've gathered people at their home for a meal when they hadn't been able to do that before.
"There's so much warmth and it really kind of like blows me over," Nosrat said. "I also still have to say like, 'I can't believe people pay money to come to see me.'"