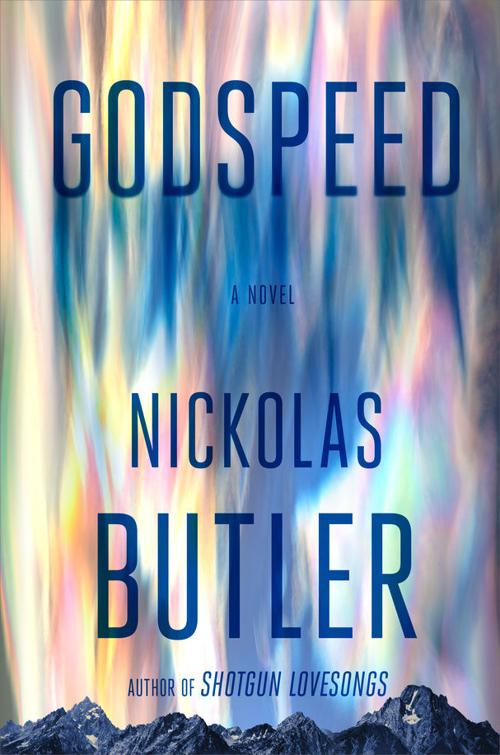 Popular Wisconsin author Nickolas Butler delivers another page-turner this fall, but with some departures from his usual style.
Not only is his latest, "Godspeed," more suspenseful than his other works, it also is the first of his books to be set somewhere other than Wisconsin. The book is centered around a trio of men — longtime friends — who start a construction business together outside Jackson Hole, Wyoming. The three land a once-in-a lifetime job on a multimillion-dollar house that could be their making — or undoing. Butler is one of several authors planning in-person events at this fall's Wisconsin Book Festival.
Q: Congratulations on "Godspeed" — your fifth book. How does it feel to have it published?
A: I feel good. I feel it was the book I wanted to write at this point in my life. It feels more timely to me now then when I wrote it as the housing market keeps getting heated.
Q: The housing market, class conflict, wealth disparity are all issues addressed in this book that centers around three contractors trying to complete construction of a mansion in four months — by Christmas Day — in order to receive a substantial bonus. Have you done construction or had a house built?
A: The house that I'm talking to you from today, my wife and I paid for it to be built in 2013. We were living on the site in another structure (during the construction) so every day I would wake up and see what was going on and talk to the guys that would work on the house. We had friends in common. They were really candid with me about the ups and downs of their lives. I'm not a particularly handy guy, but I was definitely plugged into that process of being around those guys and they helped to inform the book, no doubt.
Q: This is the first book you've written that's set somewhere other than Wisconsin. Why Wyoming?
A: I think in the past I've always been married to the idea of using Wisconsin as the central gravity for my stories. When I heard the antidote that led me to write this, I just couldn't imagine it in Wisconsin. We took a family trip out to Yellowstone four or five years ago. We came down through Jackson Hole, Wyoming, and I thought "Look at this quaint ski village." Then I looked at the real estate prices and thought, "How can anyone afford to live in Jackson Hole?" We then went camping in the Tetons at a hot spring. That was kind of when all the ideas locked into place. What if it's a $20 million house in Jackson Hole, what if it's set here (where there are hot springs)?
Q: "Godspeed," like your 2019 book "Little Faith," is based on a true story. How much of "Godspeed" is true?
A: It's a much smaller nugget (of a true story) than "Little Faith." This was a situation where a family friend who works in the building trade came over to our house (and was talking about) a multimillion-dollar house he was working on on the south side of Eau Claire. He fell behind the perceived timeline and the homeowner said she would offer them each a $15,000 bonus if they could finish in the next three weeks. He said, "If we had all the meth in the world we couldn't finish that house in three weeks." (I started to think) what if they did go for it. And what if they did have to start using something to stay up all night?"
Q: Do you like writing stories based on something that actually happened?
A: There's something kind of magical about creating a fictional work that's rooted in reality. I don't know that it's going to be something that fuels me for every book, but for the last two books that seems to be my inspiration. I'm working on a book right now and it's not my inspiration.
Q: Two of the three main characters struggle with drug use, specifically meth. The way you write about it is truly terrifying. Do you feel this is a drug that's fallen off the public's radar?
A: What was interesting ... when we were driving out west there were all these public service billboards about meth addiction and meth recovery. It's an addiction that we don't talk about. (It's considered) dirty, low-class. It was scary to do the research.
Q: Again of the three main characters, one has family as a central part of his life and the other two are very much lacking in any kind of family, friends or support. Why was it important to write about this strong contrast?
A: One thing that was fun about writing this book is everybody has a different sort of ambition or reason to grab the brass ring. None of the characters fully understand what everybody else's motivation is. To see (the characters) challenged by this process and to see the growth that I couldn't have planned as they were written, it was fun. For me, family is really important, so writing a character like Teddy (who has four girls) was fun for me. He's exhausted before his day even starts.
Q: There's a part in the book where one of the men suffers a horrific construction accident, which is a catalyst for other tragic incidents in the book. I knew it was coming, but even then I had to stop and put the book down for a bit before I could make myself read it. What was it like to write the dark sections of the book?
A: I've never written a book like this before. I've been very fortunate in my career to write the book the way I wanted to write it. It was fun for me to write something that was pretty dark like that … and not to have it totally premeditated, either. Something bad is going to happen. These guys don't have the money for the best tools. As I began cleaning up the scene as a writer, (I thought) "What do we do with this?"
Q: Following that series of events I felt like you pushed the idea of the type of horrific things people are capable of doing. Was that your intention?
A: Before I even sat down to write the book, I was thinking about books that I had read that were sort of like (what I wanted to write). (In the book) "A Simple Plan" by Scott Smith ... the characters always know what's right and wrong and they continually make the wrong decision. (In "Godspeed" these characters) buy into this crazy building transaction, but it's the best thing that's ever happened to them. Then they get involved in an accident. You could turn that around into "We didn't do anything wrong" or "We'll just make it disappear." I love that idea. I do enjoy writing a morality tale.
Q: The setting is not the only thing that's different from your previous novels, "Godspeed's" pace also is more suspenseful. How was that different to write compared to your other novels?
A: I wrote it way quicker. Part of it was because I kind of wanted to put (writing the book) on the same timeframe as the guys who were building the house. I wrote it in 2019 at the same time "Little Faith" was coming out. I did over 50 (promotional) dates for that book. Every place I went I had my computer with me. Little moments picking my kids up from school, I had my computer out. I think it worked to give the book that sort of desperate, grimy, gritty feel. It was not super pleasurable for me to do that.
Q: The character Gretchen, who is building the house, is a high-powered attorney for whom money is no object. And while initially she's not super likeable, her character becomes more complex throughout the book. What was your inspiration for her?
A: My wife worked for a long time as a pretty high-powered corporate attorney. (Gretchen) is not based on my wife, but more on senior attorneys that we saw. To think about how much they give up to achieve that level of success or prestige or money. Then think about females moving into corporate law. What we experienced (was) a lot of women my wife's age are willing to work very hard for five to 10 years, until they want to start a family, then things get very difficult. I think chapter 21 is where you see why (Gretchen) is so in love with the place, with the landscape (of where her house is being built). What it means to her memory. I never thought of her as an unlikable character. She's just done what she had to do to be successful.