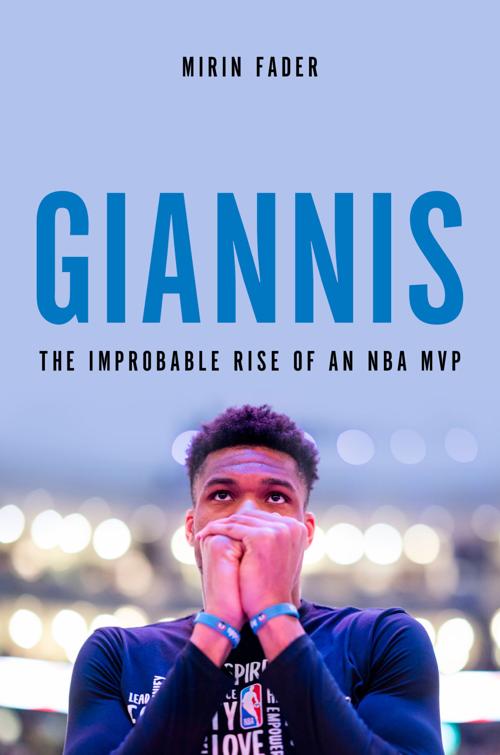 When Mirin Fader set out to write a book about Milwaukee Bucks star Giannis Antetokounmpo, she had no idea that the same year her book would be published, he would lead his team to a national championship.
"Giannis, The Improbable Rise of an NBA MVP," tells the story of Giannis' struggle with near poverty growing up; breaking into basketball in Greece as a teen; being drafted by the Bucks in 2013; and his life now in the NBA. Fader will discuss her book as part of a Wisconsin Book Festival event in early November.
Q: First, could you tell me a little about your writing background? Are you from Wisconsin?
A: I am not from Wisconsin. I am from L.A. I live there now. I got into sports writing because I used to be a basketball player. I played my whole life and first year at Lewis and Clark College. I transferred to Occidental College and stopped playing, and graduated from there in 2013. I realized I wanted to be a sports reporter. I started my career at the Orange County Register. I was there 2013-2017. I was freelancing on the side for ESPN and Bleacher Report during that time. Then I became a staff writer for Bleacher Report in 2018. I started at The Ringer in December 2020.
Q: How did you first decide to write about Giannis?
A: I originally did a story on Giannis and his younger brother Alex in 2019. When that story came out I thought "Maybe this could be a book." I wanted to write a book for a really long time. To write a book it has to be both mainstream ... but also hit that sports niche. Giannis, because he's so interesting (fits both criteria). I got the deal in March 2020.
Q: What was the timing of you writing the book and the Bucks' championship run?
A: It was so random. I signed the book deal March 2020 with it due March 2021 — way before the playoffs. I get to the playoffs and they start winning. The Bucks have struggled for so many years. It was a complete surprise to all of us. A welcome surprise. We had no idea the peg (for the book) was going to be a championship.
Q: But by then the book was finished, right?
A: We couldn't add anything. But I just turned in a new chapter for the paperback edition that's set to come out Spring 2022. It's going to have an updated chapter about this unexpected (championship) run.
Q: What kind of research did you do for "Giannis"?
A: I interviewed 221 people. A lot of them were Greek, so it was working with a lot of translators. A lot of his former teammates speak English, but it took hours to interview people and understand each other. Fortunately, even though I didn't sign the deal until mid-March 2020, I went to Milwaukee right before the world shut down and interviewed Giannis' brothers again. I was supposed to go to Greece, and we had to cancel. Suddenly we had one year to pull this off remotely. I hired a researcher on the ground in Sepolia, Athens (Giannis's hometown). It was almost like trying to re-create a city that you're not in, which is the opposite of a normal journalistic experience.
Q: Giannis is so humble, was it hard to get him to talk about himself?
A: He wanted to talk about his brothers during the interview. I think that's also why in the book you see pages just about the brothers, because I know that's the most important thing to him. He is a reluctant superstar. I think what was more valuable than the time I spent talking with him is watching him interact with his brother.
Q: What was one of the most challenging things about writing about this sudden superstar?
A: Number one, a lot isn't known about him. The entire backstory was unknown. You can't Google "Giannis' childhood friends." Being the first to really embark on this territory was really challenging. (Some know) he sold trinkets on the streets (of Athens). There is a really sanitized version of Giannis' story and it's framed as a feel-good tale (that) everyone loved him and helped him. The truth was a lot more sinister and he faced a lot more racism. The hard part was Giannis, as well as people in Greece, are really reluctant to talk about that. I knew of course there is racism in Europe as there is everywhere. I didn't know the extent of it in Greece. I didn't know their rule of birthright citizenship. You can't write a biography about Giannis without writing about those things.
Q: Throughout the book you talk about Giannis' family's lack of food — how he and his brothers were always hungry, sometimes subsisting on a single croissant before a multi-hour practice. Is food a theme in the book?
A: Food is most definitely a motif in this book because it doesn't go away when he gets to the NBA when he has access to food. (The lack of food) really haunted him that first year in the NBA. I think the challenge for me ... you want to be honest about the struggles, but you don't want to write about something that is "trauma porn." He also had a very happy childhood in a lot of ways, too. It was just a balance.
Q: What happens during his first year in the NBA?
A: When you go into the Bucks' practice facility they just have free food for players. He was floored by this. He would just horde plastic containers of food back home.
Q: Family also seems like a theme throughout this book.
A: That is the biggest theme of all. Giannis watched his mom work 14 hours a day and come home to wash his socks because he only had one pair. That rookie year, he almost wanted to quit the NBA because his parents couldn't get (proper paperwork to leave Greece). (If the Bucks organization hadn't pushed for his family to travel to America) Giannis would have left the NBA and the Greek Freak wouldn't have happened. In the updated epilogue I include the fact that two weeks ago the Greek government gave his mom and brothers citizenship, finally. It took Giannis winning an NBA championship for this to occur.