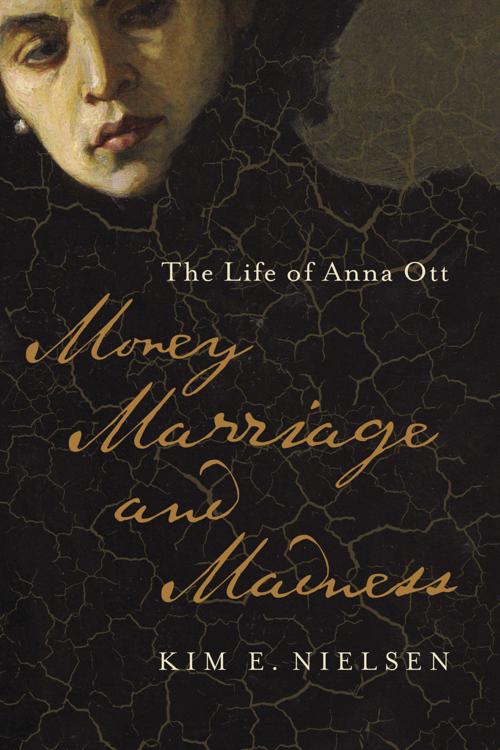 It was by accident that historian Kim Nielsen came across the name Anna Ott, who in the mid-1800s became Madison's first female physician, went through two divorces, suffered domestic abuse, and spent the last 20 years of her life in a mental institution.
Nielsen, a professor and director of the disability studies program at the University of Toledo, in Ohio, was working on a different project when she stumbled upon a reference to Ott.
"It was only interesting to me simply because she was a female physician in the mid-19th century and had some money and that was just unusual," Nielsen said. "So she sort of stood out to me, but I had no intention of writing a book about her at all."
But Nielsen kept investigating, and with help from the Wisconsin Historical Society, she was able to learn more, including from newspaper archives showing that Ott had been accused of bank robbery.
"As I kept digging on her, just to get a little more background, then a little more background, then a little more background, I became really fascinated," Nielsen said.
In her recently published book, "Money, Marriage, and Madness: The Life of Anna Ott," Nielsen writes that the life experiences of the woman who became Dr. Anna Barbara Blaser Miesse Ott wouldn't have surprised her contemporaries, "though her life reflects the nineteenth century as few today perceive it."
Ott (1819-1893) benefited from "wealth, status, and whiteness," but like other women of her time, she lacked legal resources and was vulnerable to sexism and other abuses. Her story helps paint a picture of what life was like for even educated, wealthy women in the Midwest at the time of America's Civil War.
Nielsen said at first, she wasn't sure she even had enough for an article, but she spent almost six years learning more.
"It makes me wonder how many similar stories or other fascinating stories are out there that we don't know," she said.
Diagnosis, violence, bank robbery
Ott was diagnosed with mania, and Nielsen said one of the things she tries to do in the book is show how diagnoses change over time and how they are deeply embedded in specific cultures, time periods and power relationships.
"I think we all want to think that medicine is an ahistorical truth," Nielsen said, adding that she tries to show how many diagnoses — particularly psychiatric diagnoses — are "historically situated."
Psychiatric diagnoses then, perhaps like all diagnoses, she said, reflected and reinforced the ideologies, assumptions, social structures and power dynamics of the time.
Nielsen said the domestic violence Ott experienced at the hands of her second husband, George V. Ott, must have had significant harmful impact. "I don't know what she would be diagnosed with today, but also clearly her money and her status as a physician gave her some privilege, but it also made her ... vulnerable to diagnosis."
While the disability rights and disability justice movements have been working hard in recent years to include psychiatric disabilities in their activism, Nielsen said, there's still more stigma around mental illness than around many other disabilities.
More than a year after her death, Ott made national news when unnamed asylum employees claimed she made a dramatic deathbed confession to an unsolved 1857 robbery of the Madison Wells Fargo office.
News articles noted that in the confession Ott said she'd robbed a bank employee of his key after delivering the couple's baby. It was said that she sneaked into the bank's office, and emptied the safe of $8,500 (the equivalent of about $250,000 today).
Nielsen said she had limited evidence about the alleged robbery and isn't convinced Ott did it. "But she could have."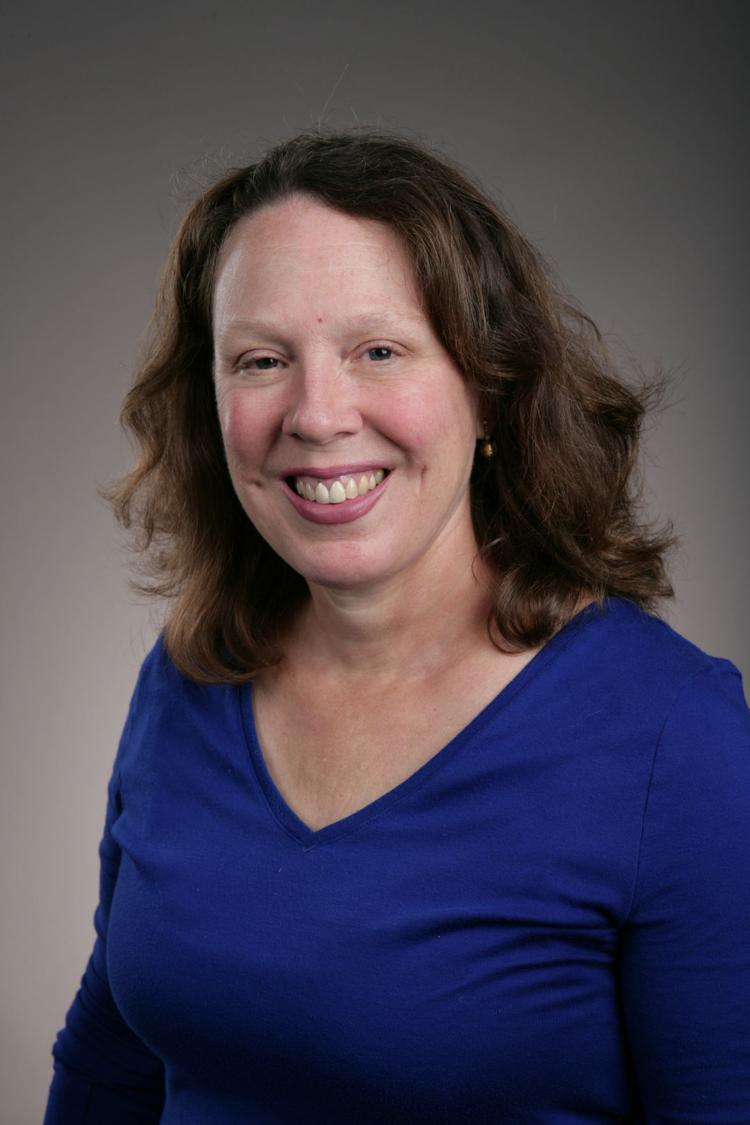 State Hospital for the Insane
Because Ott had been dead for a long time — almost 125 years — and has no direct descendants, Nielsen was allowed access to Ott's medical records.
When the Wisconsin State Hospital for the Insane opened in 1860, it was the first mental hospital in Wisconsin. In 1935, it was renamed Mendota State Hospital, and in 1974 it became Mendota Mental Health Institute.
Ott is buried in the cemetery at Mendota, Nielsen said, and has one of the few markers there.
Nielsen said what's fascinating to her about the Midwestern states is that once they declared statehood, in the first years, almost all of them created a state Capitol, a university, a prison and an asylum. "Those were the priorities and Wisconsin was like that, too," she said.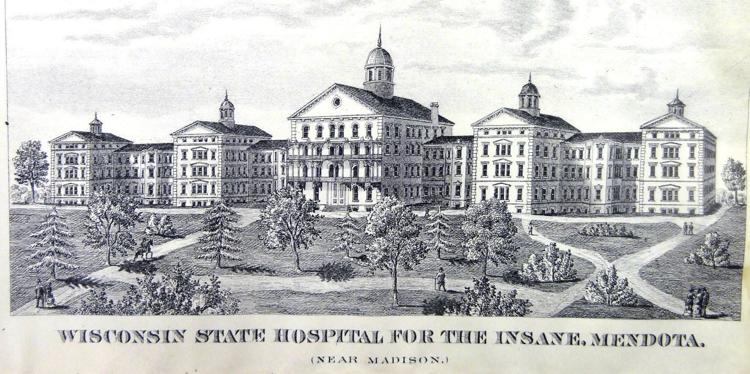 No graduation record
Ott's parents emigrated from Switzerland to Ohio when she was a teenager, and her first husband, Jonathan Miesse, was a physician in Chillicothe, Ohio. Nielsen said it was during her first marriage that she could have received her medical training.
Nielsen said that Anna Miesse's passport application showed her to be "a graduate of the Female Medical College of Philadelphia," but despite her "best historical mining efforts," she found no documentation of Anna Barbara Blaser Miesse (or Ott) in the records of any medical schools in Philadelphia, Ohio, New York, or elsewhere.
Also, Nielsen wrote, the timing doesn't match with where she lived in those years. "Though I want Anna to have gone to medical school, my belief is that in her 1855 passport application Anna B. Miesse simply lied about having gone to medical school," Nielsen wrote in the book.
After her 1856 marriage to George Ott, in an attempt to reinvent themselves — she after her divorce from Miesse, and he after the death of his first wife — the couple moved to Madison. Nielsen said the city was growing rapidly then, with white settlers removing all influences of indigenous cultures and people.
Early female physician
Anna Ott was the only female physician in the region for almost 20 years, and one of two female doctors in the state. The other was in Milwaukee. Nielsen wrote that, in 1873, her husband and two local physicians testified to her insanity, as well as her legal incompetency.
A Dane County judge committed Ott based on that testimony and placed her under guardianship, which left her with few legal rights. Her son died before she was committed, and her daughter largely lived in Ohio.
Nielsen said she seems to have had very little contact with her family, all of them in Ohio. "People left asylums if considered cured, if they ran away, or if they died."
Ott was a paying inmate at a time when most were not, so the institution would have had little incentive to dismiss her. Nielsen found no evidence of anyone trying to fight for her release nor of her trying to get herself released.
Research resource
When Nielsen was at UW-Green Bay, where she taught for 12 years, when she first discovered Ott.
She calls the historical society a great resource for the city, state and the nation.
"I really think it's one of the best archival sources in the country," Nielsen said, adding that the society's staff helped her think creatively about where she could find new source material.
The Friends of UW-Madison Libraries gave her some funding that allowed her to spend time in Madison. At UW libraries she found resources on the history of medicine, 19th century medical textbooks, and medical guide books that aided her research.
Also helpful were her two cousins in Madison who fed her during her research, which, she said, "is also important for historians and authors."
Stay up-to-date on what's happening
Receive the latest in local entertainment news in your inbox weekly!