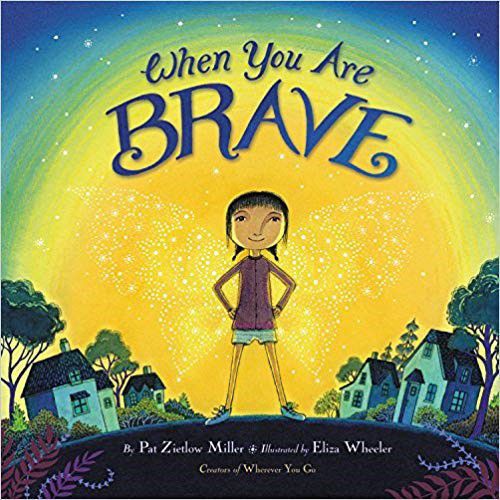 For years Pat Zietlow Miller has been writing about strength, courage and friendship through picture books that explain these complex ideas with compassionate characters like butternut squash-loving Sophie and a kindness-spreading student and her friend Tanisha.
Her latest book, "When You Are Brave," released March 5, continues in this vein. It follows Miller's 2018 New York Times bestseller "Be Kind" and is the second book she's had published this year.
Miller lives in Sun Prairie and the illustrator, Eliza Wheeler, is from Solon Springs, Wis., and now lives in Minneapolis. The book was published by Little, Brown Books for Young Readers.
Q: Was this story a long time coming?
A: 'When You Are Brave' was one of the quicker picture books I've written. I was feeling a little bummed out about some of the things going on in my life. I just started writing myself a pep talk. (Once finished) I thought, 'you know, this could be a picture book.' Usually with picture books there is writing, rewriting, revisions … they can take months to years to get it the way I want it … ("When You Are Brave") was much more rapid. I just wasn't as worried about it. I think I was being really honest because of how I was feeling at that moment.
Q: What was your inspiration for this book?
A: When I look at myself as a kid, I was a very shy, timid kid. This is the book I would have needed as a kid … (assuring me) I am braver than I think. It's about inner strength and using it to get through challenging situations.
The text of the book is pretty general, but (illustrator) Eliza Wheeler drew the pictures of a child moving from one house across the country to a new location. The book talks about situations when you might have to be brave … like getting on a bus going to school … jumping into the deep end. As adults, we ask children to be brave a lot … but we forget … for other kids these are some major things … and adults may need to be a little more patient.
Q: Did you intend for Wheeler to interpret the text as a cross-country move?
A: No, that all came from the illustrator, which was great. It's almost like a whole separate story, but they work together so perfectly.
Q: Your books seem to have a wide readership age — with themes that speak to adults and children alike. Is there an age that "When You Are Brave" is geared toward or do you strive for a universal appeal?
A: I really try to get the universal feel. The thing that guides me the most … the core ... is a universal human emotion. So no matter if you're 4 or 94, you can say 'Oh, I've felt that way.' Hopefully that's what gives the book universal appeal, because I really think picture books really are for everybody.
Q: "Be Kind" can be found in many elementary classrooms. How do you feel about this role your book is taking? Is it your hope "When You Are Brave" will follow a similar path?
A: Almost every school I've been in the past year … they have a kindness initiative. It wasn't planned … the book came out and I found out how many schools were working on (kindness programs) and it really was a good fit. It's almost hard to explain … that something I created with other people is being used that widely. I just find that you can't predict or plan it.
Q: You work full time as an editor for American Family Insurance Co. in Sun Prairie. When do you find time to write and what are you working on now?
A: It is really hard to balance because I'm (at American Family) full time and have one kid still at home. I am working on a sequel to 'Be Kind' called 'Be Strong' … in addition to a couple different stories I hope to go out and sell. At night … I'm usually at the kitchen counter on the computer. I used to have a much more structured schedule, now it's just when I have time. You just make it happen.
Q: A sequel to "Be Kind" is exciting! How was that to write?
A: Honestly, it's almost harder to write a sequel than a new, fresh thing. There were eight or nine drafts, then a lot of tweaking. It was harder than some other books. "Be Kind" did so well … you want the sequel to be good.
Q: Yes, no pressure! When is it slated to be released?
A: It's not coming out until 2021. The girl in "Be Kind" (Tanisha, who in the opening page spills grape juice on her new dress) is the star of 'Be Strong.' In 'Be Strong' she is finding her power.
Q: What about "When You Are Brave" do you want people to know or notice that they might not initially?
A: If you take the dust jacket off .. there is this beautiful embossed art (on the front of the hardcover). I think some people never take the paper jacket off. (Illustrator) Eliza Wheeler came up with the idea. When I saw it I was amazed."