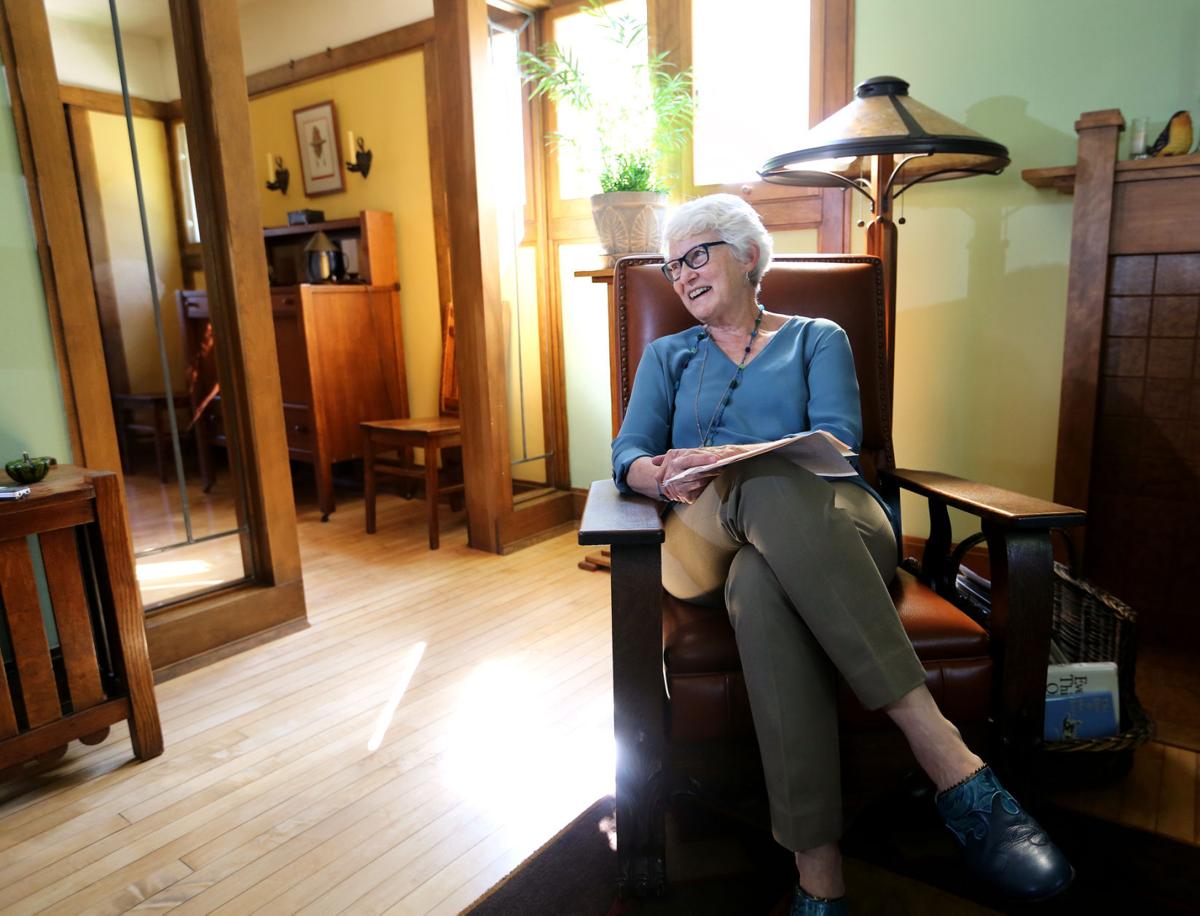 For nearly 30 years, Mary Jane Hamilton had a curious feeling about the house at 2107 West Lawn Ave.
Today, the Frank Lloyd Wright scholar and author finally reveals her hunch: That the two-story house was designed by Wright himself.
The West Lawn home is being announced as only the 16th known example of the American System-Built House, a short-lived venture by Wright meant to provide affordable housing through predesigned homes built with factory-cut materials.
Another rare ASBH was discovered in Shorewood in June, joining a cluster of four duplexes and two single-family homes in nearby Milwaukee and others scattered across the Midwest.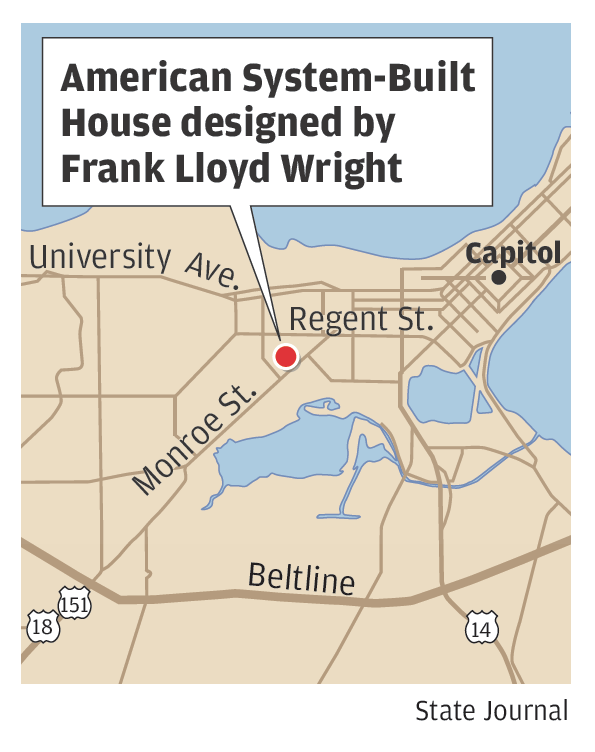 Hamilton and the nonprofit Frank Lloyd Wright Wisconsin are announcing the Madison discovery in hopes that people who knew the 98-year-old West Lawn house in its early years might come forward with information or photos to further verify its historic place in Madison architecture.
"It's still an unfinished story. The house is going to be 100 years old in 2017," Hamilton said. "I would like to have finished up by then a publication about it. It's a unique part of Madison's history, and I'd like to (hear from) the people who were involved in it."
Wright's "system-built" homes were not prefabricated. Instead, lumber was pre-cut at the mill and building materials were delivered by rail, allowing for easy assembly at the building site. The models had flexible design options, something not featured in most mail-order houses of the time.
Though Wright produced more than 900 working drawings and sketches for the ASBH, the experiment in mass-produced housing was cut short with America's entry into World War I on April 6, 1917. Home construction stopped and building materials were diverted to the war effort.
The two-bedroom house on West Lawn, newly constructed as a "spec" house for the Madison market, became a rental. Its first official owners in the 1920s added two bedrooms and a kitchen, and the former kitchen became a dining room. A porch on the stucco house was enclosed in what Hamilton calls "distinctly non-Wrightian" brick.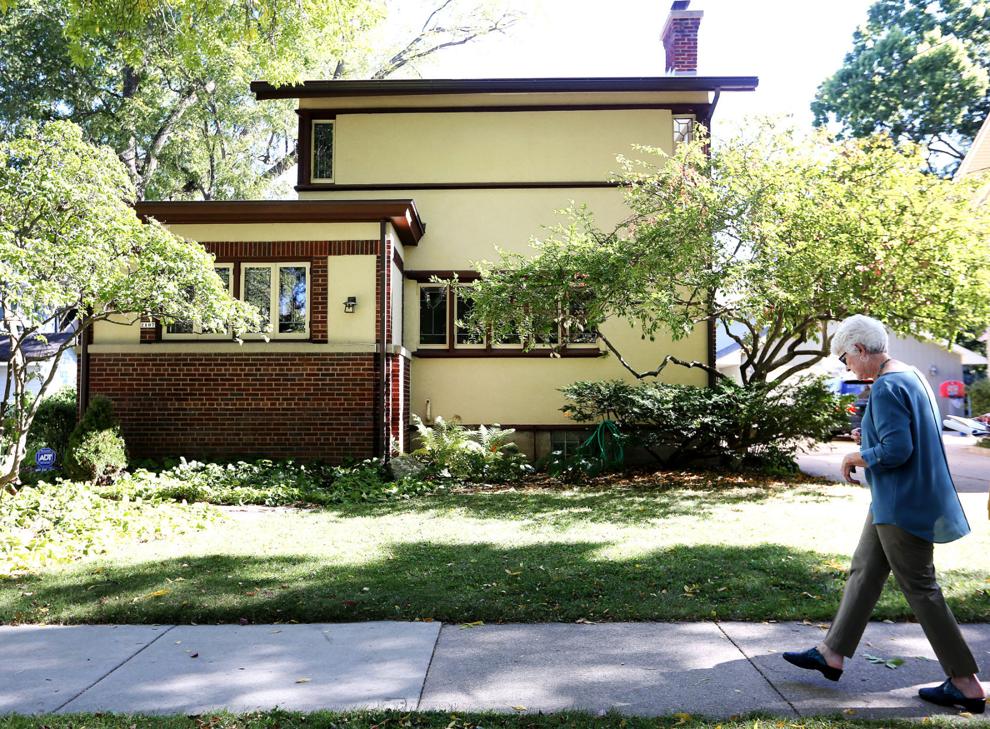 In 1989, Linda McQuillen and her family bought the home as a fixer-upper sorely in need of repair. McQuillen had been looking for years for a Prairie Style home that suited her collection of Mission- and Arts and Crafts-style furniture.
"The minute I opened the door and walked in, I knew this was the house I wanted," McQuillen said. "Even though it was in need of help, it had all the things I was looking for, and it spoke to me. It said, 'You want me — I want you, too!'"
The house needed a new roof, new plumbing, new electrical, restoration of the original leaded glass windows and re-plastering of the sagging ceilings. But McQuillen, a mathematician and math education consultant, adored "the linearity of it, the mathematics of" the home's design.
"The design elements of Wright homes are so colorful that it's hard to ignore them, and I wanted some of those design elements," said McQuillen, whose painstaking remodeling was all in keeping with the architectural spirit of the house. "I thought I was getting a house by somebody who did a nice job copying a Wright home," such as a Wright apprentice from the architect's studio Taliesin in Spring Green.
The year before, a friend told Hamilton to take a look at the West Lawn house to see if it might be a Wright design. Hamilton was working on a large show at the Elvehjem (now Chazen) art museum, documenting 32 already known designs Wright had made for Madison. Without time to tackle the necessary research on the West Lawn house, Hamilton put that project on hold.
As it turned out, documenting McQuillen's home would take decades.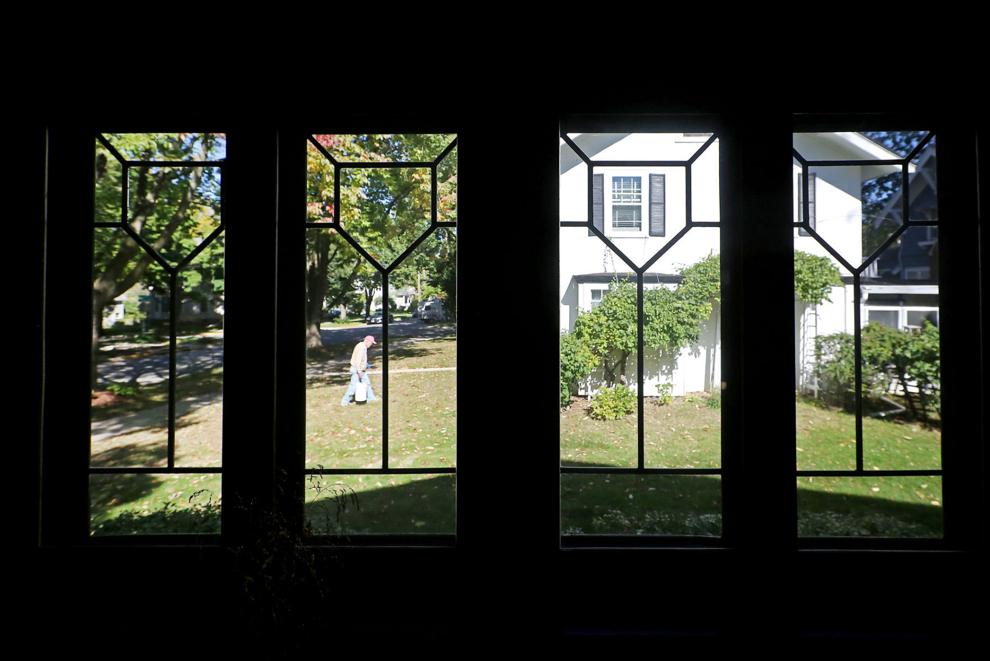 Because the house was built as a model, and not commissioned from Wright as a custom home, the conventional paper trail was not there. A full-page ad for American System-Built homes that Hamilton finally tracked down in the March 25, 1917, edition of the State Journal was the "missing link."
An ad from the John W. Groves & Son Co., the Madison agent for Wright's ASBHs, touted the "wide variety of designs" available. Prices ranged from $2,750 to $3,500 for a small home to $5,000-plus for a large one.
"Less cost – that is one amazing feature of the American System, that these beautiful homes, all Frank Lloyd Wright designs, of guaranteed materials and price, can be built for less money than the ordinary house of similar size and materials," the ad stated.
"Once we knew to go in this direction, not in the custom house direction, everything started to fall into place," Hamilton said.
"I did the (Elvehjem) show in 1988, and it would have been a wonderful time to have been able to include this, because we have the Usonian houses in Madison, we have the pre-fab houses, we have the custom houses like the Jacobs and the Gilmore houses," said Hamilton, noting the many residential projects Wright designed during his seven-decade career. "But there was a big gap in there from 1908 to 1938."
In 2009 Hamilton and Mike Lilek, curator of the American System-Built Homes at Frank Lloyd Wright Wisconsin, paid McQuillen a visit. Once inside her home's side entrance, they discovered other trademark features of Wright's ASBH Model AA series: Framing studs placed 24 inches instead of 16 inches on center, custom-designed casement windows and horizontal bands of gumwood extending above nearly all of the windows.
Neither Hamilton nor Lilek mentioned Wright's name during that visit, McQuillen said.
"They were very coy about it." But that evening, Lilek called her and she asked, "Are you telling me you think this might be a Frank Lloyd Wright house?"
"He said 'Yes, we think it might be,'" she said. "I was blown away. I didn't have a clue. I never imagined it could be one of Wright's designs, and I knew nothing about the American System-Built Homes."
"It took a while for it to sink in," she said. "And it's still a pretty overwhelming experience."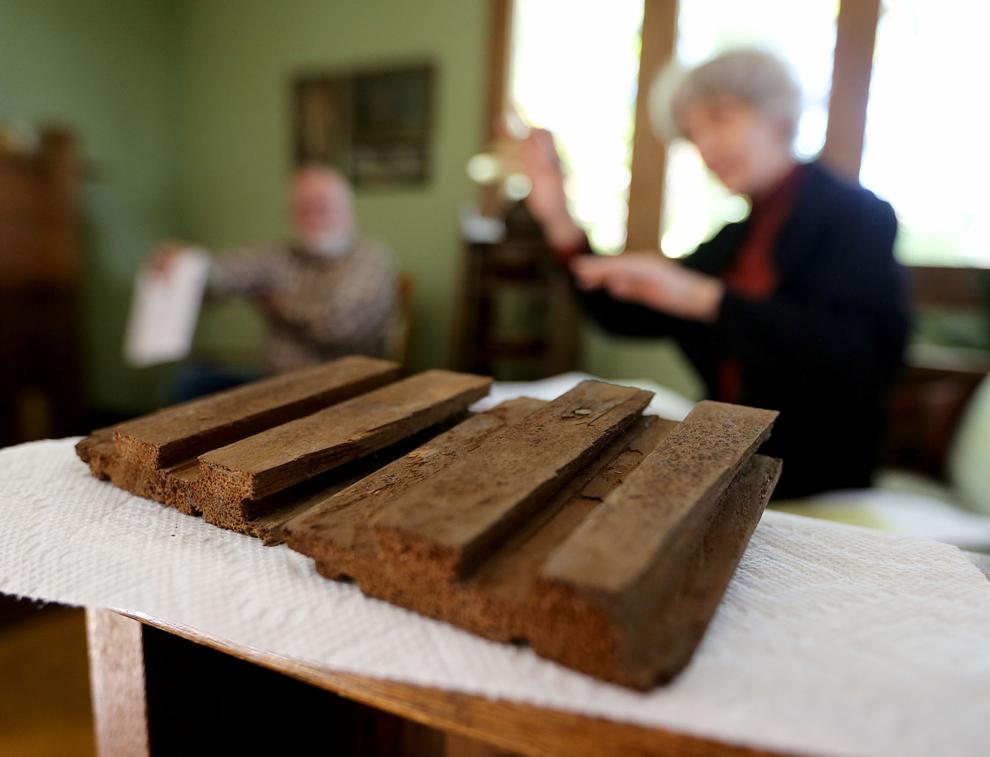 At that point McQuillen joined the evidence gathering. She admitted she'd already removed a chimney ventilation system in the former kitchen, not knowing it was a signature piece of ASBH technology.
But she and her remodeling contractor, Randy Schorr, also found in the attic a piece of Byrkit lath, a distinctive, 4-inch tongue-and-groove system of wooden lath used in the home's plaster walls that was the same design used in other Wright homes.
"It was only in the last month that we had the smoking gun — that piece of lath work, the information about the chimney, and these little bits that have really cemented the research," McQuillen said.
The organization also runs an annual tour of Wright-designed buildings around the state, and offers the Wright Lecture Series at Monona Terrace.
"All along I knew there was a way this house was built," McQuillen said. "I just didn't know what it was, and was trying to figure it out, to get the house to tell me."