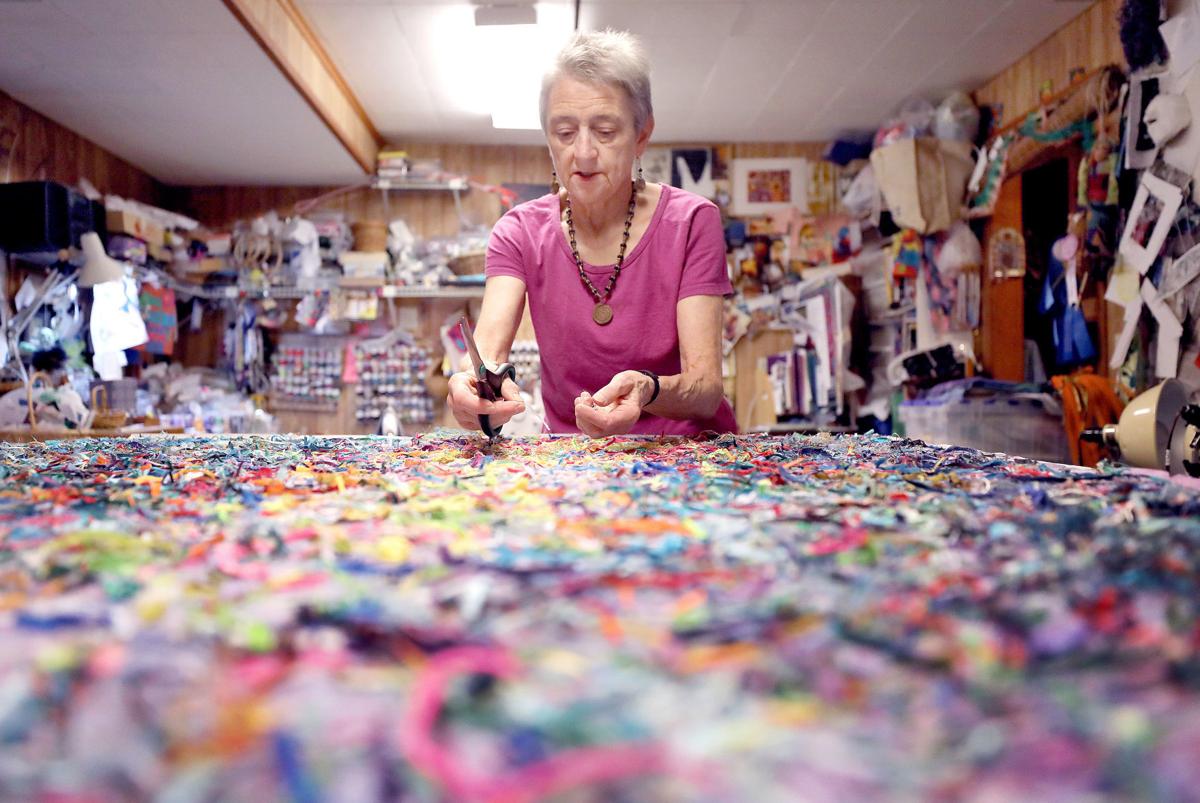 Candy wrappers, toys, buttons and other small items become integral elements in Verona artist Pat Kroth's creations.
Kroth, who primarily works as a contemporary fiber artist, has exhibited work nationally and internationally in museums, galleries and art shows. This fall, she premiered a solo exhibit at the National Quilt Museum in Paducah, Kentucky. The exhibit, titled "Not Just Fabric and Thread," is on display through Tuesday. It showcases a selection of her contemporary art quilts, some as large as 9 feet tall.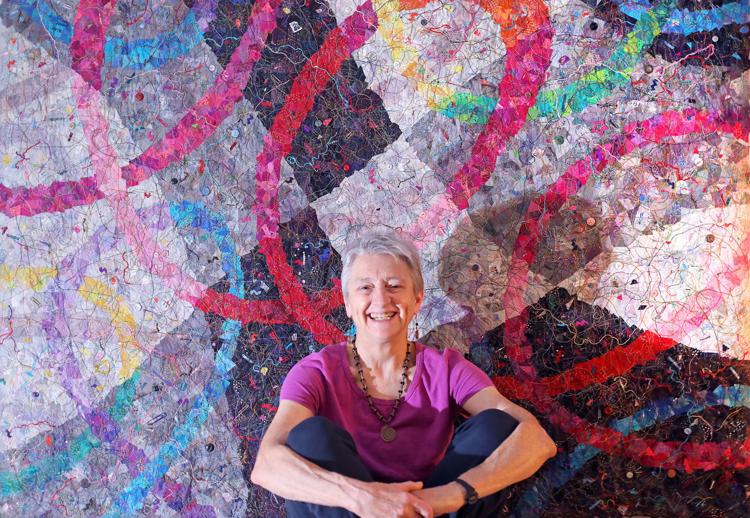 Kroth grew up in Chicago, where her parents instilled a love for art by regularly taking her to museums and galleries. She studied painting at DePaul University before deciding a career in education would be more practical. After graduating with a degree in physical education she worked as a gymnastics coach and instructor. However, her love for art inspired her to continue to study painting at University of Chicago. One of her classmates invited her to try a quilting class. While she initially knew little about sewing, she discovered a love for fabrics and textiles.
"I quickly realized I wanted to incorporate my paintings into quilts," she said. She created her first art quilts on a bulky, 1940s sewing machine. "It sounded like a truck," she said.
Early in her fiber arts career, Kroth discovered her lifetime penchant for saving small remnants translates well to art quilting. One day, she upended her sewing "junk" drawer onto her work table. She stitched the remnants and scraps onto a quilt, discovering a technique she grew to use for many years.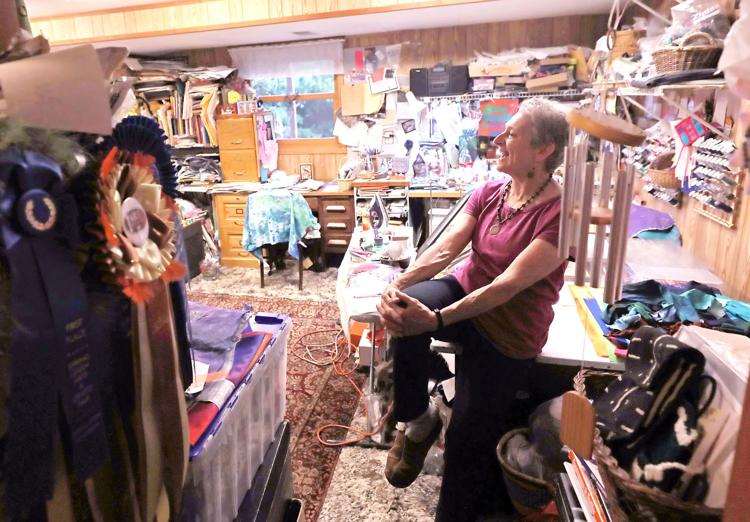 "I really loved the outcome of that," she said. "That the small junk now has value." She ended up with 45 pieces in that series of quilts.
You have free articles remaining.
Today, these unexpected objects add a discovery element to her work. It's fun when she's working in an art show booth, and she can ask visitors if they recognize anything in the piece, she said.
She enjoys using pieces others might throw away, such as salvage ends of fabric, or doing something unexpected such as sewing quilt batting onto the surface of a piece. She often works around an unexpected theme that's resonant to her life such as dance, music, gymnastics, and even the Iron Man triathlon, which she has completed three times.
Rachael Baar, Museum Curator of National Quilt Museum, said Kroth's work draws viewers in to see more than what's on the initial surface.
"Viewers will be inspired to reimagine the uses for their own discarded objects," she said. The National Quilt Museum attracts more than 40,000 visitors each year, Baar said.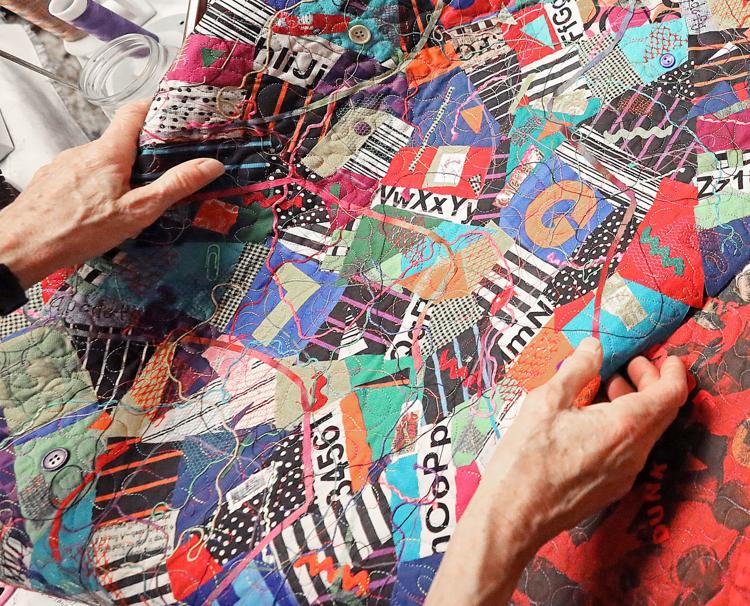 Kroth's work has been selected for Quilt National four times, most recently in 2017 and 2019. This exhibit features the best of fiber artists and quilters from around the world, with only about 80 artists selected from a pool of more than 2,000.
"I feel very, very humbled and honored," Kroth said. "I look up, and I thank my mom and dad, because I know they're up there pulling for me."
Kroth said she's grateful for the support of her four children and her husband, Ed Kroth, who she calls the "patron saint of fiber arts." When her children were growing up, they could sit and play in her studio as long as they followed her rule, "Only good moods allowed in the studio!"
In the mid-90s, Kroth co-founded the Madison Contemporary Fiber Artists. The group is still active, now consisting of primarily art quilters, and they meet regularly at Blue Bar Quilts in Middleton. In 2018, they presented an exhibit at the Overture Center in Madison. Kroth also participated for many years as a representative of the Studio Art Quilts Associates. In recent years, she has developed an interest in 3-D sculptural art and has exhibited sculpture and found object pieces as well.