UW-Madison junior Shasparay Lighteard felt there was something vital missing in the city where she lives — and she wanted to change that.
So she created a festival.
Madison's first Black Arts Matter Festival, spearheaded by the 21-year-old native of Austin, Texas, kicks off Monday with an art exhibit and panel discussion about the local black arts scene (or lack of it), followed by a one-person touring show Wednesday at Edgewood College, a film screening Thursday at Central Library, and a poetry slam competition Friday and Saturday. All events are free.
"I think arts are the best way to educate people," said Lighteard, who is working on a bachelor's degree in both theater and African American studies.
"I've always believed that if you don't have a space, you should create that space. I guess this festival is just me doing what I always thought."
Lighteard decided last May, after taking a theater production management course taught by Audrey Wax and an arts entrepreneurship course taught by Sarah Marty, that she would produce a showcase of some sort for black artists in Madison. Wax, Marty and assistant theater professor Colleen Conroy, who has taught Lighteard in three acting and voice classes, have advised her behind the scenes. But Lighteard has done the legwork, securing venues and caterers, planning programming and managing publicity.
"It's a big undertaking," with events not just on the university campus, but at venues across the city, Conroy said.
"She thought that there was a need. And she's gone ahead and done it.
"From my instructor perspective – this is someone who is applying the work that they're learning in our classrooms," Conroy said. "You couldn't ask for anything more."
'Ups and downs'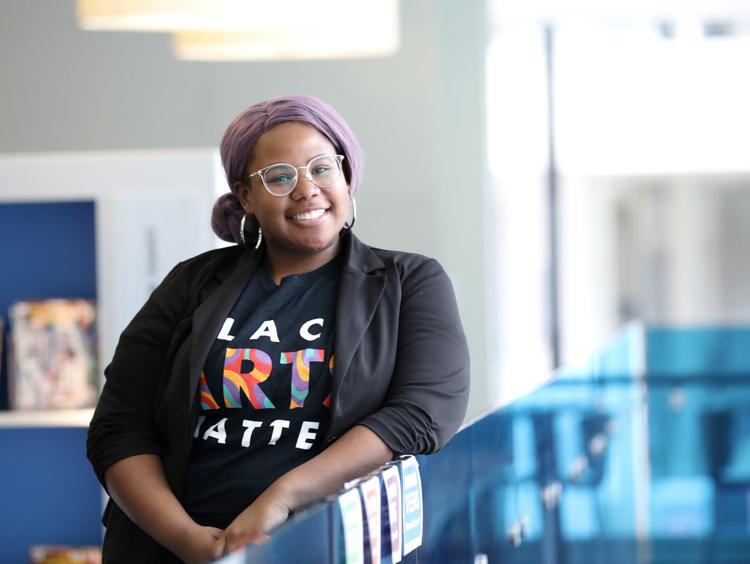 Lighteard is no stranger to the spotlight. A poet since age 14, she made a name as an award-winning slam poet, is the recipient of an NAACP ACT-SO (Afro-Academic, Cultural, Technological and Scientific Olympics) gold medal, and was a speaker at the 2016 TEDxYouth Austin conference.
At UW-Madison, she recently played one of Cinderella's stepsisters in the joint University Theatre/University Opera production of "Into the Woods," and has a role in the upcoming play "Twilight Bowl."
And yet, life in Wisconsin has "definitely had its ups and downs," she said. "It's a lot different than Texas. It's a completely different culture going from the South to the Midwest. So I've been adjusting — it's just a constant process."
Lighteard had never experienced snow before moving to Madison, and arrived with a "winter coat" that was more suitable for Texas cold snaps than a polar vortex. But even chillier were some of the things she encountered.
For one thing, she's had to go out of town on weekends to compete in poetry meets or take jobs as an event host, she said. She hasn't found those opportunities in Madison.
"I definitely feel I've been challenged and stretched in academic ways," said Lighteard, who came to UW-Madison on a First Wave Urban Arts scholarship. Socially, though, she feels "hyper-visible yet invisible."
"People stare at me, but they won't start a conversation with me," she said. "People are interested, but hesitant.
"I've experienced a lot more micro-aggressive behavior here than I did living in Texas, (from) a lot of people who don't necessarily have malicious intent, but have impact," she said. For example, "One of my first days here, someone came up to me and said, 'Hi! I've never had a conversation with a black person before.'
"Those are the types of things I've had to experience, mostly just that sense that I don't belong — and maybe that is due to where I come from, and the background that I bring and what I'm used to."
Started small
Lighteard decided on the festival idea because "I felt like ... Madison really values the humanities and the arts," she said.
"It's the center of campus; they really bring a lot of artists here." But with the university's acclaimed First Wave program and the rappers and hip hop artists that are brought in, "I noticed that was pretty much all that was being represented, as far as ... black art and what's available," she said. "I felt there weren't as many venues, organizations or just visibility around black arts here. And that's kind of what I wanted to change."
Lighteard turned to the public library as a festival venue because it is an "open-to-the-public space where anyone can come," said Trent Miller, the library's Bubbler program and gallery coordinator. The library is providing free space; Madison Public Library Foundation gave the festival a $2,000 grant.
"The library wants to serve as diverse a population as possible. We try to be open to a lot of different events, and an event like this with black artists seems to fit with the mission and vision of the library," Miller said. Edgewood College also lent its support and will host a one-woman show by Porsha Olayiwola, the 2019 poet laureate of Boston, Massachusetts.
Lighteard, along with Conroy and Wax, hopes this year's festival will be just the first, and may lead to more diversity on the Madison arts scene.
"I would like to see it be a yearly event, and I think it's important to keep it free," Wax said.
"Maybe it will inspire other people to do the same thing if they think, 'Oh, it would be great if my voice were heard,'" Conroy added. "This started out small, and it's grown to a whole week."
Lighteard used her connections in the slam poetry world to bring in contestants from across the country for Friday and Saturday's events, but she won't be competing herself. In fact, she's stopped doing spoken-word to concentrate on acting and writing plays, she said.
Still, her poetry slam days helped shape her commitment to Black Arts Matter.
"I traveled to all these places for all these different festivals, and had my voice validated," she said. "I was given space and opportunity to share my work. And I think this is my way of also giving that to other people. The festival is definitely not about me — I'm not performing at all. I wanted to give a space for black artists to share and shine out."
[Editor's note: This story has been updated to correct the amount of the grant given to the festival by the Madison Public Library Foundation.]