Once upon a time there were two university departments that lived along the same street, shared a lot in common, but despite their similarities were essentially strangers. Then one day along came "Into the Woods."
The Stephen Sondheim stage musical, which runs Thursday to Feb. 24 in Memorial Union's Shannon Hall, has united the stellar talents of UW-Madison's school of music and theater programs. "Into the Woods" marks the first time in at least a dozen years that the two departments, which both regularly produce works for the stage on their own, have collaborated on a show.
And it's a big show — with a large cast, a complex set designed by graduate student John Drescher, top-notch singing, a fairy-tale "Giant" created by motion-capture technology, and even on-stage flying.
Compared to the operas he conducts on campus, "Into the Woods" is "larger scale, with more technical things happening, and a bigger budget," said David Ronis, Karen K. Bishop Director of Opera at the Mead Witter School of Music and the show's director.
"It's definitely the most exciting thing I've been a part of in my four years here," said Elisheva Pront, a senior vocal studies major in the school of music who will alternate the role of Cinderella with fellow voice major Miranda Kettlewell, a junior.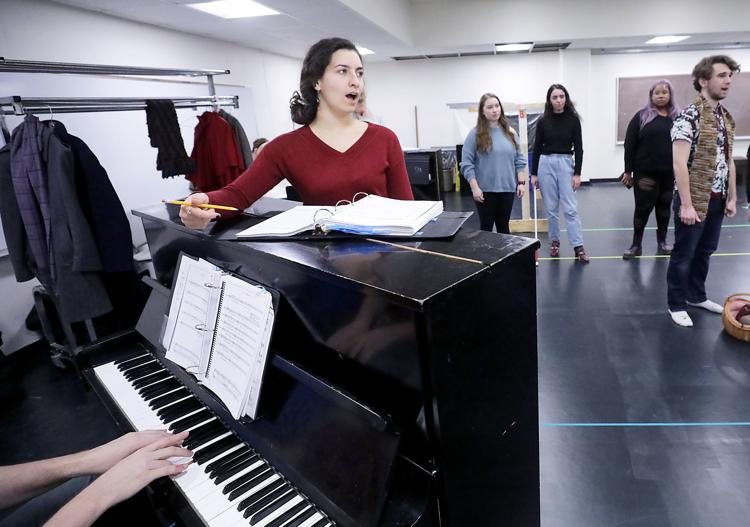 "I think it's just the overall collaboration, with everyone involved," Pront said. "And it's new. The theater department doesn't do many musicals, and we don't get to interact with people from the theater department — and we're just making this really special. We're really excited to show this to the greater community."
Flooded space for rehearsal
Never mind that the cast lost two days of rehearsal time when a polar vortex shut down the university, and their rehearsal space and costume shop flooded from a burst pipe in Vilas Hall.
"The old saying is the show must go on. And the great thing about theater people is — you figure it out," said James Stauffer, artistic director of University Theatre.
"It was a crisis but afterwards we had rehearsal and — it was a joy," Ronis said of the flooding saga.
"Into the Woods," which ran on Broadway in the late 1980s and has a book by James Lapine, is a show for all ages — and about all ages, exploring the relationships between parents and children through characters from classic fairy tales. Youth might enjoy the humor; adults will see themselves in the intergenerational stories, Ronis said.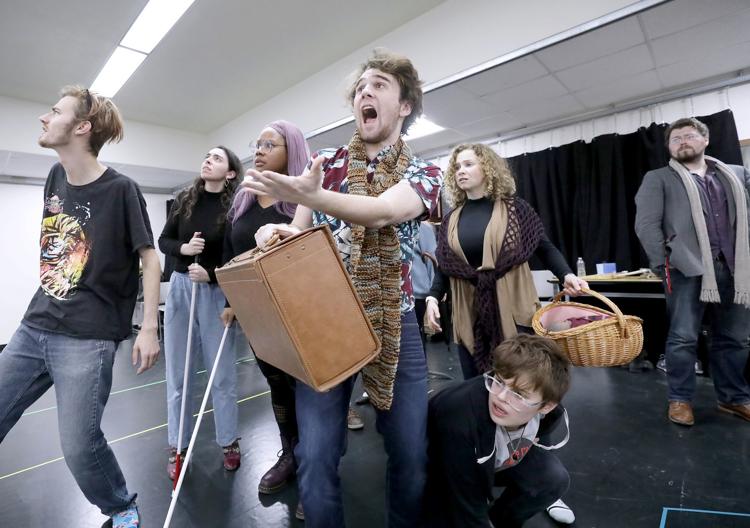 The student cast ranges from freshmen with undeclared majors to seniors specializing in music or theater, to two doctoral students in interdisciplinary theater studies. Quanda Johnson, who plays Jack's mother, is even a Broadway veteran.
"It's Sondheim. How often am I going to have that opportunity to perform Sondheim?," said Johnson, explaining why she auditioned for "Into the Woods."
Before coming to UW-Madison last fall to pursue her PhD, Johnson earned three master's degrees, was in the original Broadway cast of "Ragtime," and appeared in the national tour of the Broadway revival of "Hello, Dolly!" starring the late Carol Channing, produced by Manny Kladitis and directed by Lee Roy Reams.
"Sondheim speaks to me in a very, very deep way: his lyricism, his social consciousness," Johnson said. "This is an ambitious work for an undergraduate program."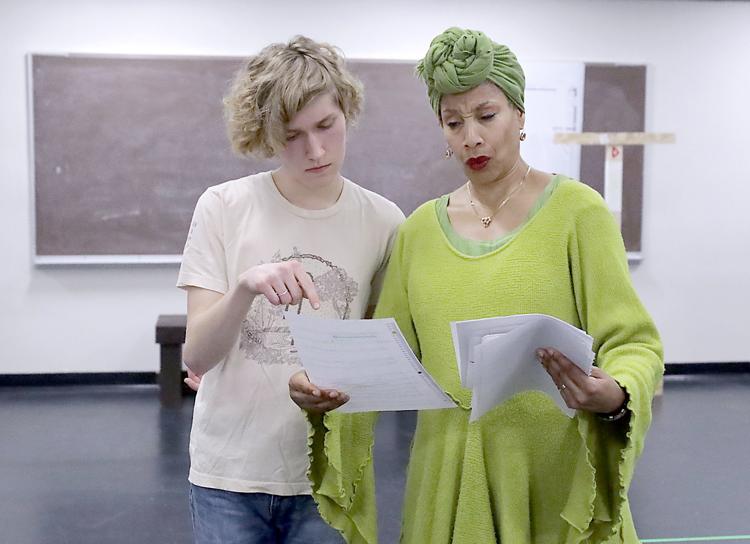 Sondheim titles have been performed frequently in Madison; Madison Opera, a professional company, performed "Sweeney Todd" in 2015 and "A Little Night Music" earlier this month, for example.
You have free articles remaining.
Register for more free articles
Stay logged in to skip the surveys
"We often think about Sondheim the lyricist, and Sondheim the genius," Ronis said. With "Into the Woods," "it's great music and there are great tunes. It's music that appeals to everyone on the very high intellectual level, as well as 'walk out of the theater singing.' It's very moving. There's so much to the story. There's great comedy. There's stuff that makes you cry."
Auditions drew 100
When Ronis held an open audition last September for "Into the Woods," more than 100 UW-Madison students showed up.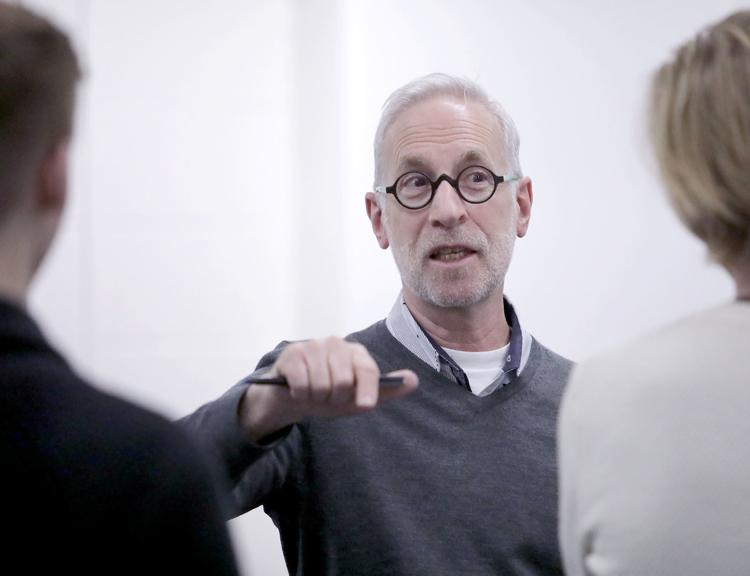 "The way it worked out, it turns out we have 40 percent music majors, 40 percent theater majors, and 20 percent 'other'" in the 20-member cast, he said. More than 70 students are also working on the show offstage or will perform as part of its live orchestra, conducted by UW-Madison director of orchestras Chad Hutchinson.
But getting it all together — administratively — wasn't easy.
"It's really complicated because we're sharing expenses" between two academic departments, who aren't even housed in the same university colleges, Ronis said. The theater department, for example, is contributing the set-building, while the music department is supplying the orchestra.
Although UW-Madison's Vilas Hall (theater) and the Humanities Building (music) face one another across University Avenue, sometimes the distance seems vast. Union Theater is another novel player in the mix; student productions are seldom held in Shannon Hall, which more often brings in touring professional acts.
"When I first got here I said to my new colleagues, 'What's your contact with the theater department?' because (in opera) we have so much in common," Ronis said. "And they said, 'Well, we used to do some things…'"
"So I floated the idea" of collaborating, and the theater department took interest. Several years later, then-University Theatre director of production David Furumoto (on sabbatical this year) "said they'd love to combine forces, and give our students more musical theater opportunities," Ronis recalled.
The drama program does have an occasional musical theater course, and tries to offer it the semester before a musical production is scheduled, Stauffer said. There's no requirement for opera students to take acting classes, but Ronis encourages voice majors to "go across the street when they can" to enroll in a theater course.
He also offers an "acting for singers" course every other year with skills unique to opera.
"Everyone needs theatrical skills," Ronis said. "The old paradigm of 'park and bark,' standing and singing, does not work for me."
"For us, from the opera end of it, so many professional opera companies are doing musical theater these days. So to train our voice students in musical theater skills is important for us."
"The more tools you can put in your tool belt, the more comfortable you can get, and the more jobs you're going to get," Stauffer agreed.
Pront noted that she has been in several university opera productions, set in a range of time periods — but working on her emotionally complex Cinderella role in "Into the Woods" has given her a new skill set.
Because it's a musical, "it has so much dialogue. And we don't get to work on that in opera," she said. "So it's really made all the music majors in the production step up their game, as far as acting and getting in touch with a character in a more modern or realistic way, I would say."
"I think both the departments have a set of things they want students to leave with, and they're each preparing the students for different kinds of career trajectories," she said, "but I think the more collaborative that music and theater are, the more marketable (as a performer) you are."
[Editor's note: This story has been updated to correct which production of "Hello, Dolly!" Quanda Johnson appeared in.]