SPRING GREEN — You forget for a moment that you're on a dance floor, where two steps and other country moves were common and a former NASCAR bar is in the adjacent room behind a black curtain that serves as a partition.
On this day there is a set that includes a hotel room and a prison interrogation cell. A serial killer sits on the bed, fiddling with a pair of handcuffs.
The karaoke machine at the former Village Tavern is gone, along with the Z-shaped pool table and sports memorabilia. But this bar, renamed Slowpoke Cabaret & Lounge, in downtown Spring Green continues to be frequented by townies.
Only instead of gathering to watch football, basketball games or the Daytona 500, the crowds take in the local theater company. But this isn't your typical community production.
Two Crows Theatre Co. is a small band of professionals who live in Spring Green year-round and who have created another season of work just a short drive from American Players Theatre where they make the majority of their living in the warm months performing the works of Shakespeare and others outdoors.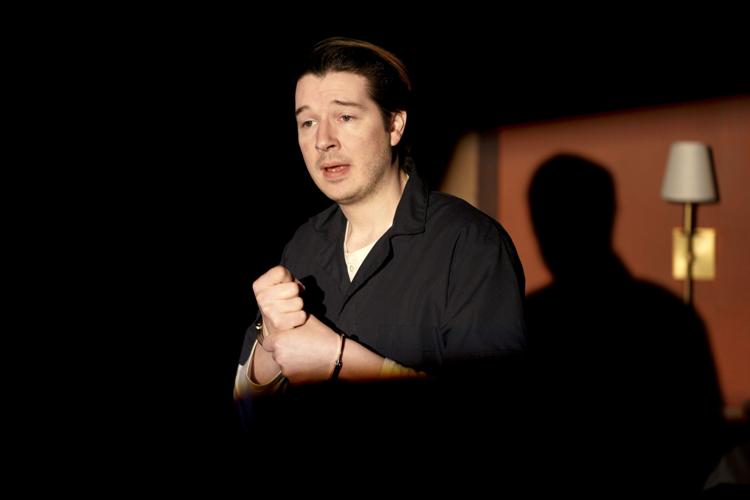 But the COVID-19 coronavirus pandemic has upended every aspect of life. It's unclear when the lounge will reopen and when APT will open its season. Two Crows' final show of the year, "The Aliens," which was scheduled for 10 shows in April, was postponed till next season.
The production company is using its downtime to read over plays for next season and help with some light remodeling projects for the lounge and cabaret space. About 75 percent of those who bought advance tickets for "The Aliens" have donated their tickets back to Two Crows.
"Our patrons are really, really, really supportive and completely understanding," said Rob Doyle, the founder and artistic director of Two Crows and who came to Spring Green from New York to work at APT. "We're planning on as if it's going to happen perfectly until it gets to the point where we have to start cutting things and changing things. We have best-case to worst-case scenarios and we have 10 plans in between, so we're just continuing to read plays to put them on the list of an eventual possible production once we know we can get there."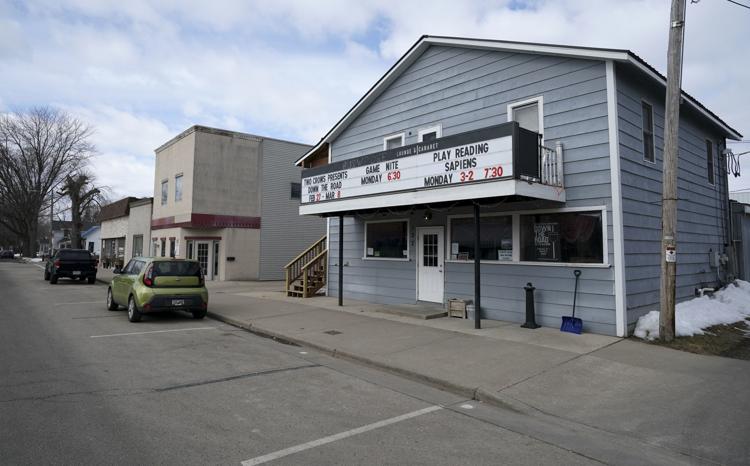 Art appreciation
Spring Green is an artisan town dotted with galleries, creative types, Arcadia Books and the architecture of Frank Lloyd Wright. The arts and craft fair at the end of each June draws more than 10,000 people, while Mike and Jim Ring are based here and have clients willing to spend $500,000 or more on modified street cars that have caught the eye of car aficionados around the world including Jay Leno.
APT is one of the crown jewels and premier theater companies in the country. Situated on 110 acres just down the road from Tower Hill State Park and just east of Frank Lloyd Wright's Taliesin, the facilities include a newly renovated 1,089-seat outdoor amphitheater and the 201-seat indoor Touchstone Theatre that draw more than 100,000 people per season and require an annual budget of more than $6 million.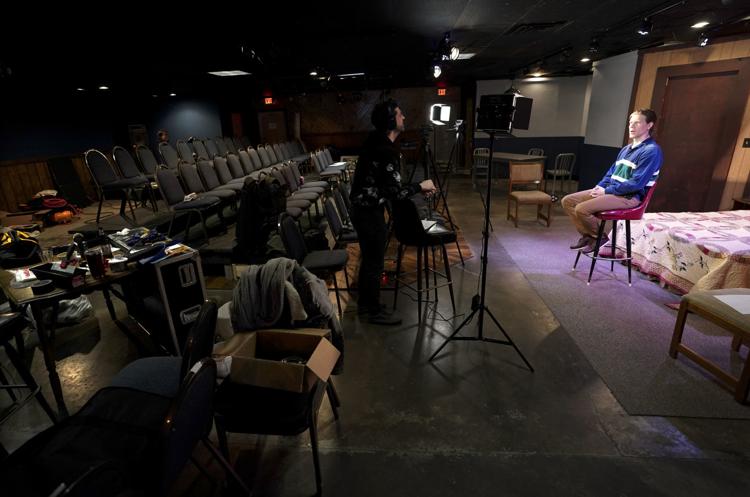 But from November through April, the Bard and mosquitoes are nowhere to be found in this village's downtown as Two Crows' indoor contemporary productions play to crowds of fewer than 100 people per show, although some in the audience come from as far away as Milwaukee and Chicago to take in the performances and dine at local restaurants.
"They're having a summer night in the middle of winter to some scale," Doyle said in late February, just prior to the opening of "Down the Road," a Lee Blessing play about a serial killer who is interviewed by a husband and wife team of writers. "It's so thrilling for us because it is so different."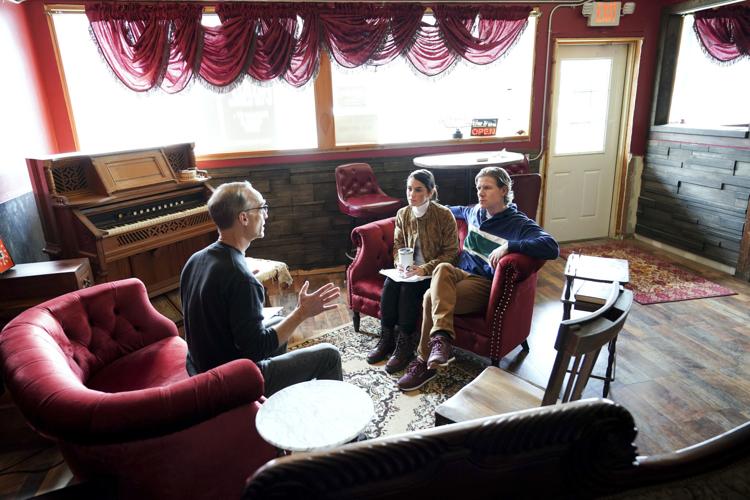 Two Crows
About 42.5 percent of Two Crows' $89,000 budget is funded through donations, and actors are paid at rate similar to that of small Chicago professional theater groups, about $400 to $450 a week. Productions are performed in a room that is smaller than the APT outdoor stage.
The 1,750-square-foot black box theater, which allows for adjustable seating and the stage to change locations, typically seats between 60 and 80 people, and has an 8½-foot-high ceiling that challenges the technical crew when it comes to lighting. The audience is at arm's length to those on stage.
"When you fill it with people it really feels like you're doing it for someone in their living room because it's that close," said Kelsey Brennan, 34, associate artistic director at Two Crows and a core member of APT. "I've always wanted to do contemporary theater and the difference between contemporary and classic is huge in the stories you tell, the clothes you're wearing and the size of the emotions and expressions. I've been a professional actor for over 15 years and it feels like I'm learning a new skill."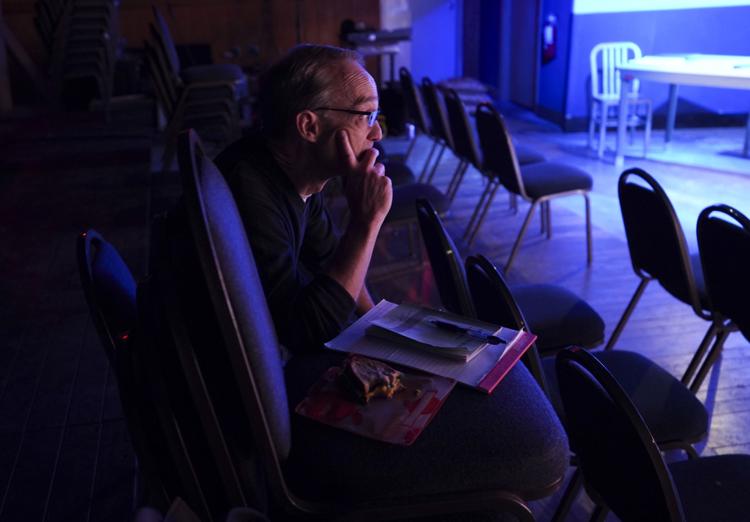 In it's first season, over the winter of 2018-19, Two Crows put on three productions but this season had scheduled four before the pandemic wiped out a 10-show run of "The Aliens," an Annie Baker play set in a Vermont coffee shop. The show is now slated for next season while Two Crows is also commissioning a play from a local playwright and searching for a third show.
Marcus Truschinski will play the lead role in "The Aliens" and played Edward in "Someone Who'll Watch Over Me" in Two Crows' inaugural season. Truschinski, 39, who grew up in the Dane County village of Marshall, where he was a three-sport athlete in high school, has been with APT for 16 seasons. He lives with his wife and APT core member Tracy Michelle Arnold just a few blocks from Slowpoke in the same Spring Green neighborhood as several other APT and Two Crows actors.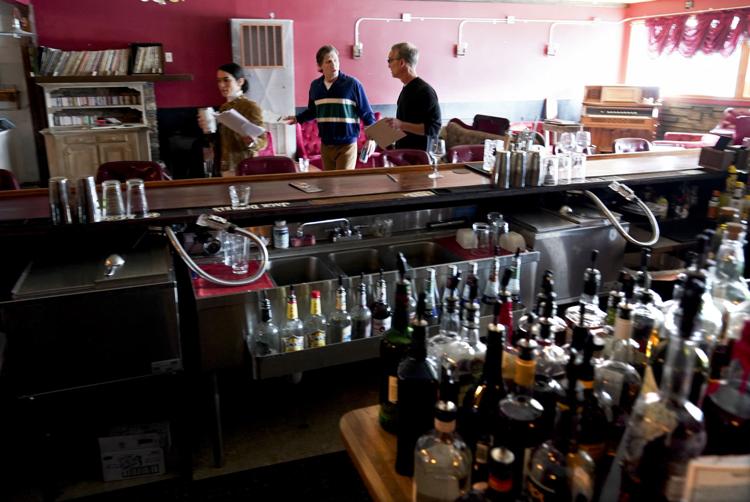 "We wanted to start this as a kind of a winter home for people that actually live here in town and to continue that excellent theater that's happening in the summer time," Truschinski said. "We kind of wanted to have something a little bit more intimate. Most of us work in really, really big houses and you have to (act) big in those kind of plays so we wanted a certain intimacy. Rob started the whole thing based on doing big shows and big feelings in a tiny, tiny space."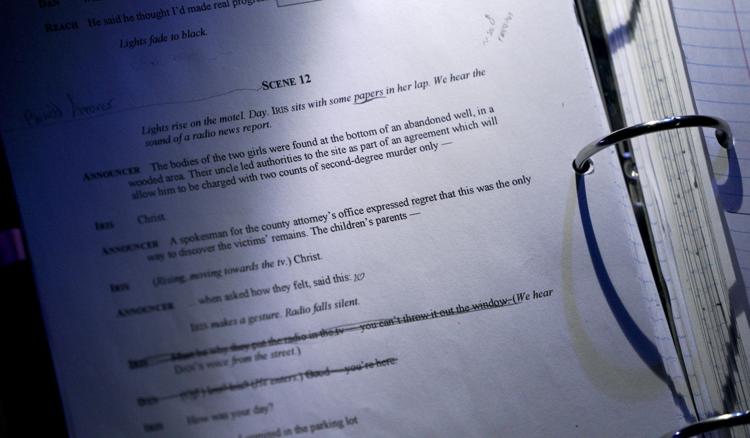 Doyle, 31, moved to Spring Green in 2014 after years of work in the New York area including with the Long Island Shakespeare Festival, Royal Productions Ltd. and Asylum Theatre Company. He launched Two Crows by himself in 2018 after a fellow APT performer purchased and remodeled the former sports bar that had been closed for about five years. Doyle worked as the bar manager plus ran his fledgling theater company, which made for a hectic off season for Doyle, who came to APT as an acting apprentice.
"I don't remember much from the first season because I was pretty much doing everything. I just remember being here every day filling out a lot of paper work," Doyle said. "At the end of that season, when it was all done, I asked (Marcus and Kelsey) to join on. We then all got together in a room and with a stack of plays and tried to pick out what we're going to do this season."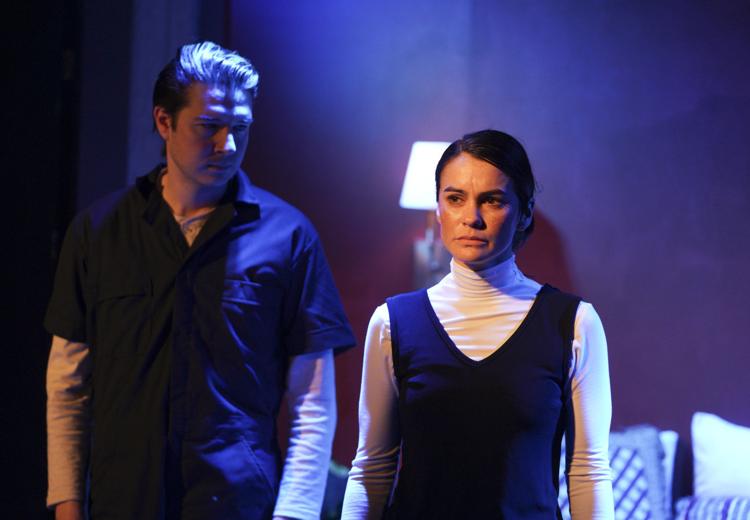 New owners
But second season almost didn't happen. The owner of the bar, who was an occasional guest artist at APT, decided to return to California and was about to put the property up for sale before Michael Broh, the production manager at APT, and his wife, Stacy Wood, purchased the property in April 2019.
Slowpoke typically hosts a band a week with cabaret seating in the space where Two Crows performs. The bar is normally open Thursday through Monday from 5 pm. to about midnight but sometimes later on Fridays and Saturdays. A two bedroom apartment above the bar is used during the summer to house APT actors and workers but during the off season is used for a dressing and green room by Two Crows. Broh lives about a 10 minute walk from his establishment and this will be his 21st season at APT.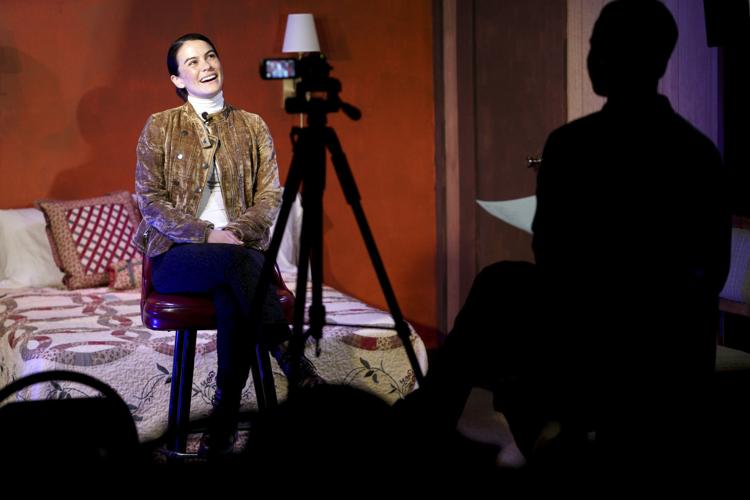 "It's a small town and we feel like in that time we've gotten to know this town fairly well and we saw some opportunities," Broh, 51, said in late February, before the closure of his business.
Most of the transformation from the sports bar into a more upscale cabaret and theater space had been done by the previous owner, but Broh and Wood upgraded the kitchen and the beer and soda lines to add to their lineup of craft cocktails, although Hamm's remains on tap.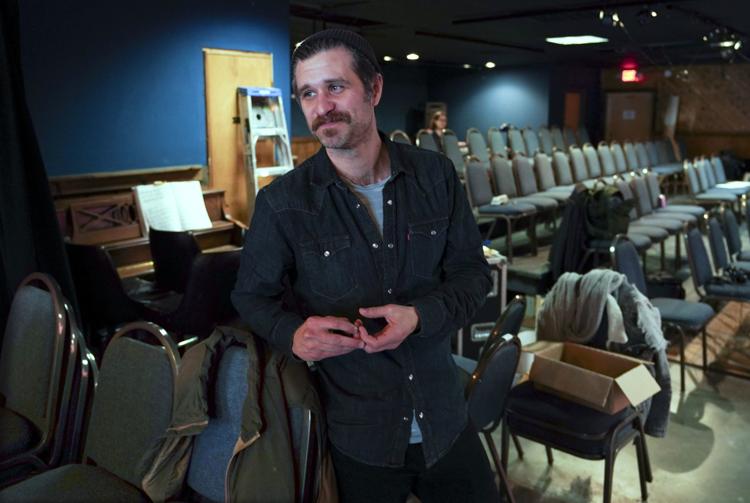 Doyle doesn't see his theater company expanding much beyond four or five shows a season, due to the timing of the end and start of the APT season. The Two Crows name comes from his grandmother who always quoted from a poem when ever she spotted crows.
"One for sorrow and two for joy, which matches the comedy and tragedy masks of theater," Doyle said, who went on to recite more of the poem, which technically is about magpies. "Three for baby (girl), four for a boy, five for silver, six for gold, seven for a secret never to be told. She was an old Welsh women. And still to this day if I see one crow on the side of the road I'll look for the other."
Concerned about COVID-19?
Sign up now to get the most recent coronavirus headlines and other important local and national news sent to your email inbox daily.