When the cast of "Fun Home" is rehearsing, there's a lot of Tony power in the room.
Not that anyone dwells on it. But "Fun Home" — the groundbreaking musical that Forward Theater Company is preparing to stage in Madison Nov. 1-25 — is a multi-Tony Award winner and dominated the 2015 Broadway ceremony with 12 nominations and five awards, including Best Musical.
And in the ensemble cast of its Wisconsin premiere is Karen Olivo of Madison, a Tony winner herself.
Olivo, one of the city's biggest celebrity names since she moved here in 2013, is the sister-in-law of Forward Theater artistic director Jennifer Uphoff Gray. Gray is also directing "Fun Home."
And though the two women say they know each other well as family members (their upcoming Thanksgiving dinner, with 22 at the table, will very likely have some spirited political conversations), this is the first time they've worked together on a show.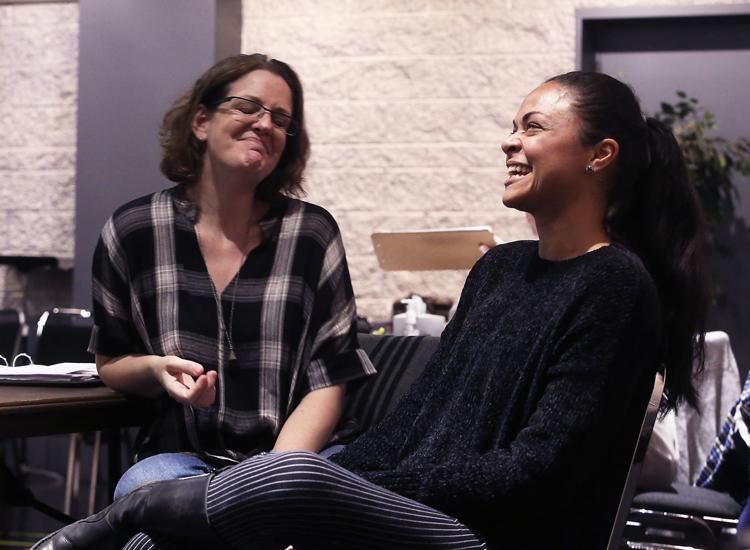 "This is like a whole new layer" to their relationship, said Gray, seated next to Olivo before the start of "Fun Home's" second week of rehearsals.
"I was a little bit nervous starting, because I thought, 'OK, I now know Karen as a sister-in-law — going through family stuff together and loving her for that, and for everything she's brought to our family … and I know her as a fan of her work as an artist — from the outside. That's totally different than creating art together."
"I was a little nervous, too," Olivo admitted with a laugh. "I thought, 'What if I'm bad and she dis-invites me to Thanksgiving?'"
'Hamilton' to 'Moulin Rouge'
A veteran of the Broadway revival of "West Side Story" (where she won her 2009 Tony playing Anita), Olivo originated the role of Vanessa in the Lin-Manuel Miranda musical "In the Heights" in 2008, and more recently played Angelica Schuyler in the Chicago production of "Hamilton." She's appeared on TV's "The Good Wife," "Harry's Law" and "Law & Order."
And she just got home from a pre-Broadway run of "Moulin Rouge" in Boston, where her performance as the female lead Satine was called "sensational" by The New York Times. Variety described Olivo as "fierce, phenomenally gifted."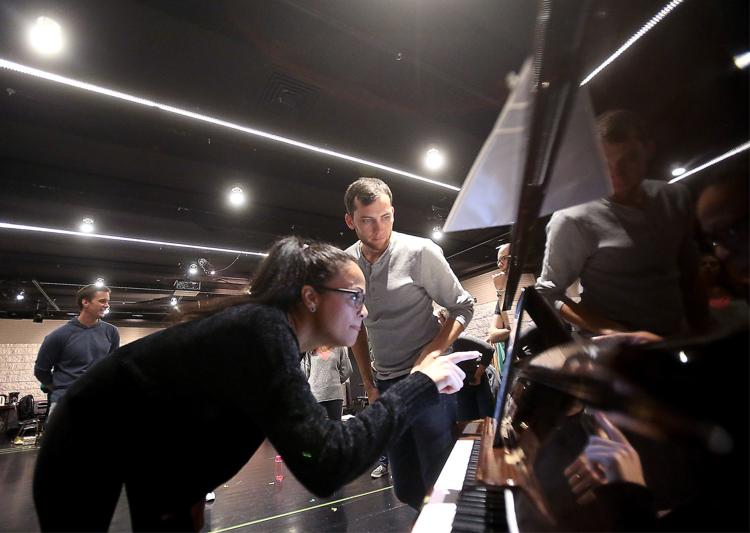 Olivo's move to Madison four years ago made headlines in the New York theater world. She'd gotten to know Madison native Jim Uphoff, Gray's younger brother, when he was sound technician for a show she was working on in New York and both took the same subway home to Brooklyn. The couple married in 2014.
Last year Olivo even convinced her mother and her sister's family to move to Madison from Florida. Olivo's sister had been working three jobs to send her older daughter to a good private school, and soon her younger daughter would need private tuition, too.
"They came up here a few times and I kept talking about how our public schools are incredible," Olivo said. Now, "they live about seven minutes from us."
'Like coming home'
Forward Theater waited three years until the rights became available to do "Fun Home," and only recently knew that Olivo's schedule would allow her to be in the show, Gray said.
It's Forward's first musical, and a bit "like coming home" for Gray, who spent years in New York working on Broadway musicals before returning to her hometown to found Forward.
Wrenching, yet at times uplifting, with a heart-gripping score, "Fun Home" is based on the acclaimed 2006 graphic memoir by Alison Bechdel (a cartoonist who in 2014 won a MacArthur "genius" grant). Lisa Kron and Jeanine Tesori, the unique musical's creators, were the first all-female writing team to win a Tony.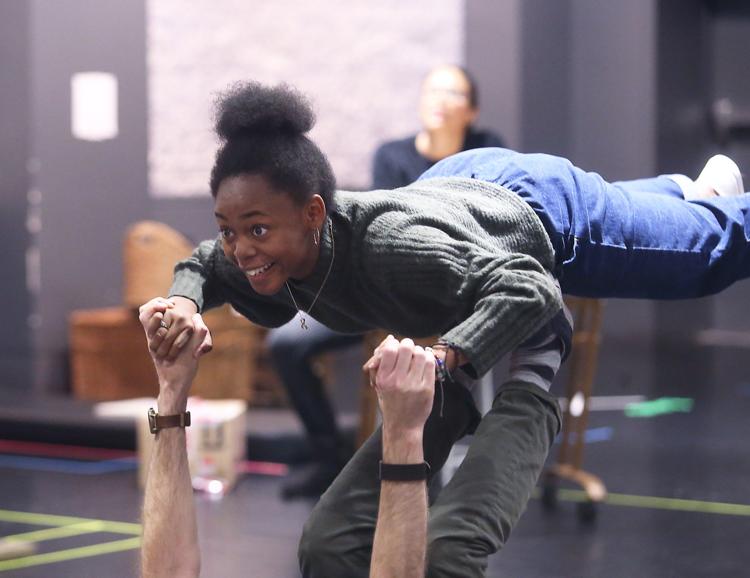 The many-layered story (called a "family tragicomic" by Bechdel) centers on Alison and her demanding, complex father, Bruce; Alison's self-discovery as a lesbian in college; and how she grapples with her past. (Much of the action takes place in the family living room, but "Fun Home" actually refers to the family business, a funeral home.)
Because of an expected demand for tickets, Forward extended the show's original three-week run to four. The musical is recommended for ages 12 and up because of its adult themes.
You have free articles remaining.
Gray calls Bechdel's autobiographical "Fun Home" "one of the greatest works of this century" and "a stunning achievement as a piece of art." The musical is in keeping with Forward's mission to present "the best in contemporary theater," she said.
Along with its public performances and a matinee for high school students, Forward will stage a special performance of "Fun Home" for members of youth LGTBQ clubs in high schools around Dane County. There will be an extended talk-back after the show with the cast.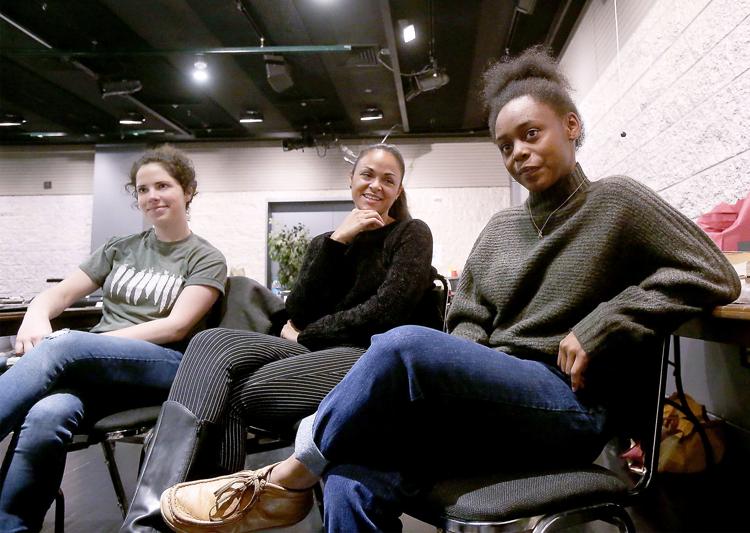 "Fun Home" is an ensemble piece, with many strong roles. Olivo joins a stellar regional cast that includes Matt Daniels, Clare Arena Haden, Rachael Zientek, Chantae Miller, Solana Ramirez-Garcia, Andy White, Tryg Gunderson, Donovan Lonsdale and Walker Stephenson.
Three people actually play Alison at different ages. "Fun Home" is "a memory play," said Gray, where middle-aged Alison (Olivo) revisits her years as a young woman (Zientek) and as a girl (Miller).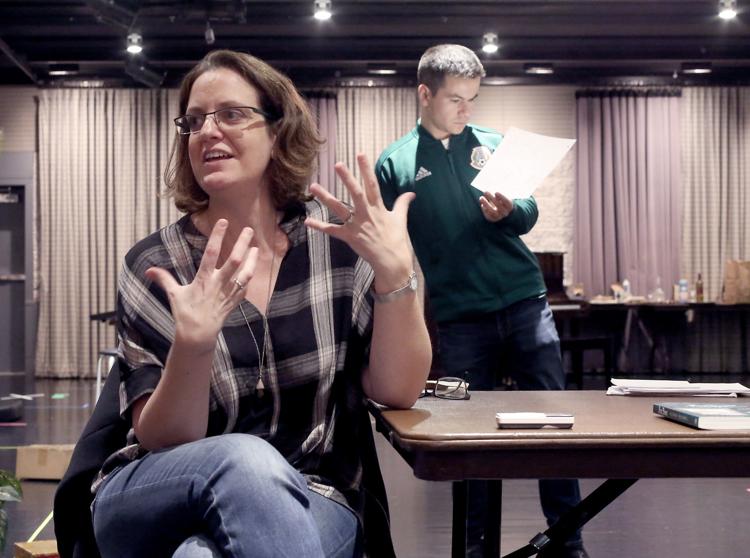 "It's like a bucket-list show," said Milwaukee-based actress Zientek, 26, who last appeared at Forward in "4000 Miles" in 2016. Miller, 17, starred in Forward's "I and You" in 2017, and took a semester off from high school in Milwaukee to play Small Alison in "Fun Home."
Unanswered questions
Olivo, 42, said she accepted the Alison role because it was so hard for her to do so.
"I'm very scared of this subject matter, so usually if I'm scared of something I try to figure out a way to do it," she said.
"Fun Home" is "about family, fractured relationships, unanswered questions. I'm definitely one of those people who's constantly trying to sift through the past to figure out how I got where I am," she said.
"And that's Alison's complete journey — seeing where she is, who she's become, and trying to figure out what kind of blueprint was laid for her. I feel like that is where I am in my life."
Olivo was drawn to "Moulin Rouge" for the same reason, she said — because the idea scared her.
"I really do feel I'm best suited as a supporting cast member. Being the lead in a show is nothing that I've ever really longed for, because I understand the pressure of it," she said.
"Because of that, and the physical stuff, and the hard sing I knew it would be — I ended up jumping into that one, too."
Olivo had 13 costume changes and had to overcome an aversion to heights for "Moulin Rouge," where she appeared on a swing about 38 feet above the stage. Still, she'd be interested in staying with the musical if it moves to Broadway as expected.
But, "in our business, nothing is certain," she said. "I really do believe a show closes, and the show is over. If the opportunity arises again, that's awesome, but I really try not to hold out for anything. Even when things are signed on the bottom line, things happen."
Back home
"Fun Home" comes at a good time for Olivo, who is back home for the fall and winter.
"I knew after 'Moulin Rouge' I would have to slow down," she said.
When she first moved to the Midwest, Olivo taught courses at UW-Madison, worked with several local theater companies behind the scenes and started on her first solo album, "Leave," released a year ago. Now, she's concentrating on "Fun Home" and her own Madison family.
Just as Alison in the musical has to step back to re-examine her life, Olivo took "a huge step" when she left New York for a new home, she said.
"I could keep being many people, I could get paid to be many people, or I could figure out who I actually am. Madison gave me a bit of an outpost to shed all those public personas and just look at myself," Olivo said. "Since I've been working, I just come back here to recharge and ask, 'Hmm, what's real? What actually matters?'"