When Ruth Draper was booked to wow audiences in Madison in 1924, a headline in the Wisconsin State Journal called her a "noted actress."
By the time she returned to Madison two years later, the newspaper said she'd been described by a New York critic as "the best actress in the world."
Draper – an absolute original – was a sensation in her time, rising to fame through the one-woman shows she wrote and starred in. Born in 1884 and drawing big crowds until the December night she died in 1956, Draper was poignant, hilarious, insightful and most of all – utterly convincing.
"Miss Draper's recent success in the theatrical world is due to the unique art that she has developed," the State Journal wrote, just before Draper appeared for a performance at Madison's Christ Presbyterian Church in 1924.
"Her original sketches are frequently called monologues, but they are not monologues in the usual sense of the word. She does not give merely one-sided conversations," the article said. "(S)he presents little character-pictures that at one time hold her audience with their pathos and in the next minute has everyone laughing at the foibles of familiar types."
The casts of characters that Draper created – and embodied herself – would inspire performers such as Lily Tomlin (and Tomlin's Tony-winning "The Search for Signs of Intelligent Life in the Universe") – a generation later. They're also the basis of "Wit & Wisdom: The Monologues of Ruth Draper," to be presented by TAPIT/new works Ensemble Theater Oct. 5-7 in the Overture Center's Wisconsin Studio.
"Wit and Wisdom" will feature 11 Madison-area performers bringing to life the words of Draper – whom TAPIT calls "the most famous actress you've probably never heard of."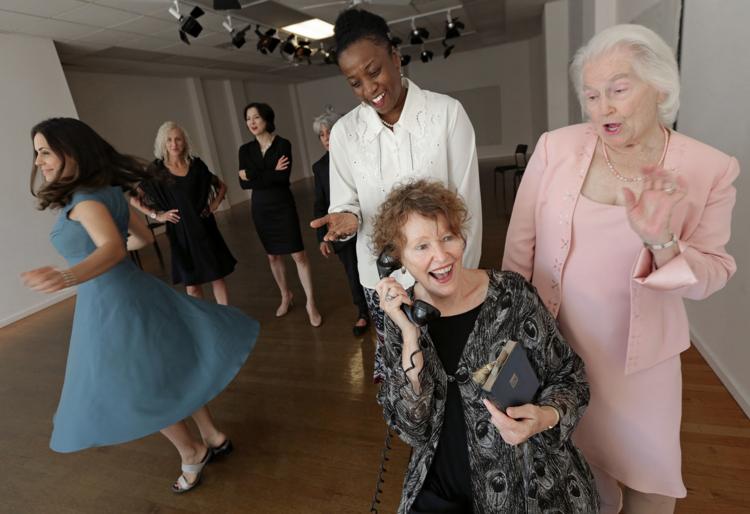 "She was a solo performer before solo performing was cool," said TAPIT co-producing artistic director Danielle Dresden. "And she was a woman performer, a woman performer in the '30s, '40s and '50s."
'Unique to this day'
Calling herself "Ruth Draper and Her Company of Characters," Draper toured the world with her one-woman show, performing for the likes of Queen Mary and King George V of England. She committed her works to memory; she could perform in half a dozen different languages.
Laurence Olivier and George Bernard Shaw were fans. Henry James was a close friend. Novelist Agatha Christie modeled two characters after her.
The art form Draper developed "is still unique to this day. No one really does what she did," said "Wit & Wisdom" director Catie O'Donnell.
"It feels like a precursor to stand-up comedy — except instead of commenting on society, she became society by actually becoming the characters," O'Donnell said. "I guess (it's) more like sketch comedy, but you don't often see that with a solo performer."
Draper, who grew up well-to-do – her grandfather was editor and publisher of the New York Sun – knew upper society well, but also the foibles of human nature that we all share. Still, her spoofs are never mean-spirited, Dresden said.
"She was kindly," Dresden said. "She would puncture the self-inflated images," but often "the audience knows the characters more than they know themselves."
'Berserk' over Draper
Dresden and TAPIT co-producing artistic director Donna Peckett first discovered Draper's work during a road trip in the early 1980s. They, along with well-known Madison actress Sarah Whelan, were traveling Wisconsin roads with the late Broom Street Theater playwright and director Joel Gersmann, doing performances of a Gersmann play.
Gersmann popped a tape of Draper's monologues into his car cassette deck and "I just went berserk over Ruth Draper," Peckett recalled.
Peckett, a longtime tap dancer, later learned that Draper was the aunt of legendary tap dancer Paul Draper, and it only deepened her fascination. She's wanted to do a show of Draper's works "for years."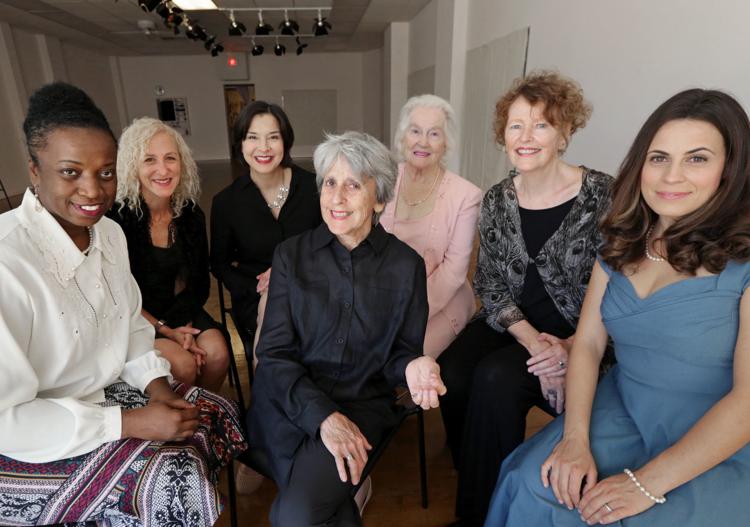 "Wit & Wisdom" is a tribute not only to Draper, but to the women in the show's cast, she said. Along with Peckett, Dresden and Whelan, the performers range from 26 to 81 years old and include Pam Adams, Nedra Bobo, Liz Light, Krystal Lonsdale, Kiki Moritsugu, Jody Reiss, Peggy Rosin, and violinist Julia McConahay. Patricia Micetic is lighting designer; costumes are by Rebecca Stanley.
Draper's works have been performed in more recent years by the actress Patricia Norcia and the Oscar-nominated Annette Bening. But unlike those depictions, the cast of "Wit & Wisdom" will perform as Draper's characters, not as Draper herself.
Draper's speaking style was so distinct, in fact, that O'Donnell instructed her cast to listen to her recordings no more than once. She didn't want them to feel they had to mimic the legendary actress.
"I think what we're trying to do is just let the words shine out," Peckett said.
"Not only the words – the whole Gestalt of her, and how she saw life. And if you really listen, even though it's so funny, you could totally weep. It's just so rich."
Cabaret-style performance
"Wit & Wisdom" will be performed cabaret style, with the audience seated at tables. There will be a cash bar — and a party atmosphere, said director O'Donnell.
"The first monologue that takes place is literally a woman who comes in from dancing. She needs to sit down and rest her feet because she's tired from dancing all night," O'Donnell said. "Then she has this great conversation with this boyfriend of hers," who, of course, audience members can only see in their imaginations.
"This is a very fun evening of theater," O'Donnell said. "It's amazing how timeless her jokes are, and how relatable she really is. Even the most serious monologue that we have is still joyful in the end. It definitely has its moments of realism and truth, but it's going to be a delightful evening of theater."