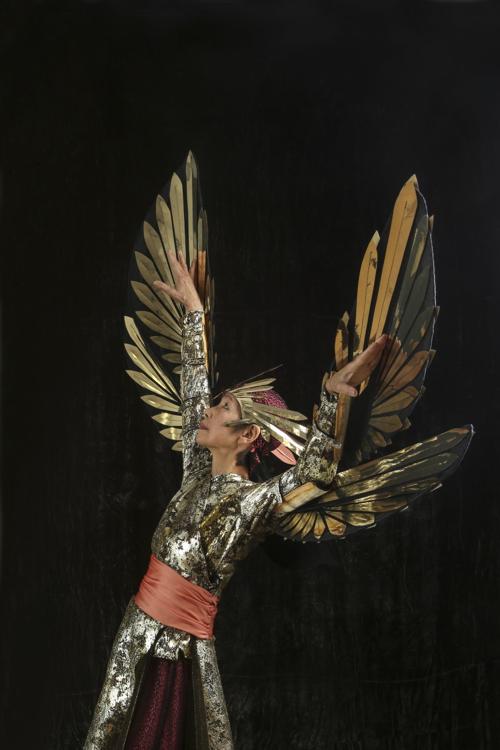 Lacouir Yancey has worked with UW-Madison dance professor Peggy Choy six times, but never on a project as challenging as "FLIGHT: torn like a rose," a dance work Choy built around a Sufi poem.
The performance is Choy's interpretation of the 12th century epic poem, "The Conference of the Birds," by the Persian poet Farid ud-Din Attar.
The Peggy Choy Dance Company put on "FLIGHT" at a Brooklyn, New York, theater three times last week and is staging it Thursday through Saturday at UW-Madison's Lathrop Hall.
In it, six diverse dancers, Madison-based Yancey and Choy, and four professional New York City dancers, become birds who take great risks to find the "sublime Rose of Love."
"It's exciting," Yancey, 45, said. "This is probably one of the most intricately woven together pieces that Peggy's written."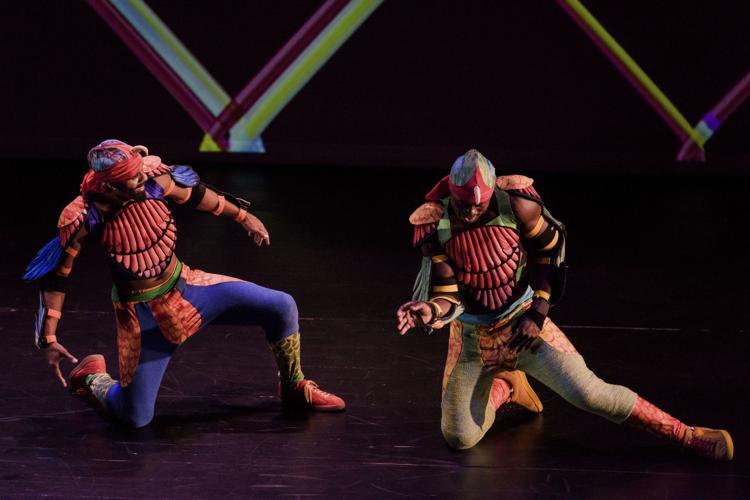 Different birds — including parrots, a heron, a hawk, and a nightingale — try to figure out how to live together, Yancey said.
"It's not typically normal for different species of birds to dwell together. And then we go through these phases where each one of us is trying to make each other aware of where we are and where we're going," he said. "The play is really about a journey to find love. And then the rose is a symbol of the love."
"FLIGHT" was first performed in 2017 in New York City, where Choy has produced three major works over the past 10 years. She wanted to bring the production back to Madison because it's where she lives, works and teaches.
"I thought it was just a great opportunity," she said. "We've worked so hard on this, so I thought it would be very good to share with the university community and public at large."
Choy, who started studying ballet at age 7, has been working at UW-Madison since the 1980s, and is an associate professor of dance and Asian-American studies. Early in her career she was program coordinator at the Center for Southeast Asian studies and taught Javanese dance.
She's still performing, but declined to give her age. "I have been dancing for a long time and I think that's something that I am very proud of."
Choy created the title of the dance with her librettist, Ruth Margraff, from the School of the Art Institute of Chicago. The main composer for "FLIGHT" is Graham Haynes. Haleh Abghari, who was born in Iran, helped compose and also sings. Their original score incorporates jazz and traditional Iranian musical forms.
You have free articles remaining.
"The Conference of the Birds" is a well-known poem in Iran, designed to inspire people to question their self-interest and worldly gain. When Choy read it in English it motivated her to create a dance work, she said.
The poem, Choy said, is similar to, but predates John Bunyan's "The Pilgrim's Progress." The 17th century religious allegory became second only to the Bible in popularity, and depicted a good man's pilgrimage through life.
"The Conference of the Birds" is also an allegory, with the birds representing all species of birds in the world. They go on a dangerous journey to find a king, Choy said. In her version, the birds are searching for the "sublime Rose of Love."
Yancey is central to Choy's work and has been dancing with her for seven years. She describes him as a Madison treasure who doesn't get enough recognition.
Choy, who was born in Chicago and grew up in Hawaii, is of Korean heritage, and her signature approach to dance performance is Afro-Asian fusion. Yancey, a black dancer with a background in break dance, gymnastics, capoeira and other martial arts, is an important part of that formula.
"With my dancers, we're finding the intersections between Asian and Asian-American and African and African-American. Cultural intersections, including dance," she said. "But my research has to delve into history, cultural history and politics."
Yancey is as well known for his Chinese wellness work as he is for his dance and athletic endeavors. He's been practicing massage therapy for almost 20 years and also works as personal trainer. He studied massage at East-West Healing Arts Institute in Madison, where he teaches.
Dancing with Choy, he said, is "as challenging as it is fun and exciting." She really knows how to explore and capture a moment, he said. "That's kind of been my philosophy and I think that's why we connected right away."
Choy has an avant garde way of approaching movement, performance and theater, he said. "So it's been really fun, honestly. She's a fun person to work with."
Of all of the pieces he's worked on with her, Yancey said "FLIGHT" is the most challenging because he has "to express the highest level of movement" that he can. He also changes characters, playing both an old, maniacal man and a parrot.
The colorful, elaborate anime-inspired bird costumes with their wings make the performances even more difficult, Yancey said.
But he's not complaining, because they're also cool. "It makes me feel a little bit like The Falcon superhero."
Choy calls "FLIGHT" unusual dance theater in two ways. First, with its story line, it offers a Sufi perspective on life, "challenging everyone to understand and act on the deeper problems we are facing right now."
Secondly, audiences will enjoy a diverse ensemble of world-class dancers performing Asian and African-American dance forms as well as contemporary dance and ballet.
"They cross train in at least two of those forms to express the story in a unique Afro-Asian style," Choy said.