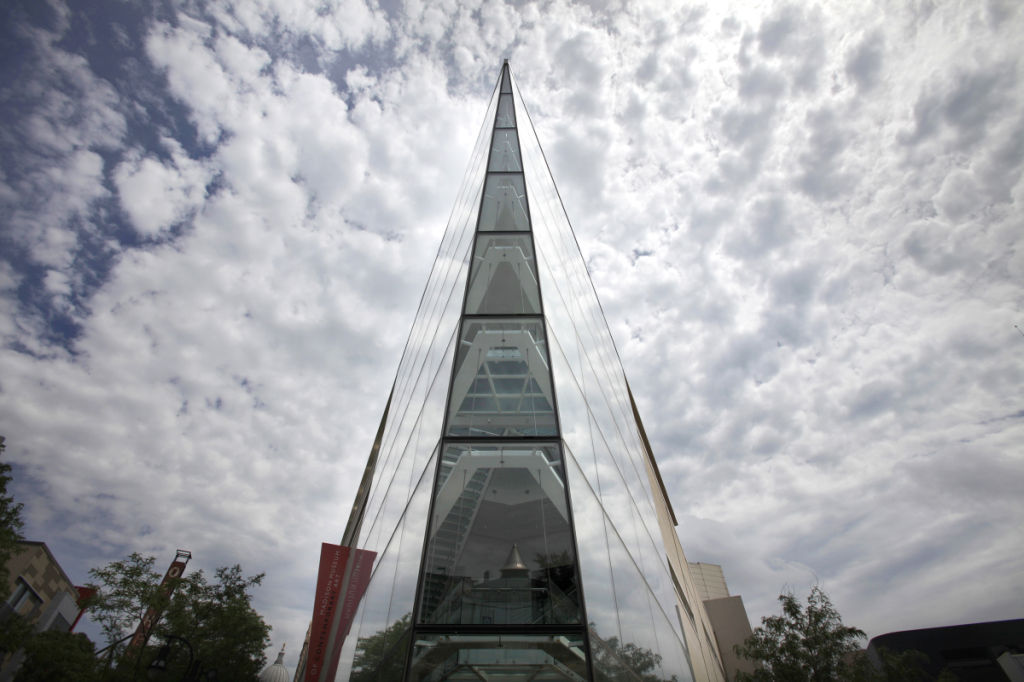 "I haven't been there in about four years, and I'm anxious to see it," said Pelli, whose appearance is part of a weekend-long celebration at MMOCA to mark the museum's 115th anniversary and its 10th year in Pelli's spark-ling, glass-walled building at 227 State St.
"I will be talking about my experiences building the center, and my reactions to it when I go back. It will be very impromptu."
Tickets to hear Pelli's Friday evening talk, part of the new Stephen Fleischman Lecture series in MMOCA's lecture hall, were quickly snatched up. Overflow viewing space will be available on a first-come, first-served basis starting at 5:45 p.m. as part of MMOCA Nights, a special evening of gallery viewings and exhibitions from 6 p.m. to 11 p.m.
Pelli was hired by arts philanthropists Jerry Frautschi and Pleasant Rowland to transform the 200 block of State Street into a showcase for the visual and performing arts. The Overture Center, home to Overture Hall, Capitol Theater, the Playhouse and other performance spaces and art galleries, opened in 2005.
MMOCA's building, which is owned by MMOCA as its own entity, opened the following year and has hosted exhibitions of works by some of the world's great contemporary artists as well as young innovators. "Frank Stella Prints: A Retrospective," prints by one of America's most famous living artists, is currently on display in the building's large, second-floor gallery.
Other signature spaces in the 51,500-square-foot building include MMOCA's State Street Gallery, its new-media gallery, lecture hall, gift shop and the rooftop Fresco restaurant and sculpture garden, featuring birds'-eye views of State Street. Admission to the art museum is free.
Designing MMOCA and the Overture Center "was a very dear project of mine," Pelli said in a recent phone interview. "Madison is a fantastic city, and I had great clients."
You have free articles remaining.
"I love Madison because it looks like the type of city where I'd be happy living there," he said. "There's such a great university connected with the city — you can walk from one to the other. And they both have fantastic cultural offerings. You can take a short drive to the countryside. And you have the lakes.
"It couldn't be handsomer. It's a lovely, lovely place," he said. "I was so taken with the city. And working with Jerry Frautschi and Pleasant Rowland was another great pleasure. They are fantastic people, amazing people."
Frautschi paid the $205 million cost of the Overture Center, which today brings in touring Broadway shows and features works by 10 resident groups. Building Overture and MMOCA on an odd-shaped, iconic Downtown block did present great design challenges, Pelli said.
"It was not easy to solve the problem. We were requested to preserve the old Kessenich department store façade, which we did," he said. "In fact, we made it better than it ever was in the past. Now, you have a very grand space at the entrance" leading to the Overture lobby. "It gave that entrance a whole new life."
The project also preserved the old Capitol Theater and clock tower as architectural features.
"We liked the building to connect with Madison, to feel very Madisonian," he said.
Pelli's firm also took advantage of MMOCA's flatiron-shaped lot by walling it in with glass and creating a soaring glass staircase inside. Visitors to the museum's interior get a dazzling view of Downtown from the stairs, which also give an iconic presence to the building from the outside.
"In architecture, if you work hard, many difficulties can be turned into opportunities," Pelli said. "It's a bit like life itself."
"I'm extremely proud of the building. It's a very beautiful building, very well built," he said. "It fits very well in Madison, and it enhances all that's around it. Overture has made Madison a much better place to live in."
Pelli, whose firm Pelli Clarke Pelli has designed signature buildings around the world and is currently working on the complex Transbay Transit Center in San Francisco, is pleased to see the growth in apartment buildings in central Madison. That inner-city housing feeds the energy, density and economic vibrancy of Downtown, he said.