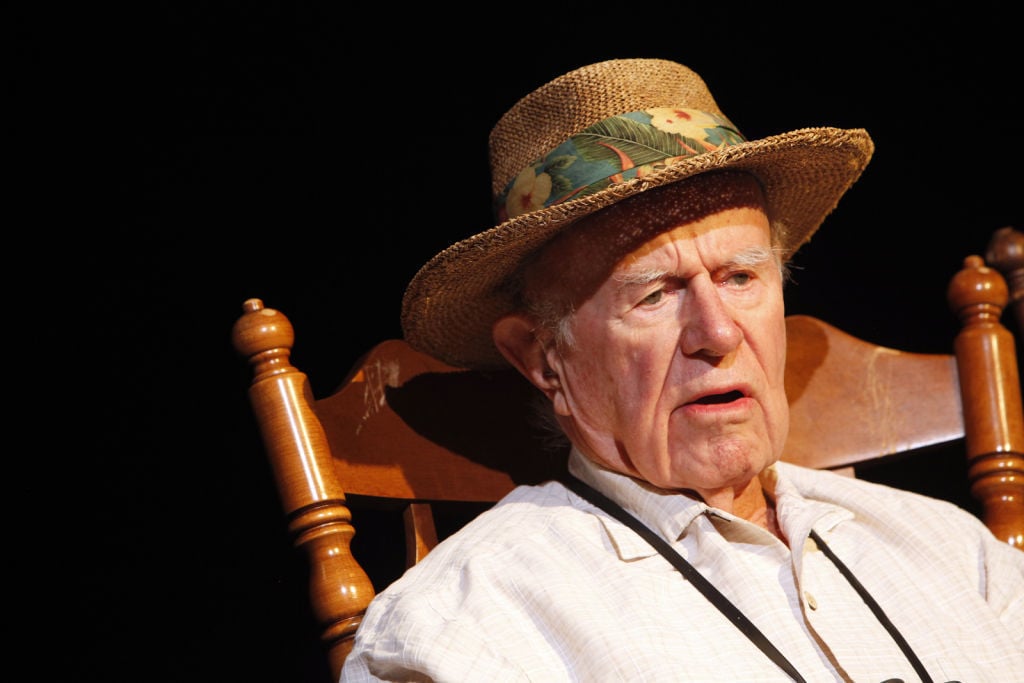 Madison actor Tom Haig, who helped found the Bartell Theatre, the hub of local community theater, and performed there at age 93, died March 15 at 98.
A picture of Haig and his late wife, Bobbie, hangs in the theater's lobby, which is named in their honor. Beginning in the spring of 1994, the couple led a small group that would convert the old Esquire movie theater into the Bartell, which houses three performance spaces and is home to six theater companies.
The Haigs were working in Washington, D.C., as senior interns for then-U.S. Sen. Russ Feingold, when they heard the Esquire might be available, Haig said in a 2008 Wisconsin State Journal story.
"Tom was the spearhead for the building of the Bartell Theatre," said Sarah Whelan, another of the theater's founders and a longtime Madison actor. "Lots of us were involved in its inception, but he really did the bulk of the work and fundraising."
Kirk Stantis, executive director of the Gerald A. Bartell Community Theatre Foundation, said Haig raised more than $600,000 for the project. Haig also did much of the remodeling work, building the upstairs performance floor with his son.
"As a leader, he readily enlisted others to assist, but no task was below him to do himself," said Gretchen Wheat, who was president of the Bartell when it opened in fall 1998.
To mark the Bartell's 20th anniversary, the play "From Awkward Spaces" told the story of the making of the theater, with Haig and Wheat as lead characters.
Stantis listed all the facets of founding the theater that Haig was involved with, and said that to keep his dream alive, Haig also created an endowment with the Madison Community Foundation that will continue to provide funds for the theater.
"In true Tom Haig fashion," Stantis said, "he insisted that the fund not be named after him, but rather after the dream he had built, Bartell Community Theatre Endowment."
Stantis said Haig donated $150,000 to start the fund. Since then, through donations and investments, it has grown to more than $250,000.
Haig came to work at UW-Madison after a career in research and development in the U.S. Air Force. Whelan said Haig was a retired colonel involved in launching the first and subsequent weather balloons.
He and Bobbie lived in a converted dairy barn near Black Earth, where they raised five children and 23 foster children. They moved to a condo across the street from the Bartell after Haig began to lose his sight due to macular degeneration.
Haig died at Agrace Hospice in Fitchburg. Friends say the cause of death was "old age."
Through the years, Haig performed in about 60 productions for groups that included Strollers Theatre, Mercury Players, Children's Theater of Madison, University Theatre and Madison Opera. In 2008, at age 86, Haig starred in the dialogue-heavy David Mamet play "Duck Variations." At that point, legally blind and hard of hearing, memorizing his lines was no easy task.
"It's dumbfounding how well he's doing," director Betty Diamond said at the time. "He's just really, really good. And it's a hard show. It's two men talking for 50 minutes. It's not like he just has a couple of lines."
Then, in 2014, Haig starred, at 93, with Whelan in "I'm Herbert." It was the first time since the theater opened that Haig performed in the Bartell's larger upstairs stage, Drury Theatre.
Steve Noll, a producer and director, who was on the Bartell's board for 10 years, said Haig was passionate about having a permanent home for community theater groups.
"And he was not afraid to ruffle some feathers and kick some butt to get people to make it happen," Noll said. "Many people said his concept could never last, but almost 22 years later, it's still going strong."
The Haigs lived in a converted dairy barn near Black Earth, where they raised five children and 23 foster children.
Stay up-to-date on what's happening
Receive the latest in local entertainment news in your inbox weekly!