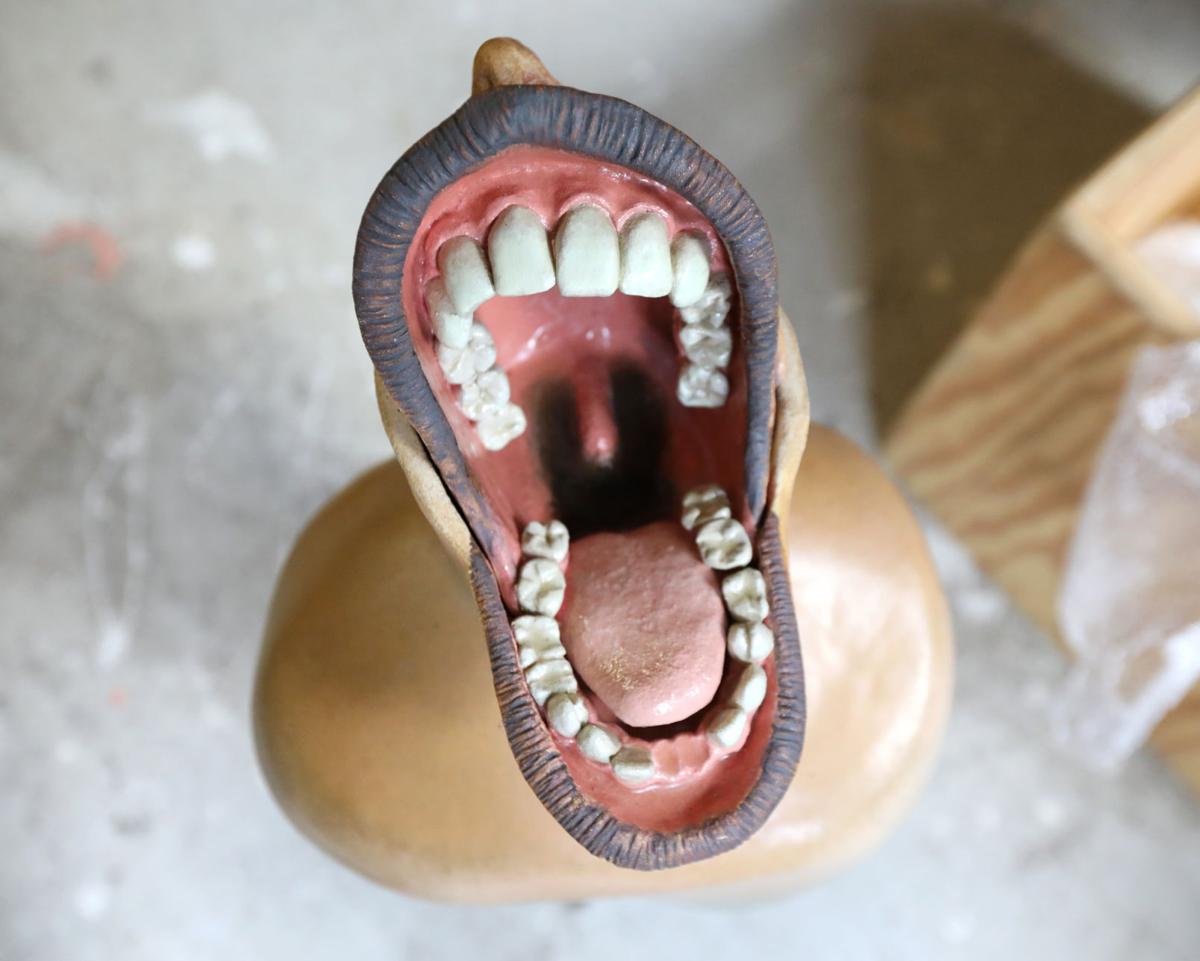 Wearing a mask is encouraged — and so is buying art.
Art Fair on the Square is back on Capitol Square this weekend, and despite a few modifications, it should look much like it has in years past.
In 2020, the art fair — which typically draws tens of thousands Downtown — went online. But artists' booths and music stages will be back on site this year from 9 a.m. to 6 p.m. Saturday and from 10 a.m. to 5 p.m. Sunday.
"It's going to feel similar in many ways," with "hundreds of top-notch artists from across the U.S.," said Annik Dupaty, director of events at the Madison Museum of Contemporary Art, which puts on the annual event.
But the art fair won't have its "usually packed" silent-auction tent, where visitors in the past would crowd in to bid on pieces donated by the fair's artists, she said.
And the children's area of the fair will be spread out on tables in the open air, rather than inside a tent.
Rescheduled this year from its traditional weekend in early July, the art fair is the nonprofit museum's largest annual fundraiser. Organizers are asking all visitors to wear masks, regardless of vaccination status, even though the event is outdoors.
"We really are working hard to put on a safe and enjoyable event," Dupaty said. "There's no better way to build your collection than to see artwork in person and to have that one-on-one conversation with the artists."
Among the more than 400 artists exhibiting will be a number from the Madison area, including three who work in very different media in very different styles. The one thing they have in common: They're happy to be back and in person.
'Menacing but whimsical'
Artist T.L. Luke is a familiar face on the Madison art circuit: She sells her work at the Madison Night Market, Dane County Farmers' Market and Madison Makers Market. Her illustrations were part of the Madison BCycle Art Bikes project and We Are Seeds Scavenger Hunt, and she's illustrated a new children's book coming out next month from Lerner Publishing.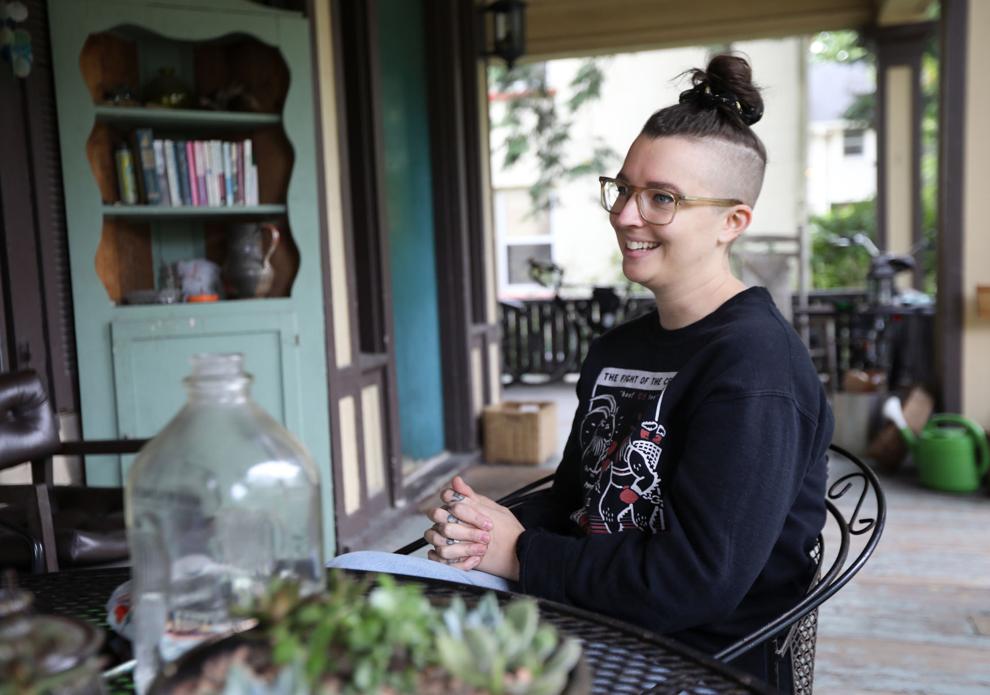 In 2019, she exhibited at Art Fair on the Square as an "emerging artist."
This weekend she'll be back on the Square in booth #127. It feels like "coming full circle," said Luke, who used to work at MMOCA as the exhibitions manager, a position she created, before plunging into a full-time career as an artist.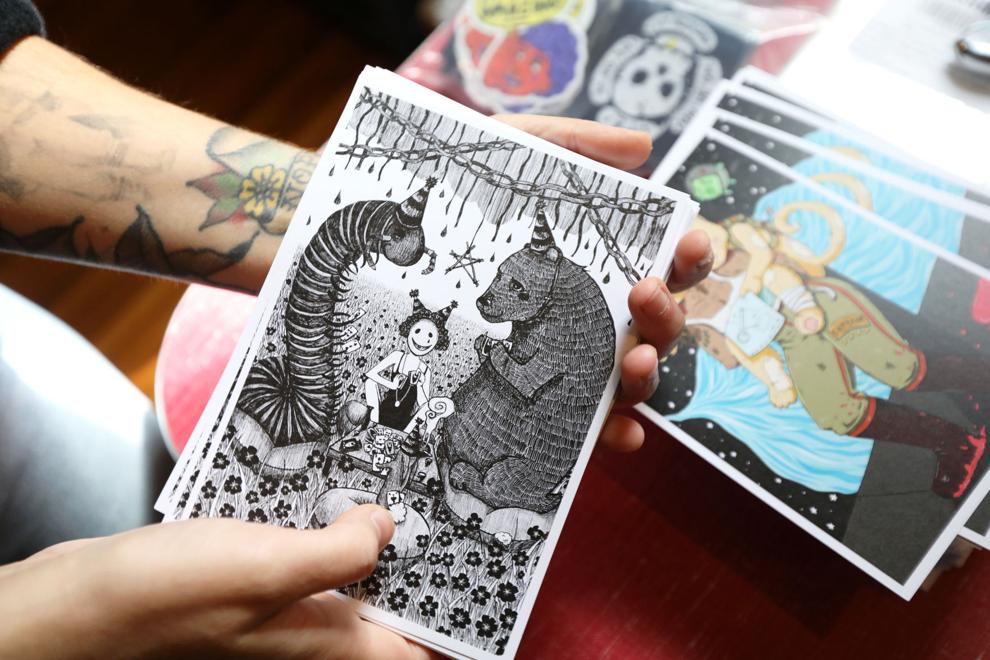 "I love Art Fair on the Square. I used to go to Art Fair on the Square as a child," she said. Being accepted into this year's show makes her tell her younger self, "'We did it! We did it!,'" she said.
Luke grew up "watching cartoons and drawing" in her hometown of Palmyra. The only child of a single parent, she spent a lot of time exploring fearlessly in the woods, she said.
In college at UW-Whitewater she earned a degree in painting, then moved to Madison and began working for MMOCA, initially as a weddings coordinator.
In her three years there, "I was working for other artists all the time. I wasn't doing my own art," she said. She switched to a very different sort of job at the state Department of Revenue, where she worked on the taxes of both "Wisconsin millionaires and bankrupt farmers," she said. That experience made her realize that if other people ran their own businesses, she could too.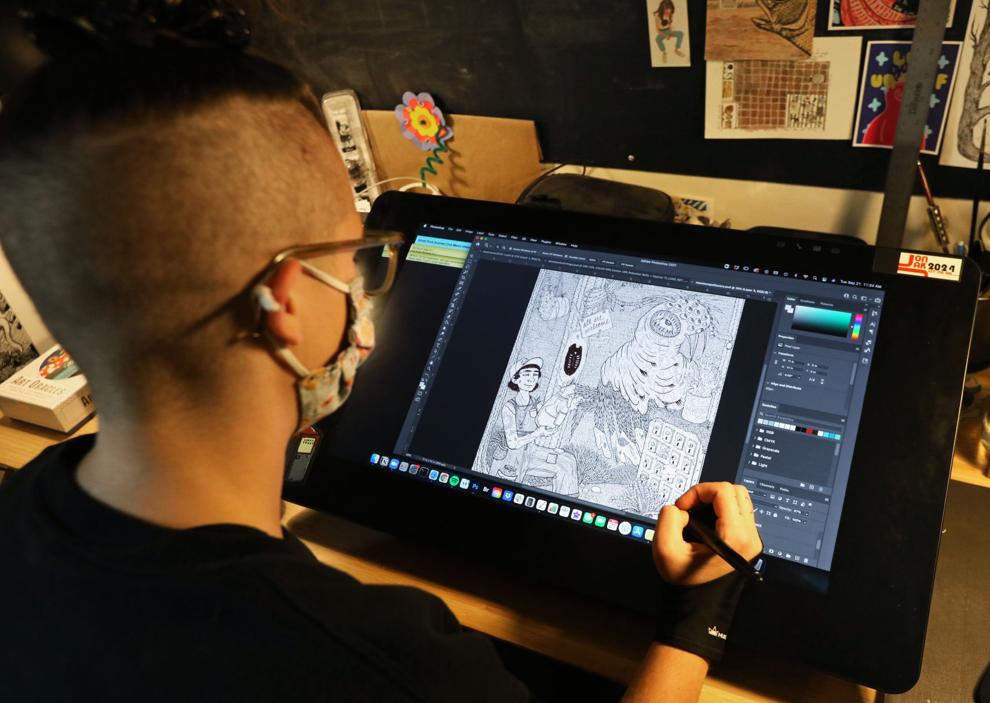 Today her company, T.L. Luke Art, is thriving. Luke returned to illustration and developed her own style, "which has been described as 'menacing but whimsical,'" she said. "I think that's kind of a fun space to be in."
Many of her digital illustrations — created on a screen but with every line hand-drawn with a stylus — feature girls in the woods, surrounded by predators but unfazed by it.
"The girls in the portraits are never concerned. They're fine," she said. "They're in control of the situation."
Layered with tiny details, Luke's illustrations are designed to make it so "you can look for the message in the bottle," she said. "I like fully filling the scene, making it feel like, 'I could hop into this place.'"
3D contrasts
Ceramic sculptor Dan Bassett approaches each of his pieces "as a cartoonist," he said. Take his sprawling, complex sculpture depicting a big-bellied Donald Trump and Mitch McConnell (as a tortoise).
"It's basically a 3D political cartoon," he said.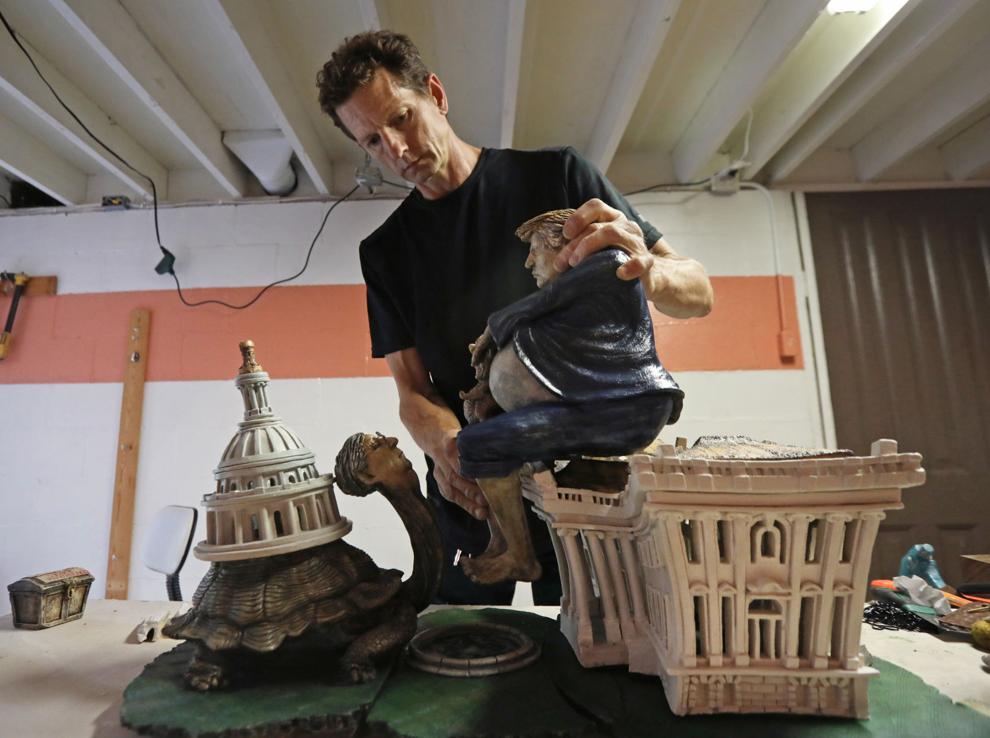 Most of Bassett's work is not political, but it always has an unexpected bent to it. An alpaca takes on a goofy smile. A goggled pilot's head sprouts a leggy plant. A shapely urn sports a cartoonish mouth filled with gleaming teeth.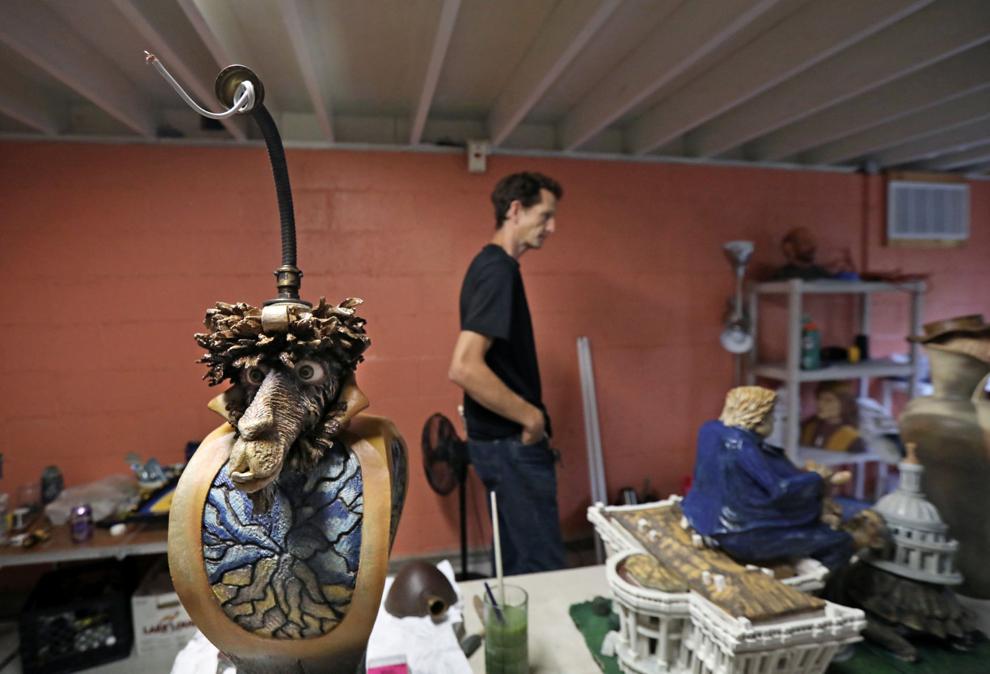 "The goal is to have something silly or ugly on an attractive form. I like the contrast," Bassett said. "I think it's the way we all are — there's the outer agent we show the world, and there's the person inside you that's the real you. We're constantly at war with ourselves."
Bassett, who will be in Booth #866, often turns his quirky sculptures into functional objects, such as planters or lamps.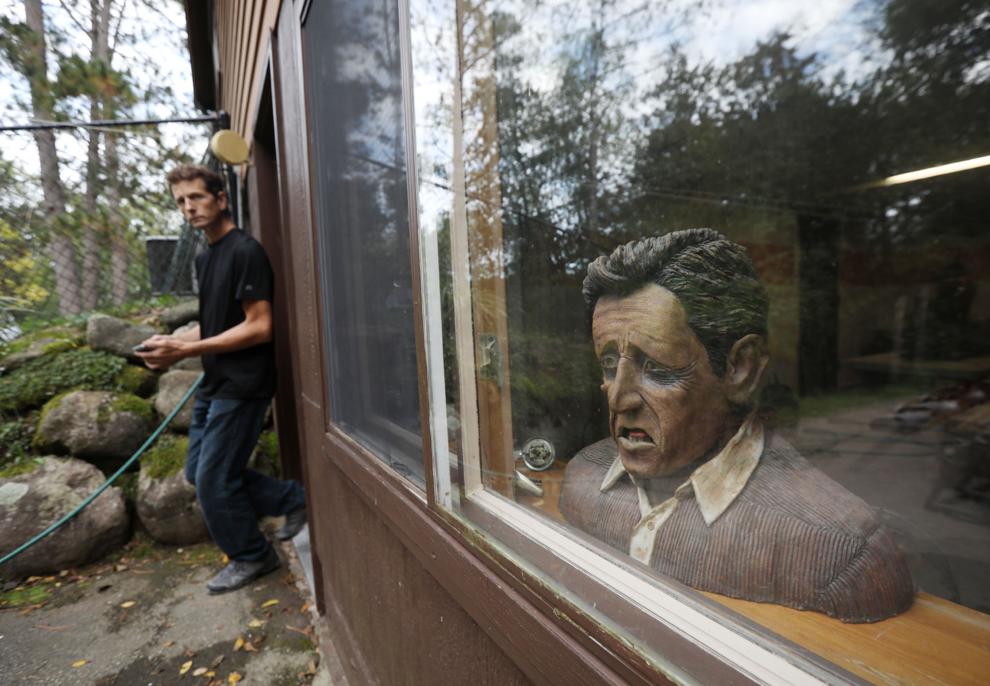 "It's nice to have something that does something if it's going to take up space in your house," he explained.
He uses raku clay body because it holds up well as he builds his complex forms in clay, he said. Many of his works pose a technical challenge — especially with firing — because of their size and detail.
Bassett spent much of his childhood in Thailand, where his mother did humanitarian work. He got interested in ceramics while a student at Madison's West High School, where the late legendary clay artist Don Hunt was a longtime teacher.
Hunt "gave me enthusiasm for the medium, and taught us not to be afraid of it," Bassett said. If an artwork breaks, he learned from Hunt, just move on and make a new one.
Today, Bassett's goal is to sell his ceramics at a couple of art shows a year, and then exhibit in galleries. An Air Force veteran, he also has a day job and other interests beyond the kiln.
"I took off most of 2020" from art, he said, "to turn my kayak into a sailboat."
'Happy' wearable art
For more than 25 years, Kaoru Izushi has been exhibiting at Art Fair on the Square.
"It has become the summer tradition for my family and local friends to come visit my booth, and the show has always been a memorable event for all of us," she said.
Izushi agreed to an interview by email because she just didn't have time to meet in person the week before the art fair, she said. She had just returned from Japan and had a great deal of work to prepare, not only for art fair, but also for Madison-based Artful Home, where she sells her wearable art online.
"Selling work online is a new and very exciting experience for me," said Izushi, who takes inspiration from both traditional and modern Japanese aesthetics in her designs.
Her knit paper yarn series, for example, uses a unique material from Kyoto, Japan. Other materials include 100% cotton yarns, paper and silk stainless steel, fashioned on a hand-operated knitting loom. Her fashions are often "invert-able," so they can be worn several different ways.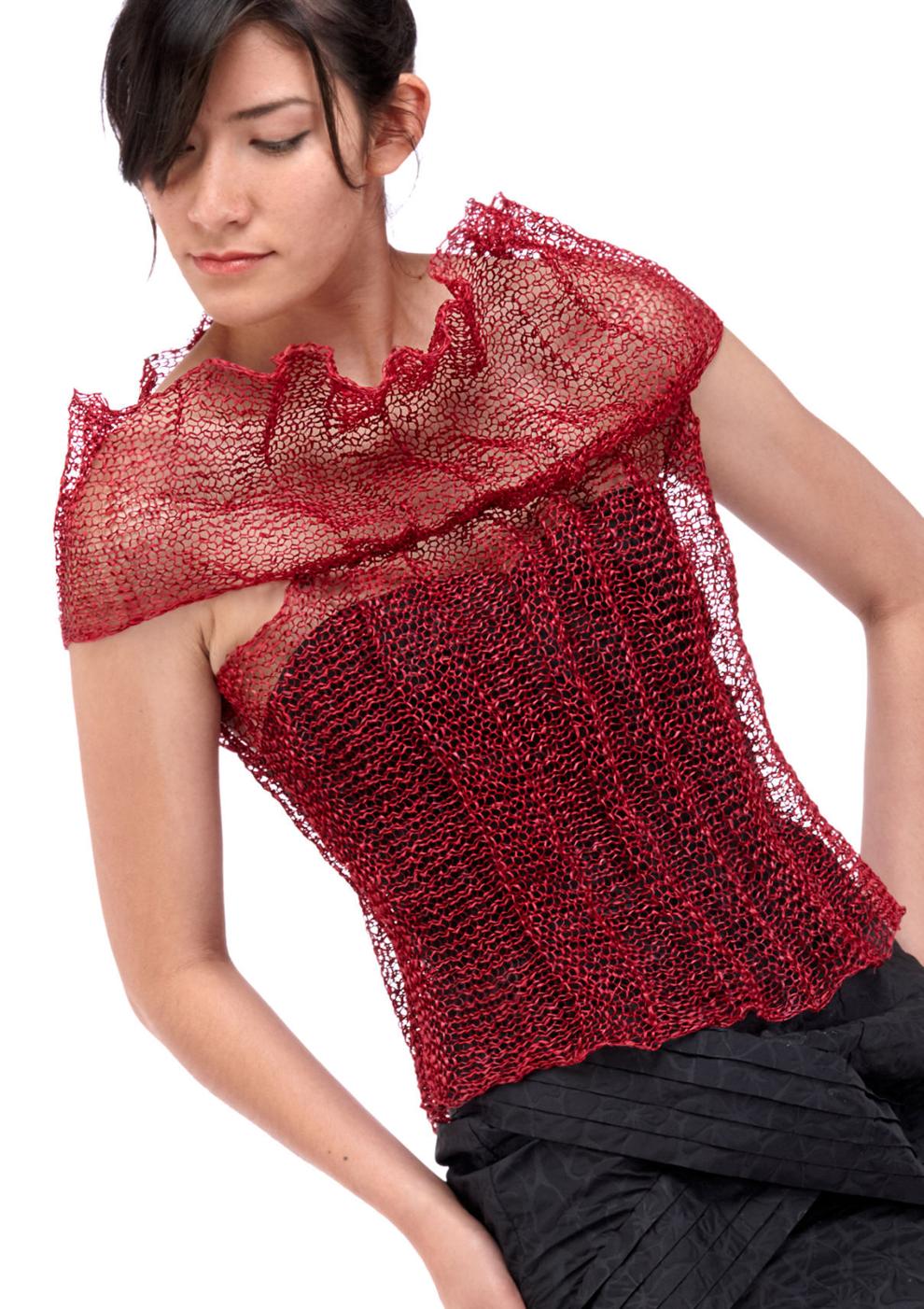 Born in Toyko, Izushi studied fashion design at Musashino Art University before working in the apparel industry and eventually moving to Madison. Today she exhibits at top national craft shows such as the Smithsonian Craft show and The American Craft Exhibition.
"I usually do about 10 shows a year," she said. "In February 2020 I did the American Craft Council Baltimore show. Unfortunately, right after the show, the COVID-19 pandemic hit the country. I heard the convention center (the show site) had been turned into a temporary hospital. … It was heartbreaking, and I hope everyone has been able to recover."
All of her remaining shows in 2020 and 2021 were canceled or switched to an online show, she said.
"For me, this Art Fair on the Square is the first in-person show since then, and I am very grateful to be able to participate."
"My goal this time is very simple," said Izushi, who will be in Booth #773.
"I hope everyone will be able to get together safely, happily and be respectful of each other's different comfort levels at the show. I hope the show will be the beginning of going back to a safe, happy Madison like the good old days," she said. "I hope my wearable art can make people who wear it and see it be happy, especially during this time."