After she was selected to design a poster for Madison's professional soccer team, Toni Pawlowsky said the idea popped into her head fast: a "Jurassic Park," Godzilla-type image of Forward's flamingo mascot.
In her poster, the pink flamingo looks more nurturing than menacing. The bird has an opposing player in its beak and is lifting him off the ground by his jersey. On the field underneath, baby flamingos hatch from soccer balls.
"It was really fun to do," said Pawlowsky, one of 17 local artists selected by Forward Madison FC to create posters given to fans before every Forward home game at Breese Stevens Field.
The poster project idea came from Mark Fraire, Dane Arts director of arts and cultural affairs, who put the word out to artists.
"I am always trying to show how art is in every arena and is an economic driver," said Fraire, who coined the term "spARTs" to refer to the mashup of sports and arts.
All the artists are paid $300, given tickets to the game they've commemorated with their art, and a few of their own posters.
The team has printed 250 posters for each home game since the team debuted in April. They're available at the fan services tent and given away to fans, first-come, first-served.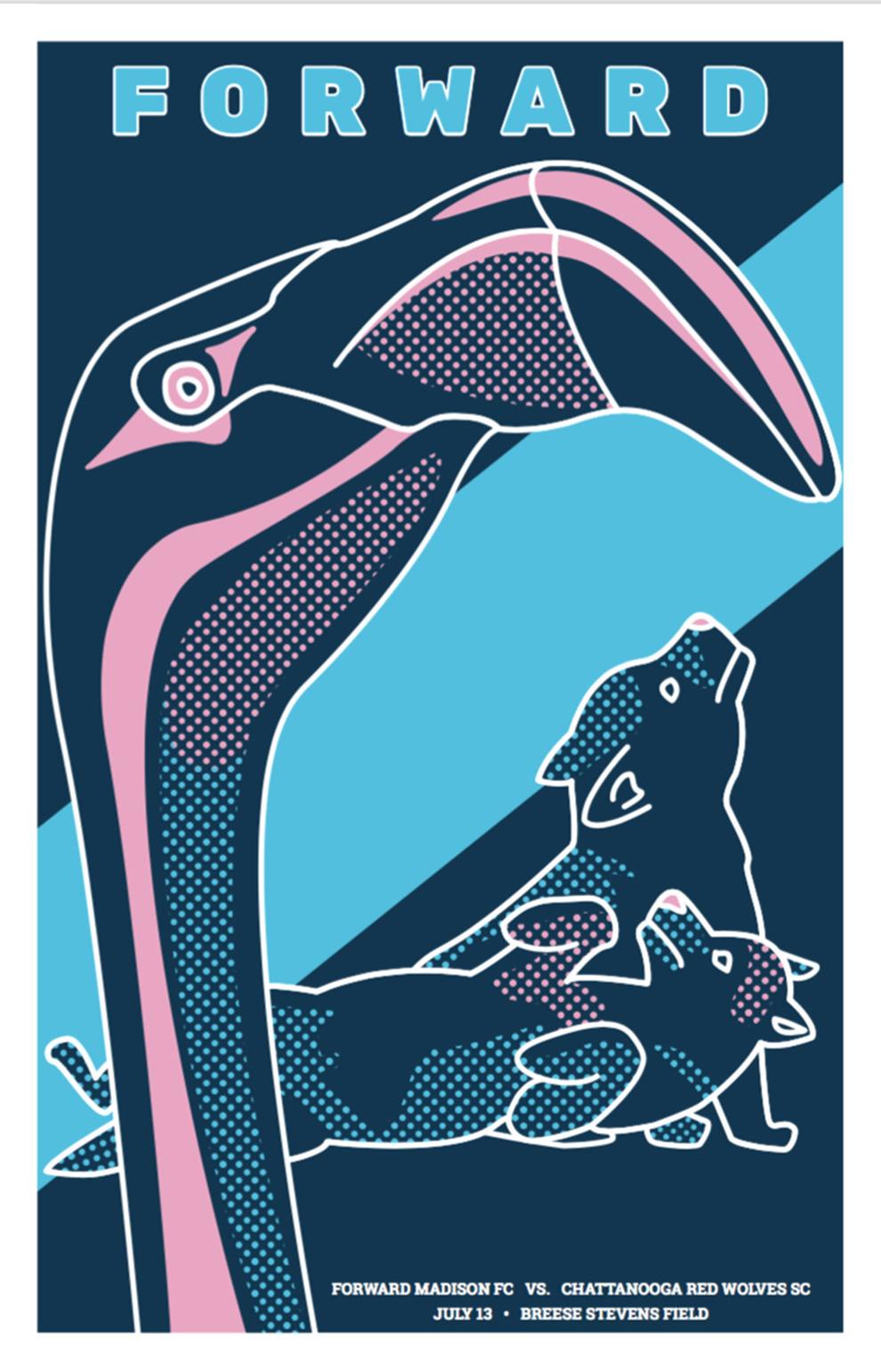 "The artists are just doing an incredible job," said Kuba Krzyzostaniak, the team's director of fan engagement and digital media. "It's been really fun to see, and the community is just loving them. They fly out of fan services really quick when we put them out."
Krzyzostaniak said posters are usually gone by the 7:06 p.m. kickoff.
Fraire approached Forward in January after reading a story in The New York Times about a similar poster project done by the Portland Trail Blazers basketball team.
He wondered how he could replicate the idea in Madison, and after getting turned down by the Madison Mallards baseball team, he contacted the fledgling Forward team. Krzyzostaniak quickly got on board.
"The posters are so popular and they have become a 'must have' for many in attendance," Fraire said. "Players autograph them after games, too."
Both Krzyzostaniak and Fraire say they'd like to frame all the posters and put together an exhibit.
Forward has four games left in its inaugural season, with home games on Tuesday and on Sept. 22. The team is in playoff position, but it's too early to tell if they'll make it in. Average attendance is 4,238.
The team competes in the third division of the US soccer league system, USL League One.
For the poster project, Fraire contacted many of the artists associated with last year's "Bucky on Parade" public art display created by the Madison Area Sports Commission and the Greater Madison Convention and Visitors Bureau.
"It's all original art, all local, all so cool and whimsical showing Forward dominating the opponent — or at least the flamingo kickin' some butt," Fraire said.
Pawlowsky's poster was for a July 27 game against the Orlando City Lions. She'd never been to a professional soccer match and she and the friend she took enjoyed it more than they expected. "It's just such a great atmosphere, very positive with lots of things going on."
She liked the excitement of people arriving early to add to their collection of posters. "I just think that's a really cool idea."
Pawlowsky also appreciated the feedback from Forward's Facebook page after her work was posted. "That was really fun to watch and made me feel good because I knew mine was going to be a little out there, so I wasn't sure how it was going to be received."
Graphic designer and illustrator Ben Tolle had the July 13 match against the Chattanooga (Tennessee) Red Wolves, where he said his image, made in Adobe illustrator, of a large-headed flamingo towering over two docile red wolves went over well.
Tolle said he had fun looking around to see how many of his posters he could spot in the crowd.
As soon as he heard about the project, he knew he had to participate. "I thought what a great marriage of Madison community."
Although he's not a big soccer fan, he enjoyed the challenge of depicting the two teams going head-to-head and Forward coming out victorious. "It's a really fun, creative place to start from."
'Kind of abstract'
Dan Gardiner appreciated that the project offered the flexibility to work in any medium, and through collage, he depicted a player with an arm full of tattoos.
It's hard to tell, but Gardiner's poster is made with torn-up paper and magazines used "almost like paint."
The process was "kind of slow, but ended up looking kind of abstract, which I like," he said.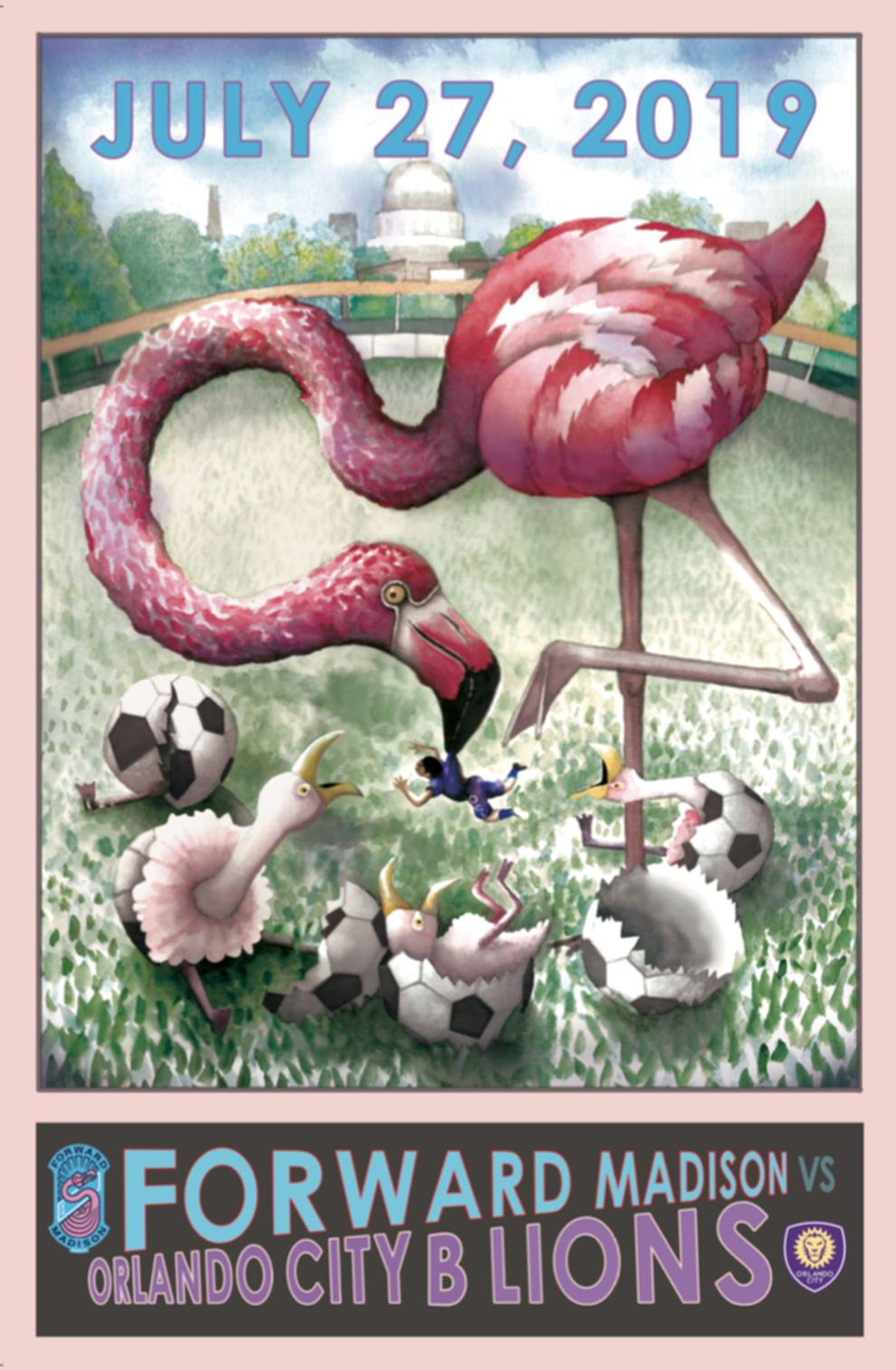 Gardiner said he looked online for images of players, Forward uniforms and the grandstand "and kind of pieced it all together."
In the 1990s, Gardiner said, he lived in Green Bay and did work for the Packers and for companies that put out baseball and football cards. All he did then was sports art and the Forward project gave him the chance to get back into it.
"Those were some of my best years of being an artist," he said. "I was really busy."
Gardiner said he didn't have time to go to the game, but his wife and mother-in-law did and had a blast. "They're big sports fans," he said.
His wife and her mother enjoyed seeing his poster everywhere. "They were excited about that for some reason. I don't know why," Gardiner said.
They got to the game early enough to bring a poster home and Gardiner said he has it hanging in his living room.
'Must have'
Forward's Krzyzostaniak said the posters have become "must have" collector's items for the team's most dedicated fans.
He said he constantly hears from fans around the country asking if there's a way they can get the posters. Krzyzostaniak said he usually sets aside 20 posters for reasons such as that.
"We've had a few fans that have shared with us on social media, pictures of their living rooms or dining rooms in their house," Krzyzostaniak said. "They'll have every single poster from every game so far."