The exhibit on the third floor of Overture Center includes the instruments used in the 1870s by crews led by Thomas Chamberlain to study and sample Wisconsin's glacial and mineral deposits, artesian wells and soils.
There are skins of a black squirrel, ermine and rabbit collected by Thure Kumlien, who failed as a farmer near Lake Koshkonong, but in 1883 went on to become the conservator of the Milwaukee Public Museum.
A cantaloupe-sized meteorite dug up by a farmer in the late 1860s just east of West Bend in Washington County is here and was studied by Increase Lapham, who also surveyed Native American effigy mounds, studied geology and traveled the state collecting plants with a tin vasculum, which is also on display.
This is not what is typically found in the James Watrous Gallery. But through April 5, the paintings, photographs, carvings, glass and bead works normally on display are being replaced with historical items that help tell the story of the state's flora, fauna, minerals, cultures and academic studies.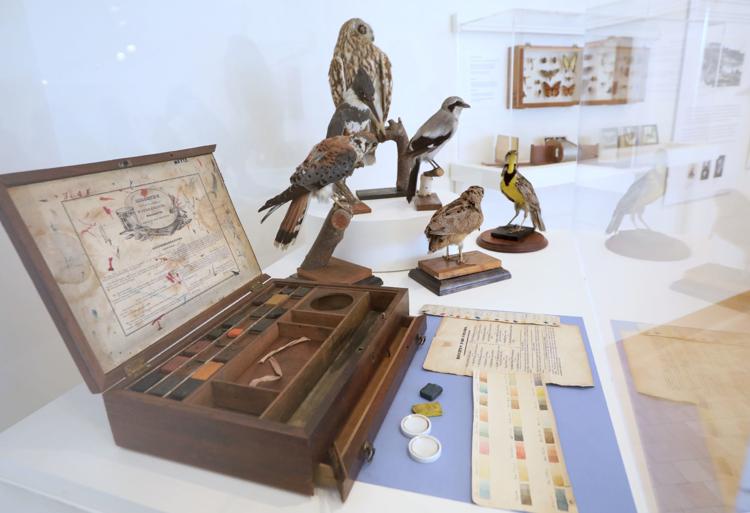 "Collections & Connections" celebrates the 150th anniversary of the Wisconsin Academy of Sciences, Arts & Letters, which operates the gallery and since 1870 has been at the forefront of gathering, sharing and acting upon knowledge "for the betterment of Wisconsin."
The collections of stuffed animals, science equipment, journals and photographs are also an attempt to re-create some of the Academy's natural history and archaeological collections that had been on display in a cabinet in the basement of the state Capitol, but were lost to a fire that destroyed the building in 1904.
"We knew from our journals that this was an enormous endeavor from our early scientists," said Jane Elder, the Wisconsin Academy's executive director since 2012. "They were really trying to map Wisconsin. What's here, what lives here, what's under the soil, what can we mine. There was this intense inquiry of mapping the animals and minerals and the very practical aspect of how does this help us build the state."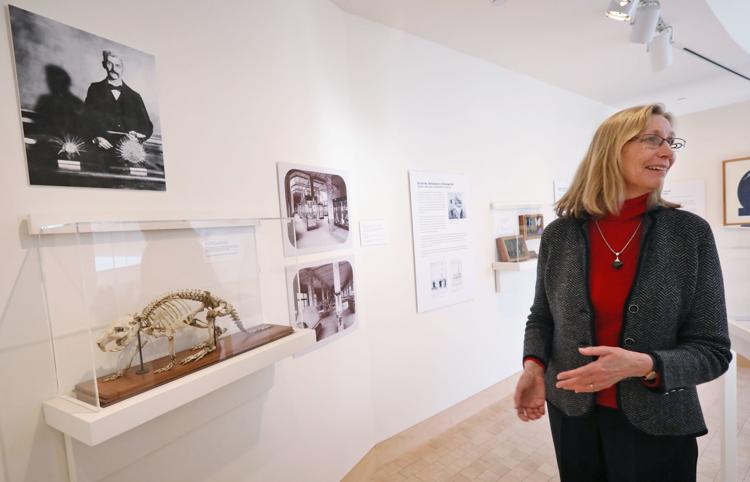 More than academics
The Wisconsin Academy, its headquarters at 1922 University Ave., is not part of UW-Madison and no longer receives state funding, like it did in its beginnings. The organization gets virtually all of its funding for its $800,000 annual budget from endowments, private donations and grants. The organization is modeled after academies created in the 1700s, like the American Philosophical Society, founded in 1743 by Benjamin Franklin for the purpose of "promoting useful knowledge."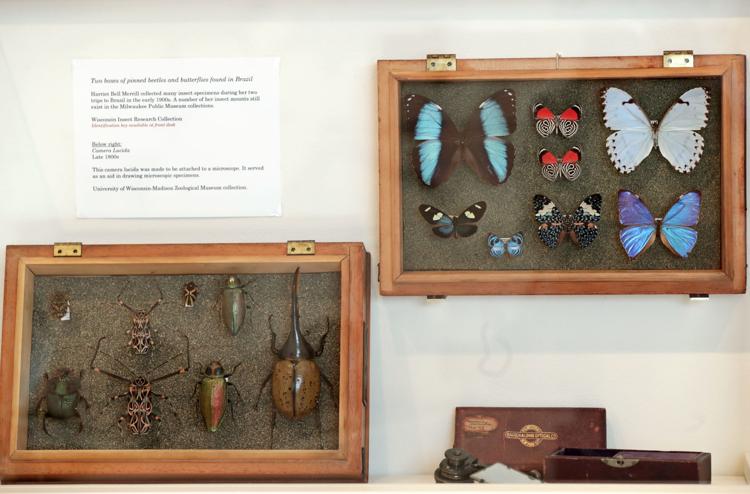 And while early efforts of the Wisconsin Academy were focused on collecting and studying, the last 75 years have been focused more on efforts to support writers, poets and young scientists and better inform residents about issues facing the state.
In 2011, the Academy announced its stewardship of the Wisconsin Poet Laureate program to ensure its survival and support the Wisconsin Poet Laureate Commission after then-Gov. Scott Walker eliminated state support for the position that was created in 2000 by Gov. Tommy Thompson.
On a regular basis, the Academy releases comprehensive reports on broad topics facing challenges in Wisconsin like freshwater sustainability, farming and climate change. In 2019, a year after devastating floods hammered southern Wisconsin, the Academy hosted a leadership gathering in Baraboo to explore better ways to anticipate and prevent damage caused by flooding.
"We were chartered by the state, and the idea was that this was all in service to the citizens," said Jody Clowes, one of the exhibit's curators. "It wasn't just an academic society."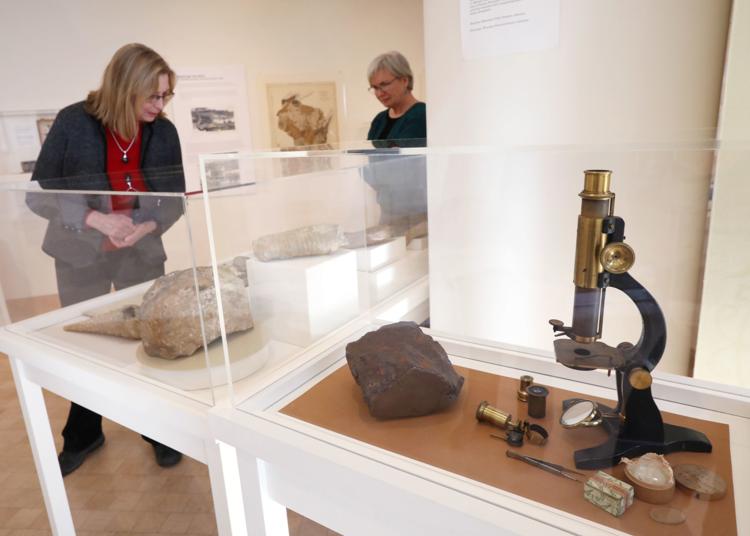 'Shoestring' beginnings
The Academy's quarterly magazine, "Wisconsin People & Ideas," has been published since 1954. Last fall's issue included stories about nanoparticles in the Great Lakes, a sculpture tour in Eau Claire and a piece by Elissa Koppel about S.V. Medaris and Craig Blietz, Wisconsin artists who draw their inspiration from cows, pigs, chickens and other aspects of the state's agricultural industry. The magazine also printed "Exile," the first-place submission from Hudson author Steve Fox, in the magazine's fiction contest.
"I mean, this magazine was printed in (the Academy's president and editor) Walter Scott's home office from '54 well into the mid 1960s and then other people were kind of carrying it along," Clowes said. "It was very shoestring."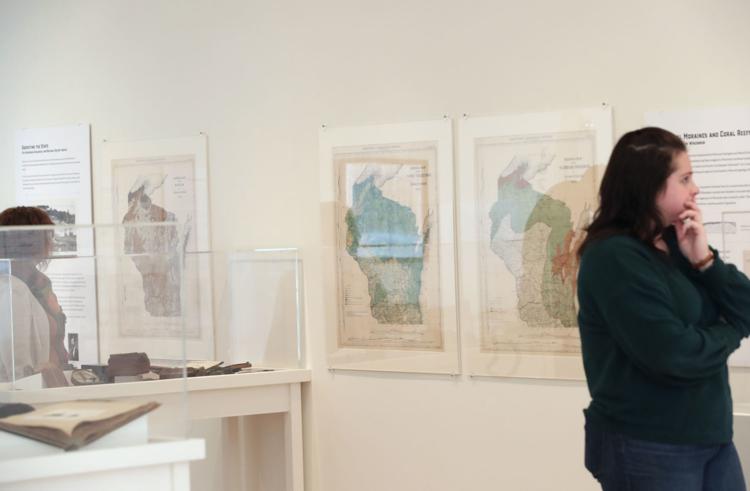 All of this from an organization that didn't hire its first staff and have its own facility until 1971.
That's when gifts from the estate of the late Harry Steenbock and Elizabeth McCoy were received. Steenbock was a UW-Madison biochemistry professor widely known for his research with vitamin D and whose work ultimately led to the creation of the Wisconsin Alumni Research Foundation in 1925. McCoy joined UW-Madison in 1930 and helped identify during World War II an improved strain of penicillin. In 1943, she became the second woman at the university, outside of home economics and nursing, to attain the rank of full professor.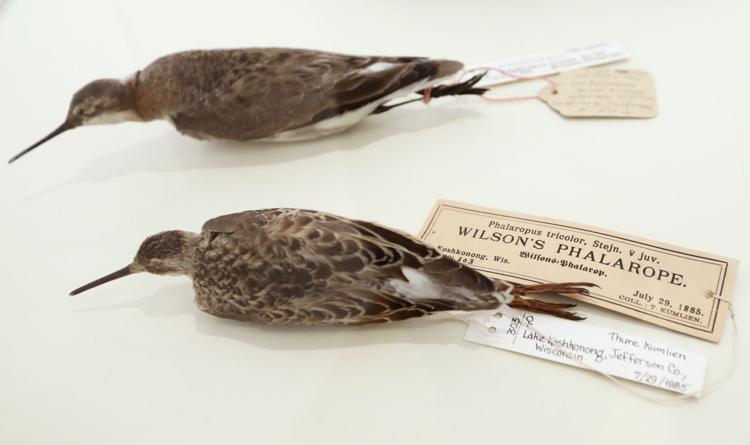 The Academy's gallery has been in operation since 1974 at its headquarters building but in 2004 received a major upgrade when it expanded into the new Overture Center. It's named after James Watrous, the late UW-Madison teacher, art historian, painter and author, who also helped create the Elvehjem Museum of Art, now known as the Chazen Museum of Art.
'Wisconsin Idea'
In a nutshell, the Wisconsin Academy is the epitome of the "Wisconsin Idea," an effort pushed by Charles Van Hise, president at UW-Madison from 1903 to 1918, who said university research should be applied to solve problems and improve health, quality of life, the environment, and agriculture for all citizens of the state, Elder said. At the same time, Robert M. La Follette Sr., governor from 1901 to 1906, touted a series of political reforms as part of the initiative.
"You see that in the founding conversations" of the Academy, Elder said. "Gathering and sharing knowledge for the betterment of the state. We've tried to be sort of a living example of the Wisconsin Idea at work."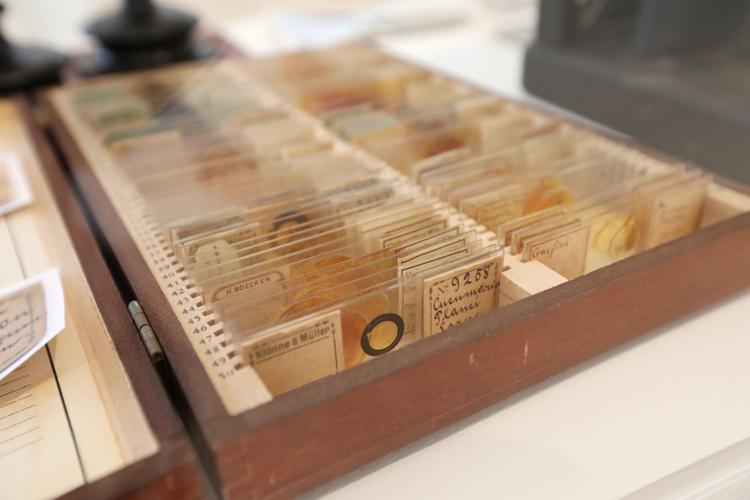 But the Wisconsin Academy was formed 35 years before Van Hise and La Follette talked about the Wisconsin Idea. Early members of the Academy besides Lapham, Chamberlain and Kumlien were Philo Romayne Hoy, who in 1846 settled in Racine, where he practiced medicine but devoted much of his spare time to collecting bird specimens, and Charles E. Brown, an archaeologist who studied Wisconsin's Native American cultures.
"These early guys tended to be generalists, they had wide-ranging interests and they were way out here in the boonies," said Martha Glowacki, one of the curators of the exhibit, who also was director of the James Watrous Gallery from 2006 to 2014. "Lapham would get on a horse and ride from Milwaukee to Madison and then make the circuit down to Busseyville and then go down to Racine to see his friend Philo Hoy. I mean, it was quite amazing to me that they maintained really rich correspondence with each other but also with people back out east and in Europe."
The exhibit
The items in the 1,500-square-foot exhibit are on loan from 10 different organizations. They include the Milwaukee Public Museum, Racine Heritage Museum, Sauk County Historical Museum, Wisconsin Historical Museum and UW-Madison Geology Museum.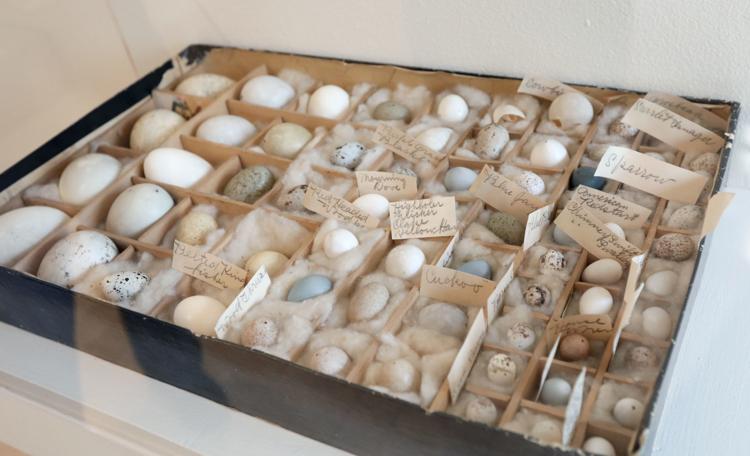 Items include a 1946 map of the Brule River watershed in Douglas County, a collection of both wild and domesticated bird eggs and a microtone, used in UW-Madison zoology classes to cut extremely thin slices of material for study under a microscope. Lapham's microscope is here, as is an exhibit on Harriet Bell Merrill, one of the first women asked to join the Academy and who was the first woman to hold an office, serving as the Academy's vice president from 1896 to 1898.
Another display case holds glass vials and plankton traps used by noted limnologists Edward Birge and Chancey Juday, who founded what is now the UW-Madison Center for Limnology on the shore of Lake Mendota.
But the second half of the exhibit emphasizes work done since World War II that has more of an emphasis on the arts and letters, along with environmental and cultural issues facing the state.
There have been several academies throughout the U.S. founded in the 1800s and early 1900s, many of which are no longer around. The Wisconsin Academy has survived by embracing change.
"We reinvented ourselves a couple of times," Glowacki said. "It was really necessary because the older version of the Academy would not be viable anymore."
Stay up-to-date on what's happening
Receive the latest in local entertainment news in your inbox weekly!