Next weekend Cambridge hopes to set its art fair on fire.
For decades, the village of 1,500 was known on the summer circuit for its annual pottery fair, featuring ceramics from the area's many notable artists. That concept eventually sputtered out, but a new one has ignited in its place: The Midwest Fire Festival.
The free festival, running Saturday and Sunday, July 24, will showcase art, food, demonstrations and performances — all of them created with fiery combustion. A ticketed dinner Saturday night will feature the spectacular unveiling of a colossal clay dragon's head, emerging red hot from an eight-foot-high kiln right before visitors' eyes.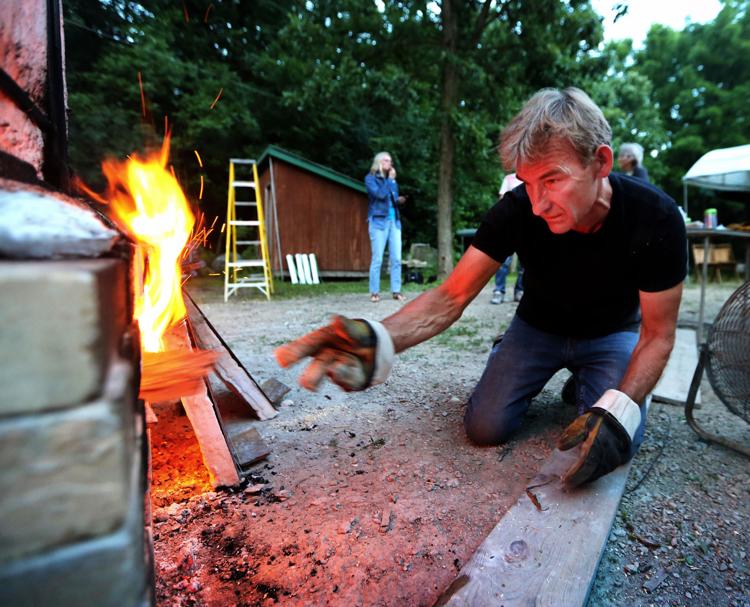 "What (people) are hungry for, I think, is an experience," said Mark Skudlarek, a potter who has organized art fairs for decades, and brought the idea of a fire festival to Cambridge. "Something that's really visceral. When they go to an event like this, or on a studio tour, they're basically experiencing where art is being made, and taking that home with them."
That's opposed to the old model, an art fair akin to a marketplace. The Midwest Fire Festival is billing itself as a happening with performances by fire dancers, food cooked over flames and larger-than-life demonstrations that involve sparks and roaring blazes. (There will be art for sale, too.)
The hope is that the fest, already getting a lot of attention, will light a spark in the local economy. Skudlarek came up with the concept after attending FireFest, a celebration of fire and art in North Carolina.
Events on Saturday in Cambridge's Westside Park, located 30 minutes east of Madison, will include music, the fire dancers Pyro and Penumbra, blacksmith and welding demonstrations, tin type photography, knife forging, glass blowing, pottery pit firing and a community iron pour. Food on hand will range from wood-fired pizza to grilled fare from the Cambridge Lions.
A dinner called the Fire Feast at 6 p.m. will be catered by Underground Catering of Madison; tickets cost $75 and include a take-home, one-of-a-kind dinner plate made by an artist member of Cambridge's Clay Collective.
At 9 p.m. Saturday comes the big "reveal" of a Chinese-inspired dragon head by Ed Klein, composed of 1,000 pounds of clay and standing seven feet tall. Temperatures in the kiln built around the sculpture to fire it — nonstop for five days — will reach 2,200 degrees Fahrenheit, Skudlarek said.
The fiery spectacle worked in a test run outside Skudlarek's Cambridge-area studio in early July. Saturday's public showing will be done on a platform that serves as a firebox for all at the festival to see.
Highlights on Sunday, July 24, will include more artist demonstrations, live music, a one-of-a-kind ceramic pot sale, and a pig roast by the Cambridge Firemen Community.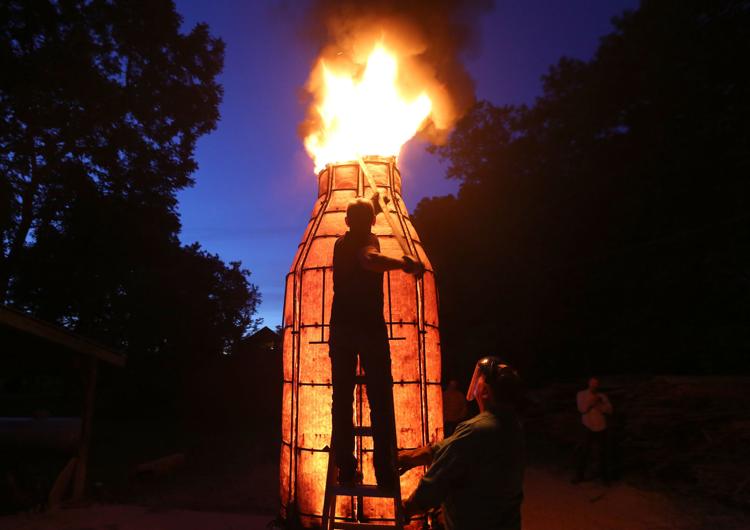 The weekend's music was lined up by longtime Cambridge resident Andy Wallman, president of KW2 advertising agency in Madison and a member of the legendary Madison band The Gomers. Acts range from the modern folk music of Sara Pace and the Rustic Road Band to the 1970s country outlaw sounds of Benny Koehler of Minneapolis. A Herb Alpert tribute band, the 1960s girls pop band Girls Are Go from Madison, jazz, folk, rock and live karaoke from the Gomers are also on the weekend bill.
You have free articles remaining.
Register for more free articles
Stay logged in to skip the surveys
Rickshaw bike shuttles will run from the festival site to the Cambridge school parking lots both Saturday and Sunday. Off-site activities include bees-wax candle rolling for children on Saturday afternoon at the Cambridge Visitors Center; decorative wood-burning demonstrations and glass bead firing at The Shops at 214 W. Main St.; and displays and demonstrations at Rowe Pottery, 217 W. Main St.
Laurie Struss, president of the Cambridge Arts Council and co-chair of the Midwest Fire Festival with Skudlarek, expects the fest to draw as many as 5,000 people. That's in contrast to the 500 or so who attended last year's Elements of Art fair, put in place after the long-running Cambridge Pottery Festival had run its course, she said.
"We gave that (Elements of Art) three years, and we realized an art fair is an art fair," she said. "People don't just want to buy stuff. They want a connection with their art. They want to meet the artist, they want to do things."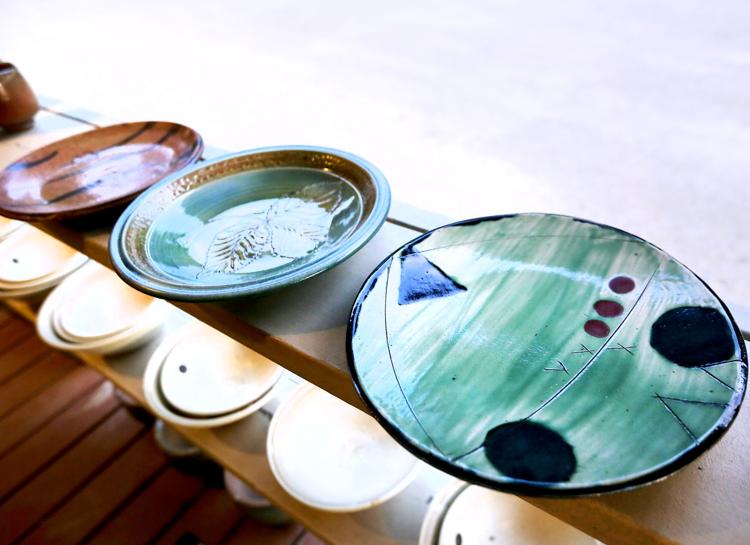 Cambridge has fully embraced the fire festival concept, Struss said.
"It's exciting to see the amount of community cooperation that we've been getting. Virtually every community organization in Cambridge is involved," she said. On the organizing committee, "We're all volunteers — every one of us. We all work full time. The fact that we're able to get this going is nothing short of a miracle."
Anneliese Valdes, who serves on the organizing committee along with Struss, Wallman and Skudlarek, calls the fire festival "a fun and revitalizing idea."
"Cambridge is a really great community that's close to Madison, yet somehow still struggling to keep businesses going, to bring people into town," she said.
"I remember growing up here and we had really great events that people would come out for, and all these unique little shops."
But the lengthy rebuilding of Highways 12/18, which run through Cambridge, "killed the town, and it never really came back," Valdes said. The fire festival "is something that we hope will remind people that Cambridge is such a nice little place to visit, so close to Madison, and it's so easy to get here."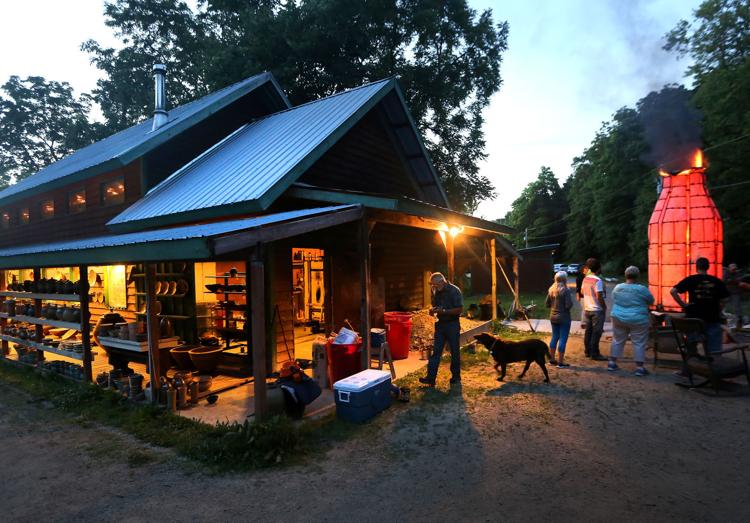 Cambridge is the place where young Ole Evinrude, inventor of the outboard motor, became pals with inventors Arthur Davidson and Bill Harley of Harley-Davidson motorcycle fame, Wallman noted. The village's assets include Lake Ripley and the CamRock bike trail.
In spring, Cambridge is the hub for the Clay Collective Spring Pottery Tour, a driving tour of some two-dozen area pottery studios. In October, Cambridge and the nearby towns of Jefferson, Johnson Creek and Lake Mills host the Earth, Wood and Fire Artist Tour.
"I want to get Cambridge back on the map as a tourism destination — to help 365 days a year to make the economy of our beautiful little village pop," Wallman said.
"I think all the elements are historically there. We've always had outdoor fun. Since the 1980s, there's always been a strong arts element. You add all that up and we have the right to yell from the mountaintops — this is a great, great place to come to."