"Twilight Bowl" takes place in the bar of a bowling alley in a rural Wisconsin town. So there are plenty of place-making details in the University Theatre production of the play, down to the neon sign perched at the top of the set, or the dartboard on the wall where someone occasionally tries for a bullseye.
But while some of the details feel as comfortable as the well-worn bar stools in the Twilight Bowl, the themes in this work by well-known Chicago playwright Rebecca Gilman are meant to feel universal — particularly to audiences who are contemporaries to the play's youthful cast.
"Twilight Bowl" stars six fully drawn, young adult female characters. And that's part of the story, too. "Twilight Bowl" was commissioned from Gilman as part of the Big Ten Theatre Consortium New Play Initiative, designed to get more female playwrights writing meaty, relevant roles for young female actors.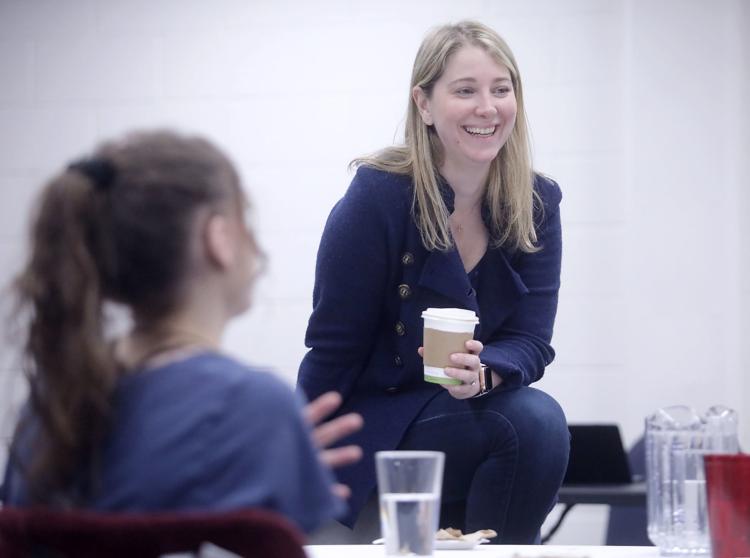 "It's an amazing thing — this idea of commissioning playwrights to create work" for this age group, said Jessica Fisch, who teaches acting at the University of Illinois-Chicago and is directing "Twilight Bowl" for UW-Madison's Department of Theatre and Drama.
"When I was an undergrad, nothing made me crazier than working on plays where I felt none of the characters were age-appropriate," she said. "There's something about being 18, 19, 20 and wanting to engage with your story, and play characters that you felt like you had something to say about. (Meanwhile) you're playing a 60-year-old man dealing with divorce."
Women make up the majority of students in college theater programs. With the Big Ten Theatre Consortium, "they're commissioning these writers to create roles that speak to what this age group is dealing with now," Fisch said.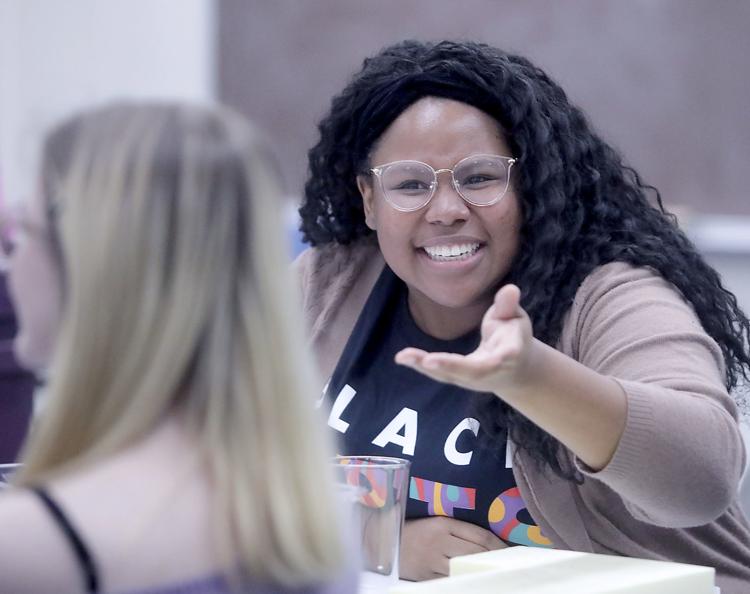 "And there's a lot to say. With 'Twilight Bowl,' the women in this play, every day in rehearsal with me, we have moments where they see themselves on stage. They connect with the character in a way that feels specific and personal. I think that's an amazing opportunity, and an amazing acting lesson. They're not going to go out in the world and play 60-year-old divorcees, so they're better off figuring out how to bring some of themselves to their art now."
In love with the Midwest
Gilman based "Twilight Bowl" on an actual bowling alley — the now-demolished Swiss Lanes in New Glarus. The playwright and her husband, who attended graduate school at UW-Madison, own a house outside New Glarus and spend many of their weekends and summers there.
"I've written three plays in Wisconsin now. I just really love the state. It's beautiful," Gilman said. "I grew up in Alabama, so I don't know why I'm so in love with the Midwest. But I am.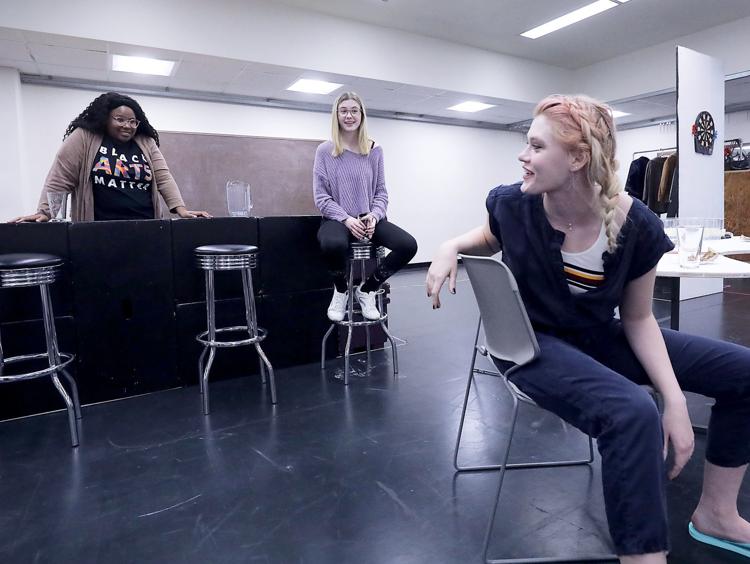 "I've lived in the Midwest for some 30 years now. It's weird, but it reminds me in some ways of home, and in other ways not at all. But among the people I grew up with, I find corollaries with them in Wisconsin."
A multi-award-winning playwright and Pulitzer Prize finalist for her play "The Glory of Living," Gilman is now a professor of playwriting and screenwriting at Northwestern University (she'll be in Madison for a "talkback" with the audience after the April 19 performance of "Twilight Bowl"). When asked to write for the Big Ten Theatre Consortium, she turned to the young people who surround her on the job.
"I wanted to write about people who go to college and people who don't go to college," she said.
"I feel like we have such narrow definitions of success in our culture. I grew up in a small town and a lot of my friends that I grew up with did not go to college, and they're hugely successful and happy people. I think we just have this idea that if you don't get a college degree and pursue a lucrative career, then you've failed somehow. And that really bothers me.
"So I wanted to talk about that. And when I got the commission, I did talk to a lot of my students and said, 'What's on your mind? If I was going to write a play about people your age, what should I write about?'"
In Reynolds, the fictional town where "Twilight Bowl" takes place, life is far from rosy. Childhood friends are now pondering their individual futures. One is in college; the others are not. Success in life does not seem certain — but plenty of challenges do.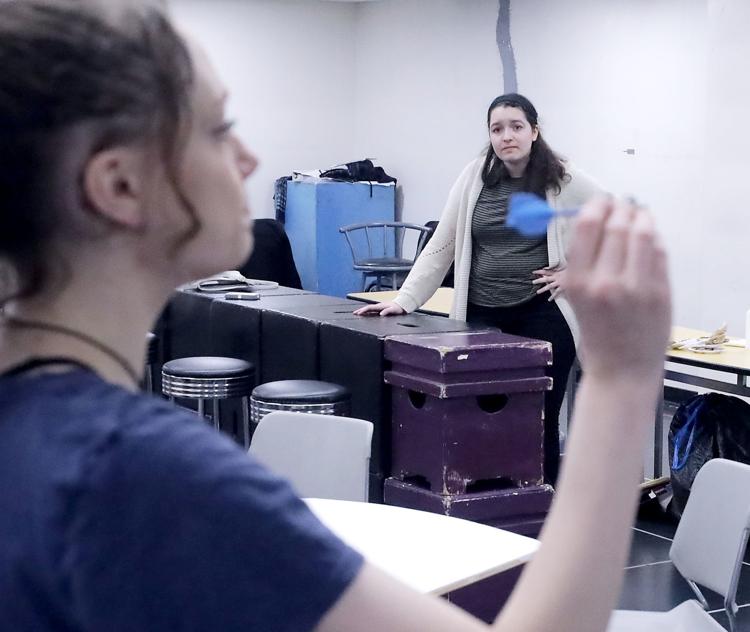 The young women talk openly about their financial fears, families, sexuality, abortion, abuse, opioids, booze, religion, social class and more. They wonder if their friendships will endure. And they can be funny.
The Twilight Bowl is "a safe space for them," Fisch said. "This bar in a bowling alley is like a clubhouse to them, because they've grown up there. Some of them work there. It's this place where they can be themselves and address their challenges, in and amongst themselves."
The cast includes UW-Madison juniors and seniors Alexandria Chapes, Bri Hunter, Shasparay Lighteard, Erika Marks, Erin Wathen and Zhiyun Zhao. The show's student dramaturge, Elliott Puckette, and assistant director Eddie Wondra grew up in a small towns and have "schooled" Fisch — a native East Coaster who now lives in Chicago — on some of the rural details, Fisch said.
The 90-minute play was previously performed at the University of Iowa and also the Goodman Theatre in Chicago, where Gilman is an artistic associate. When Fisch saw the show at the Goodman, she was surprised how much it also resonated with theater-goers much older than the characters.
"It seemed to appeal to a wide audience," she said.
Big Ten collaboration
"Twilight Bowl" was the third of five plays to date commissioned from female playwrights to offer meaty, relevant roles that college-aged women can play.
The idea grew out of a conversation Alan MacVey, chair of the theater arts department and director of the division of performing arts at University of Iowa, had a decade ago with his wife. MacVey noted the lack of female playwrights; his wife pointed out how few plays offered complex roles for young women.
Eventually that grew into a discussion with the drama programs at Big Ten universities — and a collective pledge to commission new plays from some of America's most respected female playwrights.
The only requirement: "Each (play) would have at least six excellent roles for women from, say, their teens to early 30s — so that young women, in college especially, could play these roles," MacVey said.
"Rebecca (Gilman) was on the list, right from the get-go."
The first commission was "Good Kids," written by Naomi Iizuka. The play, set in a high school and centering on a possible sexual assault, has been performed on campuses across the country, including at UW-Madison in 2015. Next came "Baltimore" by Kirsten Greenidge, "Twilight Bowl," and "Companion Animals" by Madeleine George. "Bonnets" by Jen Silverman is still in the works.
"Our hope now — and I think this will happen — is to collect all five of these plays in a collection and get them published with an introduction, because we really want them to get out there," MacVey said, who declined to say how much each university contributed to fund the commissions.
"The purpose of all this was never for the Big Ten. It's really been an effort to make a contribution to the American theater and especially universities, who are always looking for plays with good roles for women, because most departments have more women than men, and most plays have more men than women, especially classic plays."
Giving students an opportunity to perform plays "hot off the press" is also an invaluable part of their education, MacVey said. Most theaters today want to produce works that are fresh, topical and socially relevant.
"All the Big Ten chairs and departments are pleased and proud that we did this," he said.
"I take it to be a really good example of working together. You can do things when you work together that you can't do yourself, and we all worked together on this one."