That machete is real. So are the screams.
As thousands head to Dane County haunted attractions this season, horror is a serious undertaking especially at for-profit ventures such as Screamin' Acres near Stoughton and Wisconsin Scaryland in Waunakee. From professional makeup and special effects, a scary amount of work goes into creating the creepiest attraction.
The characters at these attractions are portrayed by actors that specialize in horror.
"Haunt actors" are a creative bunch with a knack for a unique style of acting, said Jef Pertzborn, marketing manager of Wisconsin Scaryland. Pertzborn is also among the 60 or so performers at Scaryland.
"You're one scene in a walk-through horror movie — it can be repetitious," he said. "And you have improvisation elements since each group of people that comes through reacts differently. You have to pick up on that. Work it to your advantage."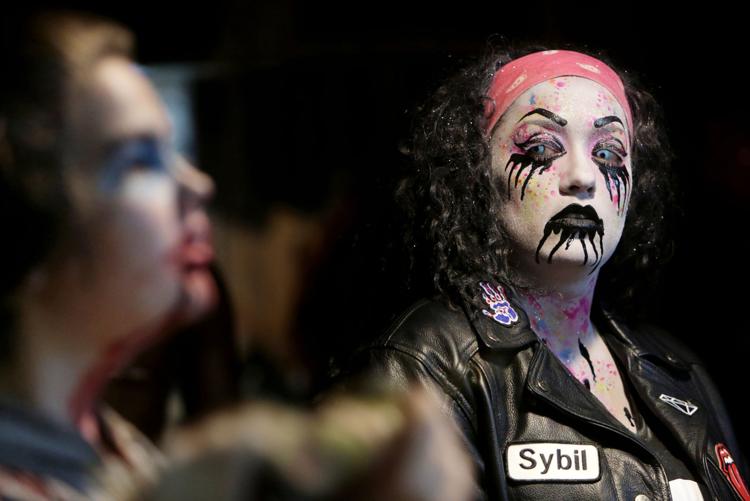 For many of the actors, the love affair with being fearsome began when they were the children giggling at scaredy cat trick-or-treaters.
"Ever since I was a kid I was more interested in being in the front of my house scaring the trick-or-treaters than going out and actually trick-or-treating," Screamin' Acres actor Jason Rice said. "I loved doing that and seeing the reactions and making the experience really creepy for people."
And the thrill is still there.
"It's such an adrenaline rush, such a personal high," said Rice, now in his fourth year of scaring at Screamin' Acres. "...I say that not in a (bad) way, I know they're having fun too. If I'm able to make them jump or at least remember my character and then all of the 80 other characters in the haunt, I know they'll walk out with a smile."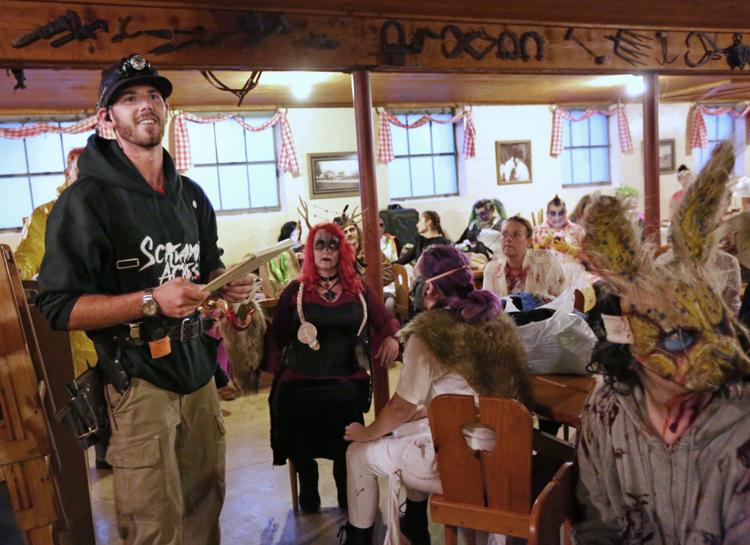 Planning and props
There's more to the horror than just the performances. With elaborate settings, makeup, effects and more, running a haunt can be a year-round job.
Visitors have been walking out of Screamin' Acres for years just to come back the next year for even more thrills.
The expansive haunted attraction is in its 7th season with 20-year-old Jacob Eugster at the helm. Eugster started the haunt on his family farm when he was a freshman in high school as a way to, he thought, pay for at least half of his college expenses.
Now the attraction has been his full-time job for the last three years.
Makeup artist and scenic painter Dawn Marie Svanoe has been working with Screamin' Acres for six years and knows there will be at least one thing that frightens any attendee.
Everybody has something they're afraid of, she said.
"You have so many types of scares here and you know it's not coming from a traveling Halloween store," she added. "This is real stuff with real people."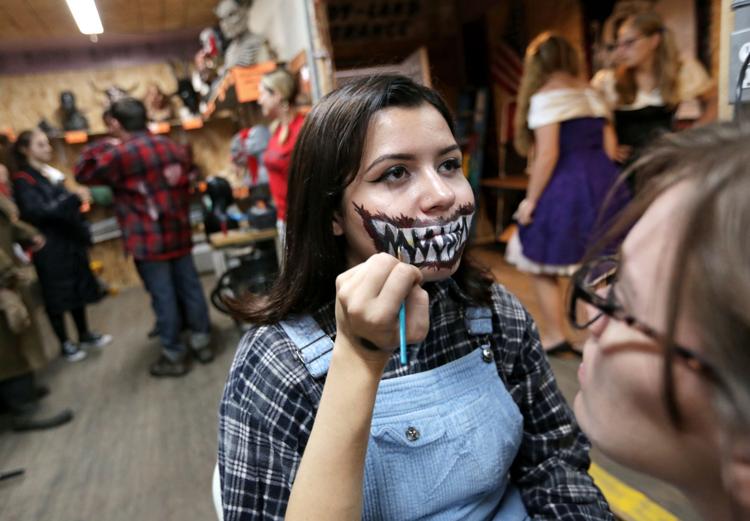 Eugster takes the haunt very seriously, investing in high quality masks — which run him on average about $650 a piece — as well as real props. This year Screamin' Acres is up to 41 masks in their collection.
"We use as little plastic as possible," he said. "Anybody who is not impressed with a haunt would quickly figure out what was fake."
The actors take their roles seriously too. Rice ordered real syringes for his doctor character so he didn't have to use hokey looking fake ones.
You have free articles remaining.
"We have real machetes," he said. "We have real circular saws and we use everything as safely as possible."
Scaryland kicks it up a notch with props too, fittingly, as the owner Guy Kitchell owns Halloween FX Props, which supplies all kinds of props and tech for haunted houses and home haunts.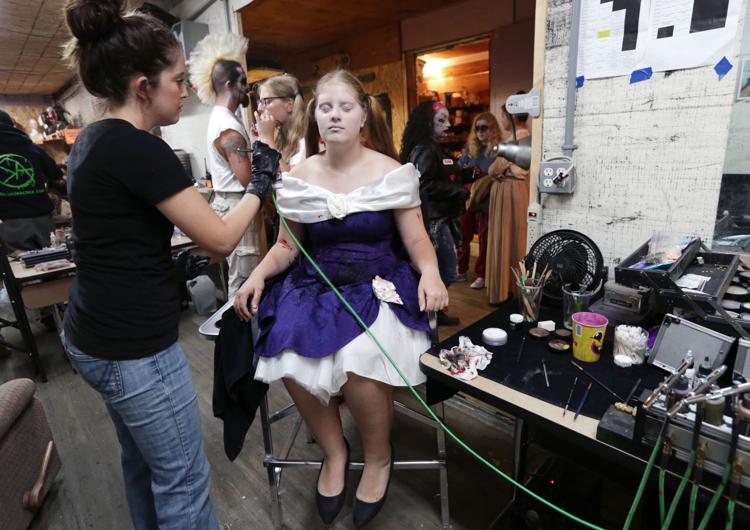 Passion for haunting
Haunted houses have always been a favorite agenda item for Screamin' Acres cast member Jaz Campbell, so it only made sense for her to work in one.
She goes so far as to bring a black light flashlight with her to fabric stores to ensure materials will glow before she buys it for her spot in Screamin' Acres' Side Effects - a black light and glowing 3D attraction.
Svanoe, who was featured on Game Show Network's "Skin Wars" in 2015, said she also carries a black light flashlight in her purse. The haunt poses an interesting challenge for the makeup artist since she isn't into gore.
"It's a challenge to find how realistic I can make the makeup look," she said.
Although some might think that the Side Effects area at Screamin' Acres, the very last attraction, wouldn't be the scariest part, actors have seen complete meltdowns.
Last year Campbell saw a man who made it through nearly to the end of the Side Effects area before the haunt got him.
"I watched the guy get halfway across the bridge and he ended up on the bridge laying on his side curled up like a baby and screaming," she said. "He couldn't handle the vertigo of the tunnel."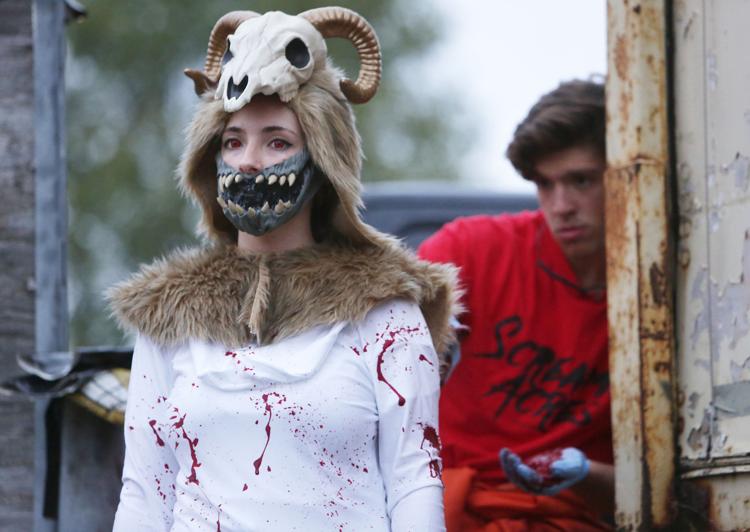 The rules
Performers are quick to learn the rules of haunted attractions and guests who want to maintain their cool should too.
Scaring the big tough guys with a girl on their arm is a challenge, but getting him "is like the trophy," Rice said.
But those who specialize in jumping out of dark corners to startle people would like to remind you that they really don't want to hurt you. Rice said with the actors and visitors in such close quarters someone could potentially get hurt – but it's more likely the actor than the attendee.
"With a jump scare there are people with a natural reaction to swing," he said. "Fight or flight."
Eugster agreed, "some people forget they are in a haunted house. (But) Issues of that nature are very few and far between."
For those who become so frightened that they literally pee their pants or get sick to their stomach, don't worry about it. These are professionals. They just keep track of the number who they've scared into such shape.
Eugster added that many of those people get weeded out before they even head into the first attraction area. The cue line can be enough to scare folks away.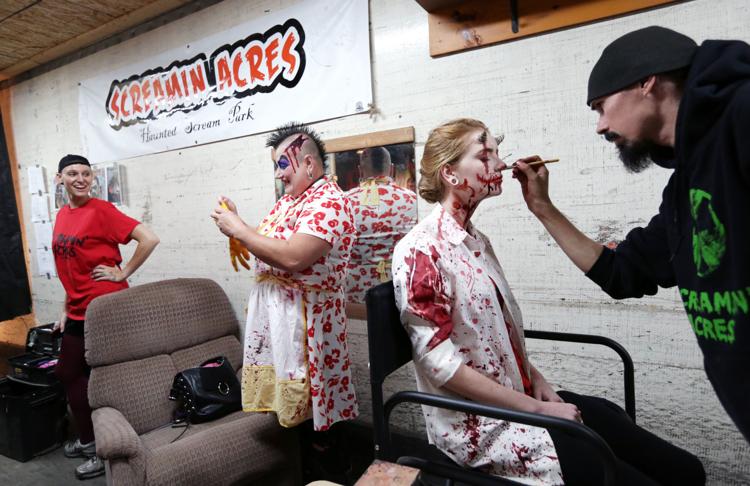 Dedication to a visitor's experience has paid off. Without disclosing numbers Eugster said the attendance at Screamin' Acres rises every season with each season having at least two sell-out nights. While Pertzborn said Wisconsin Scaryland in 2016 hosted more than 10,000 visitors, which was more than their attendance in 2014 and 2015 combined.
It isn't just the business side of Halloween that's taken seriously, Pertzborn said. Wisconsin, in general, seems to get into the spooky Halloween spirit.
He said it's the most "neighborly holiday," when else do people go to every door in the neighborhood to say "hello?"